Perhaps the film that director Oliver Stone is best known for is JFK, his conspiratorial thriller about President Kennedy's assassination. Stone's latest work is the hastily-produced W.,

what looks to be a comedy critical of the United States' incumbent leader George W. Bush. In between those, Stone turned his attention to another commander-in-chief, 37th president Richard Milhous Nixon, for 1995's Nixon.

This dramatic biopic cast veteran Welsh actor and then-recent Oscar winner Anthony Hopkins (The Silence of the Lambs) in the title role of a film concerned chiefly with Nixon's momentous one and a half terms in office. Though it touches briefly upon his humble childhood and adolescence, the movie deals foremost with Nixon the politician. Covered here are his ascent to the presidency -- in the face of narrow defeat and considerable opposition -- and his rule from 1969 to 1974. The latter is, of course, marked by tumult in the enduring, controversial Vietnam War and scandal in the policies that brought about the Watergate break-in and Nixon's unique, historic resignation.
Nixon is an actors' film. Just as he had done for JFK and would do for W., Stone assembled an impressive, vast ensemble cast to portray relevant real-life figures. By far our center of attention is Hopkins, who inevitably earned Best Actor nominations in the Screen Actors Guild, Golden Globes, and Academy Awards. As made up, Hopkins doesn't bear a tremendous physical resemblance to Tricky Dick, but his mannerisms and diction reflect ample research while adding up to a verisimilar personification. More importantly, Hopkins bears the weight of the film by remaining investable in practically every scene without being particularly sympathetic or savorily scripted.
The great number of recognizable actors in supporting roles ensures each cast member limited screentime with which to shine. Still, a few key players do make lasting impressions in pivotal parts. Though she had previously lead-acted for Michael Mann and Francis Ford Coppola, this probably qualifies as Joan Allen's breakout performance. Her turn as Nixon's neglected wife Pat (more often called "Buddy") earned her several supporting actress awards and her first Oscar nomination.
Also standing out: James Woods as Nixon's sharp, loyal, and crew-cutted advisor H.R. Haldeman, Mary Steenburgen as the President's archaic-pronoun-using mother, Sam Waterston as fiery CIA director Richard Helms (in a restored deleted scene), Bob Hoskins playing FBI director J. Edgar Hoover as influential and gay, and Paul Sorvino hiding his typical gangster persona under a prosthetic nose and monotone voice as national security advisor Henry Kissinger.

With no glaring weaknesses in the large, talented ensemble, the film's shortcomings are quite easily traced to the screenplay and direction. The script is credited to Stone and first-time writers Stephen J. Rivele and Christopher Wilkinson. It proves quite engrossing when it serves us imagined or presumably documented conversations among the political leaders of the country and world. At other times, it dials up the ambition and rings false in trying to make bold, sweeping observations. The most blatant example is when Nixon ditches his security detail to make peace with a group of college students gathered outside the Lincoln Memorial sculpture, only to be confronted and enlightened by the disagreeable youths.
Such instances aren't overly common and the Oscar-nominated screenplay stays largely resolute. Unfortunately, the same can't be said about Stone, who dabbles heavily in style. Sometimes, this is a strength, as when the film convincingly assumes the appearance of '60s or '70s television broadcast. On countless occasions, the cast is seamlessly integrated into historical settings à la Forrest Gump,

with just one suspect superimposition. The technique lends the proceedings an air of realism that enforces a documentary feel in spite of some unctuously narrated "newsreel" montages.

The problem is that Stone, fresh off the shameful free-form Natural Born Killers, decides to add random touches of flair throughout. A scene will turn from color to black & white and quickly back to color for no logical reason. It's as if the filmmaker is trying to haphazardly uncover some artistic depth in sequences already sufficiently deep. It also has the effect of Stone making sure audiences don't doze off in the middle of the colossal runtime.

That aspect of production underscores the quixotic nature of Oliver Stone. In theaters, Nixon ran 192 minutes. The Director's Cut, first issued in 2001's multi-studio Oliver Stone Collection, clocks in at 212 minutes. The longer cut has been the only version offered in the film's subsequent individual and box set releases. I'm not opposed to long films and, with appropriate patience, Nixon actually remains quite engaging in its nearly four hours of content. But so much of the movie seems nonessential, uneventful, or redundant. The titanic length quashes spur of the moment viewing impulses not seemingly for any greater good but because Stone shot a lot of material he liked. Even the start of the closing credits does not bring about the film's conclusion.

The runtime issue is less troubling for pacing problems or overextension than it is for underscoring the film's inability to paint something complete. For being so epic in stature, Nixon doesn't provide a transcendent understanding of the man or his reign. We come away thinking that Richard Nixon was unloved, stalwart, paranoid, sexless, distant, obsessed with legacy. That certainly counts for something, as does the fact that the notoriously liberal Stone doesn't settle for a simple depiction of heinousness. But in the end, as the director supplements historical fact with hypotheses on what haunted and hindered this leader, it's easy to file this production under "good", not "great".

Billed an Election Year Edition, Disney's new two-disc set marks the film's fifth appearance on Region 1 DVD and, simultaneously, its debut on Blu-ray. Two of those DVDs were in the director's Warner-distributed box sets, meaning that this version most closely descends from the two-disc Collector's Edition Series Disney released on its own in 2002. Not only an unlikely choice for revisiting, Nixon represents one of the studio's only live-action catalog rereleases in well over two years.
DVD Details

2.40:1 Anamorphic Widescreen,
Dolby Digital 5.1 (English)
Subtitles: English for Hearing Impaired, French, Spanish
Closed Captioned; Extras Subtitled in English
Release Date: August 19, 2008
Suggested Retail Price: $29.99
Two single-sided, dual-layered discs (DVD-9s)
Black Amaray Keepcase with Side Snaps in
Embossed, Reflective Cardboard Slipcover
Also available on Blu-ray Disc
VIDEO and AUDIO
Nixon appears in its 2.40:1 theatrical aspect ratio and is now enhanced for widescreen displays. Though other studios have split up shorter works onto two discs, Disney wisely fits the entire film on Disc 1. Thanks to the variety of styles and effects employed by Stone, Nixon offers a deliberately erratic visual experience. At the moments meant to be clean and sharp, the transfer fares quite well, although it still registers as being more grainy and soft than other movies of this age. That could also be intentional, but I think it's more the result of a demandingly compressed, mildly imperfect presentation. Most viewers should still find picture quality satisfactory. Unable to do a direct comparison to the movie's past non-anamorphic DVDs, I can only believe that reports elsewhere of substantial improvement are accurate. That's welcome news for those who felt the director's cut additions previously stood out for lacking presentation.
The old set's DTS track is dropped, leaving us with only a Dolby Digital 5.1 mix to convey the film's soundtrack. Though it's dull at first and rather quiet on the whole, the audio does liven up. It's still as front-oriented as any dialogue-driven piece, but the surround channels are increasingly put to good and frequent use, be it for John Williams' reliably fine score or clever incidental sound effects.
BONUS FEATURES, MENUS and PACKAGING
Disc 1 offers two bonus features clearly to be most enjoyed by fans of Oliver Stone audio commentaries. That's what both are, leading one to suspect the director must love talking over this film. That theory is challenged by the fact that tracks "A" and "B" are marked by an abundance of dead air. What Stone says is appropriately varied (tackling both the film and the history it dramatizes) and of interest, but his remarks are so scattered (especially on the second track) that spending the necessary seven hours on them is more tantamount to punishment than privilege.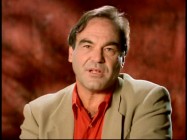 Four remaining video supplements are located on Disc 2.

First up is a nearly hour-long section of deleted scenes (58:18). They're collectively introduced by Stone in an 8-minute clip

that makes you doubt that the director ever tires of discussing his films. Stone also introduces individually the 12 scenes, nearly all of which are mild extensions of existing segments. So mild that I'm taking the disc's word for it, since I hardly spotted any differences from the director's cut edit of the sequences. After the scenes, presented in non-anamorphic widescreen and two-channel stereo, Stone returns for a final wrap-up, continuing to touch on various topics.

"Beyond Nixon" (35:16) is a new featurette directed by Oliver's son Sean Stone. It focuses largely on the history, not the movie, with interviews of historians, writers, and Nixon colleagues. Most of their reflections are fairly dull and sprinkling in a slew of Nixon clips doesn't help. But, footage of the real Nixon answering reporters' Watergate questions is plenty welcome.

"Charlie Rose interviews Oliver Stone" (55:10) is the complete New Year's Day 1996 episode of PBS' long-running intellectual talk show. They have a rich, revealing and occasionally contentious conversation almost exclusively about Nixon, then enjoying its new release hype, and its subjects.

Rounding out the set is the movie's overlong original theatrical trailer (4:30), presented letterboxed.

As far as supplements are concerned, this Election Year Edition needlessly loses a promotional 5-minute production featurette from the prior DVD.

In light of the director cut's vast breadth, sneak peeks are relegated to Disc 2. Auto-playing are a Blu-ray promo, a Blindness trailer, a Miramax Films brand promo, and a "Lost" Season 4 DVD ad. These are also available from a menu which supplies looks at "Dirty Sexy Money": The Complete First Season, The Nightmare Before Christmas: Collector's Edition, and The Chronicles of Narnia: Prince Caspian.

The main menu opts for a dramatic, patriotic montage set to excerpts of John Williams' score. Stately submenus produce a similar effect with stills, flag imagery, and additional Williams cues, while Disc 2 reuses Disc 1's home montage.

Adding to the studio's no-insert trend, the only thing found inside Nixon's case is a booklet promoting the Blu-ray "revolution." The obligatory embossed, reflective cardboard slipcover miscalculates the director's cut's additions, as does the replicative keepcase artwork.
CLOSING THOUGHTS
Nixon is an engaging drama that, from what I've seen, ranks near the top of Oliver Stone's divisive filmography. An excess of style, some overreaching, a bloated design, and unwarranted speculation all prevent this from being the definitive portrait of America's one resigned president. But fine acting and the mostly good material overshadows such shortcomings and makes this an enjoyable, captivating film.
It seems safe to say that this Election Year Edition is the best DVD Nixon has received to date. If you don't already own the movie and would like to, this is your best bet. Even though it's already crying out for a price cut, the feature presentation and some of the extensive supplements do carry value. As for those already possessing the film on its own or in one of the Oliver Stone Collections, the new 16x9 enhancement justifies an upgrade more than the okay featurette added.
More on the DVD / Buy from Amazon.com / Buy on Blu-ray from Amazon.com