No one can deny that Francis Ford Coppola has earned an important place in cinema history. Still, one can't help but ask the question, "What's he done lately?" There are a few answers. The one that critics might reach for -- "Nothing" -- isn't entirely accurate, but it is true that Mr. Coppola hasn't had a new film of his lauded as high art since 1979's Apocalypse Now. It's also a fact that the man behind The Godfather trilogy hasn't directed any film in ten full years.

While Coppola's return to directing (Youth Without Youth) is set to open in December and a follow-up to that is already in the early stages for 2009 release, one must go back to 1997 to find the most recent previous film for which Coppola is credited as directing. That film was John Grisham's The Rainmaker. Grisham, you likely know, is the former lawyer and Mississippi-based author who earned the title of the bestselling novelist of the 1990s.

Bookstore shelves and libraries weren't the only place where Grisham's legal dramas found and captivated Americans. The Rainmaker became the decade's sixth and final movie adaptation of a Grisham novel, arriving in the aftermath of the blockbuster suspense films The Firm, The Pelican Brief, The Client, and A Time to Kill as well as the flop The Chamber. Based on Grisham's sixth book, The Rainmaker was the first and only film to feature the author's name in the title.

The Rainmaker stars Matt Damon as Rudy Baylor, a young, idealistic lawyer just out of law school. Unlike his well-off Memphis State classmates whose connections ensure them positions at established law firms, Rudy is less financially secure and has no real family to speak of. He takes a job in the office of J. Lyman "Bruiser" Stone (Mickey Rourke), a shady strip mall attorney who uses police contacts to get to injured people first. A literal ambulance chaser, Bruiser and his associates accept cases with no fee but a claim to one-third of the potential earnings. With skepticism but no alternatives, Rudy takes his non-salaried position and begins following leads at the local hospital. By his side is associate Deck Shifflet (Danny DeVito), a short, cynical, rule-bending, 6-time Bar exam flunker.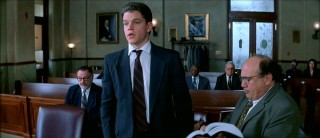 Lacking government assassinations, Mafia hit men, race relations exploration, hotbed political issues, and wide-reaching conspiracies, The Rainmaker seems low-key in comparison to Grisham's other tales. It's also more legal-minded, following the fresh-faced Rudy through his profession's shark-filled waters as he handles three extraordinary cases. The most peripheral involves Miss Birdie, a kindly old widow reworking her supposedly multi-million dollar will to exclude her "hustler" sons. Miss Birdie (Teresa Wright, Shadow of a Doubt, The Best Years of Our Lives, in her final film credit) rents out the room above her garage to Rudy, at a low price with yard work attached, and becomes a type of grandmother figure.
The other two plots feel detached from each other. The better and more extensively handled has Rudy suing a health insurance company that has repeatedly denied the seemingly valid claim of a lower-class woman (Mary Kay Place) and her leukemia-stricken son (Johnny Whitworth). Rudy is clearly undermatched against the insurance company's high-paid, seasoned attorneys, led by the conniving Leo F. Drummond (Jon Voight). Deck's knowledge provides some help, as does the sympathetic, newly-appointed Judge Kipler (an uncredited Danny Glover). But between the guarded defendant's conveniently missing employees, the Drummond team's suave and unethical tactics, and Rudy's lack of experience, this is an absolute underdog trial. It only takes on epic proportions near its semi-predictable resolution, which it reaches with plenty of turns, power shifts, and a couple of key witnesses (played by Virginia Madsen and Roy Scheider).
Taking Rudy out of the courtroom is his relationship with Kelly Riker (Claire Danes), a young married woman who's regularly subjected to severe beatings from her abusive husband. While one can sympathize with Kelly's nightmarish plight and Danes handles the material well for a 17-year-old, the domestic violence plot is strangely disjointed from Rudy's against-the-odds saga. The obligatory romance lacks passion and realism, and the same can be said of a turn of events that lands Kelly in prison.
Overall, Grisham's trademark mix of human drama and legal drama renders The Rainmaker with the same compelling quality of earlier adaptations. The film lacks the arresting suspense, emotional palpability, and sheer intrigue of some (Sydney Pollack's haunting The Firm, Alan J. Pakula's gripping The Pelican Brief, and Joel Schumacher's masterful The Client), but Coppola's sensible, classic treatment yields a unique and pleasing experience all the same. While the outcome is never in doubt and the central plot leans heavily on past courtroom tales like The Verdict, it's still a likable story brought to life in an even, venerable fashion by a skilled auteur and a benign cast.
In the role that seemed destined to declare him a major movie star, Matt Damon does nicely as the emotional core with an unwavering acquired drawl. However, it would be the independent drama Good Will Hunting he headlined and co-wrote with Ben Affleck that, released just a few weeks later, would garner him much more attention en route to the Oscars and an accelerated high-profile film career. Damon is surrounded by a large, gifted cast of actors who all bring something unique to the table. DeVito effortlessly injects restrained humor as the diminutive sidekick. (Lightly comedic elements and a strong Southern flavor both surface, fulfilling two Grisham requisites.) Voight is a mustache, bow tie and accent away from cloning James Mason's bigshot foe of The Verdict, but he's well-suited as Rudy's jaded adversary. Others look and sound their respective parts, hitting the proper notes of authority (Glover), ambiguity (Rourke), instability (Madsen), and pity (Place and, as her not quite sane husband, Red West).
This fall marks the tenth anniversary of The Rainmaker's theatrical release, but Paramount's single-disc Special Collector's Edition reissue came out in late July, seemingly to capitalize on the summertime exposure given to Damon as leading man of the blockbuster series of bestseller-spawned Bourne action films. This new Rainmaker DVD hit stores just three days before The Bourne Ultimatum's opening, while Damon's other much-attended "threequel", Ocean's 13, was still fresh in moviegoers' minds.
DVD Details

2.39:1 Anamorphic Widescreen
Dolby Digital 5.1 (English), Dolby Surround (French),
Subtitles: English, Spanish, Portuguese;
Closed Captioned
Release Date: July 24, 2007
Suggested Retail Price: $12.98 (Reduced from $14.99)
Single-sided, dual-layered disc (DVD-9)
Black Keepcase with Side Snaps
VIDEO and AUDIO
Neither picture nor sound present any challenges to the eyes and ears. Appearing exclusively in 2.35:1 anamorphic (in both senses of the word) widescreen, the film's photography -- marked by deliberate, classic, static framing -- shows little sign of being a decade old. The Dolby Digital 5.1 soundtrack isn't so grand, with atmospheric effects and Elmer Bernstein's prominent, organ-heavy score mostly being relegated to the front speakers. But it poses no issues bigger than what the MPAA calls "a strong beating" intentionally coming in at a higher volume than the rest of the film. The drawled dialogue is crisp and always intelligible.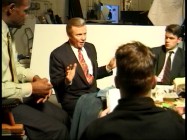 BONUS FEATURES, MENUS, PACKAGING and DESIGN

The modest slate of supplements begins with "Watch The Rainmaker with Francis Coppola", a feature that the Main Menu eagerly lists with two exclamation marks. It's merely a taped introduction (4:20), in which the director reflects briefly on making the movie with an assortment of clout-carrying actors and the different direction his career took following it.

Easily missed (it's absent from the Special Features menu) but most substantial is an audio commentary with Coppola. His observations tend to be short, scene-specific, far from groundbreaking, and somewhat spread out. Helping to fill the air is actor Danny DeVito, who is recorded separately. While watching the film for the first time since release triggers a fair share of memories for the two,

the track is kind of dull, with interesting revelations buried among recurring praise dispatch. There is overlap with the disc's terrific featurette and even within this track, though Coppola's interesting thoughts on novel adaptation and general moviemaking philosophies occasionally escape. On the whole, though, it's more apt as background noise to other activities than a close, careful listen.

Next comes "Francis Ford Coppola Directs John Grisham's The Rainmaker", a new 27-minute featurette composed of production time B-roll footage and set interviews. Directed by Coppola's wife Eleanor (who shot the elusive Hearts of Darkness on the breakdown-inducing Apocalypse Now), the piece transcends its fairly ordinary design with a focus that's entirely on Coppola's fascinating efforts to get great performances out of his actors. Instead of just hearing praise-filled sit-down remarks, we get to peer in on unusual rehearsal antics, from a mock trial and an event re-creation to an invisible sound ball toss and pebbles in shoes. The great, candid content and Mr. Coppola's unorthodox directing style add up to make this a rare, memorable making-of.
Four deleted scenes (21:42) are offered, including a lengthy 13¼-minute alternate opening and an alternate ending. The opening is interesting to see -- it lays out how Rudy acquires his two cases and meets the clients -- but excessive (and a little heavy-handed). To a lesser degree, excess is also found in the other excisions, though aside from the light, comedic ending, they could have been fit in.

Unfortunately, the scenes are rough looking and marred by some glaring, poorly-dubbed phrases. While no commentary accompanies them, the two long ones are contextualized by informative text screens.

Rounding out the platter is screen test footage of Matt Damon (3:17), Claire Danes (1:36), Mary Kay Place (2:05), and Virginia Madsen (1:34). Damon and Danes are filmed in widescreen and actually act out their meeting across from each other in costume, while Place merely shares her thoughts on her potential character, and Madsen reads a scene in a mundane set-up. It's all interesting to see, though one gets the feeling it's just a tiny fraction of what was filmed.

Except for the commentary, all of the extras are presented with optional subtitles in English, French, Spanish, and Portuguese. Going one step further, at start-up the menu gives you the choice of any of these languages for the standard unskippable copyright disclaimers to be translated into. As for menus, the disc's main menu is one of the strangest I've ever encountered, featuring a super-slow-motion shot of Rudy swearing in for his law license, set to music from the film.
CLOSING THOUGHTS

While not quite a masterpiece, The Rainmaker brings together two heavyweights from the literary and film worlds to yield an unsurprisingly engaging legal drama. Coppola's austere handling of a mostly good novel distinguishes this production from flashier, more suspenseful Grisham adaptations,

but we still get a similarly pleasing blend of character, plot, and Southern flavor. At ten years old, the movie holds up well and its tale feels pretty timeless, thanks largely to the fine direction and the talented cast's good work.

Paramount's Special Collector's Edition is sufficiently stacked for a single-disc re-release. Picture and sound merit no complaints, the deleted scenes are a treat to see, and the captivating featurette definitely makes up for a slightly lackluster commentary. While neither the movie nor the DVD quite reaches "must-own" status, the low-priced disc is a no-brainer for fans of the film who have not yet bought it. This edition also makes an obvious candidate for any John Grisham movie collection. Those who enjoyed the film versions of the author's legal dramas that dominated '90s cinema can only hope that that more of the bestsellers-turned-hit-films are likewise revisited by Warner and Paramount in due course.