When he's not directing from an original Diablo Cody script, Jason Reitman is using one he personally adapted from a novel. Labor Day sees him doing the latter,

as he translates Joyce Maynard's 2009 novel of the same name to the big screen.

The union of Maynard's book and Reitman's camera isn't obvious. Until now, he's told contemporary stories with comedic overtones and a healthy dose of cynicism. Labor Day is set in the past, September 1987's holiday weekend, and is dramatic, romantic, and almost entirely unironic.

In scenic small-town New Hampshire, a setting wonderfully established in the opening titles' visuals, 13-year-old Henry Wheeler (Gattlin Griffith) lives with his divorced mother Adele (Kate Winslet). With trembly hands and a loneliness that no "Husband for a Day" coupon booklet can cure, Adele is a bit of a wreck. She only leaves the house once a month to stock up on groceries and other essentials. That monthly occasion happens to fall on the Thursday before Labor Day on which the movie opens. While mother and son are looking to buy pants that will actually fit the growing boy, Henry is approached by Frank Chambers (Josh Brolin), a bleeding and serious man who exerts just as much force is needed to get the Wheelers to allow him into their home to rest and hide.
Frank doesn't lie about his situation. He's an escaped convict, having eluded authorities with a post-appendectomy second story hospital window jump that set him free in the midst of a long prison sentence. The escape is all over the news in this little community where cashiers and bank tellers know Henry by name. Frank promises not to harm Adele and Henry, saying he's never intentionally harmed anyone and explaining that his murder conviction isn't quite what it seems.
We come to see that over the course of the movie, as ambiguous flashbacks (featuring the uncannily-cast Tom Lipinski as the young Frank) eventually add Frank to the ranks of Andy Dufresne and Dr. Richard Kimble as a convict-im of circumstance. Frank is as saintly a runaway prisoner as you could ever hope to encounter. While he awaits a train to take him away, he teaches Henry how to throw a baseball, waxes the floor, cleans the gutters, and indulges in sensual preparation of chili and a delectable-looking peach pie, the latter drawing oohs and aahs from moviegoers at my theatrical screening.
Frank ties Adele to a chair briefly for appearances, but neither she nor her son appear to be in any real harm from their houseguest. In fact, over the course of a few days, the three of them are making plans to start a new life on Canada's Prince Edward Island with a hasty post-holiday move. That's an iffy premise that Maynard is selling us, a kind of Stockholm Syndrome-based Harlequin Romance. But Reitman and his cast pull it off, persuading us to shun better judgment in pursuit of this unlikely yet highly promising rebirth. The three are almost immediately at ease with each other in their backyard baseball game (which seems remarkably brazen, given the neighborhood's closeness and alertness) and pie-making. Plus Henry wouldn't be missing much if taken away from his weekly dinner with his father (Clark Gregg) and Dad's new family.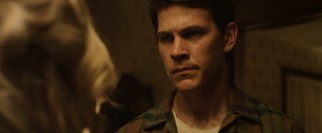 Henry is the film's protagonist and he comes of age before our eyes. His sexual awakening confuses him and doesn't make clear the unusual situation at hand,

even when a new girl in town (Brighid Fleming) with an eating disorder and a broken family tries to enlighten him on the intoxicating nature of desire.

Reitman elevates the material with his deliberate, atmospheric presentation. Everything -- from Henry's short shorts and full hair to a television broadcast of Close Encounters of the Third Kind to a Friendly's family outing -- captures the setting of late '80s New England in a subtle yet savory way. There's slight nostalgia in that setting. As a child of the '80s, Reitman seems to remember quite well a time when you might bring an excess of ripe peaches to a neighbor's door and there were no smart phones to keep checking. Undoubtedly, Maynard's story would not be the same set in the present day.

What emerges as this kind of fantastical romantic drama gets a hearty serving of suspense in its final half-hour, when our central trio's best-laid plans are endangered by the smallest detail or coincidence. Even if you aren't compelled to vocalize such fears (as parts of my screening audience did), you'll feel that tension deep in your stomach, genuinely uncertain of how well or poorly this could all turn out for its participants.

With the helm occupied by Reitman, whose Juno and Up in the Air snagged Best Picture nominations, Labor Day was long foreseen as a potential awards player. Those expectations seemed cemented when Paramount set a Christmas Day opening and a Toronto International Film Festival premiere. Then in November, its year-end slate subjected to jostling by the editing delays of The Wolf of Wall Street, the studio moved Labor Day from its scheduled December debut to a wide late-January release, while still receiving a one-week awards qualifying run starting December 27th.

The move may have hurt the film's award prospects (it picked up nothing but an Actress in a Drama Golden Globe nomination for Winslet), but after being hammered by critics, major accolades weren't in the cards for this. The ensuing January opening, however, proved less advantageous than it seemed to be. Though distanced from the glut and caliber of competition the holidays bring, Labor Day failed to find an audience in theaters. By Valentine's Day, an evening in which romance movies always get a couples' boost, the movie was already losing theaters after a weak 7th place, $5.2 million opening weekend. The film's domestic run concluded at a paltry $13.4 M, with foreign markets adding very little, a total that no amount of creative accounting can paint as profitable on an $18 M budget.

Paramount has wisely chosen not to wait for summer's end to bring this flop to home video. Instead, the studio has sensibly timed the Blu-ray combo pack and DVD release to Mother's Day, an occasion that should help secure this some additional sales. Yes, Reitman has made a tender movie for moms, which is uncharacteristic given his past films, particularly the prickly and polarizing Young Adult. But it's a well-crafted, well-acted drama you'd feel much better about buying Mom than the latest Nicholas Sparks drivel.
Blu-ray & DVD Details

2.40:1 Widescreen (DVD Anamorphic)
BD: 5.1 DTS-HD MA (English), Dolby Digital 5.1 (French, Spanish, Portuguese, Descriptive Video Service)
DVD: Dolby Digital 5.1 (English, French, Spanish, Descriptive Video Service))
Subtitles: English, French, Spanish, Portuguese; Blu-ray Film only: English SDH
DVD Closed Captioned; Video Extras Subtitled
Release Date: April 29, 2014 / Suggested Retail Price: $39.99
Two single-sided, dual-layered discs (1 BD-50 & 1 DVD-9)
Blue Eco-Friendly Keepcase in Cardboard Slipcover
Also available as standalone DVD ($29.99 SRP) and Amazon Instant Video
VIDEO and AUDIO
Paramount's splendid track record of top-notch picture and sound is appreciated on Labor Day, a film that packs more sensory stimulation than your typical screen romance. The vivid, sun-kissed 2.40:1 visuals delight without any trace of imperfection. More noticeable and less expected than that is the punch delivered by the 5.1 DTS-HD master audio soundtrack. The score by Rolfe Kent adds so much to the film and the bassy presence it assumes in this mix is remarkably potent. While romance is a genre you assume DVD will serve just fine, the picture and sound gains of the Blu-ray are not insignificant on such a technically stellar production.
BONUS FEATURES, MENUS, PACKAGING and DESIGN

The Blu-ray's extras begin with an audio commentary by director/screenwriter Jason Reitman, director of photography Eric Steelberg, and first assistant director/co-producer Jason Blumenfeld. Reitman leads this unusually good track, which reveals the production's attention to detail. Topics discussed include Brolin's goatee continuity, the challenges of recreating such a recent period, the time it took to get the movie going, the films researched for look and feel (Body Heat for sweat, Stand by Me for nostalgia, Terrence Malick movies for editing), shooting things quickly documentary-style, and bits that were lost (including a Budweiser print ad meticulously recreated

when the original models couldn't be tracked down to clear the real thing). It's a worthwhile listen which may even go some ways to silencing the film's naysayers.

On the all-HD video side, we start with "End of Summer: Making Labor Day" (29:06). Substantial rather than promotional, this gives us plenty of behind-the-scenes footage and some outtakes in addition to thoughtful remarks from the likes of Reitman, Joyce Maynard, cast, and crew. They discuss finding real locations to shoot, casting the few roles, costumes, and the score

The extras draw to a close with six deleted scenes (10:36): a biscuit breakfast, Henry and Mandy getting kicked out of a coffee shop, another appearance by suspicious neighbor Mr. Jervis (J.K. Simmons), a subplot involving Henry's pet hamster, and a glimpse of the gossip and attention that surrounds Henry in the seventh grade.

Regrettably, Paramount withholds all bonus features from the DVD demographic, even though the disc (the same one sold separately) is well under dual-layer capacity.

The DVD opens with trailers for Noah, Jack Ryan: Shadow Recruit, Nebraska, and The Wolf of Wall Street. The Previews listing repeats them but not before first playing trailers for A.C.O.D. and Adore. To ensure freshness, the Blu-ray streams its disc-opening trailers, currently sampling some of the same ones.

The menu loops a montage of sunny clips set to haunting score. The Blu-ray lets you set bookmarks, but doesn't easily resume playback in any way.

An insert supplying your code for redeeming the iTunes digital copy and UltraViolet stream included with your purchase and advertising Maynard's book on back accompanies the two plain discs inside a slipcovered eco-friendly keepcase. A sticker on the slipcover will get a $10 eGift card for 1800flowers.com that expires May 27, 2014, adding a second layer of intrigue (and work) for the Mother's Day gift-giving process.
CLOSING THOUGHTS
Trashed by critics and avoided by moviegoers, Labor Day is far from the disaster you might expect it to be. Yes, the film is sincere and short on cynicism. And yes, it has an outrageous premise to sell us on. But it manages to pull it off with terrific direction, arresting atmosphere, and great performances. While it may not stand up to last December's award contenders, it is several notches above the usually wretched January and pre-Valentine's Day fare.
Paramount's combo pack satisfies with a substantial documentary, a rewarding commentary, a nice serving of deleted scenes, and a flawless feature presentation. It's disappointing that none of the bonus material makes it to DVD, but not disappointing enough to discourage a look and possibly even a blind purchase.
Buy Labor Day from Amazon.com: Blu-ray + DVD + Digital HD / DVD / Instant Video