By Albert Gutierrez

"8 Simple Rules for Dating My Teenage Daughter" premiered on ABC in the fall of 2002, and its first season earned respectable ratings (#42 in the Nielsens), largely due to viewers' curiosity over John Ritter's newest television role, his first starring one since the early '90s sitcom "Hearts Afire." "8 Simple Rules" was part of ABC's experimental "Happy Hour", in which each weeknight the 8:00-9:00 p.m. slot would be devoted to family-friendly programming. Returning 8:00 p.m. shows such as "The Drew Carey Show", "My Wife & Kids", and "America's Funniest Home Videos" were joined by two newcomers: sitcom "8 Simple Rules" and the reality show "Extreme Makeover." The "Happy Hour" concept did not last long, as the following season saw gritty anti-terrorist drama "Threat Matrix" and newsmagazine "Primetime" claiming the first hour of certain nights. But "8 Simple Rules" had some staying power, and would remain on ABC's schedule for three seasons.

The family sitcom easily adhered to a familiar formula: two parents simply attempt to keep their home civilized despite having teenage children under their roof. It's been seen on shows like "The Brady Bunch", "Family Ties", "Home Improvement", and of course, the ever-popular "Full House."

Often, the show will try to depict one point of view: "Home Improvement" centered on paterfamilias Tim Taylor, while "Malcolm in the Middle" focused on its titular kid. Early in the series, "8 Simple Rules" took this route as well, as the first several episodes were mainly about father Paul Hennessy's (Ritter) efforts to understand his teenaged children's behavior. Usually, he'll falter due to his own shortcomings and ends up learning a lesson about himself or his children.

At Paul's side is his wife Cate (Katey Sagal), who is returning to work after years as a housewife and mother. She doesn't always agree with some of his more outlandish ideas in getting to better know their children, but she shares his lamentations at the generation gap between parent and child. As the "straight man" to Paul, it's usually up to Cate to be a more firm voice of reason and the heart of their family. The two parents are still very much in love, and their displays of affection are frequently met with disgust and shock by their children. Cate is a far cry from Peg Bundy, so seeing Katey Sagal as a nice mom is a pleasant surprise.
Paul's three children also fall into a tradition of sitcom stereotypes. Bridget (Kaley Cuoco) is the popular and fast-talking oldest daughter and Kerry (Amy Davidson) is the moody and environmentalist middle child. While the two sisters share a room, they regularly are at odds with each other and their father, with Kerry offering biting sarcasm and Bridget trying to talk her way out of punishment. The two get a lion's share of airtime, as they are the titular "teenage daughters" whom Paul is trying to protect. Usually the protection is from guys like Kyle (Billy Aaron Brown) and Jason (Brian Sites), recurring male characters who date Bridget and Kerry, respectively.
Stuck as the second banana to his sisters, youngest son Rory (Martin Spanjers) sees the least amount of airtime and is relegated to silly little escapades like buying a surfboard (they live in Michigan) or secretly keeping a monkey/snake/rat as a pet. That and hiding in his sisters' closet, then reporting what he hears to Paul. What separates Rory from his sisters aside from gender is that he isn't so easily embarrassed by his father's presence, and there is a natural "hero worship" that the son holds for his dad. Being the only boy has its benefits as Rory is easily Paul's favorite, and he uses this fact to his advantage several times.
The series' storylines deal with the struggles of parenthood and the pressures of being a teen. Since "8 Simple Rules" begins with the children already in full-adolescent mode, the shift from childhood to adulthood is abrupt for viewers, as it is for Paul, who is finally taking a more committed turn at fatherhood. Attempting to be a good father, Paul has heart-to-hearts with both his daughters, despite their constant criticism of his clothes and outdated slang. His ineptitude is often his undoing, and his need to be both father and friend leads to a strained relationship with his children. Of course, in a sitcom, this means that after 20 minutes in TV time, any grudges or arguments are completely resolved, and all is well in the Hennessy household. Thankfully, a capable cast and snappy dialogue help make those 20 minutes enjoyable and fun. There's no cheesy emotional music during the "serious" conversations, and the characters are just odd enough to be laughed at, while still real enough to make their predicaments believable and investable.
While the show is titled "8 Simple Rules for Dating My Teenage Daughter", it's not the prevalent theme throughout the series. In fact, the rules themselves are only mentioned in dialogue in the pilot's opening scene, and after which, are only used sparingly throughout the series. The title is somewhat misleading, as it doesn't truly reflect the coming of age theme aspect of the episodes.

"8 Simple Rules..." makes it sound like a father-versus-boyfriend sitcom, a sort of Meet the Parents for adolescents. In truth, most early episodes focus on growing up, be it the added responsibilities that a teenager takes on, or the difficult "letting go" that a parent must do. Many parents can sympathize with Paul and Cate's moments of nostalgia, during which one or the other will flashback to the children's younger days. It's that gentle reminder that people grow up and grow distant, that life goes on whether we want it to or not.

As the season progressed, the show took on a more traditional ensemble feel and even the coming of age aspect was slightly diminished. Plotlines soon became typical family conundrums, not always focusing on how growing up affects both the teenager and the parents. The writers had found their niche within the stories and characters, and comparing an early Season 1 episode like "Bridget's First Job" to a later one like "Career Woman", there is markedly different chemistry among the actors. They grow more comfortable with each other, and the somewhat awkward dialogue is greatly decreased. Unfortunately, the sudden loss of John Ritter and Paul Hennessy early into Season 2's production undoubtedly affected that family dynamic. With "the powers that be" deciding to let the show continue, it meant shifting focus from a father trying to understand his children to a family moving on from tragedy. The unexpected change to this dynamic along with the addition of Grandpa Jim (James Garner) and cousin CJ (David Spade) affected the later seasons, making them seem like a different and inferior show.

Finally, it wouldn't be an "8 Simple Rules" review without actually mentioning what these rules actually are. Written originally in 1998, there are actually two versions of these rules. A longer version appeared in a column by W. Bruce Cameron, while a shorter version is more commonly known and provided in the DVD case. Both cover the same basic principles, and I personally only agree with six of them from both lists (I'll leave you to guess which ones).

8 Simple Rules for Dating My Teenage Daughter:
Rule 1: Use your hands on my daughter and you'll lose them after.
Rule 2: You make her cry, I make you cry.
Rule 3: Safe sex is a myth. Anything you try will be hazardous to your health.
Rule 4: Bring her home late, there's no next date.
Rule 5: Only delivery men honk. Dates ring the doorbell. Once.
Rule 6: No complaining while you're waiting for her. If you're bored, change my oil.
Rule 7: If your pants hang off your hips, I'll gladly secure them with my staple gun.
Rule 8: Dates must be in a crowded public place. You want romance? Read a book.

Each episode contains 4 chapter stops and none ever reach the 22-minute mark, thanks to networks' long, gradual increase in commercial airtime. Man, I miss the days when a half-hour sitcom actually meant 25 minutes of content.

Of the twenty-eight episodes in season one, a star (

) denotes my ten favorites.
Disc 1

1. Pilot (21:39) (Originally aired September 17, 2002)
In the series pilot, Paul finds himself responsible for his three children when his wife Cate goes back to work and he gets his own newspaper column, allowing him to work from home. He is a bit on edge upon meeting daughter Bridget's new boyfriend Kyle, who he finds out is his co-worker's son. Later, he and Cate learn that their middle child, the studious-if-emotional Kerry, was suspended for ditching school.

2. Wall of Shame (21:39) (Originally aired September 24, 2002)
Cate has decided to take a few college courses in addition to going back to work, leaving Paul in charge of their children while wanting to watch the "game of the century." Amidst attempts by Rory to play video games and Kerry criticizing the newspaper for promoting a circus, Paul has to go to the pharmacy when Bridget is caught shoplifting.

3. Bridget's First Job (21:40) (Originally aired October 1, 2002)
Bridget's excessive shopping leads Paul and Cate to insist she gets a job and learns the value of a dollar.

Bridget soon finds success working at Strip Rags, a trendy store at the mall, and the family is impressed at her keen salesmanship. However, due to a misunderstanding of the 40% employee discount, Bridget's first paycheck ends up in the red, a fact she tries to hide from her parents.

4. Wings (21:40) (Originally aired October 8, 2002)
Despite Cate's confidence otherwise, Paul is convinced that Bridget isn't ready to drive on her own, so he keeps delaying her road test. He then convinces Kerry to enter an art competition, only to have her crushed when her submission is rejected. Upon confronting a judge about the decision, Paul learns Kerry's entry was "too controversial" for the competition's sponsors.
5. Son-in-Law (21:39) (Originally aired October 15, 2002)
Bridget dumps Kyle and starts dating Travis "The Rain Man" Smith, on whom Paul has a "man-crush" due to being the best basketball player on the team and having the great Steve "Canned Heat" Smith (Terry Bradshaw) as a father. Dad allows Bridget to stay out late which incenses Kerry, who feels her father still only sees her relationship with Guy as "cute" and "safe."
6. Cheerleader (21:41) (Originally aired October 22, 2002)
A spot opens up on the cheerleading squad and Bridget is intent on getting in. She says that Kerry doesn't have what it takes, so Kerry goes to the cheerleader tryouts simply to prove her wrong. It's a shock to everyone when Kerry suddenly becomes a cheerleader instead of Bridget! Meanwhile, Paul is intent on getting Rory off of video games and onto something more productive... like books.

7. Trick-or-Treehouse (21:39) (Originally aired October 29, 2002)
Paul tries to get his family to join in their traditional Halloween festivities, despite the children already having plans with friends. He ends up grounding all three kids in order to get them to spend one last family campout in the treehouse. Throughout the episode, the family talks about their neighbors, the Doyles, who won't appear until late in the season.

8. By the Book (21:40) (Originally aired November 5, 2002)
After Bridget and Kerry tie up Rory for spying on them, a desperate Paul consults a parenting book. Bridget and Kerry find the book and read the advice, then twist it around to get Paul to do what they want, like go to the Extreme Rock Fest. The jive-talkin' street-smart Anthony (Cole Williams), one of the more colorful recurring characters, makes his debut in this episode.
9. Two Boys for Every Girl (21:40) (Originally aired November 12, 2002)
Kerry is ecstatic at being asked on her first date, but is upset when date Jason (Brian Sites) doesn't call her back. She later finds out it's because he was embarrassed at having his mother on their date. Embarrassed that Kyle is working at a movie theater, Bridget goes out with another guy.
Disc 2

10. Give It Up (21:39) (Originally aired November 19, 2002)
Paul wants to go to the cabin by the lake for the family's vacation, but nobody else does, suggesting other places. They decide to have a competition, in which each family member gives up a bad habit (Cate: coffee, Rory: tattling, Kerry: sarcasm, Bridget: phone, and Paul: remote control). The one who gives up the habit the longest wins and gets to choose where they'll vacation.
11. Paul Meets His Match (21:21) (Originally aired November 26, 2002)
Over discussing their teenage daughters, Paul gets along with his newspaper's new editor, Nick Sharpe (Patrick Warburton). Upon noticing how rude Nick is to his daughters' boyfriends, Paul vows to be different and invites Kyle and Jason over for Thanksgiving dinner.
12. All I Want for Christmas (21:27) (Originally aired December 10, 2002)
Paul intends to have the best Christmas ever, by outdoing the Doyles with Christmas decorations and getting the best presents for his family. Kerry finds a stray dog and wants to keep it, leading the family to volunteer at a Pet Adoption Fair. Cate is offered the solo at the Christmas Eve service, but nervous that she'll mess up, she asks that her family doesn't come.
13. Rory's Got a Girlfriend (21:20) (Originally aired December 17, 2002)
Rory begins dating at a younger age than Bridget and Kerry were allowed to, making the two girls angry at their father's double standards. Paul encourages to be the "good guy" that girls date. When Bridget and Kerry get back some standardized test results, Kerry is shocked to find that Bridget scored higher than her.
14. Career Choices (20:41) (Originally aired January 7, 2003)
Bridget drops her college prep classes to take vocational courses as a beautician, to Paul's dismay. Kerry's cartoons impress Paul, who gets them published in the school newspaper, not realizing that they are nasty caricatures of the principal. Rory keeps visiting the high school to see a pretty student (Rachel Bilson, "The O.C.") he has a crush on.
15. Kerry's Big Adventure (21:39) (Originally aired January 21, 2003)
Upset that she and Jason aren't together anymore, Kerry begins hanging out with cynical friend Christina. Not wanting his daughter to become like Christina, Paul pays Bridget to take Kerry to a party. Meanwhile, Cate and Paul are curious as to what's inside Rory's "secret box".

16. Come and Knock on Our Door (21:39) (Originally aired January 28, 2003)
Kyle tries to explain to a still angry Bridget why he kissed Kerry. In what is easily the best episode of the season (solely for Kerry's line, "If you'll excuse me, I'm going to go water my plants and have black hair!"), Paul falls asleep watching TV and envisions that Kyle, Kerry, and Bridget live together ΰ la John Ritter's "Three's Company."
17. Drummer Boy (Part One) (21:40) (Originally aired February 4, 2003)
While working together on a science project, Kerry gets furious at Jason when he compliments her mother. Bridget falls in love with her drum instructor Ben (guest star Nick Carter of Backstreet Boys), but she considers quitting the drums when she finds out he's ending their lessons to return to college.
18. Drummer Boy (Part Two) (21:38) (Originally aired February 11, 2003)
Bridget is pretending to be sad over Ben, and Paul and Cate "unground" her to make her feel better. She plans on visiting Ben at Ohio State University and Kerry goes with her, hoping to talk her out of it. Rory rents To Kill a Mockingbird, which is Paul's favorite movie, to avoid reading the book. Cate makes him read it, leading him to try and find the part where someone kills a mockingbird.

19. Cool Parent (21:40) (Originally aired February 18, 2003)
The police bust up a party at Kyle's house, and Paul and a group of parents berate Tommy for being so irresponsible. Paul continues his tirade and inadvertently ends up volunteering to hold a party at his house after the basketball finals. He falls asleep, and the party goes on well into the night, leading all to sleep over at the Hennessys while considering Paul a "Cool Parent."
Disc 3

20. Every Picture Tells a Story (21:03) (Originally aired February 25, 2003)
Paul is asked to write a book about race car driver Carter Tibbits (Jason Priestley). While over at Tibbits' house for dinner, Rory steals a picture of Tibbits with Paul Newman. When Paul tries to return it,

he's caught on tape and Tibbits' crew chief Cody Grant (Robert Guillaume, "Benson") tells Paul that he can't write the book anymore.

21. Kerry's Video (21:10) (Originally aired March 11, 2003)
After Bridget accidentally tapes over Kerry's video project, Paul suggests that Kerry does her video project on Bridget. She focuses on how beautiful people have an easier life than regular people, which upsets Bridget for depicting her as shallow. Riding high from "inspiring" Kerry, Paul suggests that Bridget take up tennis again and accidentally breaks her nose.

22. Good Moms Gone Wild (21:39) (Originally aired March 25, 2003)
The family takes a vacation in Florida. Paul and Cate get a surprise when they see Bridget and Kerry on the news partying in a bar... followed by a bigger surprise when old news footage shows a young Cate partying years earlier. Rory spends most of his time with Jake (Tom Poston), who does nothing but tell World War II stories and watch girls.
23. Career Woman (21:39) (Originally aired March 28, 2003)
Cate is offered a higher position at the hospital and the whole family is excited except for Bridget, who is regularly trying to get her mother to help with a family tree project. Paul tries to get Rory to stop thinking about a monkey by giving him baseball cards. Rory decides to trade the cards and gets a monkey, who he names Kirk Gibson to throw Paul off.
24. Queen Bees and King Bees (21:42) (Originally aired April 8, 2003)
With his reduced work schedule, Paul's lost touch with most of his old co-workers and even loses his chair in their weekly poker games. Also, Bridget starts spreading gossip about Kyle's new girlfriend, Jenna Sharpe (Nikki Danielle Moore), daughter of Paul's boss Nick. She tries to teach Paul how to be a "King Bee" at the workplace and regain his old friends.

25. Bake Sale (20:40) (Originally aired April 29, 2003)
The standard "teenager takes care of a fake baby for class" storyline is applied here, as Bridget and Kyle find themselves the proud parents of Baby H, a sack of flour. Having a "baby" in the house again causes Paul and Cate to remember what it was like when the kids were babies. Kerry is inspired to take part in the Great American Bake Sale.

26. The Doyle Wedding (21:20) (Originally aired May 6, 2003)
After having the perky Doyle family over for dinner, Fred and Mary Ellen ("Cheers" veterans John Ratzenberger and Shelley Long) consider them family and the Hennessys suddenly end up part of the bridal party for daughter Moira's wedding. Bridget does her best to avoid eldest son Donny (Thad Luckinbill, "The Young and the Restless") without realizing he's grown up to become a handsome naval cadet.
27. Sort of an Officer and a Gentleman (Part One) (21:34) (Originally aired May 13, 2003)
Paul invites Cate's sister Maggie (Cybill Shepherd) for a visit, despite her and Cate not being the best of sisters. Bridget starts acting more mature after her first date with Donny. Kyle strikes up a friendship with Rory, and begins to date Kerry. And proof that the show cares about continuity, it turns out that Paul gets to write Carter Tibbits' book after all.
28. Sort of an Officer and a Gentleman (Part Two) (21:00) (Originally aired May 20, 2003)
A "new" Maggie returns, complete with water bra and she offers what Cate considers bad advice for her daughters. In order to properly work on his book, Paul kicks them out of the house until they resolve their problems. When Kerry begins dating Kyle, she starts becoming popular, but with Bridget spending more time with Donny than with her friends, her popularity wanes.
VIDEO and AUDIO

Though standard broadcasts aired the series in 1.33:1,

the DVD presents it in a nifty anamorphic 1.78:1 transfer, matching the widescreen dimensions of its high-definition transmissions. Not surprisingly for such a recent series, the episodes look quite good on any screen. One would worry that the amount of episodes would affect image quality (as much as ten episodes on Disc 2), but given the short runtimes, simplistic menus, and shortage of bonus features, the compression presents little of concern. Picture for the most part is sharp and clear, with a healthy balance in color and contrast.

Audio is available in both English and French 5.1, a bit elaborate for a sitcom. Not much is done with the rear speakers, as the show is naturally dialogue-heavy. With the only music being the theme song and occasional background pieces (usually during parties), the mix is often limited to the front and center channels, which do a fine job.
BONUS FEATURES, MENUS and PACKAGING

A Blooper Reel (9:58) on Disc 3 is all that's offered in the way of extras. It's filled with genuinely funny moments, and it is a treat to see how well the cast work together. Still, as enjoyable as it is, a blooper reel doesn't have much replay value.

The lack of behind-the-scenes interviews or commentaries is not surprising given the treatment of other off-air Touchstone TV shows, but for such a recent one, culling together even a few promotional EPK featurettes shouldn't have been too hard. I hope that Season 2's DVD set improves in this regard and at the very least contains the "A Life of Laughter: Remembering John Ritter" documentary that aired a week before the second season premiere.

Almost counting as legitimate bonus material are the obligatory sneak peeks that are found on the first disc. Start-up trailers include The Jungle Book: 40th Anniversary Platinum Edition, Pixar's Ratatouille, Meet the Robinsons, "Ugly Betty": Season One, and the ever-reliable anti-piracy ad. Previews for The Invisible and both Seasons Six and Seven of "Home Improvement" can be found in the Sneak Peeks menu. The 16x9 menus are static and offer the theme song looping continuously.

The three discs are packaged in a standard-sized dclear keepcase, with one disc on one panel, and two overlapping discs on the opposite. A four-page insert promotes various TV on DVD sets, along with a plethora of Tim Allen releases. There's no episode guide insert, thanks to the inside artwork featuring a list of episodes along with those "8 Simple Rules for Dating My Teenage Daughter" and a splash of color photos from the show.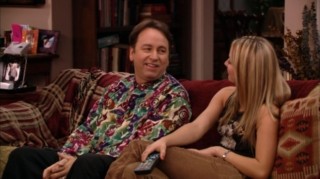 CLOSING THOUGHTS
Two years after the cancellation of "8 Simple Rules", the show's first season makes its way to DVD in a pretty vanilla three-disc set which supplies only a blooper reel for bonus features. While there is room for improvement in the extras department, the high quality of the show and surprisingly low list price more than make up for it. Early episodes may have been somewhat stilted and clichιd, but they still contain the warmth and humor that's found in the rest of the season, making for an enjoyable trip through Parenthood and the Teenage Mind. A great sitcom with a great cast definitely merits a great recommendation from me.