While these days, it's a rare 24-hour period that passes without Lindsay Lohan news, the teenage actress's rise to A-list celebrity gossip and top-billed star power was not a sudden one. We can now look back to Lohan's film debut, in Disney's 1998 remake of The Parent Trap, and classify it as career-launching (as I myself did earlier this week).

But her follow-up to that summer sleeper did not come until early 2000 and it was just a lead role in the Wonderful World of Disney's telemovie Life-Size. A few years later, thanks to the blockbuster remake Freaky Friday, a high-profile relationship with Wilmer Valderrama, a platinum debut pop album, an alleged rivalry with fellow young Disney star Hilary Duff, wild partying habits, and a volatile media-savvy father, Lohan found herself consistently among headlines. She remains there today - a media icon viewed as one of Hollywood's most important young celebrities.

But just before that thrust to the public eye, in 2002, Lohan was headlining another small screen film, this time for cable's The Disney Channel. Pre-singing career and pre-tabloids, things were simpler for the girl who was just an actress and whose biggest claim-to-fame for the year was starring in Get a Clue. Like the other Disney Channel Original Movies, a format that became a regular part of the network's programming in 1997, this teenage detective film was heavily promoted and frequently reaired its initial summer.

In Get a Clue, Lohan stars as Lexy Gold, a privileged New Yorker who attends Millington, an apparently expensive private school in the upper East Side of Manhattan. What most distinguishes Lexy are her flair for fashion and her penchant for journalism. It is the latter which gets her published in The Daily Examiner for a story about Millington teacher Mr. Walker (Ian Gomez). For this feat, Lexy wins praise all around, from her father, an established reporter for the New York Times (Dan Lett) to her supervisor and colleagues on the school newspaper.
The morning after her story is printed, Lexy wakes up to some surprising news: Mr. Walker has vanished! The teacher's car is found in the East River, but he does not turn up right away in the face of searches. The police show up at Lexy's school to question her and while she doesn't have many answers, she becomes as interested as the authorities are in finding them.
To proceed, Lexy seeks some advice from her dorky, gadget-crazy younger sister and enlists the aid of three fellow students. They are: her best friend and fellow fashion buff Jennifer (Brenda Song), Gabe (Ali Mukaddam), the kid who is always equipped with a handheld camera, and Jack Downey (Bug Hall), the editor of the school newspaper who is from the other side of the tracks, (gasp) Brooklyn! The four students contemplate the facts and aim to dig deeper, checking out Walker's apartment and keeping an eye on Miss Dawson (Amanda Plummer, Pulp Fiction) the mousey teacher who apparently had some strong unrequited feelings for Walker.
Get a Clue is rather uninvolving as it follows its young protagonists in their quest to unravel mystery. For one thing, Lexy and her classmates seem to occupy Manhattan in an alternate universe, a universe where a movie like this could be considered clever or captivating. Their priorities, lingo, and attitudes are wholly out of touch with reality. That would be positively dandy, since no one is expecting cinéma vérité from the Disney Channel, but the screenplay is so humorless and drab that it cannot be taken seriously as it yearns to be.
The movie is surprisingly unexciting for what it is. The central search never takes strong meaning and the twists are only unexpected in the sense that you don't expect them to merit apathy. The prolonged conclusion is, as the sequences which comes before it, direly in need of some innovation. A 22˝-minute alternate ending that is included on the DVD changes a few shots, the entire structure of the film, and very little emotionally - three extremes that should not be working in conjunction. This explains how easy it is to be detached from the film.

Like many of the Disney Channel Original Movies, Get a Clue seems to content to simply pass its brief 83-minute running time by showing teens in hip clothes uttering catchy lingo. There may be a specific moral in there,

which can probably be boiled down to following your dreams (how original), but for the most part, it is vapid of values, charm, and stimulation. The least objectionable viewers may find the sleuth work of Lexy and her friends compelling, and in the film's defense, young girls seem to be the intended audience. But everyone else in the wide range of crowds which Ms. Lohan's Parent Trap and Freaky Friday may delight will find little worthwhile here.

That is no fault of her own, since she performs the lead role capably, or at least no less capably than any other young actress bogged down by such a shallow script. As her counterweight and clearly evolving love interest Jack, the cleft-chinned Bug Hall assumes a phony New York accent that one might pick up from watching old movies. Those two young leads are the only ones who make a sharp impression on the viewer, even if their relationship allows the film to comment on class differences with the subtlety of a jackhammer.

Overall, Get a Clue plays like a less entertaining, straightfaced version of Harriet the Spy with high schoolers. Its greatest appeal will be to youngsters, particularly budding journalist-detectives who may grow out of both the film and that phase once they realize how out-of-touch with the real world this is.
VIDEO and AUDIO
Get a Clue is presented in a 1.33:1 fullscreen transfer which matches its original broadcast ratio. I assumed this was the right way to display this made-for-television movie. But, as the astonishingly anamorphic bonus feature reveals, the 1.33:1 presentation actually crops the sides off the 1.78:1 widescreen aspect ratio the film was shot in. While no framing issues were noticed, it's disappointing that only the alternate ending is seen in its more cinematic and pleasing 16x9 dimensions, particularly as widescreen televisions and content become more and more prevalent. Being a TV movie and airing in the 4x3 'standard', it's safe to assume that Get a Clue was filmed with both aspect ratios in mind and protected on camera. Hence, the tighter framing works okay and it's not an invalid way to present it. Still, I'd prefer to see the whole film as shot. A pan-and-scan transfer such as this does not cater to audiences favorably.
Ratio issue aside, the picture quality is pretty good. It's not perfect, and presenting the full 16x9 frame would have improved things to a degree. Still, the element is clean, colors seem accurate (if a bit dark), and sharpness is only mildly lacking. Had I not been enlightened by the bonus feature, I might have offered heartier praise for the DVD's visuals, but ignorance is bliss, right?
In the audio department, the disc offers a Dolby Digital 5.1 soundtrack. The opening/closing theme song seems to be the liveliest element of the track. Otherwise, while the presentation isn't marked by any specific shortcomings, it is not the most dynamic track. Basically, it feels like standard Dolby Surround, but dialogue is clearly conveyed, dynamics are consistent, and everything is as should be on such a recent telemovie of modest production values.
BONUS FEATURES, MENUS and PACKAGING

Just a single bonus feature is included and it turns out to be a most revealing one. The "never-before-seen alternate ending" that is touted on the front cover runs 22 minutes and 31 seconds. It is presented in 1.78:1 anamorphic widescreen

- the framing loses no picture height and gains a significant amount on the sides. Basically, it informs us that despite being broadcast in the 1.33:1 ratio, the film was shot with this wider ratio in mind and that's probably how it should have been presented on the DVD. While the "fullscreen" framing of the movie posed no problems, Get a Clue looks better with its full width on display.

As for the ending's content, although it represents a significant chunk of footage (over one-fourth of the film in whole), the closing sequences play almost exactly as they do in the movie. The exception is that there's a different character who turns out to be the villain of the piece. Does this suggest that Get a Clue was being written while filmed? Or is the movie's actual ending a product of a well-concealed reshoot? Or perhaps the two endings were shot together and the better one was later chosen? In any event, though only a few shots and scenes involving the character are changed from the feature presentation, this is a great inclusion. You won't really need to watch the whole alternate ending as provided to get the gist of it (it runs all the way through the end of the end credits) since much of the footage is redundant, but as it is presented in full, you now have the option to switch to this at the 61-minute mark and conclude the film in this separate way. That also entails an aspect ratio change, but it's nice to have the alternate ending in the better-looking anamorphic transfer and one only wishes the same treatment were bestowed upon the entire film.

The 16x9 menus are accompanied by a 50-second excerpt of the title theme "Get a Clue" performed by Simon and Milo. Unfortunately, though it was listed in some early press materials, the animated music video for the song did not make the DVD. It proliferated the Disney Channel airwaves in the summer of 2002, as did a number of behind-the-scenes featurettes which are also disappointingly nowhere to be found on the DVD. Their absence is hard to explain, especially since the studio is promoting the Disney Channel Original Movies as delivering extras on DVD. Other menus are joined by selections of score and a blue maze background but no animation.

Before the menu loads, there are skippable previews for Herbie: Fully Loaded (the production reel rather than the proper trailer), Cadet Kelly, Even Stevens, the Halloweentown Trilogy, and My Scene Goes Hollywood: The Movie. The second page of the Sneak Peeks menu offers additional promos for Kim Possible: So the Drama, Lilo & Stitch 2: Stitch Has a Glitch, Pocahontas: 10th Anniversary Edition, and "Kim Possible" on Disney Channel.

Inside the case, a double-sided insert lists the 12 scene selections on front and promotes four Disney Channel movie DVDs on back (including this one). Perhaps more excitingly, an enclosed booklet delivers a number of coupons for Kim Possible DVDs, "Lizzie McGuire" Box Set Volume 1, and select Disney titles for the Game Boy Advance.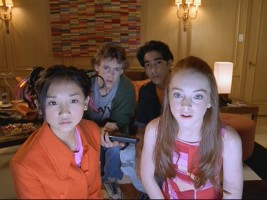 CLOSING THOUGHTS
Get a Clue is primarily for young girls or Lindsay Lohan fans, and both can do far better. Shoddy writing takes much of the "fun" out of this mystery, leaving you with a weak hybrid of more coherent and compelling films. Despite some efforts, Lohan and the rest of the cast cannot ascend above the material. The result is low art, with no greater lasting power than any other 80 minutes of Disney Channel programming. While exhibiting fine audio and video quality, the DVD makes the befuddling decision of presenting the film cropped for standard televisions and the extensive alternate ending in 16x9-enhanced glory. The lone bonus feature is a nice treat, but it's not enough to garner this disc a recommendation to anyone who's unfamiliar with the film.