Review by Aaron Wallace

With my preschool days long behind me, any appreciation for "preschool entertainment" usually has to come from critical admiration rather than personal enjoyment. After all, those productions aren't designed to engage with an older audience, and while that's a little unfortunate for the parents who watch along with their children, it opens the door "edutainment" that can focus squarely on the development of little tykes. Give me a Saturday morning cartoon, however, and I'm as content today as I was during childhood (though I'll take the stuff I grew up with over more modern Cartoon Network fare any day of the week). Of course, it's not that a pre-school crowd can't enjoy those animated outings -- to be sure, they can -- but they typically aim for an audience just a tad older.

So when Stanley's Dinosaur Round-Up arrived on my desk, I expected more of the same: a brief but informative lesson in basic academics and manners woven into a rather passive storyline that wouldn't really command my interest, but just might turn out something that I could at least commend for a job well-done (or condemn for falling short, whichever the case may be). While familiar with much of what the Disney Channel offers in its daytime "Playhouse Disney" programming block (well, I'd seen at least two episodes each of five different shows), this marked my first encounter with Stanley, outside of seeing him in a theme park parade. Therefore, it came as a pleasant surprise that enjoyment of this adventuresome diversion wasn't as much of a challenge as expected.
Stanley (Jessica D. Stone) is a talking toddler of star of his own self-titled TV series. He's joined by a group of friends, his parents, and most notably, his pet goldfish named Dennis. His usual under-a-half-hour session is expanded to a 70 minute movie in Dinosaur Round-Up, in which he heads west with his family to visit his Great Uncle Stew (voiced by the late John Ritter in his final credited role). Stanley has long heard stories of grandeur about Uncle Stew's ranch, courtesy of his father (David Landsberg), but when they finally arrive, it isn't quite as impressive as he had hoped. They soon learn that that's because theme park mogul Rockin' Rory (Randy Quaid) has stolen all the crowds away from the single attraction that kept Uncle Stew's farm afloat:

a rare unearthed dinosaur fossil. To make matters worse, Rory has learned of Uncle Stew's financial woes and threatens to buy out the whole ranch for purposes of expanding his resort if Stew can't meet the bank's demand of paying off all his debts by the end of the month (just two days away!).

To save the day, Stanley and his friends set out to find more fossils in the hopes that they will bring in fresh crowds. Along the way, the kids have to face several of their own fears, such as Stanley having to reconcile his ambition of being a horse-riding cowboy with the fright he feels when he finally saddles his first horse. They also try to learn as much as they can about dinosaurs, and to help them in that quest is goldfish Dennis ("The Nanny"'s Charles Shaughnessy), a sage figure whose commentary is witty as often as it is informative. Together (and with the aid of a "Great Big Book of Everything"), they also take a look at the role horses have played in the course of history in addition to more rudimentary exercises like counting. That may sound like too much dispensed education in one sitting to swallow, but the whole thing actually plays out almost exactly like those cartoon series that I'm so fond of. Only on rare occasions do the characters turn towards the camera to interact with the viewing audience (a staple of preschool entertainment) and all of the lessons are cleverly made part of the story, feeling natural rather than forced. The combination of an adventuresome feel and catchy musical numbers can hold even an older viewer's attention, while the valuable knowledge imparted and its didactic strengths (including a semi-subtle fear-facing moral and the depiction of a positive father-son bond) make it commendable.

"Stanley" can be viewed daily on the Disney Channel, and a few episodes have been made available in the past on compilation DVDs. The Dinosaur Round-Up feature, however, makes its debut as a direct-to-video release, and is presented on DVD as described below.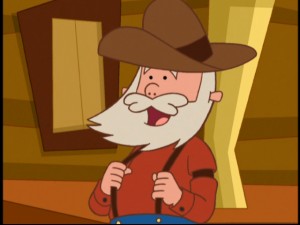 VIDEO and AUDIO
Given that "Stanley" (the TV series) is regularly presented in 1.33:1 on television and that this DVD release is its only incarnation, it seems reasonable to assume that its 1.33:1 presentation here is appropriate. The picture is always clear and the wide array of colors come through rather nicely. The animation is a little softer than perfection would call for, but that may well have more to do with the source material than its DVD transfer. None if it is grounds for disappointment, and the disc gets a good grade in this department.
Ditto for the Dolby Digital 5.1 Surround sound track. Bass isn't abundant, but it isn't necessary either. The rear channels adequately support the crisp audio coming from the first channels. Some of the musical numbers could have benefited from a little more rear-end reinforcement, but the mixing is well-done overall.
BONUS FEATURES, MENUS and DESIGN

Despite what it sounds like, "Make Your Own Great Big Book of Everything" isn't a guide to making a personal encyclopedia. It's actually a question-and-answer session in which the viewer chooses a picture that matches the spoken clue. There are two editions: one for water animals and one for woodland creatures." It leads to "View the Great Big Book of Everything," which isn't advertised on the packaging because it's technically a continuation of the first bonus. It compiles all those nuggets of information that are shared in the first activity into one list, where they can be heard again one at a time or in succession. One of these

features alone would have been nice and sufficient, but having the same material included twice is repetitive, even if it is to keep within a theme.

"Stanley's Dino-Dig Game" is an interactive set-top activity in which viewers try different virtual dig sites in hopes that a dinosaur fossil will be found beneath it. Once five bones are dug up, gamers have to figure out which dinosaur they belong to so that they can assemble the skeleton. There's some guess work involved and it's sometimes repetitive, but the various levels should offer some degree of stimulation.

The disc is "equipped" with Disney's FastPlay, so even without any interaction, the feature and a few other things will play on their own, including some of the movie and DVD previews, which include looks at Pooh's Grand Adventure: The Search for Christopher Robin, new installments in the Disney Learning Adventures and Disney Princess lines (and a disc that falls under both of those categories), Little Einsteins: Our Big Huge Adventure, Lady and the Tramp: Platinum Edition, Bambi II, and the Playhouse Disney series, "JoJo's Circus."
CLOSING THOUGHTS
I'm not sure if "Stanley," the series, is similar in feel to its feature-length form, but if it is, it merits an investigation. Don't get me wrong, teens and adults shouldn't place this very high on their DVD to-buy list (if they place it on that list at all, which is doubtful). Parents who dread the prospect of another hour spent with "Baby Einstein," on the other hand, will find great relief in Stanley's Dinosaur Round-Up. Satisfying DVD treatment (aside from so-so bonuses), colorful animation, an even-paced and involving adventure, a snazzy soundtrack, and a balanced presentation of lessons (both moral and academic) make this something that can be immensely enjoyed by youngsters and more than just tolerable to parents at the same time.