The Apple Dumpling Gang is a fun movie, filled with a likable mix of comedy and adventure. Bill Bixby (TV's "The Incredible Hulk") stars as a simple man named Russel Donovan who agrees to pick up an important package for a friend - knowing Disney films from this era, you might guess that the delivery was either animals or children, and the latter is correct. Three orphan kids, a little rough around the edges - self-proclaimed leader Bobby, feverishly opposed to physical contact middle child Clovis, and the tiny-bladdered young Celia. The film telegraphs where it's going the moment there's talk about mines, but the formulaic nature isn't in any way determinative.
With two energetic performances, Don Knotts and Tim Conway steal the show as a pair of dimwit would-be crooks, who make the Wet Bandits look like criminal masterminds. The scenes that they're not in are often noticeably weaker, but the duo turns up enough to keep the comedy flowing. There's some fairly terse plotting, and the bank robbery sequence starts off quite engaging until it devolves into a Heat-like shootout and the typical live action finale of pratfalls. The kids are charismatic, although they're not featured as much as you might expect. The relationship between Donovan and Dusty (Susan Clark) is intermittently amusing and silly. Keeping track of some of the shady supporting characters is a little confusing, too. But when all is said and done, it's a fun film that works comedically.
DVD Details

1.75:1 Anamorphic Widescreen
Dolby Digital 5.1 (English)
Subtitles: English
Closed Captioned
Release Date: September 2, 2003
Single-sided, dual-layered disc (DVD-9)
Suggested Retail Price: $19.99
(reduced from $19.99 and $24.99)
White Keepcase
VIDEO and AUDIO
Video quality is consistently clean and detailed. There are a few problems here and there - grain and print flaws, and it isn't as dramatically stunning a transfer as with other Vault Disney titles, which also happen to be older as well. So, I'd guess Disney didn't put as much time into remastering the film, since it probably was in a lot better shape than something like 20,000 Leagues Under the Sea. Still, it's a very good video transfer, and it's heads and shoulders above most other '60s and '70s live action fare that Disney releases, not to mention that it preserves the film's 1.75:1 widescreen ratio and has been enhanced for 16:9 television sets.
As with other 5.1 remixes of Disney's older live action films, the soundtrack makes very little use of the surround speakers. The movie's mix sounds dated, but, nonetheless, dialogue, music, and effects are all distinguishable and all the work in the world isn't going to breathe more life into the audio or make the film sound more potent. It's a perfectly fine audio presentation.
EXTRAS

This Special Edition DVD is in the spirit of the excellent double-disc Vault Disney releases, but unfortunately it has been pared down to fit on a single disc. The result is, while there's a number of genuinely entertaining special features like on the other sets,

it's also missing some great stuff that was really first rate on the other releases; things like trailers and radio spots.

It retains the familiar Vault Disney menu and feel by separating what would normally reside on Disc 2 into a section called "The Vault." From the main menu, the other selection "The Movie" contains the typical setup options (including the THX Optimizer), Audio Commentary, and the accompanying cartoon short that normally would be found on Disc 1. "Two Gun Goofy" is an amusing six-minute Western-themed short in which Goofy clumsily and repeatedly foils menacing outlaw Pete. The Audio Commentary features 4 cast members - Don Knotts, Tim Conway, Susan Clark, and Brad Savage. I didn't get to listen to it, but judging from the next feature, I'll bet it's a great listen.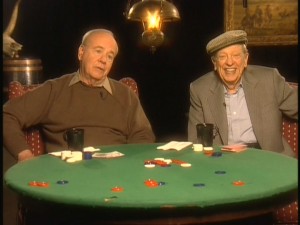 "A Look Back with the Gang" is an excellent first-rate 24-minute featurette, which brings in most of the major cast members to reflect on the film. Topics discussed include the significance of the title (which is given rather passing treatment in the film), the kids' experience as young actors, the physical demands of the film's stunts, working with late director Norman Tokar and star Bill Bixby, and the comic team of Knotts and Conway, who are recorded together. The three kids, now grown-up, Susan Clark, and set decorator John A. Kuri also appear.
Conversations with Tim Conway is like the other "Conversations" featurettes that allow veteran Disney actors to share some memories they have of making films for the studio. Unfortunately, it runs just 11 minutes and 40 seconds. Conway is a great speaker, and has some very interesting anecdotes, more so about Gus and The World's Greatest Athlete than Apple. His sarcastic wit is as sharp as ever, even as if he jokes about his career being over. I just can't help feeling that a lot of this newly-recorded material was cut for the sake of fitting on one disc (other "Conversations" featurettes have tended to run over 20 minutes), and that's too bad.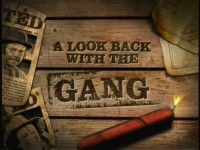 Disney Studio Album 1975 (3:30) highlights the studio's live action projects in the middle of a decade that really shifted focus from animation. In addition to Apple Dumpling Gang, Escape to Witch Mountain and The Strongest Man in the World are prominently featured.
"The Disney Back Lot" featurette under "Lost Treasures" (10:00) is brief but fascinating; it documents how the lot has been used in a number of live action Disney films over the years, beginning with The Reluctant Dragon (1941) and continuing over the decades with fare like Monkeys, Go Home! (1967), Pete's Dragon (1977) and Something Wicked This Way Comes (1983). Amusingly, this back lot space has all been converted into office buildings, parking lots, and gas stations these days. A number of Apple Dumpling cast members appear in this featurette, as do former Disney child stars Kevin Corcoran and Kim Richards.
"Disney's Rootin' Tootin' Cowboy Heroes" is a 2 1/2 minute montage of clips from the studio's cowboy films and shorts, set to the score and theme of Apple Dumpling Gang.
The bonus features really do whet one's appetite for other old live action films from the studio, many of which should be making their way to DVD in some form over the next few years. The practice of following up every featurette (even the 2-minute montages) with a screen displaying "The following films are available on home video" does seem a little excessively promotional, though.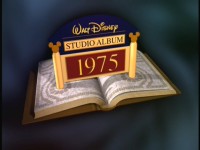 There are certainly weaknesses in supplemental content that result from paring this release down to a single disc. For instance, instead of an entire section of goodies normally labeled "Disney Archives", all that's here is the Galleries subsection. It houses some good stuff - detailed biographies of a number of the cast, production stills, and publicity artwork. But even this has been scaled back, as the normal Vault Disney galleries house twice as many listings.
Before the movie starts, there are preview trailers for The Lion King (coming to DVD), The Haunted Mansion (coming to theaters), Stitch! The Movie and Sleeping Beauty (Special Edition). As is the norm, these can all be skipped with one press of the "Menu" button and all four trailers are individually accessible from the Sneak Peeks menu under "The Movie."
CLOSING THOUGHTS
The decision to cut back The Apple Dumpling Gang (and the two Witch Mountain movies) into single disc releases, is disappointing, but fortunately, much of the care that is seen in the other Vault Disney/"Special Edition" sets is present here too. The movie presentation is of commendable quality, and while the extras are scaled back, they still provide about an hour of the consistent entertainment that one has come to associate with this line's supplements, plus a full-length cast audio commentary.
Most importantly, though, the film remains high-spirited fun, thanks mostly to two fine comedic performances from Don Knotts and Tim Conway as the bumbling half-wits and a well-paced story that successfully blends elements of westerns, comedies, and the tried-and-true live action Disney formula. This Special Edition DVD of The Apple Dumpling Gang is sure to please, and deserves praise.