Page 1: Show Discussion, Disc 1, and Disc 2
Page 2: Disc 3, Video/Audio, Bonus Features, Menus & Packaging, and Closing Thoughts

For many television shows lucky enough to receive a second season, the sophomore year brings great change. The dust has settled from the water-testing season, leaving the creators and executives behind the camera to make revisions in the name of improvement. Casts may change, frequent scene locations may be added or dropped, and in more dramatic cases, even the focus or mood of the entire series can be tweaked. For "Scrubs", that was not at all the case.

This fresh half-hour series, best classified as a comedy despite its hospital setting, returned in the fall of 2002 nearly identical in design to the debut season that wrapped up the previous spring. In fact, actors' hairstyles may be the easiest and only way to distinguish a Season 2 "Scrubs" episode from a Season 1 show on sight.

That nobody tinkered with the show's formulas can only be classified as a minor surprise, because "Scrubs" was pretty successful as far as first-year TV programs go. No, it did not become the instant talk of the town or a regular Top 10 in the Nielsens the way those rare lightning-in-a-bottle freshman phenomenons do. But it garnered some award nominations (including two Emmy nods) and strong reviews, while posting solid viewership in its Tuesday night slot. All of that likely contributed to NBC's decision to throw its support behind the show. The network did this in a grand fashion, sandwiching "Scrubs" between its two most popular sitcoms, ratings king "Friends" (beginning its 9th season as the top-rated show in the nation) and veteran Emmy favorite "Will & Grace", as part of the still-quite-potent "Must See TV" Thursday night lineup. Needless to say, the audience for "Scrubs" grew considerably, making it the 15th most watched program of the season. The series also received a boost in visibility from the memorable (albeit synergetic) appearances of five cast members and creator Bill Lawrence in NBC's It's a Very Merry Muppet Christmas Movie, which aired Thanksgiving Weekend 2002.

With higher stakes and higher ratings, the talented cast and crew of "Scrubs" stuck to their guns and stayed remarkably true to the series' original sensibilities. Why shouldn't they have? It was these sensibilities that made "Scrubs" a fresh alternative to the reality programming and hour-long crime dramas that were dominating the airwaves its premiere season.
Season Two picks up where Season One left off, with the show's focus still squarely on a trio of young doctors, a nurse, and two clashing authority figures at Sacred Heart Hospital. Those young doctors are now no longer interns, but residents: goofy protagonist John Dorian (played by Zach Braff and more frequently known as J.D.), his longtime best friend and roommate, surgeon Chris Turk (played by Donald Faison and rarely referred to by his first name), and the neurotic, desperate-for-attention Elliot Reid (Sarah Chalke). Carla Espinosa (Judy Reyes) is the nurse, quick-witted and caring to the central three, especially towards Turk, who has been her boyfriend from nearly the start of the series. Comprising their opposing superiors are the hospital's fiery chief of medicine Dr. Bob Kelso (Ken Jenkins) and the hard-edged veteran Dr. Perry Cox (John C. McGinley). The only addition to the regular cast is barely worth mentioning. Having appeared in every episode of the first season as the unnamed janitor who often torments or is accidentally victimized by J.D., Neil Flynn retains the role and is upgraded to opening credits billing. Though still unnamed, this season bestows upon the Janitor the privilege of interacting with other hospital workers besides J.D. and, eventually, other regular cast members as well.
Last season's finale left things in a deliberate mess, as Dr. Cox's caustic ex-wife Jordan (recurrent guest Christa Miller Lawrence) dropped months' worth of secrets upon the cast, throwing awkward hitches into most of the series' central relationships. The newest and most noteworthy unease was created between J.D. and Elliot, friends who briefly tried to be something more, Turk and Carla, faithful lovers who still had tough-to-pinpoint problems, and J.D. and Dr. Cox, his reluctant mentor who continues to call him by an endless list of women's names. After quickly resolving each of these issues, it's business as usual around Sacred Heart Hospital, and such business remains frequently funny, occasionally hilarious, and once in a while, pretty poignant.
In its second season, "Scrubs" relied upon the same unlikely but unfailing recipe for quality entertainment. The comedy becomes increasingly on-target as viewers are allowed to observe and discover more of the mannerisms of the quirky ensemble. The humor also remains boldly present in the show's surreal asides, both in J.D.'s omnipresent everyman narration and in the continuing clever visual fantasies, the broad strokes of which regularly pay off in the form of large laughs. A few secondary characters again appear from time to time purely to divert with their characterizations. Among the most consistently amusing: the hospital's emotionally-abused lawyer Ted (Sam Lloyd) is usually reduced to being Kelso's secretary, but takes pleasure in small victories such as performing around the hospital with his acapella quartet (who this year graduate from television theme songs to commercial jingles); Todd (Robert Maschio), the surgeon who refers to himself as "The Todd", has a sense of humor which is stalled on sexual innuendos and validated by overzealous, self-initiated high-fives; Nurse Laverne Roberts (Aloma Wright) seems to exist in a world distant from the rest of her co-workers, but she finds her way into their business and puts up with their hoopla to varying degrees.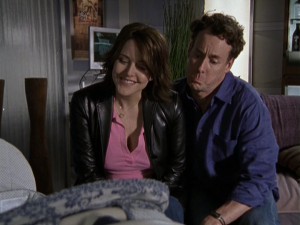 As in the past season, "Scrubs" is not content just to make you laugh for a half-hour. The hospital setting inevitably lends itself to drama and the second season embraces it as much as and a little more than Season 1. J.D.'s underlying narration of his scenes and the episodes at large again proves successful at helping the series balance its random broad comedy with diverse but widely relatable problems that all of the characters grapple with. The show doesn't always pull off its straight-faced musings perfectly, but it hits its targets far more often than it misses. The versatility it shows in attempting to waver between "wildly silly" and "emotionally poignant" within the same episode is commendable; many entertainment forms that try this fail miserably. This quality makes it tough to label the series a "sitcom"; how many of the shows we can instantly call from our collective consciousness to fit that definition ever tactfully pulled off dramatic storylines or elements?
Likewise, loud though most of the personalities of "Scrubs" may be, they are anything from the caricatures that often occupy situation comedies. The happenings of most episodes contribute some layer to the central cast that help us see them in a different light. In Season Two, you'll notice how their experiences drive Dr. Cox and Dr. Kelso to become more and less human, respectively.
Big name guest stars continued to be abound in the second season. As a bonus feature points out, these fall into a few groups. There are brief appearances made by pop culture icons often playing themselves, such as Jay Leno, David Copperfield, and Fred "Rerun" Berry. There are familiar faces who memorably show up for one episode including, most notably, Dick Van Dyke, D.L. Hughley, Ryan Reynolds, Tom Cavanagh, and Jay Mohr, plus Alan Ruck and Richard Kind from creator Bill Lawrence's previous primetime success "Spin City." Then there are celebrities who join the proceedings for a number of episodes: former child actor Rick(y) Schroder, film actress Amy Smart (of Road Trip, Varsity Blues, and others), and Heather Locklear (of "Melrose Place" and also "Spin City"). Though "Scrubs" has a very distinct style, these guest actors almost always integrate into its world nicely and seamlessly.
The second season of "Scrubs" relies a bit more on overarching storylines than standalone plots, though it is defined by another mixture of both. The focus again lies on the three doctors' abilities to fit in at the hospital in their second year and to accept the realities of a career filled with life and death. The season also explores several areas of their personal lives. J.D. struggles romantically, moving from getting over Elliot to going back to her and onto a gift shop girl and a comatose patient's wife with a drama fetish.

In spite of some bumps in the road, Turk and Carla see no other people and decide to escalate their romantic relationship. Elliot grapples with the reality of being broke after an unprecedented decision to stand up for herself gets her cut off from the family cashpot. The pregnancy of Dr. Cox's ex-wife puts the highly sarcastic pair back together, albeit with complications. Meanwhile, Dr. Kelso continues to make life difficult for the residents, for Dr. Cox, and for the eternally underappreciated and perspiring Ted.

I've dispatched plenty of praise for "Scrubs" both here and in my review of its first season DVD (which you should have already read and if not, do so now!) and cannot fail to approve of its willingness and ability to entertain in methods unlike past half-hour television series. The second season proves to be as pleasing as the first, and with very little change needed or introduced. Still, I can't rank "Scrubs" among my absolute all-time favorite TV shows and can only think of few explanations for this. As I mentioned last time, it is again a challenge to fully identify with these characters. That could be irrelevant -- you don't need to have Mafia experience to appreciate The Godfather or have done time to like The Shawshank Redemption -- but for some reason, while it's easy to care for these characters, their actions and quirks do create a bit of distance and detachment from the viewer. Even the widely-appealing protagonist stretches the bounds of our sympathy with his romantic actions late in the season.

The only other drawback I can pinpoint is that the episodes here simply aren't long enough. Even with the show's rapid-fire pacing (which results in a volume of dialogue that's maybe twice as much as other half-hour laugh track-backed series) and unusually brief opening title sequence (running about 10 seconds), each episode of "Scrubs" feels cut short at just over 20 minutes plus end credits. There are a couple of "supersized" episodes (which add 4-7 minutes to the runtime) and these feel noticeably more fleshed out, but the rest are left to wrap up angst-creating problems in too short a time. Obviously, the blame here must lie with stupid commercials. On average, Season 2's shows allow for an extra minute of advertising space, which is surely dictated by the realities of the television marketplace but no less frustrating even with the commercials are excised, as they are on DVD. Such is a shortcoming of network television; hour-long "Scrubs" episodes might feel excessive, while something in between is typically not conceivable, outside of the occasional "supersized" promotion.

After making its DVD debut last May with a considerable amount of hoopla and chart-topping sales numbers, "Scrubs" returns to home video in similar fashion. Like its predecessor, The Complete Second Season holds three discs and greater-than-average behind-the-scenes bonus material from the cast and crew who clearly care for their fans. Originally scheduled for release in October, the DVD was bumped six weeks and is now part of a month filled with television box sets from Disney and other studios alike. Since the last set was issued, Buena Vista Home Entertainment has begun to price its box sets of half-hour sitcoms at $39.99 SRP, as opposed to the previous $49.99 list price. That means you'll be able to enjoy the numerous hours of fun at about $7-10 less than Season 1, with no decrease of effort or quality and for the most part, improvements abound.

A star (

) denotes my ten favorite episodes from the season.
Disc 1

1. My Overkill (21:03) (Originally aired September 26, 2002)
The mess left for all at the end of the first season gets addressed and conquered after a number of awkward exchanges. J.D. finds himself followed around by a man with a guitar (Colin Hay, of the 1980s Australian band Men at Work) whose songs seem directly applicable. J.D. tries to make things right with Elliot and with Dr. Cox.

Meanwhile, Turk strives to win Carla's forgiveness. Until then, he's stuck being J.D.'s bedmate.

2. My Nightingale (21:02) (Originally aired October 3, 2002)
J.D., Elliot, and Turk are covering the hospital's night shift on their own, producing feelings of freedom and power, but also overwhelming challenges. Dr. Cox reluctantly admits to still having feelings for his sharp ex-wife Jordan, but she tests him to see if he's truly a changed man -- he has to introduce Dr. Kelso at an award ceremony.

3. My Case Study (21:05) (Originally aired October 10, 2002)
Dr. Kelso gets a big response when he promises a business trip to Reno for the resident who can provide the most interesting case study. Dr. Cox is impressed that J.D. doesn't get caught in the frenzy, but J.D. is tempted to give it a try. Meanwhile, everyone around the hospital takes advantage of Kelso's lone generous day of the year (his anniversary) by asking for all they can, but Turk forgets to put in a request for his department.
4. My Big Mouth (21:04) (Originally aired October 17, 2002)
J.D. begs for Carla to open up with him about her personal life and soon gives her reason to regret it. Turk is taunted by a female surgeon racking up all the good assignments, but he gets the last laugh when Dr. Kelso picks him for a summit in Mexico. Hungry for Dr. Cox's attention, Elliot agrees to take on the task of relaying bad news to his patients.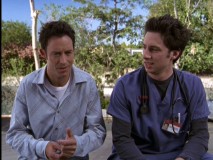 5. My New Coat (21:04) (Originally aired October 24, 2002)
J.D. underscores his authority as doctor by wearing a white coat and the Janitor does the same for his position. After a one night stand, Elliot quickly develops the reputation of a tramp around the hospital staff. Turk struggles to fit in with the sophomoric surgeons while remaining respectful of Elliot, with intense back pain at stake.

6. My Big Brother (21:18) (Originally aired October 31, 2002)
J.D.'s brother Dan (guest star Thomas Cavanagh, then of NBC's Ed") unexpectedly is in town and the interest he takes in Elliot creates some awkwardness. In opposition to Dr. Cox's cold sarcasm, Turk struggles to find the right amount of sensitivity regarding his patients. Meanwhile, the Janitor and Dr. Kelso celebrate Halloween in their own unique ways.
7. My First Step (25:28) (Originally aired November 7, 2002)
A pretty pharmaceutical sales representative shows up (guest star Heather Locklear, in her first of back-to-back appearances) and throws Dr. Cox into an inner conflict between disdain and attraction. J.D. and Elliot's clash over how to treat her patient causes unease between them. Likewise, Turk's attempt at a kind gesture to Carla angers her.
Disc 2

8. My Fruit Cups (22:03) (Originally aired November 14, 2002)
Dr. Cox struggles to choose between his new girlfriend and his ex-wife, who returns and is pregnant with someone else's baby. Elliot has difficulty turning down interest from the gynecology department, but she musters enough courage to defend her decision with her father. J.D. finds ways to make the most of his paltry salary by stocking up on hospital food and supplies and moonlighting at an urgent care facility alongside Turk.

9. My Lucky Day (21:05) (Originally aired December 5, 2002)
J.D. feels special after spotting a rare case of flesh-eating bacteria that Dr. Cox has misdiagnosed. Still, he has doubts when he and Cox take on identical cases in a bit of spirited competition.

Carla feels compelled to advise Dr. Cox that he and his ex-wife don't seem right for each other. On her own financially for the first time, Elliot struggles to move out of her luxurious apartment and, on top of that, has to deal with a lawsuit from a patient (Alan Ruck of Ferris Bueller's Day Off and "Spin City") who hasn't died months after she told him he would.

10. My Monster (21:14) (Originally aired December 12, 2002)
Working at the hospital while having women in their lives takes its toll on J.D., Turk, and Dr. Cox. J.D. asks out a pretty gift store girl but has trouble enjoying it, Dr. Cox allows Jordan to move back in with him and immediately regrets it, while Turk can't find the energy to keep romance with Carla exciting. Unable to find a roommate or any place to stay, Elliot begins sleeping in the hospital...until she finally takes J.D.'s invitation to move in and agrees to something more.

11. My Sex Buddy (21:08) (Originally aired January 2, 2003)
J.D. and Elliot try to enjoy a sexual relationship without getting too close. Dr. Kelso schools Carla and J.D. on giving vague replies not firm answers in response to patients' advice pleas. Elliot's patients keep requesting new doctors, a pattern which both she and J.D. are surprised stems from Turk.
12. My New Old Friend (21:10) (Originally aired January 9, 2003)
J.D. struggles to adjust to being just friends with Elliot, attempting another date with the gift shop girl. Dr. Cox snaps at a seemingly healthy patient (guest star Richard Kind) who he suspects of craving attention. Turk can't bring himself to revoke a patient's driving license and is disenchanted when Dr. Kelso points out the prevalence of lies at the hospital. On that note, the Janitor attends Career Day at his son's school.
13. My Philosophy (21:09) (Originally aired January 16, 2003)
Turk decides to ask Carla to marry him, but he can't find the right time and his ring gets swallowed by a patient. Dr. Kelso's plans to expand his office are sidetracked by Elliot's demands for a female locker room. J.D. gets close to a heart transplant candidate and a troubled married couple who reminds him of Dr. Cox and he.

14. My Brother, My Keeper (21:04) (Originally aired January 23, 2003)
The legendary Dick Van Dyke guest stars as Dr. Townshend, Dr. Kelso's widely-loved best friend, whose approval of J.D. earns the resident protection from the Janitor and his working class hospital staff friends. Turk has trouble awaiting an answer from Carla, and the appearance of his just-divorced brother (guest star D.L. Hughley) does not make things better. Dr. Cox and Jordan disagree on knowing her baby's gender; when Elliot finds out, Cox tries to squeeze it out of her.

15. His Story (28:05) (Originally aired January 30, 2003)
In a change from the norm, Dr. Cox narrates this episode, in which he attempts to sort things out with his weary shrink and J.D., who has switched off to another doctor. Elliot is tickled by her new boyfriend Paul Flowers (guest star Rick Schroder, in his first of four Season 2 appearances), until she learns that he's a "murse" (male nurse), a fact that makes her the hospital laughingstock. Also occurring in this "super-sized" episode: Cox has to give Dr. Kelso a physical, J.D. experiences some elevator troubles, and Turk finally gets an answer.
Buy Scrubs: Season Two DVD from Amazon.com