Thirteen-year-old Anabel Andrews (Jodie Foster) hasn't been getting along with her mother (Barbara Harris) very well lately.

Mrs. Andrews finds her daughter's messy room, haircut, and lazy attitude in school troubling. Anabel wishes that she could just have some space and freedom.

On the morning of Friday the 13th, both Anabel and her mother express wishes that they could switch places. Suddenly, this happens. Anabel finds herself inside her mother's body, and Ellen Andrews now inhabits her daughter.

Anabel expects that as her mother, she'll be able to stay at home, watch television, and do whatever she wants. But maternal duties soon are revealed, and a simple load of laundry poses quite the challenge. In addition, she has got to tend to every one of the needs of self-centered Mr. Andrews (John Astin), who as a husband isn't quite as cool as a father.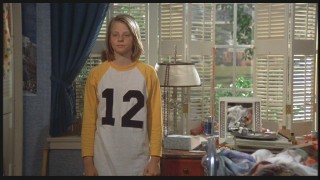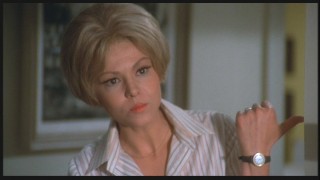 While Anabel is struggling with the maid (Patsy Kelly), carpet cleaners and cooking, Ellen is finding a day in school to be more than she expected. Her friends find her critiques to be ridiculous, and whether she knows too little or too much, it's difficult for her not to be outcast.
As her mother, Anabel seeks to woo Boris Harris (Marc McClure), an allergic neighborhood boy she fancies. Meanwhile, she's got to pick up the annoying brother she calls "Apeface" from school and help out with plans for the aquacade Mr. Andrews has arranged for a potential business client. She'd rather just have fun playing baseball in the park.
Once she gets her braces off, Ellen experiments with a new look for her daughter. But this eventful Friday poses more serious challenges for Ellen, as she finds herself the team captain in an overwhelming field hockey game and the main attraction of her husband's ('father's') water-skiing show.
Based on Mary Rodgers' novel, which she adapted for the screen, this laugh-filled comedy takes its innately fascinating body-switching premise and weaves a lively and meaningful tale, with a strong dose of live action Disney magic. Mother and daughter come to appreciate what the other does, having literally walked in the other's shoes.
Part of what makes Freaky Friday work so well is the excellent performances from the two leads. Barbara Harris and Jodie Foster have a lot of fun with their roles, a characteristic to which the actresses in the 2003 remake remained true. They take material that might be merely amusing on paper and make it very funny. The film has a comic energy through both the mother and daughter segments, that matches the often-present and always upbeat '70s score.
The original Freaky Friday lacks the heavy-handed message of the popular 2003 remake and delivers far more in the way of wit and charm. Like the original Parent Trap, it's a contemporary family comedy that transcends any intended audience and simply delights all. What's hip and current in the '70s may seem awfully dated now, but the heart of the film's story remains as true and wonderful as ever.
DVD Details

1.85:1 Anamorphic Widescreen
Dolby Digital 5.1 (English)
Dolby Surround 2.0 (French)
Subtitles: English, Spanish
Closed Captioned
Release Date: June 1, 2004
Single-sided, dual-layered disc (DVD-9)
Suggested Retail Price: $14.99 (Reduced from $19.99)
White Keepcase
VIDEO and AUDIO

Presented in its original 1.85:1 aspect ratio, and enhanced for 16x9 televisions, Freaky Friday looks terrific. This pristine transfer displays the film with hardly a flaw. The film retains its 1970s dated look, but showcases a sharpness and clarity that would suggest a more recent film. Colors are vibrant and faithful to the palette of the decade. It's clear that sufficient remastering went into this presentation, and the result is as positive as any other well-treated Disney film from the era.
The film's Dolby Digital 5.1 soundtrack isn't the most dynamic, but it perfectly serves the film. Though the elements are a bit dated, they do not exhibit any particular problems. The surrounds are used for the groovy score, which subtly enhances the audio experience. For the most part, the audio feels strong. Just don't expect it to have the impact of a modern soundtrack, as there's only a bit more life to it than the typical catalogue disc's Mono or Surround offerings.
EXTRAS


The main supplement is "A Look Back with Jodie Foster", an excellent 20-minute featurette. The actress recalls the Disney films she made, discussing Candleshoe, One Little Indian, and

Napoleon and Samantha. Of course, Freaky Friday is given the most time, and Foster fondly recalls the film and why it works so well.

This piece calls to mind some of the "Conversations with" bonus features on the Vault Disney sets, and Foster is a most engaging speaker. Among other things, she reveals that she might very well have been Princess Leia in Star Wars, if not for having to fulfill her Disney contract with Freaky Friday and Candleshoe. She also talks about the Disney studio atmosphere in the 1970s and the types of films they made.

The other bonus feature is an Interactive Memory Game. A simple but fun version of the game, you choose to play as the mother or daughter, turning over cards and trying to match four pairs of photos. The fullscreen film clips seen in the bonus features really makes it easy to appreciate how good Freaky Friday looks on the DVD.
All of the 16x9 menu screens feature the film's funky music. The main menu is animated, and so are the transitions. The selection pages certainly stand out from the generally basic catalogue title's menus.
While it's not the "hours of bonus features" that Disney's video page once promised when it was scheduled for DVD release in 2003, Freaky Friday does offer more than most of Disney's classic live action films do in the way of supplements.
Freaky Friday opens with 4 trailers, which are acccessible from the Sneak Peeks menu. They are for Aladdin, Mulan, "Classic Family" movies on home video (from the '60s and '70s) and "Contemporary Classics" (movies from this decade including the 2003 remake).
CLOSING THOUGHTS

Freaky Friday is a delightfully fun family comedy. The contemporary nature of the story makes it a true product of the 1970s, but the film remains every bit as entertaining nearly three decades later. While it doesn't approach the superb quality of the studio's double-disc treatments, Disney's DVD exhibits flawless picture and sound, plus the added bit of effort seen in a great interview with Jodie Foster, a fun little game, and some spirited menus. The quality of the movie and the DVD presentation make Freaky Friday one of the easiest recommendations to make among Disney's live action films.
More on the DVD / Buy from Amazon.com / Buy the 2-Pack: Original & Remake