By Aaron Wallace

When Sling Blade was released to theaters in 1996, it was met with critical acclaim and much box office success, launching writer/director/star Billy Bob Thornton from forgettable bit player to Hollywood icon. In revisiting the film, it's not difficult to see why. Sling Blade is a remarkable movie for many reasons. The most obvious is that it was produced for a total sum of just around one million dollars and filmed in under a month.

This incredibly low budget and small timeframe doesn't seem to have affected the movie, though. It is as potent and polished at one million dollars as many movies are at even a hundred times that.

It is the story of a man named Karl (Thornton) who is being set free after twenty-five years in a mental institution. Though he is believed to suffer from mental disabilities by many, he was admitted after murdering his mother and her lover at the age of 12. This revelation comes very early in the film, in a context that makes them seem less heinous. Or does it? Thornton wastes no time in creating a conflict between the likeability of the simple, kind character and the crimes he committed, which lies in the background throughout. Having spent most of his life in captivity, Karl is unsure of what to do once he's out. A fair amount of time is devoted to his gentle rediscovery of the outside world, which he adapts to - a challenge, given his history and underdeveloped communication skills - but doesn't care for.

He meets a young boy named Frank (Lucas Black) and his mother, Linda (Natalie Canerday). Frank's father has died and the connection established between he and Karl allows for their friendship to fill a void in his life. Frank and Linda invite Karl to live in the garage outside their home, where he meets Linda's new boyfriend, Doyle Hargraves (Dwight Yoakam) who is as despicable an individual as one can find. Increasingly, Karl sees his friends as victims and himself as the only one who can protect them.
By the film's midpoint, where it's heading becomes obvious. That's okay, though, as Thornton doesn't seem to be concerned with masking where he's going, but only with depicting how he gets there. This is evident even in the cinematography. Sling Blade has a visual presence and style all its own. The color palette is dark and subdued. The camera often takes risks in its angling. Most of the time this pays off. In others, like when Karl turns abruptly and looks directly into the camera, the effect is questionable. For the most part, the camera doesn't move, as if it's another person sitting in the room, allowing action to move outside of the frame and back in, or is positioned to frame a scene with a tilt. This style is noticeably atypical, but it's also brave and works to the film's benefit overall.
Like the visuals, the role of sound takes more on its shoulders than is usual. The film's score sounds something like a blend of folk and rock and can, for entire sequences, propel the action. This is particularly true in the later half. Somber vocal rounds sometimes provide a backdrop to the music and visuals as well.
The characterization and acting is exactly what it should be: believably real, which is essential to the story's impact. The characters needed to be as tangible on film as they must have been on paper, and that they are. Thornton is lost inside his character. He truly seems to become Karl, voice, mannerisms, figure, personality, and all. Lucas Black's performance at age eleven firmly places him in the rank of Culkin, Wood, and Osment. John Ritter, who plays Linda's boss and good friend, is so convincing and unusual in appearance and character that I couldn't put my finger on who was playing his part until the end credits. Rick Dial, who had never acted before in any capacity, doesn't feel out of place, nor does Canerday, whose well-depicted struggle as a mother and girlfriend add another dimension to the film. The most unexpected performance - but one of the best - is country music singer Dwight Yoakam's as Doyle, who anchors the tenderness of the film with villainy of a realistic kind. Thornton and casting director Sarah Tackett are to be applauded for their dead-on pairings of actor and role.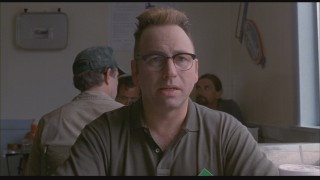 It's not just Sling Blade's characters that make the movie, it's the story too. Drama can often be under- or overwhelming, but neither is the case here. There's plenty to laugh at, but even more to think about. The story is gripping, both in the struggle that several characters face, and in the uncommon friendship of a lonely boy and a convicted killer.

It's a heavy film, to be sure, not to mention long, and so therefore isn't the easiest to watch. That's a credit, though, to it being so involving. Its execution is excellent and is enriched by the vitality given it by the authentic southern, rural setting that features so heavily.

There's a lot of profanity and vulgar discussion, along with a few suggestions of graphic violence. For that reason, it is appropriately rated R and viewer discretion is certainly advised. Due to its disturbing nature, even as far as R-rated movies go, this isn't one for the kids.

Thornton's film has an interesting history. He first composed the earliest monologue and performed it on stage as a one-man show. It later became a 25-minute short film (titled "Some Folks Call It a Sling Blade") that raised funds for the feature-length production known today. Miramax then bought the movie for somewhere around ten million dollars and the rest is history. Sling Blade was nominated for two Oscars, one for adapted screenplay (adapted, that is, from Thornton's original play) and one for best actor (Thornton). It took home the former but unfortunately missed out on the latter. It did capture a variety of other awards, many for independent films, as well.

Sling Blade comes to DVD for the second time now as a 2-Disc installment of the Miramax Collector's Series line. The cut of the film included on this DVD is the original director's cut, before it was edited down for theatrical exhibition. There is an additional 13 minutes in this version, which are comprised of small new scenes and minor extensions of old ones. Not much is changed by the new footage, and it mostly adds to the experience. Still, the option to watch the theatrical cut via seamless branching would have been appreciated (that version is, however, available on a single-disc DVD for those interested).
DVD Details

1.85:1 Anamorphic Widescreen
Dolby Digital 5.1 (English),
Subtitles: English, Spanish
Closed Captioned
Release Date: June 7, 2005
Two single-sided, dual-layered discs (DVD-9)
Suggested Retail Price: $14.99 (Reduced from $19.99)
Black Dual Amaray Keepcase
VIDEO and AUDIO
Whereas its previous DVD was not enhanced for 16x9 televisions, Sling Blade is presented here in a 1.85:1 anamorphic widescreen transfer. It gets quite grainy, especially during parts in which you wish it wouldn't. The occasional small artifact pops up as well. Of course all of this is less noticeable on a standard TV box than on a widescreen plasma set, but it's unfortunate that it wasn't cleaned up a bit more for a release of such a commemorative nature.
The audio, on the other hand, is without problems of any kind. Dialogue is crisply delivered via the center channel and the score resonates through all the others where appropriate. Not every scene uses the subwoofer, but when the bass kicks in, it really kicks in. The signature monologue near the beginning boasts some of the most tremendous bass that I've heard in a while. The Dolby Digital 5.1 track is the only one offered, but it does a fine job.
BONUS FEATURES
The new Sling Blade set is about as chock-full of bonus features as they come. Or, as nearly half the features are long enough to be movies themselves, maybe it just seems that way.
DISC 1
Disc One's only special feature is a feature-length audio commentary from Billy Bob Thornton. As is explained right away, this is the same commentary track that was used on the previous single-disc release. Only the beginning and the segments restored in the director's cut have new commentary. This might disappoint some fans and reduce the incentive to upgrade, though to be fair, a newly-recorded track would probably say mostly the same thing. Perhaps additional cast could have joined in for a new recording. A slight change in voice can be detected when the track transitions from the old to the new. Having created and performed the movie himself, Thornton of course has a lot to say. Much of this is self-praising and is repeated in several of the disc two features, but still makes for an insightful listen. There are plenty of lulls, but they never last for long, and he tends to stay on-topic and talks through the end credits.
The disc opens with previews for Bride & Prejudice and Dear Frankie, along with the standard 25th anniversary promo for Miramax, none of which are accessible from the main menu.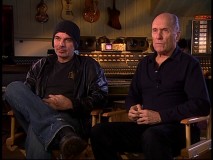 DISC 2

"Mr. Thornton Goes to Hollywood" (1:06:45) is a very detailed look at the star's life,

from his childhood to his struggles to break into the business, to his current success. There's even a little bit about Sling Blade! The story comes together with lots of commentary from Thornton himself, as well as interviews with family, friends, and colleagues in the business. Fans of Billy Bob will probably find this a treat, but if your primary interest lies with the movie and not the man behind it, you'll likely want to make use of the fourteen available chapter selections.

"Bravo Profiles: Billy Bob Thornton" (43:22) is the complete episode of the Bravo network series, which profiles the lives of celebrities. Again, Thornton's fans will be glad to have this TV show on DVD, and perhaps Buena Vista is to be applauded for securing it for DVD release, but it repeats a lot of the life story details that are covered in "Mr. Thornton Goes to Hollywood," without including the chapter stops. The video quality here is also a bit rough, which is to be expected.

"A Roundtable Discussion with Billy Bob Thornton, Dwight Yoakam, Mickey Jones, and Producer David Bushell" (1:15:21) is the most informative piece, in terms of the film itself, on the entire DVD. It's a bit long-winded but a lot of ground is covered with plenty of revelations. The selection of cast and crew that joins in might seem a bit odd at first, but there's a great chemistry among them. Mickey Jones, whose role in the film is small but great, has as much to say as Dwight Yoakam. Only Bushell seems to be reticent. There are twelve chapter stops, selectable from the sub-menu.

The second page of Disc Two begins the "Conversations" featurettes, of which there are three: "A Conversation with Billy Bob Thornton and Robert Duvall" (8:31), "A Conversation with Robert Duvall" (7:35), and "A Conversation with Billy Bob Thornton and Composer Daniel Lanois" (22:58). The latter features a live studio performance of "Omni" from the score, compared to its use in the film, and includes some interesting discussion of the film. The former two again focus primarily on Thornton and how he and Duvall met. These two get a bit off-topic, which probably stems from including Duvall, whose role in the film is very small, on two different supplements. Each comes with four to six chapter stops (selectable from sub-menus), which isn't really needed on the first two, but might be useful on the longest of the three.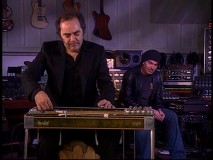 "The Return of Karl" (3:39) appears to be a deleted scene at first, but then turns out to be some sort of on-the-set joke or chance for some improvisational acting. It's funny, but its purpose is a bit confusing, and attaching an explanation of context at the beginning would have been appreciated.
The third and final page of bonus features begins with "On The Set," which opens up to a sub-menu of three very short clips from the time of production. "Billy Bob at Work" (4:38), "Doyle's Band: The Johnsons" (1:46), and "Doyle Gets Pummeled" (1:53) provide behind-the-scenes glimpses at the scenes they describe. A "Play-All" feature would have been nice.
There is one deleted scene included on the disc: "Doyle's Dead" (4:33). Just before it plays, Thornton explains that it was meant to be an end credits tag, but he made the final decision to remove it because its light-heartedness didn't seem appropriate after such a heavy ending to the film. In the amusing scene, two of the funniest members of Doyle's band rehearse a new song.
The final bonus features are three reviews from the time of release, which can be read on-screen with the use of your remote control. Two, from TIME and The New Republic, are quite positive. The other, from the Los Angeles Times takes a very sarcastic approach without praising or criticizing the movie or its creator.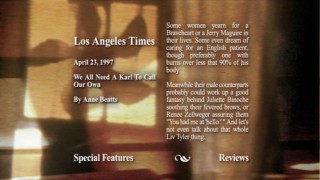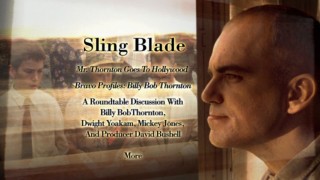 MENUS and PACKAGING
Disc One's animated main menu features a rippling pond and a repeating clip from the film. The dark selections from the score and dim coloring set the mood for the movie-watching experience. The sub-menus are still screens. Disc Two contains three pages of bonus features, many of which have one or more sub-menus listing chapter selections. They are all animated and set to different selections from the score, though the first and third aren't quite as entertaining as the second. In transitioning between the pages, a clip from the film plays, which grows tiring. The only other complaint is that the disc is a little menu-heavy.
A 16-page glossy color booklet is enclosed inside the black dual amaray case. Four of those pages are spent on a lengthy, positive 1997 review from Esquire that makes for a pleasant read. Also included are exclusive production photos, trivia facts, a list of accolades and awards given to the movie, a note from Thornton, a list of contents on both discs, and scene selections on the back.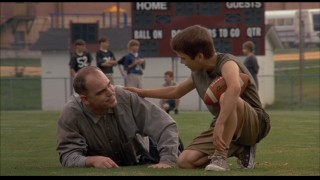 CLOSING THOUGHTS

Excellence in characterization, acting, and storytelling combine with a unique and entertaining direction style to make Sling Blade an exceptional and fantastic film. To be sure, it's disturbing, but through every shudder it evokes, it connects with an audience in a way that leaves an impression long after seeing it.

A review of the bonus features might lead you to think that this is "Billy Bob Thornton: The Sling Blade Edition." To some degree, that's appropriate, as he is the creator, screenwriter, director, and star of this, his signature film. The extent to which the second disc profiles and glorifies his life and career, though, is sure to seem excessive to anyone but his fans. Therefore, the features here aren't criticized on the basis of quantity (there are plenty of them, and they last a long time) or quality (they are generally well-made), but in relevancy.

It's not that the movie maverick isn't an interesting guy, it's just that being a fan of the film doesn't imply a desire to wade through hours of repetitive material about its creator. It's especially frustrating in light of what could have been included but isn't, such as a theatrical trailer (which was on the previous DVD) or the short film, Some Folks Call It A Sling Blade (this short is, however, available on DVD from another studio). Still, if you strike out all the superfluous, you're left with a decent amount of material that applies to the movie itself.

The video quality leaves some to be desired, but it isn't bad enough to give cause for ignoring this release. Audio quality does its part to offset complaints with video: the Dolby Digital 5.1 track sounds great. So while the DVD isn't perfect, it is generally solid. Add to that a truly excellent film and you've got yourself a DVD worth picking up for just about anyone of appropriate age.

More on the DVD / Buy from Amazon.com / Related DVD: Some Folks Call it a Sling Blade (1994)