John C. Reilly's career kind of reads like that of a typical comedy actor in reverse. Most comedy movie stars who have made it big start small, get discovered, make popular films, try to prove their dramatic chops, and begin settling on supporting roles. Reilly had been acting in dramatic films for over a decade when he reached a point of widespread recognition. He had already held fairly prominent roles in movies as diverse as Casualties of War, Days of Thunder, The River Wild, Boogie Nights, Never Been Kissed, Magnolia and The Perfect Storm.

But it was right around Christmas 2002 that Reilly was suddenly inescapable, featuring in three movies that would vie for the Best Picture Oscar: Gangs of New York, The Hours, and Chicago. The last of those would win the prize and earn Reilly a nomination for Best Supporting Actor. He may not yet have been a household name, but his distinctive face was suddenly a lot easier to place.

After teaming and reteaming with great directors like Robert Altman and Martin Scorsese, Reilly accepted a role in the Will Ferrell NASCAR comedy Talladega Nights: The Ballad of Ricky Bobby, a blockbuster that would usher in a new career phase. With that, Reilly was a valued member of Team Apatow, getting his biggest lead role to date in the biopic Walk Hard: The Dewey Cox Story and then reuniting with Ferrell, this time with equal footing, for the R-rated summer hit Step Brothers. The notion of John C. Reilly as comedian wasn't entirely unprecedented; he had made an uncredited appearance in Adam Sandler's Anger Management. But it was certainly against-the-current reinvention.

Reilly's flexibility and sheer funniness made him a perfect fit for Tim Heidecker and Eric Wareheim, the creative duo behind the quasi-animated Adult Swim series "Tom Goes to the Mayor", on which Reilly guest-starred as himself in a Season 2 episode. Reilly stayed in touch with Heidecker and Wareheim and when they moved on to the live-action sketch show "Tim and Eric Awesome Show, Great Job!", he joined them in the part of Dr. Steve Brule, a socially awkward individual who dispatched bits of wisdom in 20-second doses titled "Brule's Rules." The doctor would also feature in slightly longer segments (which still weren't very long, given the late night block's 11-minutes sans-commercial allotment), reporting on everything from fruit to wine to video games. Brule's sketches were the most reliably entertaining ones on the bizarre, offbeat, polarizing program, which ended its 50-episode, 5-season run in 2010.
Of all the eccentric "Awesome Show" personalities, Brule would be the hardest to see go. Fortunately for us, just two weeks later he was back as the star of his own show, "Check It Out with Dr. Steve Brule". Announced back in 2008, the spin-off would further honor the public-access television spirit of Tim and Eric's comedy, complete with a low-quality VHS look and an assortment of technical difficulties. I can't recall ever anticipating a television show as much as "Check It Out" and though I feared my high expectations couldn't be met, they were.
Airing late Sunday nights on basic cable with little promotion and an Oscar-nominated movie star fully game to play the lead buffoon, this show was almost too good to be true. Funnier and perhaps stranger than anything else on television, "Check It Out" developed the character from his misinformed "Awesome Show" reports to full-fledged imbecile. Brule now was cross-eyed when his thick glasses were removed. He spoke increasingly less intelligibly, mispronouncing words and names with randomly inserted R's. He removed any possibility of there being truth in his medical credentials as the limited extent of his intelligence and maturity became clearer. And it all added up to constant hilarity, as Dr. Brule tried to teach us life lessons, only to learn different ones out of his tangential, undoubtedly partly improvised interactions with real people and non-professional actors who often were not in on the joke.
The show was at its best when getting those genuine reactions from real people trying to be respectful. It was at its worst when Tim and Eric ventured onscreen to reprise their married Channel 5 reporters Wayne and Jan Skylar. While fine interacting with Steve in "Awesome Show" bits, such bold characters just aren't a good fit here and weigh down on the humor. Fortunately, the Skylars' guest appearances are few and far between, allowing us ample opportunities to delight in the lovable idiot that Reilly, Heidecker, and Wareheim have conceived. Hosting on a scarcely-decorated, largely black set, Brule opens each episode with a poem or quotation and closes with reflections. In between, he gets interrupted by random video glitches and absurd community announcements, all somehow enhancing his illuminating adventures on the town and occasionally flirtatious, always unpredictable interviews.
I was sad and certain that after just over an hour of content had aired over the course of six weeks that we had seen the last of Steve Brule.

With minimal advertising and minimal press attention, the act seemed certain to fade into oblivion. After all, John C. Reilly is a busy film actor in high demand. It seemed preposterous that he had agreed to even a six-episode season. Why would he return for more of this well-kept secret, even if making it with Tim and Eric had to be a creatively-liberating blast?

Recalling the mystery that had surrounded the show's delayed premiere, Season 1's scheduled February 2011 DVD release vanished without explanation. If it wasn't coming then, it seemed unlikely to ever come, with niche programming being a more difficult sell every week off the air. In November 2011, after months of silence and seemingly fading fan interest, Tim and Eric announced, to my surprise and delight, "Check It Out" would return for a second season. While Season Two didn't match its predecessor's high laugh count, it came close and still proved to be tremendously more entertaining than just about every other contemporary comedy on television.

Like "Awesome Show" and most Adult Swim properties, this is divisive comedy, with just as many (if not more) unlikely to see the humor in such strange and awkward encounters as those like me who sing its praises as one of the most original and hilarious television shows now and ever.

In an interview over the summer, Heidecker announced plans to bring Dr. Brule back for a third and final season. While we wait for that to become a reality, Adult Swim and Warner Home Video have finally made the first twelve episodes of "Check It Out" available to own on DVD with this week's one-disc, two-season release. Fate has smiled upon me, making one of my most-anticipated DVDs of the year available to review, some five years since I last covered any Adult Swim entertainment.

Watch Steve and Denny make and sell this DVD:


The episodes appear to be presented by production order, not by the air dates I use here. Though that doesn't matter that much, the series doesn't start on as strong a note, placing Season 1's two weakest episodes first. Hopefully, the short runtimes are enough to make first-time viewers stick with the show and discover its full potential. I've designated my favorite episodes here with blue stars (

).
Season 1

1. Food (11:04) (Originally aired May 16, 2010)
Steve tries all the different foods a restaurant offers and brings back his waitress Sunshine for an interview. He also talks nutrition with Dr. Johnny Boden.
2. Relationships (11:08) (Originally aired May 23, 2010)
Steve learns about marriage from Jan and Wayne Skylar and sex from Dr. Don Davis.

3. Family (10:53) (Originally aired May 30, 2010)
Steve talks to his mother Dorris Pringle-Brule, his magician uncle Gary, his tall father (Tiny Ron), and his extremely cool brother Stan. This is by far the best and most revealing episode to date.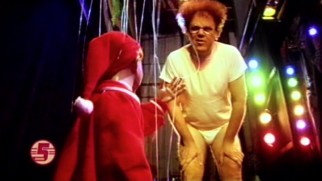 4. Health (11:09) (Originally aired June 6, 2010)
After a computer system identifies him as ugly, Steve gets a makeover from a beauty specialist (Maria Bamford). He also leads an aerobic workout.

5. Fear (11:16) (Originally aired June 13, 2010)
Steve faces his fears with a visit to a "pruppet" theater, a talk with puppeteer David Liebe Hart, and a pumpkin carving.

6. Friendship (10:47) (Originally aired June 20, 2010)
Depressed over his lack of friends, Steve tries hanging out with male dancers and bikers. This episode provides a poignant and poetic end to the first season.
Season 2
1. Boats (10:58) (Originally aired March 18, 2012)
Steve shows us how to get discounted seafood and talks with a pirate before taking us on a boat with him.
2. Pleasure (11:16) (Originally aired March 25, 2012)
For his exploration of pleasure, Steve goes to a fair, a spa, and a candy store.

3. Money (11:00) (Originally aired April 1, 2012)
Upon learning that the mint is closed on Tuesdays, Steve pays a visit to his cameraman Denny's aunt, a job recruiter, and a casino.
4. Space (11:17) (Originally aired April 8, 2012)
Steve finds out about space, aliens, and black holes.

5. Animals (10:46) (Originally aired April 15, 2012)
Steve learns about animals from a couple of furries, an insect and reptile wrangler, and a blind woman with a guide dog. One of Season 2's better episodes, this is marred by intrusive ads for Toad's Creamed Chipped Beef Corned Beef Hash Combo Cans, a joke that overkill doesn't breathe more life into.
6. Life (11:15) (Originally aired April 22, 2012)
A baby guest leads Steve to imagine being a father and visit a fertility clinic. He also checks in with his mother. Interestingly, some Steve Brule voiceover not in the original broadcast has been laid over the closing credits shots.
VIDEO and AUDIO
"Check It Out" looks just as bad as it's supposed to, the anamorphic 1.78:1 widescreen DVD resembling a third generation, low quality VHS. The authentic degradation is achieved by using actual VHS cassettes. At the same time, "Check It Out" aired in hi-def, so DVD doesn't provide the full resolution of the blurry, ghosting, glitch-prone video. Sound is offered exclusively in Dolby Stereo 2.0 and it too is deliberately unimpressive. English SDH subtitles are available on the show, but not the bonus features. Though a sticker warns of the uncensored nature, the rare bit of profanity remains appropriately bleeped. The only uncensored image I can recall came in a previously-blurred fertility clinic vial in the Season 2 finale.
BONUS FEATURES, MENUS, PACKAGING and DESIGN

The show's choppy editing and improvised nature suggest that there is a lot of unused footage. Since the show began airing, I dreamed of getting raw tapes of the interview sections, much like I would have loved to see those on the kindred "Da Ali G Show." We don't get that here or anything else like audio commentary to shatter the illusion of Steve Brule's reality. We do, however, get two prominent listings off the main menu that add up to nearly 50 minutes of bonus content.

First and better is a collection of fifteen deleted scenes (20:07), which primarily seem to come from Season 2.

There is some hilarious content here, enough to fill two additional episodes if theming wasn't so rigorously upheld. The best bits include Steve shopping for furniture, talking with a fellow doctor about ghosts, learning about veganism from a deep-voiced health grocery store woman, entrusting his prized possessions into a space-making vacuum-sealed bag organizer, and promoting a sponsor, a sketchy pizza place for kids. Also featuring here: Uncle Gary's magic tricks, a Carol Krabit and two Doug Prishpreed updates, a woman (Maria Bamford) showing off a life cast of her late husband, a geography lesson on how mountains are formed, and a sex seminar attended with beef gas.

Not as consistently excellent but still quite good are twelve extended scenes (27:29), which conversely emanate mostly from Season 1. Extended segments include the funny interviews with Steve the biker and Stan Brule. Wayne and Jan's appearance runs much longer without adding anything amusing (at least they trimmed it down). Three scenes with Steve's mother are elongated, darkly fleshing out the Brule family tree and emphasizing her twisted nature. The outstanding Season One finale is weakened with length. There's also more fun backstage and on stage at the men's hunks' club. It's all worth seeing, but few of these improve from the unaired bits.
Like other Tim and Eric DVDs, this one shows plenty of creativity in its animated menus. The main menu appropriately loops the short opening theme and clips (I'm sad we never get to see anything else of these bizarre remote segments being taped). Others further the low-grade aesthetic with color clashes, unsightly graphics, and random clips.
The joke is carried over to the packaging, which is easily one of the favorite designs I've ever seen, from the front cover's awkward 1980s portrait to a cheap-looking spine to a technologically stunted rear overview penned by Dr. Brule himself. An insert features the iconic Brule's Rules graphic with the background listing the twelve episodes as 15-minute time slots in the wee morning hours of Channel 5's schedule.
CLOSING THOUGHTS
I've gotten more laughs out of the two barely hour-long seasons of "Check It Out" than from just about any quantity of any other television series ever. This show is strange, kind of dark, and very random, but most of all I find it just plain hilarious almost all of the time. You need a certain sense of humor to appreciate or even just tolerate this show, but one close to mine guarantees this DVD will keep you entertained through countless viewings.
This long-awaited DVD debut doesn't fully quench my appetite for Dr. Brule, but I don't know that anything could. The three hours of content justify the $15 sale price so many times over. If you're not easily offended, just check it out!
Support this site and great television when you buy Check It Out with Dr. Steve Brule at Amazon.com