Jon Stewart went to "The Daily Show" when his movie and television career wasn't exactly taking off. It's worked out well for him; his job is as safe and satisfying as anyone's and he is considered one of the most influential people in comedy. His show, meanwhile, has acted as a career springboard for those featured on it. Stephen Colbert got his own Stewart-produced vehicle in the comparably popular extension "The Colbert Report."

Correspondents Rob Corddry and Rob Riggle have become ubiquitous on TV and in films. Graduating to "The Office" and major motion pictures, Steve Carell is now one of the world's favorite funnymen. And Carell's fellow "Daily Show" alumnus and former "Office" co-star Ed Helms has followed him, becoming an integral part of the smash hit The Hangover and its equally profitable sequel. Wisely seizing the opportunity to expand his filmography, Helms takes on his first solo starring role and his first executive producer's credit in the independent comedy Cedar Rapids.

Helms plays Tim Lippe (pronounced "lippy"), an insurance salesman from the fictional small town of Brown Valley, Wisconsin. After his company's star agent (a brief Thomas Lennon) dies in embarrassing fashion, Tim is chosen to represent the agency at an important annual industry convention in Cedar Rapids, Iowa. The bulk of the film deals with that convention and though it may not sound exciting, it certainly is, both for the milquetoast Midwestern protagonist and for us.

Conventions are a new domain for Tim, who's used to desk work and has never travelled. At the event hotel, Tim finds himself sharing a room with mild-mannered Ron (Isiah Whitlock, Jr.), and the one guy his boss warned him to avoid, reputed poacher Dean Ziegler (John C. Reilly). Coaxed by "Deanzie" and the adventurous Joan Ostrowski-Fox (Anne Heche), "non-drinker" Tim's inhibitions begin to fade in the first of many rounds of cream sherry shots.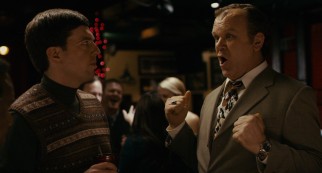 Cedar Rapids could have very well been a satire of simple working folk; in fact that is exactly what the poster and now cover art suggest. It is much better than that, remaining perfectly respectful of its characters and their lifestyles and easing them into wild antics, most not nearly wild enough to feature in a Hangover movie.
Helms is highly effective in the foreground, assuming a believably innocent persona not far from his Cornell-educated TV alter ego Andy Bernard. Tim wants and needs to make a good impression; his boss (Stephen Root) is counting on him to extend his predecessor's three-year streak of bringing home the convention's prestigious Two Diamonds Award. This year, the event's host (a slimy Kurtwood Smith) is emphasizing moral fiber, a reasonable enough consideration given the line of work.
Loudmouth Deanzie stands as a very real threat to upstanding behavior, though, and anyone caught in his whirlwind stands to lose. Adopting a faint regional accent, Reilly gives a tour-de-force performance here, his crude blowhard never shutting up and never being too abrasive for Tim to refuse. The results are riotous, particularly an after-hours dip in the hotel's closed prominent indoor pool, sure to rank as one of the year's most entertaining scenes.
It takes little for Tim, who is "pre-engaged" to his freshly-divorced middle school teacher (Sigourney Weaver), to be tempted by married mother Joan, but their connection is no punchline. That speaks to the film's charms, for which I believe director Miguel Arteta (Youth in Revolt, The Good Girl) deserves as much credit for as feature debut-making writer Phil Johnston. Both of them give the film a tremendous sense of humanity, which the actors understand and embody.

Though it is fueled by drunken misbehavior, it is not a mindless comedy of errors. If it were, the cast would be different and the box office prospects much higher. That movie would not be as good as this one is. Cedar Rapids keeps you invested in adult concerns and entertained by flavorful diversions. Talented actors who don't necessarily have strong commercial track records on their own are put to excellent use, without much thought going to mass appeal and laugh count.

Don't let my intellectualizing of the film's achievements give you the idea that this is highbrow fare. The film includes a young prostitute, a lesbian wedding, a drugged-out hick party, and what the MPAA would have labeled "male rear nudity" had this been rated PG-13 instead of R. It's all in good fun, though, and mostly good taste, granting you enjoyment similar to Mike Judge's Office Space.

Following limited winter theatrical release, in which the film grossed a decent but unspectacular $6.8 million, Cedar Rapids has now come to DVD and Blu-ray, each dubbed The Super Awesome Edition after a passing comment Tim Lippe makes.
Blu-ray Details

1.85:1 Widescreen
5.1 DTS-HD MA (English), Dolby Digital 5.1 (Spanish)
Subtitles: English for Hearing Impaired, Spanish, French
Not Closed Captioned; Extras Not Subtitled
Release Date: June 21, 2011
Two single-sided discs (BD-50 & DVD-5 DVD-ROM)
Suggested Retail Price: $39.99
Blue Eco-Friendly Keepcase
Also available on DVD ($29.99 SRP) and on Amazon Instant Video
VIDEO and AUDIO
Cedar Rapids belongs to cinema's increasing minority, films shot in 1.85:1. Those narrower dimensions are appropriate here, as is the film's lightly grainy and otherwise everyday look. The Blu-ray looks good, even if this isn't a movie full of visual flair. The element is expectedly clean, sharp, and well-defined throughout.
The disc's 5.1 DTS-HD master audio mix is also sufficient, if not particularly remarkable. The soundtrack comes alive in a few stretches, causing some moderate peaks and valleys. Dialogue remains crisp and clear, as does the minimal atmosphere.
BONUS FEATURES, MENUS and PACKAGING
Extras begin with six deleted scenes (7:19), all of which are amusing enough to wonder why they were cut. With the film running a brisk 87 minutes, it couldn't have been for timing. In light of that, intros or commentary would have been nice. The bits include a comeuppance for Stephen Root's character, an additional Sigourney Weaver scene, and more from the amusing cabin finale.
The obligatory gag reel (4:17) entertains with take-blowing laughs, crew pranks, and improvised bits unused in the film.
Seven "Convention Connection" shorts (13:19) offer analysis on the leading characters by the actors who play them: Helms, Reilly, Whitlock, Heche, Root, Smith, and Alia Shawkat. They talk about the Midwest (where many of them were born) and about each other in these simple but good clips.
"Mike O'Malley: Urban Clogger" (2:55) shows us the "Glee" and "Yes Dear" actor's clogging lessons for his contribution to the convention's talent show portion. "Tweaking in the USA" (6:12) offers a behind-the-scenes look at the meth house party of the film's latter moments with Shawkat and Rob Corddry giving insight into their characters.

Touching on design and staging, "Wedding Belles: Crashing a Lesbian Wedding" (4:15) offers similar treatment on its sequence, which we discover is heavily trimmed down in the film itself.

Featuring Ed Helms in character, the viral "Top Notch Commercial" (1:15) isn't as entertaining as the ad that closes the film, but it nails the look of low-budget TV spots (if not the length and language). As far as more traditional promotion, Cedar Rapids' theatrical trailer (2:25) is thankfully preserved.

One of the perks of Fox distribution is that you're treated to Fox Movie Channel programs. "Direct Effect: Miguel Arteta" (6:35) lets the director open up about the film and his philosophies in between trailer clips and set footage. "Writer's Draft: Phil Johnston" (6:45) offers something similar with the novice writer, who discusses the things that inspire him and his views on improvisation. The only extras not in HD, the first piece is oddly stretched to 2.35:1 and the second is windowboxed 1.78:1.

The on-disc extras conclude with a super serious and overly detailed "how to" on digital copies (3:30). There are also basic text directions for redeeming these.

Finally, there is a BD-Live section, which offers for choppy stream or daunting download the exclusive short "Ed Helms: Mad Chopper Skills" (2:26) on the actor's remote-controlled helicopter play, along with an abundance of Fox trailers and BD bonus feature samples.

At disc insertion, promos play for digital copies (updated for Rio imagery to replace the usual Ice Age), Win Win, Skateland, and Big Mommas: Like Father, Like Son.

The set's featherweight second disc is nothing more than digital copies of the film in iTunes and Windows Media format. Fox seems to push digital copy more than any other studio, treating them like a Blu-ray standard. I would imagine most find a DVD, frequently provided in others' combo packs, more useful (and plenty portable), especially since the digital copy alone seems to raise the list price as much for Fox as a bonus DVD plus digital copy disc do. But it's just gravy and how many people will make regular use of multiple versions of the same film?

Not many of these extras are withheld from the DVD; apart from the obvious (BD-Live and the digital copy), it lacks the Fox Movie Channel shorts and Convention Connection shorts, and possibly the trailer.

The animated menu conveys the film's move from mundane to excitement with split-screens of the convention and extracurricular fun. I'm hoping it's only a matter of time before Fox's Blu-ray authors recognize that they needn't list one item per screen, a slight nuisance to navigation. The disc supports bookmarks and also resumes playback of whatever you were watching, even after ejection, making up for the considerable load times it requires.

The two discs fit into a standard, slim ecological Blu-ray case, with the only insert being still more digital copy instructions, this sheet holding your unique activation code and a photo code for smart phones, which can be done via the "pocketBlu" method.
CLOSING THOUGHTS
Cedar Rapids easily ranks among my favorite movies in what thus far has been a dreadful year of film. This appealing comedy delivers big laughs and great performances, and even has a heart and soul to boot. I strongly recommend you check it out. With a satisfactory feature presentation and a good hour of bonus features, Fox's Blu-ray is a release worthy of the film it holds.
Buy Cedar Rapids from Amazon.com: Blu-ray + Digital Copy / DVD / Instant Video