Merriam-Webster defines the word "minuteman" as "a member of a group of men pledged to take up arms at a minute's notice during and immediately before the American Revolution."

The top result at Urban Dictionary supplies the term with a very different and less classroom-friendly meaning. It takes just one look at the cover of Disney's Minutemen DVD to realize that neither definition applies to the three adolescent boys floating in snowsuits. In fact, the first and thus far only Disney Channel Original Movie of 2008 centers on a trio of time-traveling high schoolers.

The three students hit upon the secret of time travel with an assortment of devices, including computers, a microwave, a slide projector, and a diving board. Boy genius Charlie (Luke Benward, How to Eat Fried Worms), ace experimenter and multiple grade skipper, is the brains of the operation. Tall, quiet, tough guy Zeke (Nicholas Braun, Sky High) provides some mechanical expertise. And, closest to a protagonist, Virgil (Jason Dolley, "Cory in the House") is the normal kid who through a single regrettable incident has spent high school as one of the dorks.

Virgil's first instinct is to use the discovery to bring the group riches and popularity. When that conveniently doesn't pan out, the boys find a new calling. Upon witnessing an act of bullying, they arrange to go back in time and help out their fellow outcast. Though Virgil comes up with "Minutemen", a name he thinks is quite clever, the team behind the ongoing, anonymous social work becomes known around school as the "Snowsuit Guys." Because, you see, they don remarkable white ski outfits since traveling through time is cold business.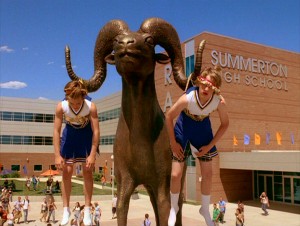 Virgil, Charlie, and Zeke are quite good at righting the wrongs of pranks and shenanigans that apparently run quite rampant at Summerton High School. They're a hit with the student body. However, new troubles arise. Not from toying with the space-time continuum, running into their other selves, or developing God complexes... but from their actions having unintended effects. Spared humiliation, the once-bullied instantly climb the social ladder and look towards belittling those now beneath them.
Oh yes, and all that vortex-jumping back and forward in time is also bringing about the end of the world. Charlie's plans were based on confidential old files hacked from NASA's computers, bringing the kids attention from a variety of stealthy government organizations. The movie attempts to explain the doomsday scenario -- something to do with black holes gobbling up the town, the Northwest US, the galaxy, and so on -- and resolve it with a suspenseful action climax. But, Minutemen suspects the target audience doesn't care about impending apocalypse and thus the threat seems less important than a pressing love triangle.
That triangle involves Virgil and his two best friends pre-high school: Stephanie (Chelsea Staub, Bratz) and Derek (Steven R. McQueen). She's a nice, pretty cheerleader; he's a smooth football jock. Thus, they're a couple, atop the school's social status chart, and distanced from Virgil. All because of that event, on the first day of freshman year, that cast aside their pal for years to come.
Time travel has long fascinated humanity and filmmakers have explored the concept in many a memorable dramatic and comedic movie.

Minutemen feels ill-equipped for having arrived to the party so late. It fails to provide an original spin on the subject matter, instead using it as a variable in the ultra-light formula teen comedy that has occupied the Disney Channel for over a decade of generally underwhelming original programming.

It's hard to get too offended by a film so hokey and broad. It's not Back to the Future and it knows this (although it throws in a few kind nods to that Robert Zemeckis classic). What's disappointing is that with a little fine-tuning and a less rushed production, this could have provided far-fetched fun in the spirit of nostalgia-inducing fantasies of the 1980s. Instead, flat characters, feeble jokes, and routine execution suck nearly all the fun from the premise and fail to captivate or cleverly confuse the way most time-travel works do.

What's particularly surprising is that there are seasoned pros behind this pedestrian picture. Director Lev L. Spiro has helmed single-camera TV comedies for ten years, having worked on such acclaimed series as "Arrested Development", "Weeds", and "Everybody Hates Chris." (His filmography stretches even further if one chooses not to ignore his softcore credits from the mid-'90s.) The story is credited to executive producers David Diamond and David Weissman, a pair that at the start of this decade seemed to have both feet in Hollywood, having penned The Family Man and Evolution. (Their big screen return will come in a large Disney comedy due next spring.) And many of the leading young actors have at least one major (and from what I've seen, memorable) credit.

But the material sinks on all fronts. With little exception, the performances are wooden, which eliminates excitement from plot elements clearly meant to soar. Clichιs abound, most offensively the "kids are smart, adults are stupid" one. If you're going to play that card, you've got to make it funny. But it's not, even with a comic talent like J.P. Manoux as an unhelpful Vice Principal reminiscent of one of his roles on the comparatively inspired "Phil of the Future." Also quite troubling is the utterly predictable storyline. Anyone who has previously seen a moralistic movie can tell you where we'll end up and how about 20 minutes in. One slightly redeeming factor: by the Disney Channel's frugal standards, the few visual effects seen here are super.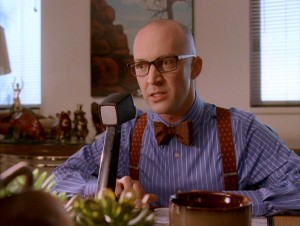 The cover proclaims that Minutemen contains a never-before-seen extended ending on DVD. Without having seen the movie as aired, I can only guess that the case is referring to an 80-second epilogue which runs before the end credits.

The goofy sequence finds Charlie perfecting cloning, to the disapproval of his fellow Minutemen. Though it's a gimmick and a gag, I can't see anyone getting really upset that the minor tag isn't presented as an option, which would have been easy to do with DVD's branching technology.

The aforementioned DVD cover simultaneously breaks two traditions. First, it doesn't saddle Minutemen with a unique, thematic edition name the way that most Disney Channel movies have been the past three years. Secondly, it prominently features a cast member's name: the top-billed Jason Dolley. That wouldn't be particularly odd for other studios, but this is the network that credits High School Musical songs to "Troy & Gabriella."

Apparently, Disney thinks they've got another young star in their midst in the 16-year-old "Cory in the House" supporting player. (That sitcom has a new DVD compilation named after his character released alongside Minutemen.) Methinks they're severely overestimating the young actor's appeal -- and the pitiful Amazon.com sales ranks suggest I'm right. Of course, Shia LaBeouf, Hilary Duff, and Lindsay Lohan were all doing the same kind of fare six years ago and they're household names today. They did, however, gain notice for some talent along with their looks.

VIDEO and AUDIO

Disney has yet to receive the memo that 21st Century people are okay with widescreen. Actually, the studio has been pretty good lately at releasing its films in their original aspect ratios. For some reason, though, when it comes to Disney Channel Original Movies, the Mouse seems to feel that the target audience has a gripping fear of black bars on their screen. This phenomenon apparently only exists in the United States and Canada; in other parts of the world, DCOM DVDs often supply 1.78:1 transfers.

Minutemen is the latest in a long line of made-for-cable Disney movies that are framed for filling both 16x9 and 4x3 displays but only arrive to DVD in the latter format. The 1.33:1 fullscreen presentation is clearly a viable option and one which matches the broadcast aspect ratio. But there's no good reason not to include the wider 1.78:1 version too. You know, so that 16x9 TV owners don't need to dupe their set into thinking they're watching some Judy Garland/Mickey Rooney musical. Which this clearly isn't.

Picture quality is fine, though the soft digital video won't be mistaken for big screen cinema. The Dolby Digital 5.1 soundtrack is surprisingly quite active. At times, it is excessively so, as peripheral noises render center channel dialogue (that's already semi-baffling) tough to discern. It's not a major problem and most of the mix's vitality does at least serve a purpose.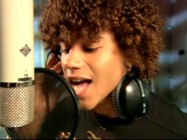 BONUS FEATURES, MENUS and PACKAGING

Two bonus features are included. First up is the music video for Corbin Bleu's "Run It Back Again" (2:52),

the innocuous original pop song which plays at the movie's center. It oh-so-cleverly applies rewinds and do-over opportunities to the High School Musical star's recording studio session when not running Minutemen clips.

Second and last is "The Making of Minutemen: A Trip Back in Time" (9:37), a good featurette that lets actors and crew members sound off on stunts, the director, the snowsuits, a feline star, an onscreen kiss, visual effects, and what they would do with a time machine (mostly see the Beatles in concert).

The 16x9-enhanced main menu provides the lively atmosphere expected per the movie's themes, i.e. swirling vortexes, non-primary colors, and mobile character images. The static submenus are spiced up with short, unique excerpts of upbeat instrumentals.

Following the ubiquitous Disney promos and FastPlay greeting, trailers play for Sleeping Beauty: Platinum Edition, WALL-E, Camp Rock as does an ad for the Disney Movie Rewards program. Other Sneak Peeks advertise "The Suite Life of Zack & Cody": Lip Synchin' in the Rain, "Cory in the House": Newt and Improved Edition, "Phineas and Ferb": The Fast and The Phineas, "Wizards of Waverly Place": Wizard School, and, again, Camp Rock (this time, on Disney Channel).

Inside the case, Disney Movie Rewards and chapters inserts are accompanied by a booklet which advertises High School Musical, "Hannah Montana", and other Disney Channel DVDs including -- you guessed it -- Camp Rock.
CLOSING THOUGHTS
Even if you haven't seen Minutemen, chances are you've seen something just like it, especially if you've tuned into Disney Channel sometime in the past ten years. This cookie-cutter movie doesn't have lots going for it, certainly not in the shoddy script that keeps fun, laughs, and surprises to a minimum.
That said, even I can recognize that kids of a certain age on the same wavelength as Disney Channel programmers may be able to appreciate this fantasy. I can even imagine them years from now bonding over it with a fellow member of their generation or being thrilled to rediscover it. But the conclusion I foresee to this vivid scenario is one of disappointment and utterances of "Wow, I remember that being a lot better."
Between a cable schedule that's always heavy on recent DCOMs and a DVD that fails to deliver much special, Disney gives little incentive to own or even rent Minutemen.