It's been 23 years since the Teenage Mutant Ninja Turtles were introduced

to comic book readers, nearly 20 years since they developed a much larger audience as a Saturday morning cartoon, and 17 since they moved to the big screen for their blockbuster live action film debut. It stands to reason that a number of fans who were children during those fun times now have little ones of their own today. As such, you'd suspect that Warner Brothers, The Weinstein Company, and Imagi Studios would opt for multi-generational appeal in making their 2007 computer-animated feature film TMNT. Surely, that angle helped this PG-rated franchise-revitalizer claim the #1 spot at the box office in its opening weekend. But the movie surprisingly runs with a design more likely to satisfy those who have remained invested in the series' various incarnations over the past decades than those with merely fond, vague turn-of-the-'90s memories of the cartoon or youngsters entirely new to the series.

TMNT doesn't demand knowledge of what these characters are all about beforehand, but it expects viewers to be at least somewhat familiar with the universe in its brief re-/introduction to the four central anthropomorphic turtles. Named after great Renaissance painters, the four reptilian siblings protect New York City with martial arts skills passed onto them by their wise sensei, Master Splinter the mutant rat (voiced here by the late Japanese actor Mako, in his final film role). Though Leonardo (blue mask), Raphael (red mask), Michelangelo (orange), and Donatello (purple) live in the sewers, they're also like ordinary human teenagers in their thirst for adventure and love of pizza.

After a brief glimpse of the Turtles in action, the movie sets up the story specific to this film. It starts 3,000 years ago and involves a warrior who is rendered immortal, a blessing/curse dependant on the existence of thirteen monsters that have roamed the world ever since. The film then proceeds, ΰ la Ghostbusters II, to catch up with the heroes following their triumph over archenemy Shredder. Leonardo is hiding out in Central America, protecting against injustices with folklore-type secrecy to the appreciation of villagers. Back in New York, Raphael is doing something similar as Nightwatcher, an anonymous Ghost Rider-type vigilante who thwarts evildoers while the sun is down. Less heroically, Donatello is working as a tech support phone representative and Michelangelo is braving children's parties as costumed performer Cowabunga Carl.
The real focus is the division that has formed among the Turtles, especially Raphael, with Leonardo so far from home. The gang's good friend April O'Neil (voiced by Sarah Michelle Gellar) journeys to the jungles to urge Leonardo to return. Meanwhile, a delivery made by April's new archaeology business brings her and live-in boyfriend/night vigilante Casey Jones (Fantastic Four's Chris Evans) in contact with Max Winters (Patrick Stewart), a man whose collection of Central American artifacts hold special value to him. For Winters is the immortal warrior and the stone statues are his ancient generals. Winters enlists the Foot Clan, who in Shredder's absence is now led by Karai (Ziyi Zhang, Crouching Tiger, Hidden Dragon), to assist him in dealing with the baker's dozen worth of creatures that prevent him from ever dying.
The plot actually is a little murky and it's easy for those paying any less than full attention to lose track of just what's going on on the antagonists' side. Among the Turtles themselves, character development is sound, with the four similar-looking individuals able to be tracked by more than just the color of their mask. As dueling brothers, Raphael and supposed-to-lead Leonardo get the bulk of the screentime, while Michelangelo is more comic relief and Donatello gets mostly overlooked. The clan's relationships and overriding sense of duty does rely a bit on one's familiarity with other incarnations of the series, and the big character-related themes aren't quite satisfactorily treated in the brisk turn-of-events. Still, the sense of brotherhood is conveyed enough to grant some emotional weight to the proceedings.
Emotional weight is very welcome because TMNT is heavy on action. There are a number of standout battle sequences that inject the film with high doses of adrenaline. At times, the energetic proceedings can feel overly hyper, but at least the set pieces are quite skillfully framed and never drawn out much past their welcome.
Part of what elevates the action scenes to a high quality are the visuals. For being so quickly (production took less than two years) and frugally produced (the movie's reported budget was around $35 million) in relation to other all-CGI features, TMNT is impressively not shabby in the animation department, thanks to the work of Hong Kong's Imagi Studios. The backgrounds and characters may not be given the type of pause-and-marvel detail found in Pixar's creations, but they're more than sufficient. The sheer speed and believability of motion is something we haven't seen a lot of before. For that matter, even the look differs from the bright and pastel-driven palettes come to be expected from Pixar, DreamWorks, and BlueSky. TMNT is dark and desaturated but also lively and not gimmicky.

It's not too far from the even-darker-looking early '90s trilogy of live-action movies in appearance, yet it also has the feel of fantasy video games (not in a blocky bad way) and a touch of Japanese animation.

Perhaps the most refreshing thing about TMNT is that it doesn't conform to the widely-upheld standards for CG-animated feature films. It's not content to provide pratfalls for the kiddies and innuendo for the grown-ups and consider itself of "all ages" appeal. It avoids those frequent traps, as well as dumbed-down jokes and the instant niche classification befallen certain minimalist or shock-value "adult animation." I'd be lying if I called TMNT a masterpiece, but its value certainly comes from more than being different. Its decisions seemingly stem from judgment calls rather than demographic appeals. The reason it's different is not merely to stand out but rather to tell the story it wants to in the way it wants to, which is both consistent and original when laid next to the diverse canon of Teenage Mutant Ninja Turtles fare of various media.

On the whole, TMNT proves to be moderately successful. It's not the type of CGI cartoon designed to please everyone and Turtles fans and novices alike may be split on the film's worth. But I found it sufficiently engrossing and competent in bringing the popular universe back to audiences new and old, not with overhaul updates but with sensible application of technological possibilities and a keen storytelling sense.
DVD Details

2.35:1 Anamorphic Widescreen,
1.33:1 Reformatted Fullscreen
Dolby Digital 5.1 (English, French, Spanish)
Subtitles: English, English for Hearing Impaired, French, Spanish; Closed Captioned
Release Date: August 7, 2007
Double-sided, single-layered disc (DVD-10)
Suggested Retail Price: $19.98 (Reduced from $28.98)
Black Keepcase with Embossed Cardboard Slipcover
Also available on Blu-ray Disc and
in HD DVD/DVD Combo
VIDEO and AUDIO
TMNT comes to DVD in a double-sided disc that gives all customers a choice of widescreen or fullscreen for feature playback. The choice is a no-brainer, however, as TMNT's theatrical presentation came in the 2.35:1 aspect ratio and features some wide compositions that are inevitably compromised when reformatted to fill the standard TV dimensions. (An added bonus: it makes this a good DVD to graphically demonstrate the feebleness of pan & scan.) As usual for a digital-based film, any objections to the visuals are more likely to be made in regard to animators' work than the DVD transfer, which yields no major problems on an average-sized screen. Those with larger displays may notice slight compression issues producing a tiny bit of edge-ringing. If you want the highest definition available, you can select from Blu-ray and HD DVD versions that were released alongside the DVD.
The Dolby Digital 5.1 soundtrack is quite loud; there are some peaks and valleys within the mix, but you can expect to turn down your standard volume settings if noise moderation is a concern to you. Aurally, the track is capable but not quite extraordinary. Its efforts to engulf you in the action-packed atmosphere are less noticeable than its bursts of pre-recorded music.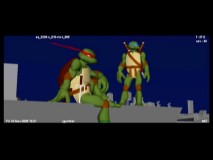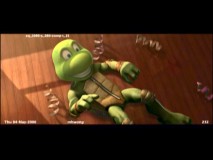 BONUS FEATURES, MENUS and PACKAGING

With thirteen listings, the Special Features menu suggests a pretty loaded disc, but only one extra runs longer than 5 minutes. It is the feature audio commentary given by writer-director Kevin Munroe. Excited to record his first commentary, Munroe has lots to say and his conversational tone makes him easy to listen to.

His observations cover an amazing amount of ground, discussing the movie's origins and production (collaborating afar with Hong Kong animators), explaining specific decisions and revisions made, and pointing out connections to the comics and TV series. It's worth a listen for anyone wanting to learn more on the film, although the shorter, easier-to-watch extras may make one sick of Munroe's voice.

Like much of the rest of the disc, the next three items ought to have been combined into a Deleted/Extended Scenes menu. The alternate opening (3:00), alternate ending temp/scratch test (1:15), and "Mikey's Birthday Party" full sequence (3:15) all play out in various stages of incompletion and with commentary from Munroe. Unfortunately, someone forgot that people like their commentaries as an option; it's more than a little frustrating that one can't change the sequences' audio from being drowned out by the director's observations. As such, it's tough to appreciate the scenes or imagine how they would have played out as intended.

"Raphael's Rough House" fight test (1:40) is a primitive early version of Raphael and Leonardo's fight, that is remarked upon by Munroe. Munroe also talks over "Monsters Come Alive" (2:50), a storyboard-to-film comparison of one of the film's many action-packed sequences.

"Donny's Digital Data Files" (1:55) is a featurette that briefly discusses the CGI design and the amount of detail that went into the characters.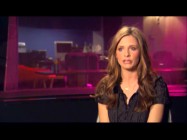 "Roof Top Workout" (5:34) shows off another unfinished deleted scene of the Turtles, mostly Leonardo and Raphael, in action. The scene gets viewed in storyboard form and then again in pre-visualization form. Munroe explains the sequence.

Two more items that belong in that hypothetical Deleted Scenes menu are the temp/scratch test "Still Wanna Fight?!" (3:08) and additional scene "Splinter Gets Cake" (2:07). Yet again, Munroe's commentary drowns out the audio, leaving viewers to either mute him or give up trying to follow the scene narratively.

"TMNT: Internet Reel" (3:50) is merely an extended montage of clips from the film, which somewhat makes up for the lack of any theatrical trailers.

A promotional feel carries over to the 5-minute "TMNT: Voice Talent First Look", which alternates compact single lines from voice cast and creative crew members with scenes from the movie

Both sides of the disc launch with promos for Warner movies on Blu-ray and HD DVD, The Last Mimzy, Gametap, Fred Claus, TMNT: The Video Game, TMNT Street Grindin' toys, and recent Hanna-Barbera DVD Collections (Droopy, Space Ghost & Dino Boy, and Birdman & Galaxy Trio). These easily skipped spots are not accessible from the menu, but all other extras appear on both sides of the disc.

After a brief introduction, the Main Menu settles down with score selections and subtle animation (think blowing masks and moving clouds) spicing up a heroic shot of the guys. Submenus are static and silent.
CLOSING THOUGHTS
This year's TMNT distances itself from the franchise's long-running cartoon and three live-action films in style and appearance, but the interesting, well-liked universe is upheld in a fairly faithful manner. The action-filled story manages to make good use of the characters and keep viewers engaged, without the film being pigeonholed as either a conventional mainstream CGI flick or an irrelevant niche market outing. As evidenced by its rapid descent at the box office, this movie certainly isn't everyone's cup of tea; I wouldn't count on undiscerning kids being won over. Nor can I guarantee that those who can remember exactly how the Turtles' Scratch & Sniff Pizza stickers smelled about 18 years ago will even find TMNT living up to their perhaps undeservedly fond memories. Of the two groups, though, I'd bet that older viewers are more likely to appreciate the film.
Warner's two-sided DVD happily provides both widescreen and fullscreen versions and the former's picture/sound are unsurprisingly pretty good. Fans will be left wanting more in the special features department, however. While passionate writer-director Kevin Munroe gives a worthwhile feature commentary, his thoughts would have been better enjoyed as alternate audio tracks on the handful of animation tests and deleted scenes. Beyond that, we get only two brief featurettes and an extended montage, which are both unrevealing and promotional.
In the end, the movie's worth checking out for those with reasonable expectations (i.e. don't plan on seeing more of Vanilla Ice) and any interest. Those with reasonable expectations and strong interest can probably skip the rental and assume they'll enjoy it enough to own.
Buy TMNT on DVD / Blu-ray Disc / HD DVD/DVD Combo from Amazon.com