Presently, parody is in a state of conflict. On television, the format thrives in popular primetime cartoons and sketch comedies. On the big screen, however, the few all-out recent efforts have garnered some of the coldest receptions in cinema history. To a degree, that makes plenty of sense. Typically, a parody on TV can be quickly realized and set aside. Parody movies have the chore of being attended with the expectation of well over an hour of coherent lampooning.

It hasn't helped that the latest parody films have been driven by bathroom and gross-out humor. One can hardly blame 20th Century Fox for refusing to screen feeble spoofs Date Movie and Epic Movie for critics; the eventual drubbings were severe enough to maybe offset the inevitable publicity benefits. The same tact was most recently taken on Meet the Spartans, which opened this past Friday with no advance reviews and, like Date and Epic, performed well in terms of ticket sales.

Late last year, Fox released another parody film and withheld it too from critics. But unlike the three aforementioned, this one wasn't from the minds of Jason Friedberg and Aaron Seltzer (who are proudly proclaimed "2 of the 6 writers of Scary Movie"). Without the luxury of a late January debut, it wound up not having the box office power of the flashier farces.

The film was The Comebacks, a parody of sports movies, most of which are still fresh in mind. The Comebacks credits sitcom veterans Ed Yeager and Joey Gutierrez with the screenplay and four other writers (including Not Another Teen Movie's Adam Jay Epstein and Andrew Jacobson) with story. In the director's chair is Tom Brady, not the MVP Patriots quarterback but the man who wrote The Animal and wrote/directed The Hot Chick. Here, Brady returns to Hollywood's big leagues five years since last helming a Rob Schneider vehicle and he does so with a number of his Hot Chick cast members including Matthew Lawrence ("Boy Meets World") and Melora Hardin (NBC's "The Office"). Both take a backseat, however, to David Koechner, the one-season "Saturday Night Live" cast member who has turned up in many a recent comedy (most prominently Will Ferrell's Anchorman).
Koechner plays Lambeau Fields, a coach we quickly learn has had bad luck in a variety of high-profile sporting events. Despite the track record, he is offered a football coaching gig at Heartland State University in a small, sleepy Texas town. Dealing his wife (Hardin) and daughter Michelle (Brooke Nevin) the usual dose of neglect, he accepts the job, moves the family, and begins assembling the team he plans to mold into winners.
Athletic archetypes comprise the bulk of the squad, including a star quarterback (Lawrence), an egotistical runningback (Jackie Long), an eager-to-please geek (Martin Spanjers, "8 Simple Rules"), a gentle giant (George Back), and a wannabe Hispanic gangster (Jesse Garcia). The team, nickname: Comebacks, is rounded out by the odd cinematic allusion: iPod (Jermaine Williams), a leg-humping mentally-challenged assistant, blatantly spoofs Cuba Gooding, Jr.'s Radio persona, while an Indian girl kicker (Noureen DeWulf) pays homage to Bend It Like Beckham, a film that most viewers probably haven't seen.
For the most part, innuendo is the name of Comebacks' game. The humor is only a step or two above the lowbrow sensibilities of the Friedberg-Seltzer parodies. Sexual humor runs rampant, as all kinds of euphemisms are summoned to refer to sex acts and body parts. Despite the plethora of bawdiness, all the sex remains verbal; even in this Unrated Edition, which runs a reported 20 minutes longer than the theatrical cut, the titillation never gets any more visually graphic than scanty clothing and groping an occupied football-like brasierre.
The Comebacks has only a bit more success at parody than Date and Epic do, its jokes being less reliant upon sheer recognition factor. A few of the allusions merit light laughs, though most are fairly obvious and not too inspired. The movie at least does an okay job of sensibly weaving the references together into a single narrative without feeling like a string of independent episodes. Of course, it's no surprise how the plot unfolds -- is any team sport film ever different? -- and the proceedings are still fairly erratic. Some have objected to the fact that the movie is as willing to satirize sports comedies as inspirational dramas.

But whether it's recreating the bitchy teen gymnasts of Stick It, revisiting the most famous part of Field of Dreams, mocking sentimentality and generic locker room scenes, or just toying with expectations, Comebacks tends to have the same modest aptitude. It's never high enough to merit a passing grade.

For being such a relatively low-key production treated to a blink and miss release, The Comebacks actually boasts a surprisingly high number of recognizable faces. They include real athletes in cameos, from Bill Buckner to Lawrence Taylor, with basketball bad boy Dennis Rodman holding a small character role. A handful of sometimes funny actors -- Will Arnett ("Arrested Development"), Dax Shepard (Employee of the Month), and Jon Gries (Napoleon Dynamite's Uncle Rico) -- portray local rednecks without doing anything amusing, or seemingly being asked. The same goes for Andy Dick and Frank Caliendo ("Frank TV") who feature in the inevitable "big game" climax. Meanwhile, one just feels sorry for Cast Away's Nick Searcy, who as a cross-dressing father throws himself into one of the most thankless roles in movie history and gets not even a smile in the process. In the forgettable second-billed part, sports film icon Carl Weathers (Rocky, Happy Gilmore) plays a fellow coach and also narrates.

The Comebacks is short on good taste and slight on laughs. I suspect the film suffers in both regards in this unrated extended cut, though I have no frame of reference to compare to. Whether you will depends on just how much time and money you're willing to spend on something that doesn't appear to deserve either. This week, three months after its theatrical opening and five days before the year's biggest football game, Fox issues The Comeback on DVD in separate Unrated and PG-13 Rated DVDs.
DVD Details

1.85:1 Anamorphic Widescreen
Dolby Digital 5.1 (English),
Dolby Surround (Spanish)
Subtitles: English, Spanish, French
Closed Captioned; Extras Not Subtitled
Release Date: January 29, 2008
Suggested Retail Price: $14.98 (Reduced from $29.99)
Single-sided, dual-layered disc (DVD-9)
Also available in PG-13 Theatrical Cut DVD
VIDEO and AUDIO
The Comebacks definitely did not impress in the picture and sound departments, but I had only an overly compressed, watermarked screener disc for this review. According to the press release, the final retail version of the Unrated DVD edition offers only a 1.85:1 anamorphic widescreen transfer, whereas the Theatrical Cut holds that and a 1.33:1 fullscreen version on opposite sides of a flipper disc. Both editions provide a Dolby Digital 5.1 English soundtrack, and a Spanish dub in Dolby Surround.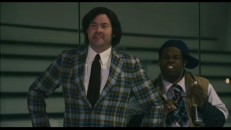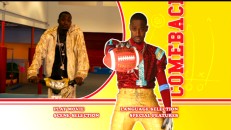 BONUS FEATURES and MENUS

Bonus features begin with an audio commentary by director Tom Brady. He's frequently sarcastic and, despite many a deadpan effort, not often funny. On occasion, he is sincere enough to explain his intentions or point out reinserted deletions. But there are lots of dead silent stretches

and the fact that he has to keep reminding us he's drinking "booze" and not wearing pants make it clear you'd be better off spending your time elsewhere. Actor George Back shows up to talk over perhaps the film's most memorable sequence, in which the team and community bond while singing of Journey's "Don't Stop Believing", and again over the championship "Toilet Bowl".

Seven short supplements come next. "A Laugh of Their Own" (5:00) documents the cameos made by real athletes mostly with fly-on-the-set footage. "Heartland Hotties vs. Lone Star Naughties" (1:41) is a cheer-off between the rival cheerleader squads seen in the movie. "The Karaoke Kid" (1:30) finds Noureen DeWulf doing an odd, goofy rap as Jizminder with "help" from her on-screen teammates. "Coach Koechner" (2:00) is a collection of random production antics featuring David Koechner.

The disc's lamest extra, "Million Dollar Booty" is a 55-second clip of Jermaine Williams competing against an extra named Aisha in a butt-shaking competition. "The Mighty Dicks" (2:30) showcases Andy Dick's lewd ad-libbed calls as a referee in the big game, illustrating how he's a lot funnier with good writing (something not found here). "Razor Blades of Glory" (3:25) delivers deleted improvisations from the barbershop rednecks that are as laugh-free as what made it into the film.

"On the Bench (Deleted Scenes)" serves up 13 unused sequences, each named after a sports film (12:45). There is little of substance or note here. There's more physical comedy, more innuendo, a subplot involving Jizminder and her Indian parents, and a collection of ad-libbed cheers from the team's most diehard fans (identical twins Jason and Randy Sklar).

A Contest Winner Page lives up to its name by presenting a photo and facts of a from a seemingly random winner of a MySpace Comebacks contest.

Extras come to a close with a page of trailers for Fantastic Four: Rise of the Silver Surfer, Drumline: Special Edition, Live Free or Die Hard, and Dirty Laundry, plus an ad for Fox's Sunday night lineup of animated comedies. Playing at the head of the disc are previews for The Onion Movie, Death Sentence, and Bachelor Party 2: The Last Temptation.

Keeping to Fox's tradition of granting different bonus features to simultaneously-issued rated and unrated editions, the Theatrical Cut reportedly holds five exclusive supplements: the Fox Movie Channel episode "In Character with David Koechner", the behind-the-scenes featurette "Varsity Black N'Blues", and a trio of Fox Atomic "viral videos". "Are these supplements any good?" and "Why does Fox leave a few potentially worthwhile bonuses off the more heavily-promoted version?" are two questions that I can't answer.

The main menu cycles through the members of the central team with stills, clips, and sound bites. Submenus simplify the idea with score selections accompanying other characters against the same yellow backdrop.
CLOSING THOUGHTS
The Comebacks isn't quite as bad as Epic Movie and its fellow crass, random parody flicks of recent years. But it's not much better, and the critical thrashing it took is quite deserved. Failing to realize its promising potential, the film squanders its cast of talented, likable, and funny actors in favor of tired innuendo. There's mild diversion here and there but for a film that's billed as "sidesplitting", "hilarious", and "laugh-out-loud", that's much less than promised. Certainly, it doesn't make any great, witty observations regarding its targets, nor does it offer anything beyond a shaky trip down formula team sports flick road.
Though the lousy picture and sound may be a product of the screener provided for review, the bonus features on the Unrated Edition are almost universally disposable. I can't imagine the Theatrical Cut being a worse package. Unless you've got an intense curiosity to see it or a soft spot for either sports films or parody flicks, your best course of action would be to avoid The Comebacks on DVD altogether.
More on the DVD / Buy from Amazon.com / Buy the PG-13 Theatrical Cut DVD