By Kelvin Cedeno

It's been said that there are no longer original ideas in Hollywood. When one sees the amount of sequels and remakes churned out each year, it's hard to refute that statement. Even stories that feel original and innovative often have a basis in something else. Case in point: body switching, a popular premise particularly when there's juxtaposition between juvenile and mature sensibilities.

These movies vary in circumstance, ranging from parent and child (Freaky Friday, Vice Versa), to a child as an older version of himself (Big, 13 Going on 30). It's such a common device that it is surprise to see it used again in a feature that combines elements of all the above: the Zac Efron vehicle 17 Again.

After a prologue taking place in 1989, we jump to the present day and meet the now-adult Mike O'Donnell (Matthew Perry). He's in the midst of a divorce with his wife Scarlet (Leslie Mann) and has trouble connecting with his two children: insecure introvert Alex (Sterling Knight) and headstrong rebel Maggie (Michelle Trachtenberg). After wishing he could go back and correct the choices he made in high school, Mike suddenly finds himself transformed back into his 17-year old body (played by Zac Efron at this point). He decides to use this to his advantage by not only reliving his glory days, but befriending his children with the help of his wealthy, nerdy best friend Ned (Thomas Lennon).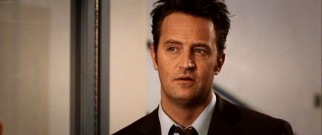 Star vehicles are often a one-sided affair since they're specifically designed to push a particular actor forward. If one is not a fan of said actor, the film in question could easily be off-putting. Even to someone unimpressed by his career-defining turn as Troy Bolton in Disney's High School Musical franchise, Efron is surprisingly tolerable here. To be sure, he's not completely convincing as a younger Matthew Perry (or much as an adult trapped in a teen's body, period), but he still manages to come across more naturally here than in that juggernaut trilogy. This is perhaps thanks to the excellent supporting cast he has to work with. Leslie Mann and Thomas Lennon in particular stand out as distinctive personalities. Mann lends some weight to her role and makes the material easier to swallow than it perhaps has any right to. Lennon is given the task of being the goofy sidekick, and he approaches this amusingly and unannoyingly.
17 Again doesn't really get many points for originality as it feels cobbled together from similar features in the genre. This can't be frowned upon too harshly since there are only so many ways to shake up the body-changing premise. What's less forgivable is a lack of a distinguishing voice. While there are a few story points that set this apart from its predecessors, the overall tone just feels generic. Its style and feel is lost in the sea of high school comedies being churned out by the dozen.
What's frustrating is that a great deal of talent goes criminally underused. Nicole Sullivan, Margaret Cho, and Jim Gaffigan all make appearances, but their cameos lack any sort of bite. They exist mostly to react to Efron, which is understandable considering the intent of this feature. It still presses an issue, though, when familiar faces with such individual approaches to comedy are left as set dressing. Efron may do better than expected with this sort of talent to bounce off of, but the feature as a whole needed variety and uniqueness to surpass expectations.
That's not to say 17 Again is a bad film, for it certainly isn't. In fact, it plays out much better than the ad campaign would suggest. The story can even be a bit involving, even when the plot point is telegraphed far in advance. "Not as bad as I thought" still doesn't free the picture from owning up to its decisions. Its tone, while raising a few smiles, is standard teen fare. It's got a well-put-together cast, but only a couple of actors are given a chance to shine. In the end, it is innocuous enough to please those in the mood for something frothy, but it doesn't do much to truly make itself heard.
Following a model established by Disney and since also adopted by Fox and Universal, 17 Again's Blu-ray release is a combo pack that pairs the high-def disc with a standard DVD of the movie.
DVD Details

BD: 2.40:1 Widescreen; Dolby TrueHD 5.1, Dolby Digital 5.1
DVD: 2.40:1 Anamorphic Widescreen; Dolby Digital 5.1 (English)
Subtitles: English for Hearing Impaired, Spanish
Closed Captioned; Video Extras Subtitled
Release Date: August 11, 2009
Dual-layered Blu-ray Disc (BD-50) plus dual-layered DVD (DVD-9)
Suggested Retail Price: $35.99
Blue Keepcase
Also available in Widescreen/Fullscreen Standard DVD
and On Demand
VIDEO and AUDIO

17 Again's Blu-ray presents it in its original theatrical aspect ratio of 2.40:1. For a film taking place in a modern setting with no grand effects or art direction, the transfer manages to come across strongly. At first it seems colors are too muted and dull, until one realizes that this is an artistic decision on the prologue that segue ways into something far more colorful later on. It's difficult to find any flaws, print or digital, in this sharply detailed image.

The Dolby TrueHD 5.1 surround soundtrack is equally impressive. This once again catches the viewer unaware considering how dialogue-heavy the track is. Several instances of surround scope are utilized; an out-of control party and two basketball games in particular stand out. Dialogue is crisp and clean, and there is some nice ambience in the high school scenes featuring hustling and bustling students in the background.

The music doesn't overpower these the way some other features have done as of late.

The DVD offers only a widescreen presentation, as opposed to the standalone disc's dual formats of widescreen and fullscreen.

BONUS FEATURES, MENUS and PACKAGING

The Blu-ray disc features a slight collection of supplements despite the cover's excited claim of being "packed with Zac!" (really). Under the "Behind the Story" heading on the pop-up menu is "Zac Goes Back" (12:32) (HD). Essentially the disc's idea of a making-of featurette, it concerns itself mainly with showering Efron with praise. A few interesting notes creep up from the cast and crew as does some behind-the-scenes footage, but it's an EPK piece for the most part.

Next comes "Going Back to 17" (3:13) (HD), in which various cast and crew members reminisce about their high school years. Among the topics discussed are out-of-style dance moves and the most horrifying school experiences. It's puffy, but cute.

The section's last feature is a "Way Cool Tell-All Trivia Track." Here, little red Pop-Up Video-style factoids turn up sporadically throughout the film. Some of them offer genuinely interesting pieces of production information while others deal with subjects only loosely connected to what's onscreen. Its infrequent nature and inconsistent quality works better if turned on during a genuine screening of the picture itself than if one were to go out of the way to check it out.

Another section simply labeled "Extras" houses two more features. The first is "Breakin' Character Outtakes" (3:24) (HD). Unlike other outtake reels, this one focuses more on the improvisations of the supporting actors than it does on flubs and goofs. That makes this more entertaining than usual, especially since some of those featured are able to make more of an impression here than in the finished film.

"Zac's Dance Flashback" (2:10) (HD) focuses on the rehearsal and shooting of a scene that didn't wind up in the final cut. Thanks to the brevity and shallowness of the featurette, pretty much nothing is revealed about how the scene came together. It acts more as a montage of behind-the-scenes footage with a few sound bites thrown in for variety.

Much more useful is a collection of 13 deleted scenes (16:06) that are given their own heading. Some of these simply reiterate what's already made clear in the final film, but quite a few offer nice character moments that could've been left in. No context is given as to their deletions, but they're still nice to see.
Available only with an Internet connection are a few BD-Live extras: a Zac Efron commentary, "Tom Lennon and Melora Hardin - Unfiltered", and something called "Zac Attacks."
The pop-up menu interface is straightforward and clear to read, arranged in vertical columns going from left to right. Underneath each bonus feature listing is a summary of what it entails. As usual for a Warner disc, there's no animated main menu. A simple publicity still acts as a place holder until the supplemental menu expands to fill the entire screen.
The second disc of the set, the DVD, holds just two things. Viewable on any Region 1 DVD player is the movie itself. When inserted in a DVD-ROM-equipped computer, a free digital copy of the film can be transferred in Windows Media and iTunes formats.
The DVD loads with a trailer for Zac Efron's Me and Orson Welles, a Blu-ray promo, and previews for Scooby-Doo!: The Mystery Begins, Shorts, Ghosts of Girlfriends Past, and Harry Potter and the Half-Blood Prince. While not accessible on its own, the Blu-ray disc also opens with the Me and Orson Welles trailer.
CLOSING THOUGHTS

17 Again isn't particularly memorable.

It is predictable, borrows too much, and does little to set itself apart. That said, there is some entertainment value to be had here thanks mostly to the supporting cast. The Blu-ray presents the film with excellent video and audio, but an absolutely ordinary set of supplements. While they don't amount to much, it's still baffling to completely leave them off of the DVD version, which is included here as well. Fans of Zac Efron may want to give the BD a rental, but those in the mood for a body-switching comedy are better off watching some of the more popular entries in the genre.

Buy 17 Again from Amazon.com: Blu-ray/DVD Combo / DVD