Movies based on popular, recurring "Saturday Night Live" sketches tend to arrive with some fanfare and disappear soon after, largely forgotten by the general public. When was the last time you or anyone you know watched or gave thought to Stuart Saves His Family, It's Pat, or even more recent works like Superstar and The Ladies Man?

There are a few exceptions. While no great comic masterpiece, Wayne's World, featuring Mike Myers and Dana Carvey's basement dwellers,

was one lots of people saw, enjoyed, and continue to do so today, along with, to a much lesser degree, its sequel. The Blues Brothers is loved by many, but while it is closely associated with SNL, considering it a direct descendant based on Jake and Elwood's two-time musical guest status is a bit of a stretch.

The rest of the class, however, is buried deep within pop culture's consciousness, much like the sketches from which they spawned, only more so, without regularly-scheduled exposure in syndication and coverage in SNL's frequent trips down memory lane. A Night at the Roxbury, released in 1998, nearly stands out from its brethren thanks chiefly to two reasons: frequent television broadcasts (most often on cable's TBS) and for marking the first leading film role of Will Ferrell, who in just a few years has established himself as one of the biggest movie stars to ever graduate from NBC's longtime weekend fixture.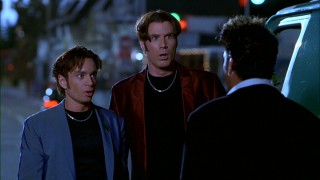 In Roxbury, Ferrell and Chris Kattan, his young cast mate on the hip '90s SNL, reprise their roles as two city clubbers often seen bobbing their heads to Haddaway's "What is Love" and ineptly pursuing women in various venues. On "Saturday Night Live", the largely mute pair's trials relied almost purely on the visual aspect for laughs. Whether they were joined by Jim Carrey, Tom Hanks, Martin Short, or Sylvester Stallone, or they were pursuing Helen Hunt or Pamela Anderson, the exploits usually played out the same, with the guys in matching rayon suits, gold chains, and sideburns trying to fit in, be cool, and woo the ladies, with very little success and quite a bit of nose rubbing.
Roxbury opens with this familiar scene presented in a more polished, predictable fashion. It then proceeds to let us into the lives of Steve (Ferrell) and Doug (Chris Kattan) Butabi, two adult brothers who live at home with their hard-working father (Dan Hedaya) and cosmetically-altered mother (Loni Anderson). During the days, the brothers work at Dad's satin plant shop. When the sun sets, they check out various nightclubs, one of which -- the Roxbury -- continues to elude them for the simple fact that they're not on "the list."
Getting their store's van rear-ended by former "21 Jump Street" star Richard Grieco (playing himself) proves to be a grand stroke of luck for Steve and the much-shorter Doug. They're not only admitted into the Roxbury, but they get to talk with the club's owner, Mr. Zadir (Chazz Palminteri, uncredited), a man very concerned with ass-grabbing. The gears inside the Butabi siblings' heads begin turning, as they plan to become big time club owners like their new acquaintance. Meanwhile, they're pursued by Cambi (Elisa Donovan) and Vivica (Gigi Rice), a pair of attractive gold diggers. And then there's Emily (Molly Shannon), a career and marriage-oriented college student whose interest in Steve is perceived as a threat by Doug. He's right, as a relationship forms and divides the close brothers.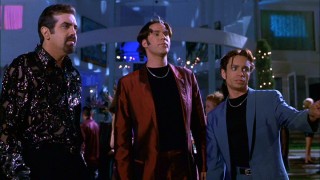 A Night at the Roxbury won't ever be mistaken for a great, highbrow comedy, but the movie is funny enough and even a little endearing in its depiction of the goofy Butabis and their big dreams.

The film benefits from complementing the requisite clubbing sequences with many looks at the brothers' dysfunctional interactions with family, acquaintances, and complete strangers. Ferrell and Kattan deserve a bulk of the credit; they're listed as screenwriters along with Steve Koren (scribe of "SNL", "Seinfeld") and it's evident that they're fully invested in these roles, whether it's wearing nothing but skimpy bathing suits or enduring the neck pain that must come from repeated takes of extended head-bobbing. The script is smarter than expected and gets good mileage out of references to about 15 years worth of pop culture phenoms, from "Joanie Loves Chachi" and Emilio Estevez to Jerry Maguire and "Bill Nye the Science Guy." This material balances out the physical comedy with something more substantial and helps the viewer overlook the movie's occasional misfire, like a deliberately awkward suggested sex scene.

Adding to the film's appeal are its trim editing, which has the credits rolling after just 78 minutes and ensures there's no weak subplot or slow stretch detouring the entertainment. The near-constant stream of dance music from the '90s doesn't hurt either and regardless of the comment made otherwise, the song "What is Love" doesn't wear out its welcome even after multiple uses.

It's interesting to see how the past nine years have taken Ferrell and Kattan in such different directions, with Ferrell today earning $20 million paychecks as a fairly reliable box office draw and Kattan being relegated to TV movies, voiceover jobs, and low-profile Broadway work. Here, they're equally promising and spirited. While they claim a majority of the screentime, they're backed by a capable supporting cast, which is sprinkled with other '90s "SNL" cast members (Shannon, Colin Quinn, Mark McKinney) and future stars in some of their first big screen appearances (Michael Clarke Duncan, Eva Mendes). Grieco has fun playing with his fading public image, while the generally-underappreciated Hedaya and Lochlyn Munro also give fine, funny turns as the tough, Yemen-emigrated fake flower store owner and a power bar-loving fitness nut, respectively.

A Night at the Roxbury becomes the first unquestionable "Saturday Night Live"-spawned movie to get "upgraded" on DVD. Eight years and 4 months after its initial release, it returns to the format as a Special Collector's Edition, arriving alongside the debut of Ferrell's Paramount-distributed DreamWorks comedy Blades of Glory. Sadly, that timing more than worthwhile content seems to have governed this light single-disc release, which includes little crew input and no new cast participation.
DVD Details

1.85:1 Anamorphic Widescreen
Dolby Digital 5.1 (English, French),
Dolby Surround 2.0 (English)
Subtitles: English; Closed Captioned
Release Date: August 28, 2007
Suggested Retail Price: $12.98 (Reduced from $14.99)
Single-sided, dual-layered disc (DVD-9)
Black Keepcase with Side Snaps
VIDEO and AUDIO
It's been seven or eight years since I last watched Roxbury on DVD, so I can't admit to having done a direct comparison. But I would be flabbergasted if this version's 1.78:1 anamorphic widescreen presentation was not as good as, and most likely quite a bit better than, that of the original disc. Here, it's treated to a near-capacity dual-layered disc and with just 54 minutes of other video content, there's a lot of space to go around, yielding a very high 8.35 Mb/sec average bit rate. Suffice it to say, the picture is immaculate, detailed, sharp, and rich, skillfully handling a wide range of colors and a fair mix of dark and daytime scenes.
Offered in Dolby Digital 5.1, Dolby Surround, and a French 5.1 dub, the soundtrack also merits no complaint. The default mix is quite good, not overexerting itself for the plentiful and prominent dance tunes but delivering an appropriate amount of atmosphere in nightclub and outdoor settings. Dialogue is crisp, volume levels are consistent, and while there's nary an action sequence to be found, the audio is great for what it is.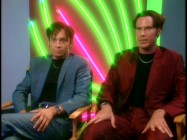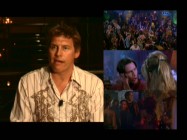 BONUS FEATURES, MENUS, PACKAGING and DESIGN

The first of four featurettes, "Score! Reliving A Night at the Roxbury" (24:10) sounds like a retrospective, but doesn't appear to contain much in the way of newly-produced interviews. Still, the material will be new to most and the piece gladly takes a pretty sincere eye to production, covering the film's origins, characters, and situations. Among others, we hear from producer Amy Heckerling, "SNL" honcho Lorne Michaels, director John Fortenberry, writer Steve Koren, Will Ferrell and Chris Kattan.

The cast's comments were clearly given on set in 1998, and they sometimes stray towards the promotional "you haven't seen the movie" territory. On the whole, though, it's a fairly decent overview of the movie.

I can't imagine that anyone who doesn't have (or aspire to) a fashion or costuming career will get much out of "Roxbury Rags: Costume and Fashion Guide" (9:05), which catches up with costume designer Mona May for her reflections on the characters' threads. Her serious observations are supplemented by plenty of clips, production footage, and archived interview snippets.

I'm presuming that choreographer Mary Ann Kellogg was another of the few crew members contacted and willing to participate in extras, because her new reflections are about the only thing justifying "Do That Dance!" (5:10) being included. Her lightweight comments reveal that she unsurprisingly didn't have too much to do, with the signature head bobbing already established.

Closing out the disc is the very lame "Making the List" (8:50), in which original owner of the real Roxbury Chris Breed and other nightclub employees talk about what makes their workplaces tick and some do's and don'ts for getting in and looking cool.

That's all for extras.

It's the rare comedy that doesn't have any deleted scenes, so it's unfortunate none are found here, especially on so short a film. In addition, you think at the very least, with producers and studios in common, a Roxbury sketch or two from "Saturday Night Live" could have surfaced here. But then that would have added some real value, which only one of the four supplied bonuses do.

Ridiculously, the one inclusion on Night's previous DVD release -- its theatrical trailer -- is omitted here. The disc opens with trailers for Blades of Glory and Norbit and promos for Will Ferrell movies on DreamWorks/Paramount DVD and Eddie Murphy comedies on Paramount DVD. These are also accessible from the Special Features' "Previews" listing.

The animated main menu gets the job done well with a loop of the original and Muzak versions of "What is Love?", bobbing listings, and a montage of highlights from the film. Though static and silent, submenus boast a colorful design and appropriate imagery. In a nice touch, optional English and French subtitles are provided for all bonus features. No inserts are found inside the keepcase.
CLOSING THOUGHTS
As a knowingly silly comedy watched purely for laughs, Night at the Roxbury works fairly well, delivering a moderately entertaining time and lending itself to repeat viewings. Its Special Collector's Edition re-release only barely qualifies as an improvement over the basic vanilla DVD that has long been bargain bin fare. Owners of that disc would have to be pretty crazy about the movie to re-purchase, for all an upgrade gets you are a decent but slightly promotional making-of featurette and three disposable short pieces, while losing the trailer. It's silly for Paramount to revisit the film 9 years later without any input from Ferrell and Kattan, but at least it's appropriately low-priced and boasts excellent picture and sound. Thus, it's worth considering for those with Roxbury-less collections.