Baseball has been at the foreground of a diverse group of great films, from the classic drama Pride of the Yankees to the screwball comedy Major League, from coming-of-age tale The Sandlot to Disney's own spiritual family dramedy Angels in the Outfield. The latest film from the Walt Disney Company to explore the game is Mr. 3000, a comedy starring Bernie Mac, which bounced between the Disney and Touchstone branches before settling at the latter.

Mr. 3000 doesn't enter the ranks of the best baseball films, but it does provide an entertaining experience. Mac plays Stan Ross, an arrogant left-handed slugger for the Milwaukee Brewers who assumes the title's nickname after getting his three thousandth career hit.

That was in 1995, and immediately after that, Stan walks away from the game. Having achieved what he believes is athletic immortality, Stan turns his back on the hostile journalists, as well as his fans and teammates in the middle of the pennant race.

In the present day, Stan has neither looked back or forward. Instead, he's content to live off the "Mr. 3000" claim to fame, naming an entire shopping center worth of stores after his feat - 3000 Woks, 3000 Suds, etc. The only thing that has eluded Stan, at least that he can recognize, is a spot in the Baseball Hall of Fame. He's gotten closer with each vote, and now he wants to seal the deal. With the help of his one-note but loyal friend who he has dubbed "Boca" (Michael Rispoli), Stan encourages the Brewers to retire his number and honor him with a special Stan Ross Day. Naturally, he uses the opportunity to persist in his quest for Hall of Fame induction.
While this is going on, the administration of Major League baseball's stat-checking efforts reveal an error in a game from the early '80s, in which Ross's hits were counted twice. The fact of the matter is Mr. 3000 is three hits shy of his legacy. Seeing no way into the Hall of Fame otherwise, Stan decides to don a uniform once again and get those three hits. While most are skeptical of a return at age 47, the Brewers' owner (Chris Noth) wholeheartedly supports what will surely boost ticket sales for the struggling organization.
Today's Brewers are comprised of an assortment of comedic characters: a pair of constantly competing infielders, the cocky rookie slugger, and the Asian pitcher who comes up short at the art of cussing. The one thing they all share, besides a losing record and ambivalent attitude, is a skeptical eye towards their middle-aged new teammate. Stan may not have the same stature, but his swagger and selfishness remain.
Having spent just under a decade away from professional sports, Stan is out of shape and the film of course makes good comedic use of this. Even after working his way into better condition, though, Stan struggles to even make contact with a pitch. What ensues is a less orthodox team-of-losers-turns-good story, which engages with its tale of redemption and isn't afraid not to play for laughs. Elements of formula come along with the setting, but the film has plenty of original takes on the subject. Overall, the silly but promising premise of Stan's unlikely return is played well.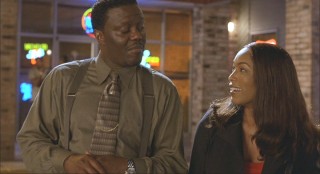 Bernie Mac looks extremely comfortable in his first real leading role. His charm and ability to remain likable or at least sympathetic even when he's self-centered and arrogant carries the film far.

The Disney-owned cable network ESPN is on abundant display throughout the film.

Stan's on-and-off girlfriend Mo (Angela Bassett) is a reporter for the channel. Fortunately, their schmaltzy romance never gets too overbearing, although it lays the groundwork for enough sexual content to merit a PG-13 rating and a sensible departure from the Walt Disney Pictures branch.

The rest of the cast handles the entertaining material well without having to stretch their muscles too far. As the Brewers' manager, Paul Sorvino remains silent for the whole film save for one outburst. A number of TV personalities make appearances as themselves. In addition to ESPN's Stuart Scott, there are cameos by Jay Leno, Tom Arnold, John Salley and Larry King. If nothing else, these serve to convince us of the media-dominated world of professional sports and to remind us that there are channels not owned by Disney which really exist, too.

Mr. 3000 is a little corny, but mostly good-natured. It never begs for laughter and never takes its drama too seriously, two factors which contribute to an overall winning mix. Baseball films may not be as prevalent as they were a decade ago, but Mr. 3000 (which was written then) is the latest addition to a class which makes for some genuinely enjoyable cinema.
DVD Details

1.85:1 Anamorphic Widescreen
Dolby Digital 5.1 (English, French),
DTS 5.1 (English)
Subtitles: English, French, Spanish
Closed Captioned
Release Date: February 1, 2005
Single-sided, dual-layered disc (DVD-9)
Suggested Retail Price: $14.99 (Reduced from $29.99)
Black Keepcase
VIDEO and AUDIO
Mr. 3000 is presented in its original theatrical aspect ratio, 1.85:1, and has of course been enhanced for widescreen televisions. Picture is remarkably and expectedly clean. At times, it's a bit soft. For the most part, the wide color palette of professional sports and television coverage is well represented. The transfer is satisfyingly sharp, and is not plagued by any issues which detract from the viewing experience.
Offered in both DTS and Dolby Digital tracks, the sound mix does a great job of recreating the stadium atmosphere. The audio succeeds in utilizing surround channels for music and environmental effects. Dialogue is crisp and the volume never gets too extreme in its highs and lows. In short, I found no problems at all with this potent audio presentation.
BONUS FEATURES

"The Making of Mr. 3000" is a short (15:00) but good general production featurette. Among the topics covered are the film's backstory (its 10-year history involves Richard Gere and Denzel Washington as nearly-leading men), Bernie Mac's decision to dive into a leading role with a bit of drama, and Mac's and the rest of the cast's efforts to make convincing athletes on screen.

Other segments discuss the ubiquitous media and the director Charles Stone III's intentions. This extra employs the solid standard of interview clips with cast and crew mixed with footage from the set and bits from the final film. It's slickly edited, but we're left wanting more.

The next feature, "Spring Training: The Extras' Journey", is probably the least exciting supplement on the disc. As the title implies, this 10-minute piece covers the process of people auditioning to be Mr. 3000's baseball player extras. It's interesting to see how many nearly-professional athletes were so serious about getting minor parts in the film. The fullscreen footage shows the hopefuls batting, fielding, and voicing their dreams. Towards the end, we catch up with the lucky few who make it during the days of filming. The most noteworthy aspect of this extra is the distracting practice of blurring all those hat logos.

"Everybody Loves Stan" (3:22) is a hybrid which edits together the Stuart Scott SportsCenter footage seen in the film with very brief interview clips from the likes of John Salley, Tom Arnold, and former baseball players Bo Jackson, Ozzie Smith, Ryne Sandberg, Rollie Fingers, and Dave Winfield. It's a short, entertaining and kind of odd bonus feature which I guess is intended to treat Stan Ross as a real person.

Under the heading "Extended Sequences" (5:50) we get to see the fully-edited footage from three televised sequences which appear within the film either windowboxed or on television. These are SportsCenter's coverage of Stan's first game back, the St. Patrick's Day promo for Stan's Mr. 3000 Shopping Center, and Stan's appearance on the Tonight Show with Jay Leno (and Carmen Electra). Even though we see most of this material in the film, it's nice to get it unedited on its own.
Three additional sequences can be found in "Deleted Scenes." First is the EA Sports Promo featuring T-Rex Pennebaker in a video game world, which plays with commentary from the director. The other two short segments are truly deleted from the film. In one, Stan gets a checkup from a lady doctor and in the other, those ever-competing infielders test each other's knowledge of soap operas. The second and third scenes, presented in Dolby Surround and mostly in fullscreen (occasionally there are minor mattes) also offer optional director's commentary, which sounds kind of chopped-up.

Altogether, the three scenes run 2 minutes and 13 seconds.

Outtakes (3:18) presents an amusing reel of bloopers which mostly feature star Bernie Mac flubbing lines and then cursing.

Last and most substantial of the bonus features is an Audio Commentary with Director Charles Stone III. Solo commentary tracks are hard to pull off, but Stone is earnest and easy to listen to. He goes out of his way not to step on anyone's feet, echoing the standard disclaimer at the start and even spelling out swear words sometimes. But more importantly, he proves insightful not only about his film but movies at large. The commentary falls out of sync in a few places, but Stone remains an engaging speaker throughout.

The neat-looking main menu resembles a Sports Center-type studio with highlights playing on a screen and the options in a graphic sidebar. Each 16x9 menu screen features a selection of the film's score. Before the menu loads, previews play for Ladder 49 and National Treasure. The Sneak Peeks menu adds 30-second commercials for ESPN and "My Wife and Kids."
CLOSING THOUGHTS
Mr. 3000 is not cinema which changes your life and it doesn't quite enter the annals of the best baseball films. But with a sensible script and an apt leading performance from the charismatic Bernie Mac, the film does a fine job of diverting and delighting. Those who are fans of the star from his TV show or supporting roles in past films will particularly enjoy.
Backing up a recommendation on the film's strength is this solid DVD, which sports a splendid feature presentation and a nice hearty offering of extras. It's easy to settle for formula or lowbrow laughs in mainstream comedy films today. Mr. 3000 mostly avoids both and winds up a pleasing production.