Charles Dickens' A Christmas Carol has been retold and adapted as frequently as almost any story in the history of the written word. Between film and television, everyone from Mr. Magoo to the Muppets to Scrooge McDuck to Robert Zemeckis' motion capture studio have put their stamp on it.

It's easy to see the appeal. Dickens' 1843 novella is the ultimate redemption tale. Some of the language is a bit dated, but none of the meaning has been lost. And every holiday season gives us reason to revisit the work, to be frightened by our mortality, to be cognizant of the past, present, and future, and to question the way we are leading our lives. Outside of spiritual texts, it ranks among the most important things ever committed to print.

Based on the high regard in which I hold Dickens' most powerful creation, you might expect me to demand fidelity in the film versions. Purists and classicists seem to agree that 1951's Scrooge starring Alastair Sim in the title role is the definitive adaptation. While I need a new viewing of that to pass judgment either way, I can tell you that for me the filming that stands above all others is the 1988 comedy Scrooged.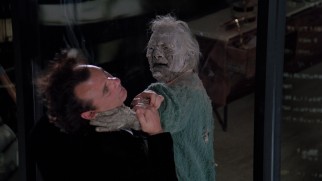 Scrooged sets Dickens' story in present-day Manhattan. The miserly banker of the text is reconceived as Frank Cross (Bill Murray), the youngest president in the history of network television. Frank is a cold-hearted man whose high-powered job is all he seems to have going for him. He holds contempt for everyone working beneath him and is motivated only by grabbing people's attentions and delivering high ratings.
This holiday season, Frank's every attention is focused on Scrooge, an ambitious production of Dickens' tale to air live around the globe on Christmas Eve night. The timeless parable will be translated to the small screen faithfully, with a few exceptions, like casting Olympic gold medalist gymnast Mary Lou Retton as Tiny Tim and including appearances by the Solid Gold Dancers and, to secure the house pet demographic, some small animals.
The broadcast is of less importance to us than the man overseeing it, who experiences the same phenomena as Ebenezer Scrooge as his own Baby Boomer lifeline is examined. First comes a frightening beyond-the-grave visit from Frank's Jacob Marley, his old boss and mentor Lew Hayward (John Forsythe). Frank further questions his sanity as he proceeds to get visited by the obnoxious Ghost of Christmas Past (David Johansen, a.k.a. Buster Poindexter), the fairylike yet violent Ghost of Christmas Present (Carol Kane), and the terrifyingly silent Ghosts of Christmas Future.
Bob Cratchit duties are divided between Frank's thankless, widowed secretary Grace (Alfre Woodard), whose Tiny Tim-ish son Calvin (Nicholas Phillips) has grown mute, and young underling Eliot Loudermilk (Bobcat Goldthwait), whose life quickly unravels after some polite, well-intentioned feedback gets him instantly fired. Frank's long-lost love is developed into full-fledged soulmate in the selfless Claire Phillips (Raiders of the Lost Ark's Karen Allen), who is cast aside by Frank's professional ambition.
Fittingly enough for the television network setting, the film includes a number of celebrities playing themselves in cameos barely acknowledged as such. Oscar winner John Houseman ("America's favorite old fart") is the program's fireside narrator. Playing Scrooge and Marley for the show-within-a-show are Buddy Hackett and Jamie Farr. IBC's holiday programming slate also includes hilarious vanity vehicles for Lee Majors (The Night The Reindeer Died) and Robert Goulet ("Bob Goulet's Old Fashioned Cajun Christmas"). Furthermore, sharp-eyed viewers will recognize Miles Davis, David Sanborn, Paul Shaffer, and Larry Carlton in the brief role of "starving" jazz musicians performing "We Three Kings" for donations on a New York City sidewalk.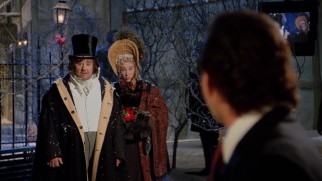 I have quite possibly gotten more enjoyment out of Scrooged than any other movie in history. Having watched it so many times over the years, including many a happy Christmas Eve night, it is almost impossible for me to look at it with a critical eye. And yet, I find it easy to explain and justify my love of the film.

For starters, I place Charles Dickens, Bill Murray and Christmas at the very top of their respective fields, literature, acting, and the calendar year. Bring them all together and in 1988, as one of the rare starring roles Murray held in the five years between the two Ghostbusters movies (both of which also rank as all-time favorites), and magic was bound to emerge.

Scrooged retains every strength found on Dickens' pages and adds to them ones that can only be found in cinema. Chief among them is Murray's performance. Today, everyone seems to recognize the powerhouse nasty-to-nice transformation he delivers in Groundhog Day, but he offered something similar and even better five years earlier. Compared to weatherman Phil Connors, Frank Cross' nasty is a little nastier and his nice is a little nicer. Both are critical to Scrooged's achievements.

If Scrooge was merely an unpleasant fellow, we wouldn't need four ghosts to shed light on his failings and his newfound cheery outlook on Christmas morning wouldn't mean all that much. Scrooge has to be without compassion, his heart calloused by faulty priorities and unforgiving years. Murray conveys that perfectly and does it in an uproarious fashion. From tearing down Grace's child's drawing to brainstorming staples as the solution to a dormouse antler problem, Francis Xavier Cross is deliciously wicked. To me, this is one of the greatest performances put on film; it just hasn't yet been recognized as such.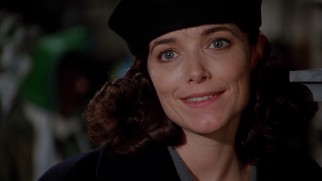 Like many older films', Scrooged's reputation has risen steadily over the years. It currently boasts a 6.8 IMDb user rating and I'm sure it's only a matter of time before it enters the 7 range presently enjoyed by Murray's fourth (Lost in Translation, 7.9) through fourteenth (Get Low, 7.1) highest rated films there. Already, it is considerably more esteemed than forecast by the mixed critical reaction it received in its Thanksgiving week release. Many critics were turned off by its dark tones and sudden change of heart, two qualities true to Dickens' story.
It's tough to imagine anyone improving on such a great tale and with a comedic modernization no less, but I'd be lying if I didn't admit that my appreciation of Scrooged surpasses that of the original source text. The details of the novella wonderfully align with those invented by Mitch Glazer and former "Saturday Night Live" head writer Michael O'Donoghue. Their Scrooge, a wounded product of television who now controls it, is a profound, timely characterization. Their script moves you to tears and, in the confident hands of Murray at his very best, regular fits of hearty laughter with countless quotable lines.
It's all capably and stylishly realized by Richard Donner, who should have become known as one of the great directors of his time. Instead, Donner, whose breakthrough film was 1976's The Omen, is really only known for the four Lethal Weapon movies and his tumultuous experience on the Superman franchise (on whose second installment he was replaced). Donner deserves credit for the film's ample spirit, fueled by imaginative editing, an unromantic portrayal of New York and an unforgettable score by Danny Elfman, the same year he composed for Midnight Run and Beetlejuice.
Earning over $60 million (the equivalent of $117 million today), Scrooged performed well in theaters, without reaching blockbuster status. The movie has not quite been embraced to the degree of fellow '80s comedies A Christmas Story and National Lampoon's Christmas Vacation, but it is still almost guaranteed to turn up on any best Christmas movies list that extends further than ten. Though there are plenty of worthy contenders from 1940s gold standards It's a Wonderful Life and Miracle on 34th Street

to gracefully aging 1990s family films Home Alone and The Santa Clause through this young century's highlight Elf, Scrooged takes the cake for me as the most ceaselessly entertaining, humorous, and heartwarming holiday movie there's ever been.

As one of Scrooged's most vocal supporters, I welcome today's Blu-ray debut of the film with mixed feelings. I'm warming to the hi-def format, primarily in the opportunities it gives me to share my thoughts on films I've long admired with a wide audience. Though I'm still okay having even personal favorites only on DVD, Blu-ray transfers undoubtedly allow films to look and sound better than before and more closely resemble their original theatrical presentations. Scrooged was a title I requested for review immediately, even back then I feared the site might be closing down this week (thankfully, we're far from done now).

The problem is that back in August 2006, Paramount Home Entertainment announced a new, improved Yule Love It! Edition DVD for Halloween release. This was more than mere rumblings. Cover art was shared and the following all-new extras were promised: a Richard Donner audio commentary, Bill Murray's message from the ShoWest exhibitors convention, and the featurettes "A Christmas to Remember", "Updating Ebenezer", "Bringing Ghosts to Life", "The Look of Scrooged", and the two-part "On the Set with Bill Murray." No deleted scenes, but certainly enough to whet the whistles of any fan of the movie. Then, the release was pulled, missing not only 2006's holiday season but every one since. Delays happen all the time in this industry, though it's uncommon for them to occur after an announcement is made a mere two months prior to street date. It's downright unusual for an announced edition to just completely dematerialize and never surface. And now with the Blu-ray not containing any of those extras, it seems as though that is exactly what happened to the Scrooged Yule Love It! Edition. Those supplements no doubt must have been produced and yet for some reason, we aren't seeing them.

There has been no official explanation for the disappearing act and the movie doesn't have a rabid enough fanbase to really pursue answers. That's left us to rely on speculation and rumors, a few of which have passed the blame onto Murray himself, who legend has painted as somewhat like a pre-redemption Frank Cross in real life. Murray alone is the reason why there's no Ghostbusters III (as if they're not 15 years too late for that). Murray left Pixar hanging on their offer for him to voice Sulley in Monsters, Inc.. He then went onto voice Garfield not once but twice, only to trash them in interviews and his Zombieland cameo. Murray's career as a leading man of commercial comedy ended with 1997's The Man Who Knew Too Little. He's since stayed relevant in movies by Wes Anderson and Jim Jarmusch. Supposedly, he was never all that crazy about Scrooged, and neither was screenwriter O'Donoghue, who died in 1994. I find it hard to believe that Murray would stand in the way of a more loaded Scrooged release or that this could even be a possibility not realized until right before the presumably pressed disc went to stores. And yet here we are, All Saints' Day 2011, with a basically barebones Scrooged Blu-ray and no idea why those promising bonus features remain shelved.
Blu-ray Disc Details

1.78:1 Widescreen
5.1 DTS-HD MA (English), Dolby Stereo 2.0 (French), Dolby Mono 2.0 (Spanish)
Subtitles: English, English for Hearing Impaired, French, Spanish, Portuguese
Not Closed Captioned; Extra Not Subtitled
Release Date: November 1, 2011
Suggested Retail Price: $24.99
Single-sided, dual-layered disc (BD-50)
Blue Eco-Friendly Keepcase in Lenticular Cardboard Slipcover
Still available on DVD ($14.99 SRP) and Amazon Instant Video
VIDEO and AUDIO
Scrooged's Blu-ray presentation is a thing of beauty. The 1.78:1 picture dazzles with its clean element (perfect aside from optical effects shots minutiae), outstanding clarity, vibrant color, stunning sharpness and terrific detail. The potent 5.1 DTS-HD master audio is of comparable quality, quickly making known the energy and vitality it will supply. Though the dialogue has some limitations, Danny Elfman's score -- criminally never released in full -- is put on especially fine display. As someone who for years was content with a VHS recording of a cable broadcast (whose cuts I can still clearly identify), I truly appreciate how great this looks and sounds. Both areas offer significant improvement over the movie's DVD, which is hardly an accomplishment since it was released all the way back in 1999.
BONUS FEATURES, MENUS, PACKAGING, and DESIGN

Crushingly, Scrooged is accompanied by the only bonus feature of its only DVD release to make it to retail: the movie's original theatrical trailer (2:37, HD). At least it is one of the better and more memorable trailers I know,

making fine use of Tchaikovsky's Nutcracker Suite and Dave Grusin's score for Donner's The Goonies. I've already detailed how disappointing it is for extras to have been produced for this fine movie only to remain unreleased over some terrible mystery.

At least, Paramount displays some effort in the packaging department. Scrooged's standard Blu-ray case is topped by a cardboard slipcover whose front supplies a lenticular version of the film's barely updated one American poster/cover design.

The static menu gives us a wider version of the cover art while looping a 30-second piece of Danny Elfman's score. Points are lost for the misuse of the plural "Extras." Though the disc doesn't resume in any way, it does support the use of bookmarks.
CLOSING THOUGHTS
You won't get a single disparaging word on Scrooged from me. I love it as much as any movie and long for others to discover it and treasure it as I do. As for this Blu-ray, it'd be one thing if Scrooged just never got any real bonus features. But clearly, valuable extras were produced and compiled for the 2006 DVD that never was. To still not get them on this Blu-ray debut five years later is as unnerving as any home video issue. Paramount would have been better off waiting to get the issue sorted out before putting the movie on Blu-ray, especially since this release eliminates any chance of getting those extras anytime soon.
I wholeheartedly recommend the film and this feature presentation here is without fault, but the continued lack of extras is a frustrating puzzle I'd really like to have solved in my lifetime.
Support great cinema and this site when you buy Scrooged now from Amazon.com:
Blu-ray / DVD / Instant Video