Footloose is one of those movies you needn't have seen to know its plot. That isn't because it tells a generic story; quite the opposite,

its tale is distinctive enough for the film to have earned the kind of iconicity that breeds cultural oxidation.

In short, Footloose tells the story of a small, old-fashioned town whose ban on dancing is challenged by a rebellious teenager.

The teenager is Ren MacCormack (Kevin Bacon, a bit old for high school) and the town is the fictional, mountainous Bomont. Driving a yellow Volkswagen Beetle blaring modern music, Ren is immediately perceived as a threat by both the high school students and the community, for whom Reverend Shaw Moore (John Lithgow) speaks. Moore has been Bomont's biggest proponent of the bans on dancing and rock music, which have been assigned as much responsibility as drunk driving for the somewhat recent death of Moore's son. Bomont is big on censorship and Ren draws gasps when he vouches for the worth of Kurt Vonnegut's Slaughterhouse-Five, a book Moore intends to ban.
The female student body is attracted to Ren for his attitude, good looks, and knowledge of life outside their small town. Most interested is Ariel Moore (Lori Singer), the preacher's less than saintly daughter. While their path to romance seems certain, Chicagoan Ren first must adjust to small town living with its tractor games of chicken. At least he finds a friend in the earnest, welcoming Willard (Chris Penn).
There is only one place for this film to go and that is a dance spearheaded by Ren, who's not even enough of a bad boy to outright break the rules. First, he tries to have them amended. When that doesn't work, he looks to bend them, using a grain mill just beyond the town limits. Before the town, gathered with concern, Ren proclaims, "This is our time to dance." And he means it.
Footloose is so very cheesy, but in a good way. While the premise may seem so far-fetched, it is actually based in reality, with Bomont inspired by the rural, religious town of Elmore City, Oklahoma, which only lifted its nearly 100-year ban on dancing in 1980. The true-life origins don't render less outlandish the notion of youths bandying together and making a case for their right to dance.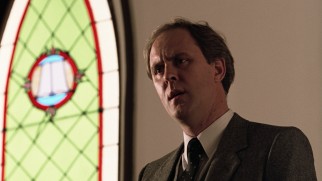 Though that angle drives the plot and hedges on a dated, backwards setting, the movie isn't all that different from the many high school movies that came about in the 1980s, even if it's more likely to be classified as drama than the usual comedy. Footloose is plenty humorous, maybe sometimes not completely intentionally (i.e. Ren's angry dancing, the obvious use of doubles, and that so very '80s soundtrack of familiar Kenny Loggins, Bonnie Tyler, and Deniece Williams songs), but you're certainly not laughing entirely at its expense.

We always hear that Indiana Jones and the Temple of Doom and Gremlins created the demand for a PG-13 rating, but a movie like Footloose, released a few months in advance of them, displayed a pretty clear need for something in between "Parental Guidance Suggested" and "Restricted." In this movie, you'll find drugs, underage drinking, profanity, brief nudity, and a sort of brutal assault.

That's not even to mention all the illegal dancing. In fact, the movie was initially given an R rating and underwent editing to have it lifted. Without that, there is no way this would have ended up as one of 1984's biggest hits, with the youth accounting for a huge chunk of admissions.

Movies like this, Splash, and Sixteen Candles just barely made it in time to be rated PG. It's fascinating to see the MPAA apply the same rating today to kid-oriented animation with "mild sci-fi action" and "some peril", although the recent Fame remake got a PG with somewhat comparable content to '80s high school films.

Paramount Pictures has higher hopes for its somehow inevitable Footloose remake, which opens today with more critical support than expected. In narrow advance of that opening, Paramount debuted the original Footloose on Blu-ray Disc as the Deluxe Edition we review here. The studio also reissued the film on DVD, a format it seems more likely to be revisited on (with current sales rankings even on Blu-skewing Amazon.com -- #936 overall for the DVD, #976 for the Blu-ray -- supporting that theory).
Blu-ray Disc Details

1.78:1 Widescreen
6.1 DTS-HD MA (English), Dolby Surround 2.0 (French), Dolby Mono 2.0 (Spanish, Portuguese)
Subtitles: English, English for Hearing Impaired, French, Spanish, Portuguese
Not Closed Captioned; Video Extras Subtitled
Release Date: September 27, 2011 / Suggested Retail Price: $24.99
Single-sided, dual-layered disc (BD-50) / Blue Eco-Friendly Keepcase
Also available as Deluxe Edition DVD ($14.99 SRP), Double Feature DVD ($14.98
SRP) with Flashdance, and Amazon Instant Video
Previously released as DVD (2003), Special Collector's Edition DVD (2004),
and "I love the 80's" DVD with CD (2008)
VIDEO and AUDIO
Blu-ray presents Footloose in 1.78:1, approximating its original 1.85:1 widescreen theatrical aspect ratio. Picture quality is excellent on the whole. A few shots aren't the sharpest, but the overwhelming majority are perfect in that regard, delivering terrific clarity and detail. Sound is great too. The menu and packaging call the default English mix 6.1 DTS-HD master audio, while my player identified it as 5.1. Either way, dialogue is crisp and nicely complemented by the lively musical selections, which are where the surround channels are put to good use. Having never before seen the film, I can't compare this transfer to past ones, but on its own merits, this is an extremely satisfying presentation that should meet or exceed all expectations.
BONUS FEATURES, MENUS, PACKAGING and DESIGN

Footloose's latest DVD release is its fifth, although three of those editions employ the same original no-frills disc with which the movie made its format debut back in 2003.

Sales have obviously been strong enough to warrant extra care from Paramount and this Blu-ray recycles all of the bonus content from the 2004 Special Collector's Edition and adds more.

The extras begin with the two audio commentaries recorded for the 2004 DVD. First, writer Dean Pitchford and producer Craig Zadan look at the film. They have as much information to share about it as anyone. Their reflections vary from screen-specific to general and both are plenty engaging. One of the most compelling topics is casting, specifically of Kevin Bacon (whom they couldn't praise more highly), who turned down an offer to star in John Carpenter's Stephen King adaptation Christine and received a $1,500 haircut to overcome studio opposition. Also touched on: director Herbert Ross' wise decisions and unwise one (a rap sequence), filming in Utah, the songs and their success, expectations, test screening concerns, changes made, and the blockbuster reception. It's an enthusiastic and informative track that runs all the way through the end of the closing credits scroll.

The second commentary comes from Kevin Bacon. Naturally, he has less to talk about and it becomes clear early on that he won't be able to fill the air for 107 minutes on his own. Still, when he talks, he has interesting things to share, such as how Provo resented the production's party atmosphere, how he spent a day as a high school student in preparation for the movie, his account of fighting for the part, his refusal to pretend he wasn't doubled on the more challenging maneuvers, and his bittering experience with a People magazine cover story on the film. He also has lots of thoughts on the music, repeatedly acknowledging how the advance soundtrack buzz paved the way for the film's success. This too is a good listen.

The video extras are topped by five new featurettes, all presented in high definition.

"Let's Dance! Kevin Bacon on Footloose" (12:20) lets the actor reflect on his best-known film credit on camera. He recalls the harrowing casting process, production in Utah, and the soundtrack.

Similar fun retrospection is had in "From Bomont to the Big Apple: An Interview with Sarah Jessica Parker" (7:37), which has the "Sex and the City" star explain how she passed on the movie over hair color, only to have it come back to her and become her second theatrical credit. Parker discusses her sidekick character Rusty, her experience on the movie, and her co-stars.
"Remembering Willard" (6:12) memorializes the late Chris Penn with new comments from Bacon and Parker along with some 2002 remarks from Penn himself (recycled from a DVD documentary), all of which focus on his efforts to meet the film's dance demands.
You can guess what "Kevin Bacon's Screen Test" (4:36) is. Briefly sampled in "Let's Dance!", the scratchy 35 mm footage, performed across from a different actress, is accompanied by Bacon introduction and, in the soundtrack's openings, candid commentary. It's an interesting relic from Paramount's vaults.
In the same vein, "Kevin Bacon Costume Montage" (2:50) shows more of the actor trying out different looks for his character in front of a pale blue screen while Kenny Loggins' "I'm Free (Heaven Helps the Man)" plays (Bacon's smiling comments are muted). It's just as deliciously cheesy as it sounds.
The remaining extras are gathered under the heading 2004 DVD Archive and mostly appear in standard definition.
The centerpiece of these is the fine, comprehensive documentary "Footloose: A Modern Musical", which is split into two parts (17:55 & 12:05) seemingly only to stay under 20 minutes for legal reasons. It interviews Kevin Bacon, Chris Penn, John Lithgow, Lori Singer, Elizabeth Gorcey, producer Craig Zadan, writer Dean Pitchford, choreographer Lynne Taylor-Corbett, costumer Gloria Gresham, casting director Marci Liroff, "gymnastic consultant" Chuck Gaylord, stunt coordinator Max Kleven, and residents from Elmore City, the real Oklahoma town whose anti-dance law influenced the movie. The piece starts there, with Pitchford recalling his research and development before moving onto the casting of the leads. Part 2 moves onto the film's production, dancing, and impact. Some of it repeats topics from the commentaries but it does so with more perspective and in a succinct, visually interesting way.
"Footloose: Songs That Tell a Story" (13:54) celebrates the film's music with revelation of what went into compiling a sensible soundtrack. In addition to those interviewed in "Modern Musical", this piece includes comments from editor Paul Hirsch, composer Tom Snow, music supervisor Becky Mancuso-Winding, and singers Kenny Loggins, Sammy Hagar, and Loverboy's Mike Reno. They discuss specific original songs and how they functioned as a marketing tool through radio airplay and MTV music videos.
Sadly, the videos themselves are still not included here. But Footloose's short, sweet, and oh so '80s theatrical trailer (1:33) still is, and presented in HD to boot.
Unfortunately, the concurrent new single-disc Deluxe Edition DVD apparently drops the two parts of "A Modern Musical" and "Songs That Tell a Story." I was about to praise Paramount for not spiting those who haven't made the jump to Blu-ray, but that is evidently undeserved. I don't think disc space should have precluded those features from the DVD and if so, it's not like a 2-disc set would have been inconceivable.
Surprisingly, there isn't a trailer for the remake, but the last extra is related to it: a sticker on the shrinkwrap promises $7.50 of Hollywood Movie Money towards admission to the new Footloose. The reverse side provides a unique code which you enter on the website to print a movie certificate redeemable at select theaters through November 29th. It's some work, but worth it if you want to see the remake on the big screen.
The plain static main menu plays the Kenny Loggins title song seemingly in full. The disc supports bookmarks, but doesn't resume playback in any way.
Though unslipcovered, the standard eco-friendly Blu-ray keepcase (which the disc label matches in color) boasts stylish foil artwork on front and back.
CLOSING THOUGHTS
I'm glad to have finally seen Footloose, crossing one more item off my list of must-see 1980s cultural sensations. I'm also glad to find that the film is plenty of fun even without personal nostalgia and quite a bit better than its modest reputation indicates. Frothy, far-fetched, and formulaic though it may be, it is more entertaining and polished than a great many modern high school and dance movies.
Wisely timed to the remake's release but not bent on promoting it, Paramount's Blu-ray debut shows much respect for the original film, delivering top-notch picture and sound plus a solid half-hour of all-new bonus features to complement the thankfully preserved two commentaries and 45 minutes of previous material. If you're a big Footloose fan, the only reason not to be excited for this release is if you've completely written off Blu-ray, in which case I doubt you've read this review all the way through. If so, you unfortunately have to choose between the new DVD (which loses the old making-of video), the discontinued old one (which probably looks worse and lacks the half-hour of new content), or owning two editions for the complete Footloose DVD experience.
Support this site when you buy Footloose now from Amazon.com:
Blu-ray / Deluxe Edition DVD / Instant Video / Double Feature DVD with Flashdance