As far as movie titles go, you don't often see one as bold as Santa Claus: The Movie. Though the audacious subtitle doesn't grace the film, it's been used in publicity materials from the start all the way through this new 25th Anniversary Edition DVD and Blu-ray release. In spite of the title, few would argue that this 1985 movie is the definitive Santa Claus film. The original Miracle on 34th Street has the strongest claim to that. And in recent years Tim Allen's portrayal in the three The Santa Clause movies has made a much bigger and more lasting impression.

They've also ensured some degree of confusion for those who fail to recognize the title pun of that Disney comedy series and/or believe "Clause" to be a valid alternate surname spelling. In such discussions, that subtitle "The Movie" proves to be invaluable for clarification purposes. But there's still a good chance that whoever you're talking to has neither heard of nor seen this underperforming international production.

Whereas Allen's first film depicted an ordinary man becoming a Santa Claus, Santa Claus: The Movie shows us an ordinary man becoming the Santa Claus. In the distant past, elderly man Claus (David Huddleston) is renowned for the gifts he makes and gives to children each Christmas. One year, he, his wife (Judy Cornwell), and their two sleigh-pulling reindeer hit some bad weather on their way home. Destined to freeze to their deaths, they see a bright light and are saved and greeted by the fabled Vendegum of the North Pole who prefer the more common name "elves." The elves welcome Claus to his new home, a factory full of toys that he is to distribute to children every year. It's all a lot to process and Claus doesn't really have an opportunity to reject the proposal. But, like the elves, he gets immortality out of the arrangement. Plus, he was totally going to die out in that winter cold.
Fulfilling a prophecy of a childless couple bringing joy to all the children of the world, Claus becomes Santa Claus and accepts annual gift-giving duties, utilizing time travel loopholes. Centuries pass and sometime around 1985, the work catches up with Santa, making him very fatigued. He'll need an assistant, it is decided. And the obvious choice is the plucky, visionary Patch (Dudley Moore). With his assembly line audition, Patch gets the job. And it's around this time that Santa Claus stops being chiefly about Santa Claus.
We meet a homeless young nonbeliever named Joe (Christian Fitzpatrick) who lurks outside of McDonald's and private homes alike with hunger in his eyes. The private home proves to be the better bet, as compassionate redhead Cornelia (Carrie Kei Heim) sneaks him a plate of food and a can of Coke. Santa meets both of these New York kids, befriending Joe and letting him fly over the city in his sleigh.
Somehow, Santa's product is lacking in quality that Christmas and the blame obviously lies with Patch, who sheepishly turns in his red assistant's apron. Patch wanders off and somehow ends up in the office of corrupt toy executive B.Z. (John Lithgow), whose namesake company is dealing with a hazardous toy scandal worthy of a Senate subcommittee. In an effort to show Santa he's got the right stuff, Patch pitches B.Z. an elaborate plan that involves a minute of commercial airtime worldwide and freely distributing magic-dusted, puce-colored candy pops in every home. Liking it from a PR standpoint, B.Z. backs the secret plan and is so pleased by the results (kids who eat the pops enjoy a taste of low-altitude flight) that he quickly hatches a sequel idea: Christmas II, to occur March 25th, with no Santa involvement.
Can Santa, Patch, Joe, and Cornelia stop megalomaniac B.Z. and save the sanctity of Christmas? You'll certainly have to watch this movie to find that out.
Santa Claus is an interesting effort and one which I can only imagine having seen as a child, since this review marked my long-inevitable first viewing. The film is prominently billed as a production of Alexander and Ilya Salkind, names that might not mean much to modern viewers. Second and third generation filmmakers, the French father and Mexican son had been behind the Christopher Reeve Superman movies (then numbering three) and their coolly-received cousin Supergirl. The two bring high-minded and commercial sensibilities to Santa Claus, most noticeably in the contemporary second half that loses focus and traction. The script by David Newman, who had contributed to those first three Superman films (and Bonnie and Clyde long before them),

seems to run from the timeless calm of North Pole magic for some routine family film conflict. With an over-the-top villain, overlooked fundamentally good children, and a punny Dudley Moore as comic relief, the movie never loses our support, but it definitely doesn't find a place in its densely-plotted second and third acts to finish the story it began telling.

Still, it's far from a travesty, which I kind of anticipated on account of it being all too easy to go a quarter of a century without ever encountering this film on TV or hearing it praised or discussed. The film's average IMDb score is currently a lowly 5.0, much closer to laughingstock Supergirl (also directed by Jeannot Szwarc, in his brief feature filmmaking interlude between long TV runs) and the much-maligned Superman III than to the first two Superman movies. While you can't place too much stock on IMDb ratings of family films (for example: on the rise for years, The Santa Clause is just barely over 6 now and its two reasonably entertaining sequels are trailing it quite a bit), there has been ample opportunity elsewhere every year for Santa Claus fans to come forward and cite it as one of their holiday favorites. Yet I can't think of a single list or article that's given it favorable recognition (and as a Christmas movie fan, those are things I'm wont to encounter).

I guess I can understand moderate estimation of the film. While there isn't a single one of my many favorite Christmas movies that I exalted as such after just one viewing, Santa Claus doesn't strike me as being destined to enter the ranks of the all-time greats I admire. But I absolutely enjoyed it, thanks in part to the high regard I hold for holiday movies and the 1980s.
One thing that I think even the movie's detractors would be hard-pressed to criticize are the special effects. Perhaps that shouldn't be so surprising considering this is from the same producers who boldly claimed "You'll believe a man can fly." Here, you'll believe a sleigh can fly, as Santa and his reindeer very smoothly match their surroundings and move believably as the film's recurring central illusion. More earthly effects are also capably achieved, from reindeer puppetry to some dazzling split-screen work. This may not have raised any bars but it definitely maintained them, which is more than can be said for many a film made before or since. It wouldn't have been out of place accompanying or substituting for Cocoon, Return to Oz, and Young Sherlock Holmes in the Academy Awards' Visual Effects category that year.
Besides not bowling over critics, Santa Claus also didn't connect with moviegoers, at least not stateside, where it grossed less than half of its substantial $50 million production budget. The film fared better in the United Kingdom and other parts of Europe, but not enough for the Salkinds to pursue a sequel.
For not being among the best-loved of Christmas films, Santa Claus has sure gotten more than its fair share of chances to change that on DVD. Last week's quarter-centennial edition represented the film's first release by Lionsgate and first by anyone on Blu-ray. Before that, Anchor Bay distributed the movie, releasing it to DVD in separate widescreen and fullscreen editions in 2000, a 20th Anniversary Edition in 2005, and an unnamed repackaging in 2008.
DVD Details

2.35:1 Anamorphic Widescreen
Dolby Digital 5.1 Surround (English),
Dolby Surround 2.0 (English)
Subtitles: None
Closed Captioned; Extras Not Captioned or Subtitled
Release Date: October 26, 2010
Suggested Retail Price: $14.98
Single-sided, dual-layered disc (DVD-9)
Black Eco-Friendly Keepcase in Cardboard Slipcover
THX-Certified
Also available on Blu-ray Disc ($19.99 SRP)
VIDEO and AUDIO
Santa Claus is presented exclusively in its 2.35:1 theatrical aspect ratio, which makes it wider than the majority of its ilk. Picture quality is pretty good. One gets the feeling that the movie will never possess the detail and clarity of many major motion pictures made before or after it. The frame is often dark and regularly grainy, presumably as it's always been and always will be. Besides that, the element remains clean and consistent, with the many optical effects shots being indistinguishable from the rest. The color range is narrow but satisfactory. I assume that this presentation is identical or comparable to Anchor Bay's before it, which is more than acceptable. From what I've seen, that studio has done generally fine work.
In the sound department, you can choose to watch the film in Dolby Digital 5.1 or plain Dolby Surround. I listened to the former and was pleased. The soundfield is put to good use, from the engulfing chilly wind of the North Pole to expansive score and song selections. Henry Mancini contributed compositions with lyrics by Willy Wonka's Leslie Bricusse. Among the original songs is the amusingly repetitive end credits theme "It's Christmas (All Over the World)", performed by Sheena Easton.
BONUS FEATURES, MENUS and PACKAGING

If you weren't familiar with Anchor Bay's DVD editions, then Lionsgate's 25th Anniversary release is sure to be full of surprises for you.

The first of them might be that "Santa Claus: The Making of the Movie" isn't some 5-minute press kit piece, but a 50-minute TV special from 1985.

David Huddleston (in character as Santa) and Dudley Moore (being his tongue-in-cheek self) introduce the program and appear throughout. As on other movies, the whole "the real Santa agreed to make a movie" angle is a bit too cute, but the piece otherwise delights with loads of behind-the-scenes footage (at England's Pinewood Studios), production information, and cast/crew comments. Today's brisk, glossy, routine DVD featurettes are nowhere near as charming as a tasteful vintage documentary like this, which is such a welcome inclusion here.

One small curiosity: the 4:3 program is encoded pillarboxed within the 16:9 frame that almost the entire disc uses. Although the black side bars waste resolution, those who own a 16:9 TV won't notice anything strange, but 4:3 TV owners might get a windowbox effect with two sets of bars if the DVD doesn't do a basic center-crop like the vast majority of menu screens do. Remarkably, I no longer have a 4:3 display to check on.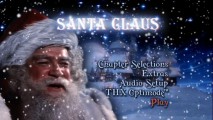 It's rare enough to get any featured movie trailers, which makes the inclusion of four Santa Claus previews a pleasant surprise.

We find two US trailers (1:10, 2:14), an "international" one (1:55), and a non-subtitled German one (3:06), all looking presentable enough in 16:9.

Next comes the 2000 audio commentary by director Jeannot Szwarc, who is questioned by special projects consultant Scott Michael Bosco. That design keeps this track full of discussion and always on point, touching upon a nice mix of overriding themes and minutiae. The film's design, effects, cast, product placement, and discarded material are all touched upon, as is how the movie would be different if made today (or rather, ten years ago).

In a blast from DVD's past, we get "Talent Bios", providing detailed, flattering biographies and selective filmographies for Jeannot Szwarc and Dudley Moore. Both are very dated, with even Moore's 2002 passing being too recent to mention.

Finally, there is a pretty obvious Easter egg leading to 30 seconds of raw silent reindeer takeoff footage from Santa's POV.

The main menus have a throwback quality to them with their not especially high-res photography and not very clear musical selections. I can only presume that they and everything else on the DVD have been ported directly from Anchor Bay's old disc. That would explain why there the DVD contains unadvertised THX certification and the Lucasfilm company's 2000 Optimode A/V tests.

Is anything gained or lost on this edition? Well, this disc does open with subsequently inaccessible trailers for Lionsgate holiday titles Gotta Catch Santa Claus and Thomas Kinkade's The Christmas Cottage. And it unsurprisingly drops the 12-page commemorative booklet that Anchor Bay included in the 20th Anniversary DVD and retained for 2008's repackaging. There are no inserts inside the black Eco-Box keepcase, which is predictably topped with a glossy but redundant cardboard slipcover.

While it's surprising enough that something like this, so far from Blu-ray's action-oriented, young adult male-friendly bread and butter, has been released at all on Blu-ray, it's even more surprising that Lionsgate has opted to keep a couple of extras exclusive to that version. Only on Blu-ray will you find deleted scenes and "Shooting the Press Conference Scene." I know the studio is thinking that they've put an extra orange at the bottom of Blu-ray customers' stockings, but for the majority of customers the absence is a more stinging piece of coal. When exactly was it decided that bonus features ordinarily included on DVD should now be saved for Blu-ray? Isn't that format's primary appeal the improved picture and sound quality? And all those important interactive features that DVD can't provide? While I doubt that many diehard fans would have rebought the movie on DVD for a couple of new bonus features, I'm sure that more would have rebought such a version than this.
CLOSING THOUGHTS
Santa Claus: The Movie is no Christmas classic, but anyone fond of holiday and/or 1980s family films should agree that it's an entertaining fantasy to be sure.
If you already own any of Anchor Bay's DVD editions, there seems to be no reason to get this one. In fact, the dropping of the booklet of notes makes this version inferior to the movie's 2005 and 2008 discs. Without having seen that booklet or compared this presentation to that, I can only make an educated guess that first-time buyers probably have no great reason to hunt down that out-of-print earlier edition over this more readily available one. On their own merits, either should satisfy with a decent feature presentation and nice documentary, commentary, and trailers.