1999 is considered one of the best years the world of cinema had in some time. There was excitement over the first new Star Wars film since 1983. The Blair Witch Project grossed over 23,000 times its budget on the power of marketing and word-of-mouth.

An Ashley Judd thriller was the nation's #1 movie for three weeks in a row.

It was a pretty stellar year for Disney too. They had their biggest live-action hit of all time in The Sixth Sense. Along with The Insider, it went onto become one of two rare non-Miramax Best Picture Oscar nominees for the company. Acquisition The Straight Story gave them a Best Actor nomination. International distribution on Runaway Bride gave them a cut of Julia Roberts' $0.7 billion worldwide romcom summer. And with Tarzan and Toy Story 2, the Mouse also had state-of-the-art animated blockbusters in two different dimensions.

Believe it or not, that was ten years ago. And although DVD was just starting to win the hearts of the general public then, none of these films (nor The Matrix, The Mummy, Big Daddy, American Beauty, American Pie, Fight Club, Magnolia, The Green Mile) has been seen fit to receive a 10th Anniversary Edition re-release. But Disney has reached into its library and pulled out a 10th Anniversary Edition for something else: 1999 direct-to-video "feature" Winnie the Pooh: Seasons of Giving!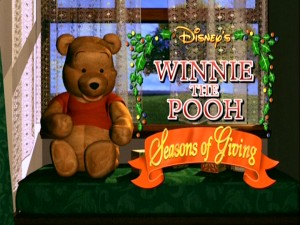 Seasons of Giving does not begin very promisingly. Opening in Christopher Robin's bedroom of neatly-arranged toys has become a hallmark for most of Disney's Winnie the Pooh movies. Unfortunately, here this is achieved in computer animation that was primitive by 1999 standards and today looks like a good grade school student project. From here, we move to a music video of sorts, which is how each of this program's three main acts is introduced. The videos' montages clearly recycle moments from the late-'80s/early-'90s series "The New Adventures of Winnie the Pooh", twice a Daytime Emmy winner for Outstanding Animated Program. That sets the mood for what is to come, because two of the three most significant chunks of this "movie" are indeed pulled from "New Adventures."
First up and shortest is quarter-hour Season 1 episode "Groundpiglet Day." Tigger is happy that winter has arrived, but surprised there's no snow. When he and Pooh check with Rabbit, the only one in possession of a calendar, they learn that it is actually February 2nd, Groundhog Day. With no groundhogs around, they make Piglet dress up as one and as he doesn't see his shadow, they start erroneously preparing for spring. In the most amusing misunderstanding of the disc, Rabbit, Pooh and Tigger panic, believing that, in running away with guilt, Piglet has turned into a snowman and melted.
Another musical montage (same song, different clips) leads to the second part of our show, A Winnie the Pooh Thanksgiving. This looks much newer than the previous episode and with good reason; this half-hour TV special debuted on ABC on Thanksgiving 1998, less than a year before becoming part of this video. In it, the gang is ready to celebrate America's fall holiday (even though Christopher Robin speaks with a British accent, as Pooh author A.A. Milne would have) in a way that makes sense to them, with "haycorns", thistles, honey, chocolate ice cream, and a big barrel of lemonade. Then Rabbit arrives and sets them all straight, assigning tasks. While he handles decorations, Gopher makes the pumpkin pie, Owl cleans dishes, Tigger and Eeyore collect cranberries, and Pooh and Piglet look for a turkey. Viewers spend time on each of these assignments and when it doesn't all come together as planned, a lesson is learned, especially by the disappointed Rabbit (who often seems to be our focus, just not in big screen outings and never marketed as such).
Our third and final act itself consists of three parts. First, we can tell there's even newer, more polished animation as we see the Hundred Acre Wood gang doing their Christmas preparations. But before we can settle in there, Rabbit gets a card from Kessie. "

Who's Kessie?", Roo and (presumably) you ask. And, of course, that is the cue to recycle another installment of "New Adventures", this being half-hour "Find Her, Keep Her", the series' sixth episode. Through this, we learn that Kessie is a young blue bird who the gang rescues. Rabbit's paternal side comes out as he takes care of the girl bird, and soon he is overprotectively prohibiting any flight from her. There is actual drama and depth to this story, things that Disney has moved away from in recent years to make Pooh strictly for tots.

We close with more of the original 1999 animation, as the gang gets ready to unveil the big Christmas tree they've never before mentioned and get a surprise visit (you'll never guess from whom)!

Although Seasons starts out pretty rough in visuals and writing, each segment improves upon the former and none is entirely without some charm. I think the biggest problem is the attempt to make this fine content be what it is not, namely a full-length Winnie the Pooh movie. It barely runs an hour with credits and of that, we get just under 5 minutes of original animation. The imagery and voices are filled with inconsistencies from one segment to the next. Efforts to hide them and create continuity with some of the universe's familiar characters-in-book design (achieved partially by sampling parts of The Many Adventures of Winnie the Pooh) and narrator do not really succeed. Neither does the recurring theme song -- penned, surprisingly, by Richard and Robert Sherman -- and its proclamation that "Every season, there is a reason to be joyful." Maybe had there been an episode to distinctly represent each of the four seasons, the title and bridging montages would have stuck. But it really just comes across as a lazy way to dupe parents into buying "a Winnie the Pooh Christmas movie" for the kids.

This would be easier to take as an honest compilation holding these separate incidents together. It kind of already plays like that and the bookending additions to the Kessie episode actually work fairly well. Perhaps it's just the half-hearted steps to unify and, by extension, the low value placed on viewer and consumer intelligence that most offend.
VIDEO and AUDIO
Seasons of Giving appears in 1.33:1 fullscreen and Dolby Digital 5.1 sound. Since the bulk of this content was created for television and Disney was still using 4x3 on direct-to-video content in 1999, the aspect ratio is appropriate even if it dates things more than it should. It's safe to say that the "Groundpiglet Day" part features some of the worst-looking picture quality I've encountered on an animated Disney DVD. It honestly looks like someone's homemade VHS from the late-'80s. Fortunately, things get better and, in the case of the original content, much better. Flaws still crop up here and there. Even at its best, the DVD isn't as polished as other turn-of-the-millennium direct-to-video fare. From that first act alone, though, I highly doubt this transfer is any different from the one on the original 1999 DVD.
The soundtrack hardly feels like 5.1. There's some slight reinforcement on the recycled content and a bit more on the newer material, but you'd have a tough time finding a less dynamic mix on something (kind of) originally created in 5.1.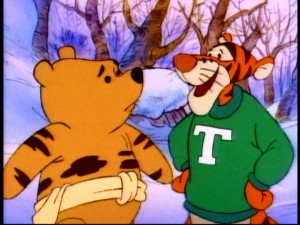 BONUS FEATURES, MENUS and PACKAGING

This new edition adds two extras to the two carried over. They are about the best one could hope for in the way of new bonus features: more episodes of "The New Adventures of Winnie the Pooh", presented with decent picture and sound.

In "Magic Earmuffs" (11:07), the gang decides to play ice cookie (ice hockey with a large oatmeal cookie) on a frozen lake. Unable to skate, Piglet hides.

When his friends discover him, they try different ways to teach him. The story has a dramatic conclusion and, as usual, it lacks the opening title sequence.

1989's "Wishing Bear" (22:42) actually leaves the great theme song intact, making it what I believe is the first complete episode of "New Adventures" released on DVD. Christopher Robin shows Pooh a little wishing star and one honey pot later, the bear is convinced it's real. When others find out and help Pooh recall the proper wishing process, they all make wishes on the same star. Believing his second wish to be the one that "pooped" the star (it's really just covered by a passing cloud), Pooh sets out to make his friends' wishes come true. He disguises himself as a Tigger and a snowman, while also trying to help Rabbit's pest problem. This episode seemed very familiar to me, like it may have been incorporated into either one of Disney's Growing Up with Winnie the Pooh compilations or a patchwork feature, but it doesn't appear to have been.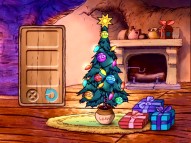 Next, we get the original DVD bonus features, two little set-top games/activities. "Decorate Your Own Christmas Tree" lets you pick a tree, lights or a garland, ornaments, and a topper to a narrator's strong encouragement. It's a solid minute of fun.

"Coloring with Piglet" lets you fill in three wintry group pictures by selecting the right colors. "Piglet" fills in all the missing and in-between colors, while mistakes prompt the narrator to tell you "you're wrong" in the gentlest way possible. This one should occupy a player for 2-3 minutes, although the longer it takes, the less fun it becomes.

The animated main menu features residents of the Hundred Acre Wood sliding and skating past our snowy view of an iced-over pond. All of the other menus are static but accompanied by score. Though the disc has been fitted with FastPlay, it is completely void of the primary ingredient (Sneak Peeks).

While Disney's publicity artwork depicts this gift set as packaging the DVD and "collectible" stocking side by side, in this review copy they're stacked atop one another in a large cardboard slipcover. My slipcover got a bit damaged in transit, as I imagine it will in most of the journeys to stores. I guess it's more disposable than your average "O-sleeve", since it only binds DVD and stocking and is just big and clunky after the latter is removed.

The tiny red stocking, which measures four to five inches between its most distant edges, is packaged in a plastic sleeve in front of a vacant rendering of the cover art scene. A full-body version of the box's Pooh/Tigger/Piglet/Kessie art adorns the stocking, which will no doubt be too easy to fill. The only insert in the DVD's white keepcase is a Disney Movie Rewards code sheet.
CLOSING THOUGHTS

If Disney came right out ten years ago and called this A Winnie the Pooh Thanksgiving with two bonus episodes of "The New Adventures of Winnie the Pooh", they would have sold fewer copies of Winnie the Pooh: Seasons of Giving, but viewers would have had appropriate expectations. In fact, there's something to like about all three portions and even the two brief original scenes. Really, it's just the lame "full-length adventure!" claim and incompetent cohesion that gives one a bad feeling about this DVD.

It's too all over the place to consider a movie or enjoy in that way.

This 10th Anniversary Edition DVD is accurately timed and does well by including two additional "New Adventures" episodes in a near-complete form. The 34 minutes of bonus shows have far more value than the tiny "collectible stocking" that's more highly billed despite looking like a dollar aisle item you'd wait to go on clearance before buying. If nothing else, this re-release is a missed opportunity to make the first quarter of the feature not look like a 20-year-old Saturday morning recording.

The $30 list price is too high for a repackaging of a repackaging of an hour of TV cartoons. While the bonus episodes render this an improvement over the discontinued original disc, if you wait a year, you should be able to get this for a more reasonable amount (though perhaps without the stocking). If you simply must have a Winnie the Pooh holiday DVD under your tree, then Santa should know that A Very Merry Pooh Year takes a similar but more Christmasy approach and with a more apt price tag.