Rankin/Bass appears to be the most trusted brand in holiday entertainment. If recognized, the company's name is almost always met with goodwill, which is not surprising since the human race tends to keep a place in their hearts for the things they loved as children. Rankin/Bass may not have picked you up from school or helped you with your homework.

But just about every holiday season, they were there to keep you entertained for half an hour or longer. They were like a relative you only saw once a year, whose visit you always looked forward to. And even without personal attention or genuine interaction, you quite likely got plenty of enjoyment from the producers' stop motion and traditionally animated holiday specials.

Though that sacred tradition endured for twenty years, having plenty of opportunity to make a lasting impression on Baby Boomers and beyond, the list of the company's greatest hits is fairly short, extending only six years from their debut holiday special, 1964's Rudolph the Red-Nosed Reindeer, to 1970's Santa Claus Is Comin' to Town. Many fans will vouch for 1974's The Year Without a Santa Claus, which in recent years has both been sequelized and remade as a live-action telemovie. But the company's other post-1970 works are not especially well-known or beloved.

Rudolph and Frosty the Snowman are staples of holiday folklore and never neglected by seasonal retail. As of last summer, they now belong to DreamWorks Animation, as part of the pre-1974 Rankin/Bass TV library acquired for $155 million. The post-1974 output stands at Warner Home Video. They've sensibly exploited the most popular of those holdings (like Year Without) with deluxe editions and Blu-ray releases. Warner has been less inclined, however, to bestow the same treatment on the less familiar works.

Four such specials from the late 1970s and early 1980s come together to form Rankin/Bass TV Holiday Favorites Collection, a disc you won't find in brick and mortar stores. Part of the Warner Archive Collection, this DVD-R compilation hit Warner's own online shop and Amazon over the summer. Last week, Warner extended seasonable review opportunities of the disc to online journalists like me.

The DVD's title is unlikely to ring true for you. For these to be your holiday favorites, you would probably have to be a child of the late '70s and early '80s. There is also the possibility you have caught these specials when they were later rerun and while they were out of circulation for a while, ABC Family's 25 Days of Christmas has recently given the shows a slight nudge out of obscurity, especially on weekends when they have the most airtime to fill.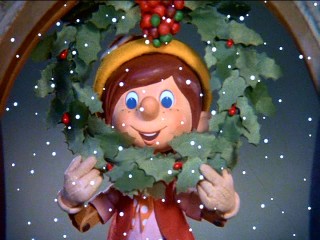 The offerings here include The Little Drummer Boy Book II, a 1976 sequel to one of the most religious and more revered of Rankin/Bass classics (which resides at DreamWorks). More stop motion is found in the early '80s works Pinocchio's Christmas and The Leprechauns' Christmas Gold. Rounding out the set is The Stingiest Man in Town, a traditionally animated 1978 adaptation of Charles Dickens' A Christmas Carol.

For an indication of the public's knowledge and appreciation of these programs, one must turn to IMDb. There, we find that each of the specials has only received between 100 and 200 user votes overall, giving them average ratings from 5.7 to 6.6 (out of 10). To put those numbers in perspective, Rudolph maintains an 8.0 user rating from over 9,000 voters. Between 12,000 and 22,000 voters have given benchmark holiday specials A Charlie Brown Christmas and How the Grinch Stole Christmas! their current average ratings of 8.3 and 8.4, respectively.

Fewer votes usually make for a higher average, a typical byproduct of selection bias. It is easy to conclude, then, that the four featured specials rank among the least-known and least-appreciated entries in Rankin/Bass' 28-deep canon.

If that doesn't put you off from this DVD, then your current collection might. Of these four, all but The Little Drummer Boy Book II quietly made their DVD debuts on Warner's enticing 2008 Classic Christmas Favorites collection. That 4-disc box set mixed brands to include The Grinch alongside Warner's best-known Rankin/Bass titles. It remains in print, reasonably priced, and an attractive foundation of any holiday animation shelf. Nonetheless, if you already Grinch or those other prominently-billed cartoons (e.g. Rudolph and Frosty's Christmas in July) and are opposed to rebuying them, or if you are a diehard Book II fan, there is this newer disc to consider, a much lighter and less valuable set that Amazon is presently selling for just four dollars less than Classic Christmas Favorites.

Pinocchio's Christmas and Leprechauns' Christmas Gold can also be found on Santa's Magical Stories, a currently heavily-discounted 3-disc collection Warner released in 2011 that includes many of the same things as Classic Christmas Favorites.

Getting back to Rankin/Bass TV Holiday Favorites, let's take a closer look at its four specials, which the DVD arranges chronologically.
The Little Drummer Boy Book II (23:45) (Originally aired December 13, 1976)

Producers/Directors: Jules Bass, Arthur Rankin Jr. / Writer: Julian P. Gardner (teleplay); Catherine Davis, Henry Onorati, Harry Simeone (original song) / Music: Maury Laws / Lyrics: Jules Bass

Songs: "The Little Drummer Boy", "Money, Money, Money", "Do You Hear What I Hear"

Voice Cast: Greer Garson (Our Story Teller), Zero Mostel (Brutus), David Jay (Aaron), Robert McFadden (Plato), Ray Owens (Simeon), Allen Swift (Melchior) Book II picks up where its predecessor left off, the poor little drummer boy Aaron having just played for the Baby Jesus. The birth of the Messiah is certainly a tough act to top and this sequel lowers its stakes. The Three Wise Men go off in different directions, with Aaron following Melchior to the home of his friend Simeon, a prophet/bellmaker. Roman tax collectors break into Simeon's home and since he doesn't have the money he owes, they seize his silver bells, which they intend to melt. Aaron and his three dancing animals try to help with some music, but the unimpressed tax collectors take his prized only possession, the drum and sticks, and burn them. While that is going on, at least the animals are taking off with Simeon's bells, which are used to play "Do You Hear What I Hear?", the central song of this special. Though not a sequel that was needed (then again, how few are?), this isn't too inferior to the original made eight years earlier during Rankin/Bass' prime.
The Stingiest Man in Town (49:50) (Originally aired December 23, 1978)

Producers/Directors: Jules Bass, Arthur Rankin Jr. / Writers: Janice Torre (book and lyrics), Romeo Muller (teleplay), Charles Dickens ("A Christmas Carol") / Music: Fred Spielman

Songs: "Sing a Christmas Carol", "An Old-Fashioned Christmas", "Humbug", "The Stingiest Man in Town", "I Wear a Chain", "Golden Dreams", "It Might Have Been", "The Christmas Spirit", "Yes, There is a Santa Claus", "Birthday Party of the King", "One Little Boy", "You Wear a Chain", "Mankind Should Be My Business"

Voice Cast: Walter Matthau (Ebenezer Scrooge), Tom Bosley (B.A.H. Humbug, Esq.), Theodore Bikel (Jacob Marley's Ghost), Robert Morse (Young Ebenezer Scrooge), Dennis Day (Nephew Fred), Paul Frees (The Ghost of Christmas Past, The Ghost of Christmas Present), Sonny Melendrez (Bob Cratchit), Debra Clinger (Martha Cratchit), Bobby Rolofson (Tiny Tim), Steffani Calli (Belinda Cratchit), Eric Hines (Peter Cratchit), Dee Stratton, Darlene Conley (Mrs. Cratchit), Shelby Flint (Belle), Diana Lee, Charles Matthau (The Boy) This hour-long cel-animated musical applies the Rankin/Bass touch not only to Charles Dickens' masterful novella but to a 1956 episode of the live-action NBC anthology series "The Alcoa Hour" also called The Stingiest Man in Town. Tom Bosley is our narrator in the form of B.A.H. Humbug, Esq., a little bug who tags along on the unusual time-traveling Christmas experienced by rosy-nosed miser Ebenezer Scrooge (Walter Matthau). I'm certain you already know the story of money changer Scrooge being visited by his deceased partner and three additional spirits to be shown the error of his tight-fisted existence.
The Rankin/Bass version infrequently takes directly from Dickens' text, sometimes in the lyrics of the numerous on-the-nose songs (evidently taken from the NBC episode). Religious references remain intact, scary parts are kept to a minimum, and some talk of Santa Claus is added, just because. It's a pleasant enough rendition of a story that doesn't lend itself too well to the musical format.
Pinocchio's Christmas (49:11) (Originally aired December 3, 1980)

Producers/Directors: Jules Bass, Arthur Rankin Jr. / Writers: Romeo Muller (teleplay), Carlo Collodi (novel The Adventures of Pinocchio - uncredited) / Music: Maury Laws / Lyrics: Julian P. Gardner

Songs: "I Never Know What Gifts to Buy", "Knock on Wood", "Let 'em Laugh", "The Whole Truth", "Love, The Perfect Gift for Christmas Day", "The Very Best Friend I Ever Had", "Dancin'"

Voice Cast: Alan King (Maestro Fire-Eater), George S. Irving (Geppetto), Robert McFadden (Cricket), Pat Bright (Cat), Allen Swift (Fox), Diane Leslie (Lady Azora), Gerry Matthews, Ray Owens (Butler), Tiffany Blake (Child), Carl Tramon (Child), Alice Gayle (Child), Todd Porter (Pinocchio) Carlo Collodi's children's novel is so closely associated with the Oscar-winning 1940 animated film that you might expect this to simply exploit that like one of GoodTimes Entertainment's Disney knock-offs
.

In fact, though, Pinocchio's Christmas stays truer to Collodi's text than Disney. Geppetto wears a toupιe. The talking cricket isn't named Jiminy and is strongly resented. The blue fairy has blue hair.

Only posing as his friends, the cunning Fox and his malleable sidekick Cat take advantage of Pinocchio, stealing his money and planning to sell him to a wealthy father. To raise money to buy Geppetto a gift, Pinocchio joins a puppeteer's show as the star attraction, only to run off with his non-living marionette co-star Julietta, whom he hopes to make real. Pinocchio is aided by the blue-haired fairy Lady Azora, set back by his lie-extending nose, and repeatedly exploited by Fox and Cat.

As a sufficiently charming production like this demonstrates, Rankin/Bass never really lost their touch or departed from their winning formula. Their later works just didn't have the same impact as their less precedented forebear.

The Leprechauns' Christmas Gold (24:44) (Originally aired December 23, 1981)

Producers/Directors: Jules Bass, Arthur Rankin Jr. / Writers: Romeo Muller (teleplay) / Music: Maury Laws / Lyrics: Julian P. Gardner

Songs: "The Rainbow's End", "The Golden Gold of Ireland", "Kilakilarney Shoes", "Christmas in Killarney"

Voice Cast: Art Carney (Blarney Kilakilarney), Peggy Cass (Faye), Robert McFadden (Old Mag the Hag), Ken Jennings (Dinty Doyle), Gerry Matthews (Lord of the Leprechauns, Captain), Christine Mitchell (Colleen), Glynis Bieg (Child), Frankie Moronski (Child) One of Rankin/Bass' last specials, this one leans more on culture than on Christmas. At his captain's request, Dinty Doyle, a cabin boy on the Belle of Erin, chops down a pine tree on an uncharted island off the coast of Ireland. In doing so, he frees the old banshee Mag the Hag from her years of captivity. Our leprechaun host Blarney Kilakilarney (Art Carney) explains both to Dinty and us how the tear-based banshees need Christmas gold to live, but cannot steal it, having to use their powers of cunning and deception to trick leprechauns into giving it. Depicting leprechauns as shoemakers and miners and St. Patrick as the "Lord of the Leprechauns", this isn't your typical Rankin/Bass holiday toon, but it charms in a similar fashion.
VIDEO and AUDIO

Each special is presented in 1.33:1 fullscreen and Dolby 2.0 Mono sound. The two most recent specials, Pinocchio's Christmas and The Leprechauns' Christmas Gold, look quite well, something I'd credit to them having been twice previously released on general retail DVDs as well as Rankin/Bass' stop motion production methods holding up better than their more frugal and typically animated contemporaries. Those two are only marred by the occasional white speck. Little Drummer Boy Book II is more like your typical Warner Archive DVD presentation, with debris featuring more heavily, especially at the beginning and end.

The Stingiest Man in Town is also less than satisfactory, as it maintains a fuzzy appearance intruded by a lot of scratches.

The monaural soundtracks are generally okay, though unremarkable. Stingiest Man is again the outlier, though. Its audio is most aged and prone to troubles, from Belle's shrill singing to "s" sounds producing sibilant hiss. We've all seen the amazing restorations performed on much older works, so it stands to reason that this 1978 special could look and sound better if it was deemed worthy of such effort.

None of the specials contains subtitles, which is typical for a Warner Archive DVD, but most unforgivable considering the three that joined Grinch on Disc 1 of that Classic Christmas Favorites DVD surely have them there and couldn't have required more than a simple drag and drop. I know that effort is low on the Warner Archive priority list, but the omission is just careless.

BONUS FEATURES, MENUS, PACKAGING and DESIGN

There are no extras here, which is no surprise for anyone familiar with the Warner Archive Collection. With 2½ hours of featured content, the dual-layered disc is nearly as packed as it could be and Warner could have labeled any of the featured specials as an extra. The lack of such semantics should not taint one's perception of the DVD.

The DVD's one menu features a Warner Studio backlot (which, it can be said, has nothing to do with these specials) and lacks a "Play All" option. The case features no insert or slipcover, but the disc is more colorfully and creatively labeled than Warner's newest general retail DVDs that I've seen. The case's cover artwork isn't lacking much either, aside from a correctly-placed apostrophe in Leprechauns' Christmas and the official DVD logo.
CLOSING THOUGHTS

Rankin/Bass TV Holiday Favorites Collection looks like a release that fans of the beloved animation tradition should pounce on, but before you go and add this to your cart,

make sure you don't already own the 4-disc Classic Christmas Favorites box set. For a couple of dollars more, that set will also get you The Grinch, The Year Without a Santa Claus, and five additional Rankin/Bass specials, all with subtitles and some strong Grinch bonus features. What Holiday Favorites offers and that lacks is The Little Drummer Boy Book II, a show as lowly regarded but entertaining as any on this set.

In short, I can't imagine a DVD collection that is completely void of Rankin/Bass holiday specials. But Warner's Classic Christmas Favorites box and one of the Classic Media collections entitled The Original Christmas Classics (now discontinued, but certain to resurface next year from DreamWorks/Fox) should suffice for all but the purists who need to own Book II.

Buy Rankin/Bass TV Holiday Favorites Collection on DVD at Amazon.com