So frequently has Charles Dickens' A Christmas Carol been retold on film that a straight adaptation of the 19th century novella is virtually inconceivable. There's got to be a hook, be it modernization, music, the latest technology, or a famous character standing in for Scrooge.

In 1979, Mickey Mouse, Bill Murray, the Muppets, and motion capture animation had not yet left their indelible marks on the material. Still, Dickens' holiday redemption tale had already been subjected to many film and television interpretations.

By the late '70s, it got to the point where you were bound to find multiple versions debuting on the networks in December. You needed a hook to stand out. The 1978 animated Rankin-Bass musical The Stingiest Man in the World would be noticed and remembered. As would HBO's one-man comedy special Rich Little's Christmas Carol the same year. But, a straight one called Scrooge the same year and the BBC's routine A Christmas Carol from a year earlier are now reduced to obscurity.

As the title makes clear, An American Christmas Carol has got a hook. It is set in New Hampshire during the Great Depression. If that wasn't enough to distinguish this version, then perhaps the casting of Henry Winkler in the Ebenezer Scrooge role could. Winkler seems like a fitting choice for the role now in 2012. In 1979, though, he was 34 years old and at the height of his popularity. True, Fonzie had jumped the shark two years earlier, but "Happy Days" remained a highly-rated draw, thanks in no small part to the charismatic actor behind the show's breakout supporting role.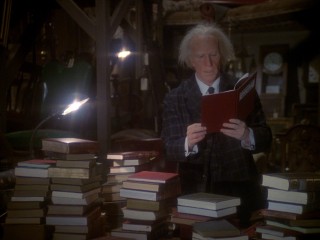 American opens in 1933. Benedict Slade (Winkler) is a cantankerous miser. The financing business has made him rich, but that doesn't prevent him from dutifully repossessing items, even on Christmas Eve and even from an orphanage. In need of a major lifestyle change, Slade is visited by his deceased mentor and business partner Jack Latham (Ken Pogue). Then, of course, three ghosts follow to show this heartless loner the error of his ways.
As usual, the most time is spent with the Ghost of Christmas Past (David Wayne), who shows us how a young Slade was plucked from an orphanage and given a home and a career as an apprentice carpenter by the generous Brewsters. Slade would shun their family furniture boss (Chris Wiggins) and love interest daughter Helen (Susan Hogan) in order to pursue the almighty buck, valuing the potential profits of mass production over quality craftsmanship.
The Ghost of Christmas Present, orphanage head Mr. Jessup (Gerry Parkes, Doc of "Fraggle Rock"), turns Slade's attentions to the family of the thankless assistant he just fired, Mr. Thatcher (R.H. Thomson, Jasper Dale of "Avonlea"). Like Bob Cratchit, Thatcher has a son who is vaguely infirm. We're told the only one who can help young, crippled Jonathan (Chris Cragg) live a normal life is a nun in Australia, who has some revolutionary operation. Needless to say, a trip down under is out of reach for the suddenly no-income household.
The Ghost of Christmas Future is the 1970s-fashioned double of a repossessed poor farmer (Dorian Harewood, making a "special guest appearance"),

perhaps the only element that dates this incarnation. He shows Slade his depressing destiny of a mocked estate and an unvisited gravestone.

The teleplay by Jerome Coopersmith, the "Hawaii Five-O" veteran who had previously penned the Rankin-Bass cartoon 'Twas the Night Before Christmas, does not follow Dickens' text to the letter. While the story is fundamentally the same, far from every scene and character of the story gets an equivalent here. Even the most commonly untouched moments and passages are thrown out. And yet the movie upholds the spirit of the story, making all the same points as Dickens and making them strongly.

It is evident that the movie's make-up work was not meant to stand up to high definition scrutiny. But Winkler has the voice and mannerisms of an older person down pat and his age is never doubted. (Certain scenes set in the past allow him to act sans heavy make-up.) Winkler does a nice job with the role, fitting it with a little bit of humor and a good deal of heart. While he isn't the most proficient dramatic performer, that isn't as much of a liability as you'd think with the role being so central and fleshed out to differ from the book here.

On the whole, I was quite pleased with this production, which, ironically, was shot entirely in Canada and with primarily a local cast. It won't get many votes for being the definitive reinterpretation. But it is refreshingly confident in its own ideas, which it proves to be compatible with those of Dickens. For being a '70s TV movie, it's also less saccharine and shoestring than you'd think, as it wisely doesn't even attempt any major visual effects or to wallow in the melodrama that can easily be overplayed.

Initially released to DVD in 1999 and out of print for the last several years, An American Christmas Carol returns to stores next month in a DVD reissue and Blu-ray debut from Shout! Factory.

Fun fact: 1979 also saw British director Eric Till helming a TV movie called Mary and Joseph: A Story of Faith. If you thought he had gotten his fill of Christmas television with this and that, think again. Till would later direct The Christmas Toy (1986), the outstanding A Muppet Family Christmas (1987), and Kenny Rogers' Christmas in America (1990).
VIDEO and AUDIO
In terms of aesthetics, the 1970s gave us some of the least presentable content in the history of television. Happily, though, An American Christmas Carol was apparently shot on film. That helps it to look absolutely amazing in 1080p high definition. Apart from the 1.33:1 standard "full screen" aspect ratio (which will not fill any screens on BD unless you tinker with your settings), it'd be tough to tell that this was made for television, let alone more than thirty years ago. The transfer boasts much greater detail than I expected. Aside from rare minor blemishes and a few thin lines briefly running down the screen, the element is clean. There haven't been many older TV movies released to Blu-ray, but I would guess this remains one of the best-looking for some time.
Audio is offered in an LPCM 2.0 monaural track. The mix doesn't shatter expectations the way the picture does, but it at least meets them. Though the recordings are dated, dialogue remains intelligible throughout. That softens the blow of Shout!'s characteristic lack of subtitles, which is unfortunate but something they've at least clarified as cost-prohibitive. I did notice that the movie was often lacking in the lip-synch department. I don't blame the disc for that, but the production. It seems as though maybe the entire movie had to be looped. If that is the case, they've done a passable job most of the time.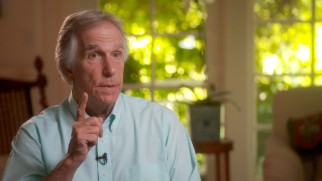 BONUS FEATURES, MENUS, PACKAGING and DESIGN

There is just a single bonus feature, but that is one more than found on the movie's previous DVD and one more than what would be expected of any other studio releasing this. The Blu-ray includes a brand new,

high definition interview with star Henry Winkler (8:41). He recalls his reluctance to make the movie, the make-up he had to wear, and how he turned down the role of Danny Zuko in Grease for being too close to The Fonz. Whoops! It is a warm companion to the movie and the most any fan could ask for.

The menu lets snow fall in the background of the repositioned cover art while the opening/closing instrumental of "We Wish You a Merry Christmas" is looped. The disc does not support bookmarks, resume playback, or offer a pop-up menu. Those three omissions prove to be a somewhat lethal combination if you hit your remote's Pop-Up Menu button during playback and have to then find where you were at or even if you can't finish this in one sitting.

Shout! conforms to standard Blu-ray packaging more than DVD, but the translucent nature of the format's keepcases allows them to still display plenty of nice imagery from the movie on the reverse side of the cover.
CLOSING THOUGHTS

I can't get enough of Charles Dickens' A Christmas Carol and judging from the sheer number of adaptations, I'm not alone in that. Henry Winkler's An American Christmas Carol is not among the best-known versions

and it doesn't approach the heights of my favorite interpretations. Still, for a 1970s telemovie, this is surprisingly well-made, displaying unusual polish for its origins, adequate dramatic resonance, and suitable updates to the source text.

Shout! Factory's Blu-ray release of this is both unexpected and unexpectedly delightful. Between the sparkling feature presentation and the simple yet perfect inclusion of a new Henry Winkler interview, this easily stands as the movie's definitive disc. It's special enough to warrant a recommendation, especially if you can find it at a decent price.

Support this site when you buy An American Christmas Carol from Amazon.com: Blu-ray • DVD