It's often been said that the Disney studio of the 1970s operated with a "What would Walt do?" attitude that yielded projects similar to the ones made in its namesake's lifetime. That stagnant managerial technique was especially evident on the live-action front, where the production slate didn't thin out. It's no surprise then that the studio would look to one of the latest and greatest successes from Walt's time, Mary Poppins, for some guidance.

Intended to be a big Christmastime hit in 1971, Bedknobs and Broomsticks checked off nearly every attribute Poppins held:

children's book series as source, period English setting, director Robert Stevenson, actor David Tomlinson, Sherman Brothers songs, Peter Ellenshaw visual flourishes, lots of magic, and a bit of animation. The film won an Oscar and was nominated for four more, but no one could say it matched the impact and reception given to Mary seven years earlier. That didn't stop Disney from giving the ambitious live-action/animation musical fantasy format another try.

The next attempt was 1977's Pete's Dragon, which was set in America and, with Stevenson retired and the Shermans having moved to Broadway and other film studios, enlisted an entirely different creative team. At the project's core was an unpublished short story by Hollywood Golden Age writer Seton I. Miller and S.S. Field. Walt had acquired it in the 1950s, thinking it would make a fine episode of his hour-long anthology television program. Instead, it was given the full feature film treatment by genre scribe Malcolm Marmorstein, in what remains his biggest undertaking to date. In the director's chair sat British filmmaker Don Chaffey, who had helmed two smaller films for Disney in the early 1960s in between larger fantasy adventures (Jason and the Argonauts, One Million Years B.C.) for others.
As the film opens, Pete (Sean Marshall) is running away from the Gogans, his abusive adoptive hillbilly family. The boy is not alone; he has a protective ally in his best friend, Elliott. Elliott is a dragon, but one who's far gentler than the ferocious creature that might come to mind. Standing twelve feet tall, he has tiny wings, a mop of pink hair, and one protruding tooth. He is invisible most of the time and Pete convinces him to be that way as they enter the New England harbor town of Passamaquoddy around the turn of the 20th century. Even so, the generally harmless giant creates some mischief and draws notice, although his scaly green body is only seen by one distrusted townsperson.
Pete instantly makes a connection with Nora (pop songstress Helen Reddy), a kind woman who lives under the neighborhood lighthouse, which she tends with her excitable, saloon-frequenting father Lampie (Mickey Rooney). Still mourning the sea disappearance of her beau one year ago, Nora welcomes Pete into her home, even entertaining his unbelievable dragon talk.
Life in Passamaquoddy gets more interesting with the return of Doc Terminus (Jim Dale) and his "intern" Hoagy (Red Buttons). Riding into town in a wayward wagon, the two traveling con men and their miracle tonics face large amounts of skepticism from the previously-duped populace. Despite the fact that his operation is a sham, the Doc grows intrigued by reports of a dragon. Seeing the fabled medicinal value and, more importantly, the immense monetary potential, Terminus plots to capture and dismember the beast. On his side is a working class disgruntled by a fish shortage. Also resurfacing are Ma Gogan (Shelley Winters) and her ever-filthy husband and two sons, convinced they've got a claim that entitles them to their child laborer.
Pete's Dragon is a pretty wonderful film. Its $11 million budget made it the costliest Disney production to date. Boasting a lavish port town complete with body of water built on the studio's set, authentic period costuming, and impressive visual effects via the sodium vapor process, that investment is evident throughout. Or rather, it would be noticeable if the universe hadn't been so meticulously crafted. With all the sights satisfying the eyes, the mind moves to more important matters, namely story and characters.

The film succeeds on these fundamental levels, with Pete and Elliott instantly winning our sympathy and maintaining it throughout. Fans of the musical genre may be willing to overlook a slight plot and flimsy structure, but they don't have to do that here. Nor are they asked to lower their song standards. The ten original numbers were composed by Al Kasha and Joel Hirschhorn,

a team that had recently won Oscars for their collaborations on Irwin Allen disaster flicks The Poseidon Adventure and The Towering Inferno. Having to come up with far more and more focal tunes here, the duo succeeds. Not every one advances the film or feels essential, but most do and each adds to the vast amount of charm Pete's Dragon carries. Kasha and Hirschhorn were nominated for Academy Awards for the reprised "Candle on the Water" and, along with Irwin Kostal, original song score.

There is no denying that Dragon aspires to spectacle, albeit of a much different kind than fellow 1977 releases Star Wars and Close Encounters of the Third Kind. Comfortably meshing a decidedly two-dimensional dragon with a live-action universe is no small achievement, but the movie largely pulls it off. The potential for disjointedness soars, but the talented effects team squashes it with their work. (Among them, Peter Ellenshaw's son Harrison adds to his father's matte painting legacy.)

Much credit needs to go to the animators, who were directed by Don Bluth. This was one of Bluth's last projects at Disney, which he would leave to go it his own and produce/direct some of the biggest non-Disney cartoon hits of the 1980s. Among those cutting their teeth here and helping to give Elliott fluid life and a strong playful personality were up-and-coming character animators Ron Clements, Glen Keane, and Randy Cartwright.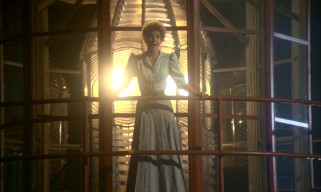 The production could easily have devoted all their efforts to Elliott, but they didn't and we know this because the picture doesn't fall flat or even suffer for the substantial stretches in which the goofy garbler is absent. From a 2009 perspective, the star power is pretty minimal, in contrast to what it was on release. Fortunately, the cast brings energy and enthusiasm that strike even as their names and faces might not.
Four actors deserve special notice. In the biggest role, 11-year-old Sean Marshall isn't asked to do much more than your run-of-the-mill good kid act, but he brings an emotional honesty of incalculable strength. Best known for her women's lib anthem "I Am Woman", Helen Reddy had received a Most Promising Female Newcomer Golden Globe nomination for her turn in Airport 1975. Saturn-nominated here, she doesn't have the most memorable screen presence, but both acts and sings well enough. (She mostly gave up on acting after this.) Handed flashier roles, the legendary Mickey Rooney and stage-accomplished Brit Jim Dale excel. Rooney plays the type of lovable drunk we'd never see today. Dale (whose ABC series "Pushing Daisies" paid tribute to the film in a December 2008 episode) is more suave and cunning than your all-purpose family film villain.
Pete's Dragon didn't win any awards, set the box office on fire, or make people forget about Mary Poppins, but it earned some good reviews and turned a decent profit. The nature and ambition of the project have kept it more prominent than almost all of Disney's 1970s output. It was among the Ron Miller decade's few works to get a special title and treatment on DVD, which it did in early 2001 as the last release in the studio's Gold Classic Collection line. Eight and a half years have passed, giving rise to 78 million new DVD households and 14.4 million new births in Region 1, according to Disney's numbers. In response, the movie gets revisited in next week's High-Flying Edition DVD. Despite a moniker that seems to hold no relevance or meaning, this new disc does merit attention from owners of the original DVD as well as the unacquainted.
As on its past DVD release, Pete's Dragon runs just under 2 hours and 9 minutes here. That is longer than the film ran in its general theatrical release and 1980 home video debut, but apparently a bit shy of its 134-minute roadshow theatrical cut.
DVD Details

1.66:1 Anamorphic Widescreen
Dolby Digital 5.1 (English)
Subtitles: English for Hearing Impaired
Closed Captioned; Extras Subtitled
Release Date: August 18, 2009
Single-sided, dual-layered disc (DVD-9)
Suggested Retail Price: $29.99
Black Keepcase with Side Snaps
in Embossed, Reflective Cardboard Slipcover
VIDEO and AUDIO

Pete's Dragon appears here in 1.66:1 anamorphic widescreen and Dolby Digital 5.1 sound. To my eyes and ears, the film looks identical to its previous DVD. By 2001 standards, picture and sound were considered quite good. The bar for restoration has since been raised, but this transfer still qualifies as not bad.

The live action footage is generally clean, sharp, and rich on an average television. Faults were more evident on a larger screen. The film is marred by the occasional artifact, which are most noticeable and present on certain scenes, like Pete and Elliott's apple-picking time, a dark cave sequence, and Dr. Terminus' entrance. Bits with effects processes seem most susceptible to issues and Elliott animation tends to wield a layer of grain otherwise absent (contributing to a disconnect the filmmakers miraculously managed to avoid). While no effort appears to have been made to fill the room left for improvement, the video still pleases.

The Dolby 5.1 soundtrack can't hide the film's age; the elements always have a dated sound that distances them from us. Still, the songs sprinkle some oomph into the proceedings, even as surround channels are only lightly used for reinforcement. Thankfully, there is consistency and passable clarity to the mix despite the hodgepodge of sources from which the sounds originated.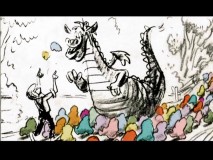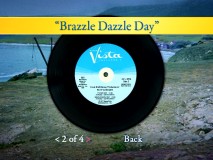 BONUS FEATURES, MENUS and PACKAGING

Unlike most of Disney's recent DVD "upgrades", this High-Flying Edition of Pete's Dragon actually puts clear effort in the bonus features department, delivering some new and interesting content.

First up is "Brazzle Dazzle Effects: Behind Disney's Movie Magic" (25:22), basically two great featurettes in one. Fifteen minutes are spent documenting the studio's history of blending animation and live action, touching upon the Alice comedies of the 1920s, mixed-medium segments from the 1940s, and technological advances made by Ub Iwerks and company. The remainder looks at Pete's Dragon, as narrator Sean Marshall (Pete from the film) becomes more of a storyteller recalling his experiences,

while describing techniques employed over an assortment of behind-the-scenes footage. One comes away appreciating the challenging efforts of this production and other satisfyingly-sampled Disney works. The only unfortunate thing is that Marshall never appears on camera in the present.

The deleted storyboard sequence "Terminus & Hoagy Hunt Elliott" (2:25) uses rough pencil sketches and what sounds like archival audio to recreate a short cut scene whose sight gag humor isn't easy to appreciate here.

A string of music features begins with what's labeled an "original song concept" for "Boo Bop Bopbop Bop (I Love You, Too)" (2:35). A man's '70s-sounding rendition plays over conceptual sketches of the boy and dragon's duet scene.

Under "Original Demo Recordings" (7:07) we get an early, lyrically different version of "Brazzle Dazzle Day", a melodically sullen take on "Every Little Piece", and "The Greatest Star of All." That last number is a "comic opera" performed by a showman named Ferdinand to Dr. Terminus; neither the song nor the would-be villain made it to the final film.

One of the niftier and less usual extras, "Promotional Record" (12:00) serves up pop versions of four songs from the film: "It's Not Easy", "Brazzle Dazzle Day", "There's Room for Everyone" and "Candle on the Water". None of the renditions outdo the official versions, but the '70s sound of the uncredited performers certainly makes for an interesting and nostalgic listen.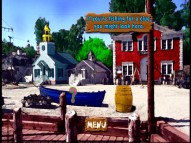 Carried over from the prior DVD is "Where's Elliott?: The Disappearing Dragon Game." If you can find the dragon eight times in four settings (no difficult task, thanks to the punned clues), you win. Your reward? A cool 70-second video that theorizes how dragons came to feature in lore while playing corresponding Disney animation clips. No prize for spotting the typo in the opening graphic.
The Pete's Dragon Art Galleries house 17 stills of Elliott/Pete concept art, 26 behind-the-scenes production photos, and 14 publicity pictures (ranging from poster designs and merchandise to premiere appearances). Though lean as far as Disney DVD galleries go, what's here is very good. It's also easy to navigate and thankfully free of music.
Two trailers for Pete's Dragon are provided in fullscreen: an international one (0:38) and a domestic theatrical one (1:51). The latter must be from the 1984 reissue, while the former has a '90s television/video feel to it.
"About Pete's Dragon" gives us five pages of text on the movie's development and ambitious production. Perfect for printing on the reverse of a chapter insert, were there one.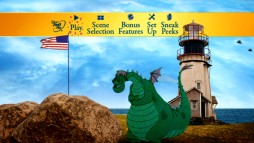 Two recycled excerpts appear next. From the Disney Channel's 1980s "Disney Family Album" documentary series

comes a clip on animator Ken Anderson (2:20), who discusses the ideas he brought to the character of Elliott and his own personal laughing place. "The Plausible Impossible" (3:36) is a piece of the Halloween 1956 episode of "Disneyland", in which Walt Disney explains how the guiding philosophy of Disney animators relates to fantastic, potentially rational beliefs of past cultures, such as dragons and centaurs.

Finally, Lighthouse Keeping (6:41) is a 1946 cartoon short included for its obvious thematic relevance. Challenged by the titular activity, Donald Duck finds himself doing battle with a pelican who just wants to get some sleep. It doesn't appear to utilize the Walt Disney Treasures restoration done subsequent to its debut on Pete's Gold Collection DVD.

Has anything been lost amidst the gains of the High-Flying Edition? Just one thing, but it's a biggie. The previous DVD included Man, Monsters and Mysteries, a 25-minute theatrical short from 1973. Narrated by Sebastian Cabot, this piece centered on Nessie the elusive Loch Ness Monster (voiced by Sterling Holloway). That it combined live-action and animation while focusing on a potentially mythical fantastic creature made Man an apt inclusion. And this fun two-reeler hasn't turned up anywhere else on DVD. But as it doesn't directly pertain to the movie, one can't argue its retention over more relevant company. That said, if space was an issue, why not go to two discs? It would certify this release as superior to the old DVD and also make it look more attractive to potential buyers. It's too bad that Disney only seems to print extra discs for largely unredeemed digital copies. Furthermore, looking at the disc (which, thanks to a significantly lower average bit rate on the feature, remains well under a DVD-9 capacity) suggests there was enough room for the short here without making any additional cuts.

FastPlay-enabled, the disc opens with ads for Snow White and the Seven Dwarfs, The Princess and the Frog, Hannah Montana: The Movie, Disney Blu-ray, and Disney Movie Rewards. The second string Sneak Peeks promote Earth, Tinker Bell and the Lost Treasure, Up, and fan community D23
.
The main and bonus features menus animate grainy Elliott around barely-alive coastal settings (the former strangely does so with an anachronistic CG-animated American flag planted in rock). The rest are static but scored.
Like any high-profile 2009 Disney DVD, this comes packaged with a cardboard slipcover, one that's embossed and reflective. Inside the keepcase, a Disney Movie Rewards code and a booklet promoting Blu-ray are found. The disc is bland gray.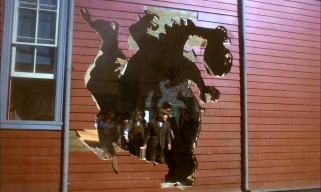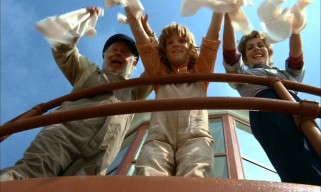 CLOSING THOUGHTS

Pete's Dragon is one of the most comforting and heartwarming family films out there and it only seems to get better on subsequent viewings.

Though a childhood attachment certainly wouldn't hurt, it's not required for this old-fashioned delight to secure a place in your heart.

Look past the nonsensical title and illogical promotion alongside Hannah Montana: The Movie and you'll see that this High-Flying Edition DVD is largely a winner. Though picture and sound are the same as they were on the original DVD release and leave room for improvement, they remain satisfactory even by today's higher standards. More significantly, this package delivers a great new featurette and some valuable audio additions. The biggest disappointment is the loss of an unrelated but relevant 25-minute 1970s Disney short. I see no reason why this couldn't have retained that and become a two-disc set if necessary. Owners of the Gold Collection disc needn't be in a rush to repurchase and when they do, they should hold onto that disc for Man, Monsters and Mysteries. Everyone else is encouraged to add this edition to their Disney collections.