Hot Lead & Cold Feet blends elements of comedy, western, and adventure cinema. The result is not quite as enjoyable as The Apple Dumpling Gang, Disney's previous outing with a similar feel. While Hot Lead remains mostly entertaining, it never quite gets the most out of its clever premise.
The film's amusing set-up has Jasper Bloodshy, the aging founder of a now-rundown town, finalizing his will. Jasper reveals that his fortunes will not simply be going directly to his son Wild Billy, Bloodshy's much-feared menace. That's because Jasper has another son, a twin brother to Wild Billy that no one around town has ever seen.
As it turns out, the other son is Eli, a well-mannered man who sings on the street about the goodness of humanity with Roxanne and Marcus, two orphans he looks after. Heading to Bloodshy, Eli and those he encounters are each surprised. Eli is met with reactions of fear from residents who call him Billy and are eager to please.
The Sherrif, Denver Kid (Don Knotts), on his way to let Wild Billy know about his father's will, is also surprised to meet Eli. So is Mayor Ragsdale (Darren McGavin), who has plans of his own about Bloodshy's fortune. The will calls for a challenge of sorts, between the two identical twins, to vie for the inheritance.
Eli may be in over his head, but he decides to go through with the race, in the face of the scowling outlaw that is his identical twin brother. Cheering on Eli is Jenny Willingham (Karen Valentine), a friendly woman he met going into town.
The second half of the film covers the race, and it's here that Hot Lead & Cold Feet loses focus and takes the low road of sight gags and poor matte effects. The film never falls apart altogether, since it retains the high spirit that makes it work well from the outset. It just fails to remain as funny or entertaining as it should be.
Jim Dale isn't quite as captivating as he was in Pete's Dragon, but he manages to carry the film sufficiently. Dale tackles triple roles as the polar opposite brothers and their oddball old father. His most convincing and most visible persona of Eli, works due to Dale's ability to portray the naively kind gentleman.
Don Knotts doesn't appear in the film as much as publicity would lead you to believe. When he does show up, he delivers the type of rubber-faced tomfoolery you expect. The running gag is a shoot-out that never actually takes place between Knotts' sherrif and an intimidating guy called Rattlesnake. Darren McGavin, like Knotts, is also called in to support the barrage of Dale performances, and though used even more sparingly, he also brings a little something to the film.
DVD Details

1.85:1 Anamorphic Widescreen
Dolby Mono (English, French)
Subtitles: English, French, Spanish
Closed Captioned
Release Date: July 6, 2004
Single-sided, single-layered disc (DVD-5)
Suggested Retail Price: $19.99
White Keepcase
VIDEO and AUDIO

Hot Lead and Cold Feet is presented in its 1.85:1 original aspect ratio and has been enhanced for widescreen televisions. This is a fine video presentation, as the clean, sharp transfer satisfactorily renders the dusty town scenery. While not as old as most of the other catalogue titles making their Disney DVD debuts in 2004, the film is more than twenty-five years old, so the solid picture quality is commendable. The film looks new, and yet the transfer doesn't betray its '70s roots with artificial sharpness. Colors are accurate, and everything looks just right.
The film's audio presentation, a Dolby Mono track, isn't quite as impressive, but it is serviceable. The sound feels a bit flat. Though there's no distortion and all sounds are perfectly discernible, the mono track remains thin and mostly unspectacular. Perhaps the exception is the funky opening credits tune "May the Best Man Win", which has more life to it than everything that comes after it.
EXTRAS

The only bonus feature included is the original theatrical trailer for Hot Lead and Cold Feet. This 1½ minute preview also promotes the film's theatrical accompaniment, the 1949 Disney short "The Wind in the Willows" called The Madcap Adventures of Mr. Toad here.
The 16x9 menus play some of the score which seems equal parts '70s groove and spaghetti Western.
The disc opens with a 90-second preview of old Disney live action films from the '60s and '70s on DVD, such as The Apple Dumpling Gang and The Love Bug.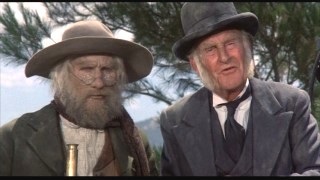 CLOSING THOUGHTS

Hot Lead and Cold Feet is a pretty fun film. It could have made more of its comic potential, but as it is, it's a mild, amusing jaunt. Disney's done right by giving the film a pleasing anamorphic widescreen transfer and including the original trailer. Those who haven't seen it may want to wait for a price drop, while fans of the film can be glad it's finally on DVD and pick it up without reservations.