Though the Disney studio had long dabbled in fantasy, 1975's Escape to Witch Mountain was one of the first to give the magic a supernatural, science fiction flavor.

Tony (Ike Eisenmann) and Tia Malone (Kim Richards) have powers beyond ordinary schoolchildren. Tony can levitate and move things by playing harmonica. Tia can communicate telepathically, even to animals.

However, the siblings are lacking one item most take for granted: their origins. With their foster parents supposedly deceased and no other living relative known, the kids arrive at Pine Woods orphanage, where their differences don't stay hidden long.

Rather than showing us the Malones' life at a new school, Escape redirects us. On a field trip (to see Snow White and the Seven Dwarfs on the big screen), Tia gets a psychic premonition of danger befalling a bald stranger she sees. The stranger, a Mr. Deranian (Donald Pleasence), narrowly avoids death by heeding the girl's warning. Soon after, he poses as "Uncle Lucas" to assume custody of the unusual duo. Tony and Tia are brought to Xanthos, the mansion of Deranian's shady superior Aristotle Bolt (1940s Oscar winner Ray Milland), where it eventually becomes clear that they are to be exploited for their powers.
The children use their gifts to escape and wind up in the company of Jason O'Day ("Green Acres" star Eddie Albert), a grayed widower who is far more friendly than his first impression indicates. While Bolt's people, local law enforcement, and hordes of hunters pursue them, Tia, Tony, and their black cat Winky ride with Mr. O'Day in his Winnebago RV. Through a mix of blurred memories and inexplicable revelations, the kids piece together their backgrounds as their destination becomes clear.
Escape to Witch Mountain is a really fun movie. By simply broadening their horizons a bit, Disney was able to make a film that was a little different and more polished than the types of kid-friendly live-action productions they were churning out four of five times a year in the '70s. English director John Hough carried experience in British television, big screen thrillers, and the Orson Welles Treasure Island. Hough offered variance from the fairly textbook styles of Disney's regular helmers (Norman Tokar, Robert Stevenson, and Vincent McEveety) and brings with him some creative camera work, location shooting, and editing flair.
The picture is not without some shortcomings. Near the end, the pursuit/getaway structure begins to feel drawn out, likely because as much of the movie unfolds with talking as doing. While some of the visual effects impress, others have limitations and the pivotal climactic illusions are unsightly enough to pass as a punchline in a present-day so-bad-it's-good comedy sketch. These aspects are pretty easy to forgive when you consider that neither Disney nor its competitors were making such movies prior to this. The company's management at the time, Donn Tatum and Card Walker, had more or less been asking "What would Walt do?" years after his departure, forgetting that the man prided himself on innovation and reinvention.
Escape must have been a success with moviegoers because it paved the way for Disney to make live-action films that avoided simple "wacky comedy" and "dramatic adventure" labels. In its wake, Disney continued to dabble in other genres, releasing things like The Black Hole, Tron and the now-celebrated darker early '80s fare including Hough's The Watcher in the Woods. Escape prompted a sequel in 1978's Return from Witch Mountain

and another in 1982's hour-long telemovie Beyond Witch Mountain (a pilot for an unrealized series). The original movie was remade for television in 1995 (a year when Disney displayed fondness for such an idea), with Elisabeth Moss of "Mad Men" and The Princess Diaries' Erik Von Detten playing the kids across from baddies Robert Vaughn and Brad Dourif.

You're probably also aware that Disney will release another film, Race to Witch Mountain, to theaters next week. That seemingly action-driven remake/reimagining stars former wrestler Dwayne "The Rock" Johnson, Bridge to Terabithia's AnnaSophia Robb, and Carla Gugino. It is of course the reason that I'm talking about the original film again.

Next Tuesday marks the third DVD release for Escape to Witch Mountain. Its first came in September of 2003 as one of the few lucky live-action flicks Disney treated to a Special Edition (basically a pared-down single-disc version of the amazing yet short-lived Vault Disney line). September of 2006 put Escape and sequel Return together in a single disc 2-Movie Collection that dropped all of the terrific extras from their individual releases (which were simultaneously discontinued). This third edition restores most of the original bonus features, adds a new one, and includes a movie ticket offer for Race. Though press materials and the spine give no moniker, this DVD bears Walt Disney Family Classics branding on its cover, presumably launching an understated (and overdue?) line for the studio to revisit their most popular live-action draws. By its side, Return also resurfaces in just the same fashion.
DVD Details

1.75:1 Anamorphic Widescreen
Dolby Digital 5.1 (English, French),
Subtitles: English for Hearing Impaired, French, Spanish
Closed Captioned; Extras Subtitled
Release Date: March 10, 2009
Single-sided, dual-layered disc (DVD-9)
Suggested Retail Price: $19.99
Black Keepcase with Side Snaps in Reflective Cardboard Slipcover
VIDEO and AUDIO
Escape to Witch Mountain is again presented in 1.75:1 anamorphic widescreen and it looks great. In performing A/B comparisons between this and the Special Edition, I found little noticeable difference between the two transfers. The new disc is slightly cleaner and mildly brighter. On some scenes, colors definitely look more natural and vibrant. Either version is sure to visually delight, and this newer release just a little bit more (despite using fewer data bits). As before, the Dolby Digital 5.1 soundtrack makes very little use of the rear channels, sounding much like two-channel mono or stereo. But the dialogue, effects, and somewhat sparing music is all crisp and clear to the ears.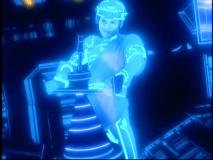 BONUS FEATURES, MENUS and PACKAGING

The bonus features slate here looks quite similar to the one found on Escape to Witch Mountain's original DVD.

The extras begin with an audio commentary that patches together remarks by director John Hough with those by grown-up child actors Iake Eissinmann and Kim Richards.

As you might guess, Iake (formerly Ike) and Kim (who is real-life tía -- aunt -- to Paris Hilton) talk with the wonder of being wide-eyed child actors, while Hough is more soft-spoken, technical, and informative. The two divergent angles add up to a good track overall.

The great featurette "Making the Escape" (26:38) grants the three audio commentators on-camera time. We hear the recollections of Eissinmann, Richards, director Hough, and actor Dermott Downs. They discuss working with their famous co-stars, animals, and special effects. Though their stories don't always align or pay off, they shed lots of light on the production and the film's enduring legacy.

"Conversations with John Hough" (6:50) allows the director to talk about his career, his methods, and his time at Disney helming kid-friendly fantasy.

"Disney Sci-Fi" (2:40) is sure to seem odd for those unfamiliar with the old Vault Disney mold. This montage merely sets silent clips from such company works as The Rocketeer, Tron, My Favorite Martian, and the Witch Mountain flicks to upbeat dance club music. The fun mainly comes from identifying the films sampled and while nothing breakthrough, it's a nifty, well-edited collection of excerpts.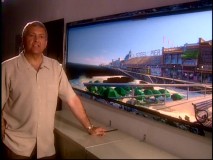 "Disney Effects, Something Special" (11:00) reflects on the use of visual effects in live-action Disney films over the years.

A number of authorities, including the son of legendary matte artist Peter Ellenshaw, discuss the techniques employed for movies like Wild Hearts Can't Be Broken, Mary Poppins, The Parent Trap, and Touchstone's Dick Tracy. It's a valuable inclusion.

The "1975 Disney Studio Album" (3:25) gives us an overview of the live-action films, theme park attractions, reissued cartoon shorts, and TV movies, that Disney debuted 34 years ago. I miss the company context these fun montages provided.

Pluto's Dream House (7:52) is the 1940 animated short that accompanied Escape in theaters. In it, Mickey's dog digs up a magic lamp whose unseen genie helps build a doghouse and then raises some domestic chaos in response to radio voices. The cartoon lacks the polished presentation (and the cautionary Leonard Maltin introduction) subsequently offered on the second Mickey Mouse in Living Color Walt Disney Treasure.

Last but not least is the one new video bonus feature: a Pop-Up Fun Facts track. The yellow subtitles with spaceship graphic come quite infrequently. The tidbits provide information about the film and its actors, and once in a while objects and locations featured. They uncover little that you wouldn't already think yourself or that you couldn't discover in about 7 minutes on IMDb. Still, who can complain about getting this neat, simple playback enhancement?

Unfortunately, not everything from the 2003 Special Edition resurfaces here; some galleries have been lost. Gone with these are nearly 100 publicity and behind-the-scenes photos, 6 lobby cards, 6 poster designs, 13 comic strips, 7 merchandise and exhibitor documents, and bios and credits for the director and six leading cast members. I guess it was easier for the studio to drop this material than try to make it easier to navigate.

It is also too bad that more hasn't been added. Trailers should have been easy to rustle up. Iake Eissinmann's 13-minute 2000 mockumentary short Blair Witch Mountain Project, featuring actors from both '70s movies, also should have been no-brainer inclusion. (You can watch it online at Kim Richards' family website.) If disc space were a concern, upping the count to two discs should not have been.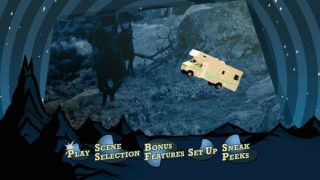 Another noteworthy new feature is one you needn't even open the case to enjoy. A sticker affixed to the slipcover folds open to provide a unique code that will net you a movie ticket to see Race to Witch Mountain in theaters. Obtaining the ticket requires an Internet connection, Adobe Acrobat Reader, and a printer. Your printout covers a single admission up to $12 through April 4th at any theater accepting Hollywood Movie Money.
Loading the disc are promos for Disney and Disney Blu-ray; trailers for Snow White and the Seven Dwarfs, Race to Witch Mountain, Bedtime Stories; and a Disney Movie Rewards spot. The Sneak Peeks menu holds most of these plus additional previews for Bolt, Disney XD, Morning Light, Tinker Bell and the Lost Treasure.
The all-new menus ditch the Vault Disney-type organization of the past Special Edition, instead lumping all bonus features on a single screen. Score accompanies all screens including the main menu, which bounces imagery from the film around with a motif resembling "The Twilight Zone" with mountains.
One detects an old school feel in the DVD's artwork, with its large understated banner and plain font, especially when the reflective slipcover comes off. Inside the case, one finds a Disney Movie Rewards code (though the case doesn't mention it) and a Blu-ray booklet.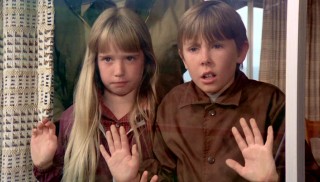 CLOSING THOUGHTS
This new release of Escape to Witch Mountain is quite comparable to the movie's original 2003 DVD. But at least it puts something resembling that back in print. The excellent (slightly improved) feature presentation and bonus materials are enough to establish this as one of Disney's best classic live-action film DVDs, which is fitting since Escape is one of the studio's best works of its time. The loss of the galleries is just about cancelled out by the new fact track.
If you already own the Special Edition, you can live without this, although those already planning to see the unpromising new film version in theaters can take the free ticket and get this for next to nothing. If you don't already own the movie or if you only have the double feature disc, then I would definitely recommend this as one to add to your collection.
More on the DVD / Buy from Amazon.com / The Book: The Book by Alexander Key