Thomasina lives in the small village of Inveranoch in the Scottish Highlands with a young girl named Mary McDhui (Karen Dotrice) and her widowed father Andrew (Patrick McGoohan). As she informs us in the opening narration, Thomasina is a cat and The Three Lives of Thomasina is about her, the one that was called Thomas until the family she adopted got to know her better.
This orange cat is very special to Mary, who dresses up Thomasina and takes her around town. In fact, the pet is Mary's best friend, bringing her much happiness. Meanwhile, Mary's father is around pets all the time but he doesn't quite see things the same way. He runs a veterinary practice which embraces science and shuns sentimentality.
When Mr. McDhui refuses to see the injured frog of a young boy named Geordie (Matthew Garber), Geordie's friends convince him to take the reptile to a mysterious witch who lives in the forest and might be able to help.
In actuality, this "witch" is Lori MacGregor (Susan Hampshire), a pretty young woman living away from society. Lori has quite the rapport with animals; a variety of creatures are her only companions. There's an amazing harmony to the wildlife that Lori watches after and her reputation for magically curing sick or injured animals is not without reason.
One night, Thomasina runs off and doesn't return. Mary finds the cat hurt badly and brings Thomasina to her father, who promises to save her, even though he's in the midst of dramatic efforts to save a blind man's seeing eye dog. Like many others before, McDhui declares his daughter's cat a hopeless case, and has her put to sleep.
To say Mary takes the loss of her cat companion with difficulty is a great understatement. Though the youngsters of the neighborhood honor Thomasina with a proper ceremony complete with bagpipes and song, Mary feels all alone and she proclaims her father is dead.
Fed up with McDhui's readiness to put sick animals to sleep, Geordie's friends set out to put him out of business by passing along word of what he's done, even to his own daughter's pet. With his daughter not speaking to him and the neighborhood weary of his practice, Andrew McDhui is at a loss.
The Reverend Angus Peddie (Laurence Naismith), unable to comfort Mary, recommends that her father goes to see the 'witch' that folks are turning to in spite of his science-based veterinary. His hope, as is McDhui's, is that something can be done to make things right again.
The Three Lives of Thomasina is a fairly solemn and disarming drama. While it remains engaging, it is methodically-paced and a bit melodramatic. This is all easy to overlook, though, due to the film's heart.

This may well be attributed to Paul Gallico, whose best-selling book Thomasina was the source material. But this adaptation merits praise for its treatment.

Performances from the cast are unanimously strong. Patrick McGoohan convinces as the stiff, practically inhumane veteranarian. As Lori, Susan Hampshire feels more good than mysterious, but she brings a refreshing lightness to the story.

Thomasina marked the film debuts of Karen Dotrice and Matthew Garber. Right after making this, they were cast in their most widely-seen film, Mary Poppins, and three years later they reteamed in Disney's The Gnome-Mobile. Here, Dotrice brings a presence to her unusual children's role, while Garber displays a goofy charm that makes you care for his red-headed Scot.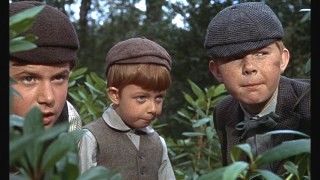 Released in a year that brought such diverse projects as The Moon-Spinners, The Misadventures of Merlin Jones, and Mary Poppins, Thomasina feels a bit old-fashioned, but as the film is set in 1912, perhaps that's to its credit. The film manages to conjure up the feelings of yesteryear's family cinema with its saccharine veneer. Yet, at the same time, it's quite a bit darker in nature than traditional Disney fare, earning its PG rating for "thematic elements" which would seem to cover the young girl's response to tragedy, some of the imagery the film weaves, and an unabashed discussion of death.
While the story works, trying to find a social message beyond it is a bit muddled. The film seems to suggest a marriage between science (depicted as cold but calculated) and witchcraft (which displays an unexpectedly effective skill). Disregarding the order it may seek, at its core, Thomasina is an intimate story about a family, a cat, and an atypically depicted witch. On this level, the film works masterfully.
DVD Details

1.66:1 Anamorphic Widescreen
Dolby Mono (English)
Subtitles: English, French, Spanish
Closed Captioned
Release Date: July 6, 2004
Single-sided, single-layered disc (DVD-5)
Suggested Retail Price: $14.99 (Reduced from $19.99)
White Keepcase
VIDEO and AUDIO

The Three Lives of Thomasina is presented in 1.66:1 anamorphic widescreen; tiny black side bars within the 16x9 frame preserve the film's original aspect ratio. At times framing seemed a bit tight on top and bottom, and comparing the film to the fullscreen trailer provided on the DVD, one can confirm that Thomasina was matted for theatrical exhibition. Assuming that past video releases were open-matte transfers, on those, you would be getting a bit more picture on top and bottom, and a bit less on the sides. But here you get the right amount of picture, preserving the cinematic dimensions of even the least wide of widescreen aspect ratios.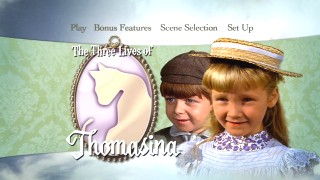 Video quality is for the most part quite good. The print is very clean and largely free of flaws. While it exhibits a vibrancy that belies its age, Thomasina obviously doesn't look as crisp or sharp as most Disney films that have come in more recent decades. But the film's rural scenery is aptly conveyed, with a clarity that the film likely hasn't had since its initial theatrical engagement forty summers ago.
The film is also presented with its original soundtrack, a simple but effective Mono track. The audio is chiefly comprised of dialogue, which is crisp and accurate, if not overly dynamic or lifelike. A highlight of the audio presentation is the opening theme song, which features music and vocals wonderfully rendered.
BONUS FEATURES, MENUS and PACKAGING

There are a few nice bonus features presented here, both old and new.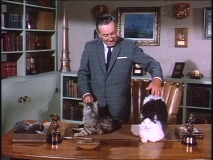 "Disney's Beautiful Witch" catches up with Susan Hampshire forty years after playing the beautiful and mysterious Lori MacGregor in Thomasina. Hampshire recalls how she tried to prepare for the role and what it was like making a movie with children and animals as co-stars.

She also speaks about Patrick McGoohan, Walt Disney's hands-on involvement, and her experience with stardom and other films. Though it feels brisk, at under 8 minutes, this newly-produced featurette is precisely the type of cool inclusion that makes DVDs of classic films so easy to cherish.

"Disney's Purrfect Cat Stars" (4:20) begins with Walt Disney himself introducing Thomasina, and singing the praises of cats among a feline audience while admitting he is more of a dog man. About halfway in, there is a seamless transition to a brand new montage of famous Disney cats. This is a pretty fun piece, which sets to music clips from animated films (nearly all in their original aspect ratio) highlighting such memorable characters as Simba, Oliver, the Cheshire Cat, and the cast of The Aristocats.

Then there is the original theatrical trailer (2:26), presented in fullscreen, which encourages you to SEE the "unique, heartwarming" Thomasina.

Menus are casual but sophisticated 16x9 stills which feature selections of the film's score. The disc opens with a 90-second preview for classic live action Disney films on DVD and video, including The Apple Dumpling Gang, The Love Bug, The Parent Trap, and The Absent Minded Professor.
CLOSING THOUGHTS
While not a full-blown Special Edition, Disney has put just enough effort into this long-awaited DVD release to please fans of this much-liked drama. With a nice feature presentation and a decent offering of bonuses, The Three Lives of Thomasina merits a recommendation both as a film and as a DVD.
More on the DVD / Buy from Amazon.com



Buy the Book: Thomasina: The Cat who Thought She Was God by Paul Gallico