After three seasons on television's "The Muppet Show", Jim Henson's beloved furry creations made the jump to the big screen in a film that showed how the gang met. Medium jumps are never an easy thing to do, whether it's today's commonplace practice of remaking an old television series as a film residing between homage and parody, or as in the case of The Muppet Movie, simply bringing characters who found popularity on TV to a cinema audience.

In 1979, fans of the Muppets knew them from their current TV variety series, where Kermit the Frog was host, Fozzie Bear the disastrous stand-up comedian, Miss Piggy the resident diva, and the gang's home an old Vaudeville theater. For their cinematic debut, the creative talent behind the Muppets, including creator/producer Jim Henson and writers Jack Burns and Jerry Juhl, dropped any formulas associated with the Muppets except their well-established and much-appreciated personalities.

No longer would there be time designated for Kermit to schmooze with a celebrity guest. No longer were the Muppets reduced to an old theater stage or indoors at all, for that matter. The goal was to have the colorful cast deliver their usual mixture of music and comedy, while at the same time telling an engaging story, in four times the length of a standard "Muppet Show" episode. To that end, the makers succeeded wonderfully.

At the start of The Muppet Movie, Kermit is a simple frog living in a swamp, whose biggest thrill seems to be playing a banjo and singing about rainbows. Kermit's chance encounter with a lost (literally) Hollywood agent (Dom DeLuise, the first of fifteen brief but fun then-celebrity guest appearances) alerts him to a search for a talented frog to star in movies. After quickly thinking it over, Kermit decides to head west in hopes of stardom and bringing happiness to millions of people. He sets off on a convincing bicycle ride that makes clear the stakes are higher and the technical wizardry to which "Muppet Show" viewers were accustomed would be continuously surpassed. Of course, most viewers won't ponder such a thing, because the Muppets are, as they have just about always been, so believable as living, breathing frogs, bears, whatevers that you rarely consider the puppetry of it all.
Kermit's journey to Hollywood is a long and memorable one, with nearly every scene introducing another one of the Muppets and adding to the westward bound, fame-hungry party. The first friend he makes is Fozzie Bear, whose stage act at the aptly-named bar El Sleazo, of course, has its patrons in a dissatisfied rage. Kermit and Fozzie begin to take off in the bear's hibernating uncle's Studebaker, but Kermit is approached by Doc Hopper (Charles Durning, who performs nicely in the most significant human role). Hopper, the villain of the piece, wants the tap-dancing Kermit to become the smiling spokesperson for the doctor's growing chain of restaurants known primarily for their French Fried Frog Legs. Strong-willed Hopper won't take no for an answer, so naturally he turns up throughout, attempting to create a change of heart in Kermit, even if it means killing the talented frog.
This is pretty much all there is to the film's plot and all that is necessary. What ensues is a delightfully episodic tale that educates us on what the Muppets were doing prior to assembling, refreshes us on some of the celebrities who were recognizable in 1979 (many of whom are either dead or obscure today), and dazzles us with catchy melodies and sharp lyrics that Paul Williams (a Season 1 "Muppet Show" guest, Muppet Movie cameo-maker and now-longtime collaborator with the Muppets) and Kenny Ascher concocted.
The entire movie is framed as the Muppet gang's premiere screening of the movie, which lends itself to potent self-referential humor, like Fozzie giving the Electric Mayhem a screenplay to consult, Statler and Waldorf's traditionally negative banter pre- and post-screening, and the inevitable "flim" breakdown with the Swedish Chef. The diverse cast of Muppet personalities are as entertaining as ever here.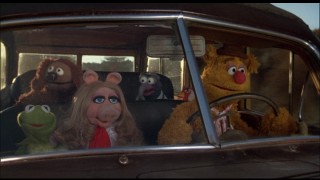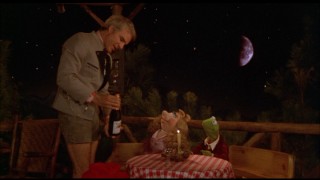 There are appearances by Steve Martin (as an insolent waiter), Mel Brooks (as a mad German scientist), Milton Berle (as a used car salesman), Edgar Bergen (with his longtime ventriloquist dummy partner Charlie McCarthy, both making their final film performances),

Richard Pryor, and finally, Orson Welles as movie mogul Lew Lord. Even Big Bird (played by "Sesame Street" performer Carroll Spinney) shows up in a cameo that's guaranteed to get a laugh.

Part of the fun of The Muppet Movie comes from just wondering which Muppet will turn up next, an activity that somehow doesn't grow old even when you know the movie by heart and are watching it for the umpteenth time. Plenty of other fun comes from the verbal wit and visual comedy that the Muppets are famous for. Then there are other pieces which aren't easily labeled "funny" but never fail to entertain, such as the hippie band Electric Mayhem giving Fozzie's Studebaker a makeover or Doc Hopper's bullied assistant Max (Austin Pendleton) making it clear he's not his friend with a headshake.

The ability to engage child and adult audiences alike is a challenge reserved for the most beloved motion pictures and television series. The Muppets are renowned for succeeding at this -- even if recent telemovies like The Muppets' Wizard of Oz and It's a Very Merry Muppet Christmas Movie seem to really have forgotten how -- and The Muppet Movie holds up in this regard. There is no doubt that younger viewers won't get everything here ("What's Hare Krishna?", "Who's Telly Savalas?", "Did he play Telly on 'Sesame Street'?" and so on), but it certainly can amuse children whose parents weren't yet alive in 1979 as well as those who had kids of their own with whom they saw this in theaters. There are definitely some sequences that feel a little slow and may disinterest today's ADD-afflicted society (Piggy's grainy dream romance upon laying her eyes on Kermit and Gonzo's solemn desert campfire song come to mind), but these are few and far between, and a little bit of patience goes a long way. More noteworthy is the excellent music. Kermit's opening swamp number "The Rainbow Connection" garnered the Oscar nomination, but the jaunty "Movin' Right Along" is every bit as memorable, and "Can You Picture That?" is probably the Electric Mayhem's finest moment.

Overall, The Muppet Movie is one of the finest movies families can enjoy together. It's not quite perfect, not the Muppets' best movie (I'd give that honor to The Muppet Christmas Carol, despite it being part of the post-Jim Henson age; blasphemy, I know), and more subject to aging than more timeless classics may be. But nonetheless, it perseveres as a unique musical journey that raised the bar for universally-pleasing entertainment and continues to delight with music, wit, and originality.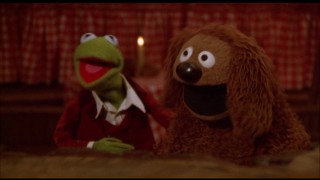 While Muppets From Space, the sixth theatrically-released Muppet film, came to DVD in the fall of 1999 just months after it appeared in multiplexes, the five previous outings took longer to grace the format. In June of 2001, Sony's Columbia TriStar Home Video (Space's distributor) issued The Muppet Movie and The Muppets Take Manhattan to disc in a somewhat low-key fashion that was nonetheless widely embraced by Muppets fans. A month later, The Great Muppet Caper made its DVD debut in a similar way. The following year (2002), Buena Vista Home Entertainment finally got around to putting the Muppets' fourth and fifth films (which were made at Walt Disney Pictures in the 1990s) on DVD and they did so with some impressive bonus features and clever menus, but inconceivable fullscreen-only presentations. The Walt Disney Company's February 2004 purchase of The Muppets Holding Company gave them possession of most of the Muppets franchise, including two of the big screen productions previously distributed by Sony.
This fall, to mark the 50th anniversary of Kermit the Frog's first appearance (on NBC's Washington, D.C.-based network WRC-TV's "Sam and Friends") and capitalize upon the holiday season, Disney is re-releasing their two Muppet films (with widescreen DVD presentations to finally appease widely-disappointed fans) and putting their recently-acquired Muppet Movie and Great Muppet Caper back onto the home video market for the first time under the Disney label. Disney has touted the foursome of modestly-priced, attractively-packaged 50th Anniversary Edition DVDs as being "restored and remastered", leaving those who already own Movie and Caper to wonder if an upgrade is in order and finer DVD treatment has at last been bestowed upon the Muppets' first two feature films. Wonder no more, Muppets fans, for your answers lie in the paragraphs ahead.
DVD Details

1.85:1 Anamorphic Widescreen,
1.33:1 Reformatted Fullscreen
Dolby Digital 5.1 (English)
Dolby Surround 2.0 (French)
Subtitles: English; Closed Captioned
Release Date: November 29, 2005
Single-sided, dual-layered disc (DVD-9)
Suggested Retail Price: $19.99
White Keepcase
VIDEO and AUDIO
The Muppet Movie is presented in the 1.85:1 widescreen aspect ratio (matching the dimensions of its original theatrical exhibitions) and has been enhanced for 16x9 displays. Next to the far-from-spectacular transfer on the film's previous DVD release, this Anniversary Edition disc offers some fairly noticeable but not groundbreaking improvement in the visuals department. The element is cleaner here; blemishes and intrusions remain but appear with less frequency than on Sony's DVD. Perhaps the most evident problem with the previous disc's transfer was grain and a significant amount of that remains here, but it is certainly less troublesome than before. Colors also have taken a slight turn for the better, with a bit more vibrancy and naturalness to their appearance. In general, movement from frame-to-frame now creates less of the issues it did before, with edge enhancement, pixelation, and softness all seeming to show up less frequently and noticeably.
| | |
| --- | --- |
| | |
| Screencap from Columbia TriStar's 2001 DVD release | Screencap of same frame from this 50th Anniversary DVD |
This comparison illustrates about as great a difference as is observable in still frames between Columbia TriStar's 2001 DVD and this new 50th Anniversary Edition DVD from Disney. Notice the slightly more natural-looking colors and how the grain on Piggy and her fellow contestants' arms is less distracting in the new disc.
Also included is a reformatted 1.33:1 "fullscreen" version, which is somewhere between a pan-and-scan and an open matte transfer. On average, this version loses about 15% of the frame's width, while adding around 15% more picture at the top and bottom.
The difference between compositions in the two versions are minimal, making the fullscreen offering mostly unnecessary, especially since Disney has almost always forgone including a reformatted version for their animated films' DVDs. Why the studio is so concerned about making available versions of the Muppets that will produce no black bars on 4x3 televisions is more than a little befuddling.

Despite the fact that it allocates both formats of the film to the same disc side (occupying less space but assuring the precious label art was present), Disney's disc winds up mildly amplifying the digital bitrate from Sony's 4.89 Mb/s to 5.13 Mb/s on each version. This, which may partly stem from having two less audio tracks, coupled with advances made in compression techniques and supposed remastering work all result in minor improvements. The difference is far from night and day; those with high-end machines may notice drastic betterment, while those watching on a smaller set-up might struggle to find any adjustment. That Sony's disc was serviceable entails that even the minor improvement made here results in The Muppet Movie looking rather strong for a movie approaching 30 that was not shot on the highest of budgets or film stocks.
In the audio department, Disney's disc abandons the two-channel English and Spanish soundtracks of the Sony disc to deliver merely the two remaining options: a Dolby Digital 5.1 track in English and a Dolby Surround track dubbed in French. Even though problems in picture quality tend to stare right back at you, it is the sound presentation which leaves more room for complaint. While it is remixed to the 5.1 channel format in which most of today's movies are offered on DVD, The Muppet Movie still sounds fairly anemic and flat. Dynamics are surprisingly low, and moments where the original sound design should have peaked or made a big impression just don't deliver. Yes, one should note and accept that this movie was created and exhibited in a monaural format, a fact which quite frankly should have been reason enough for a more faithful Mono track included. But even considering its roots can't excuse this presentation. The issue isn't it being merely broad mono (which it is, with a majority of sounds emanating from the front center channel). Compare instrumental portions even to the French track and you'll notice not only are dynamics higher, but the sound quality is enhanced. I discovered this merely by playing around with the audio options, having the film begin in French, and then replaying the opening sequence in (by comparison) a fairly lifeless English soundtrack. Overall, the lack of noticeable improvement in the audio presentation is definitely a disappointment, especially for a musical with a collection of songs as memorable as most of Muppet Movie's tunes are. Subtitles are only offered in English, in contrast to the Spanish and French that were also offered on Sony's DVD.
The three-second difference in running time between the Sony and Disney transfers stems from the addition of a Muppet Studios logo at the start of the film, which oddly is silent on the English language version, but accompanied by a portion of "The Muppet Show" theme in the French track.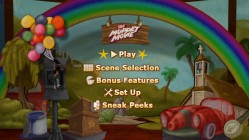 BONUS FEATURES, MENUS, and PACKAGING

With the DVD being boldly and clearly labeled an "Anniversary Edition", you'd think for sure that Disney would take this opportunity to provide some new and exciting bonus material for The Muppet Movie the way they did three years ago (with less reason and no designation) for their two in-house Muppet films. Right? Wrong. Those hoping for some good old-fashioned retrospection in the form of documentary or commentary will be disappointed to find neither such feature here. None of the living Muppet performers or celebrity guests show up to reflect on the Muppets' big screen debut. That's certainly a shame as you would think the film's second appearance on the format would present the perfect opportunity for Disney to provide some good in-depth bonus material the way they did for their two movies and to some extent, last summer's Season One box set of "The Muppet Show."

The disc contains just one supplement, a 6½-minute featurette entitled "Pepe Profiles Present - Kermit: A Frog's Life", which as you'd expect from the running time and the previous paragraph, doesn't really cover the most well-known Muppet's career seriously or satisfactorily. Though Kermit is turning 50, only his achievements from close to the halfway point of that time span on are being celebrated in this wave of four DVDs. Adding insult to injury, Disney's newly-produced series of supplements is hosted by Pepe the Prawn, a not-even-ten-year-old character who appears in none of the four movies being released. As far as I know, Pepe isn't too popular with the biggest of Muppets fans, so it's a bit perplexing how he figures so largely in Muppets lore nowadays. Anyways, with the occasional clip from The Muppet Movie, a bit of footage from the Tribeca Film Festival premiere of The Muppets' Wizard of Oz, and plenty of in-character comments from Kermit's long-time co-stars including Fozzie Bear, Gonzo, Miss Piggy, Statler, and Waldorf, Kermit is profiled in a breezy, semi-entertaining and mostly forgettable manner. Basically, it's the type of thing you'd enjoy seeing once on television and perhaps even fondly recall later, but eternally present on the disc, it's not something you're likely to marvel at. It's also not worth re-buying The Muppet Movie on DVD for.

What's not here? While the 2001 Columbia TriStar disc was certainly not overflowing with supplements, it did hold more than Disney's DVD. Few will lament the loss of 3 "Muppetisms" (read: 2 minutes and 20 seconds of character interstitials) that held no specific relevance to the film, and even fewer will care that 5 trailers for other Sony properties are obviously

not ported over. But, the 13 minutes and 30 seconds worth of camera tests, carried out by director Jim Frawley before principal filming began on The Muppet Movie, are not retained here. Many Muppets fans will consider their loss more noteworthy than the single gain (the Kermit profile). I personally won't be getting rid of the Sony disc on account of this. I shouldn't overstate the worth of this footage: it's rough videotape of the Muppet Performers improvising in the outdoors amidst fields and cows, something many would label it slow or a one-time viewing only. But it's as close as genuine behind-the-scenes material as the film has been accompanied by on DVD and I'd much rather have that and an even higher bitrate than the superfluous fullscreen version that is again included. It's quite possible that rights prohibited this content from reappearing. I'm not sure how to explain the absence of other things that would have made apt inclusions, from the hour-long 1979 television special "The Muppets Go Hollywood" to original trailers, but at least some of it might be in legal limbo or belonging to Sony. Nonetheless, there is no doubt that with some effort, Disney could have honored one of their most important and beloved Muppet acquisitions with some cool bonus features.

The customary disc-opening previews promote Lady and the Tramp, the Disney Channel Movie Surfers' upcoming pieces on upcoming flicks The Wild and The Shaggy Dog, Season One of "The Muppet Show", and The Muppets' Wizard of Oz. If seven minutes of marketing just isn't enough for you, be sure to check out the second page of the Sneak Peeks menus for additional ads for Kronk's New Groove, the February 2006 wave of Disney Princess DVDs, and "JoJo's Circus" on Playhouse Disney.

Disney's new animated menus for The Muppet Movie aren't as inspired as the clever selection screens the studio produced (and has this week recycled) for the two in-house Muppet films, but they are a step above the static Sony pages. The 16x9-enhanced Main Menu features what appears to be a movie set with various elements from the film (the church where the Electric Mayhem now hang out, Kermit's banjo, etc.) and intermittent cameos from a host of Muppets, including Gonzo, who flies across the screen with his handful of balloons. An instrumental version of "Movin' Right Along" accompanies the Main Menu; the rest (aside from "Bonus Features" and "Sneak Peeks") are reduced to silence and no animation. Helpfully, the video and audio options are combined on one page; selecting "Play" also brings up a screen asking you to decide between "Full Screen" and Widescreen - the former unfortunately is the default, but the latter is illustrated as being the wise decision.

Inside the white keepcase, you'll find a double-sided insert containing scene selections, an overview of the lone bonus feature, and, of course, promotion for the other three concurrently-released Kermit's 50th Anniversary Edition DVDs. There is also a mini-booklet devoted purely to the Muppets which holds a trio of handy coupons ($5 off "The Muppet Show" Season 1, $3 off any other Kermit's 50th Anniversary Edition DVD, and $3 off Muppets' Wizard of Oz) plus promotional information on current Muppets goings-on and information on the United States Postal Service's Mailing the Muppets Keep-in-Touch Kit.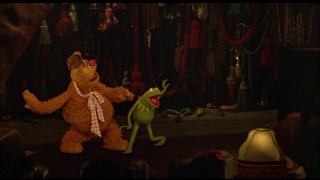 CLOSING THOUGHTS

The Muppet Movie is an auspicious and extremely fun first theatrical outing for Jim Henson's beloved furry creations. While dated in a number of ways, it endures as top-notch entertainment for viewers of all ages to enjoy together or apart and holds up as,

in this reviewer's opinion, the second best film the Muppets have headlined. In celebration of Kermit's 50th Anniversary, Disney's DVD puts his debut feature film back in print but serves little purpose other than to reach those who don't already own the movie. Remastering and restoration efforts are slightly detectable, resulting in the film looking quite good for its age, but still leaving room for improvement, especially in the sound department. The lone new bonus feature offers brief diversion at best and is a step down from the modest offerings on Sony's now-discontinued two-sided disc.

If you already own The Muppet Movie on DVD, then this re-release mostly represents unfulfilled potential to honor this terrific film with vast improvements in presentation and bonus features; save your money, your Sony disc will suffice. If you don't, then Disney's disc garners a solid recommendation for all collections on the strengths of the wonderful, amusing film on it and the sufficient, reasonably-priced DVD treatment.

More on the DVD / Buy from Amazon.com / Buy Sony's out-of-print DVD


Post-Review Note: If you're wondering why The Muppets Take Manhattan and Muppets From Space are left out of this 50th Anniversary group, it is because Sony Pictures Home Entertainment (SPHE) has retained rights to those two films, which were produced by TriStar Pictures and Columbia Pictures, respectively. Unlike the first two Muppet movies, which were independently produced and merely distributed by Columbia, these two will remain in the Sony library unless Disney (or another studio) purchases the rights.
In related news, on January 31, 2006, SPHE will release The Muppets Movie Collection, a three-film box set containing The Muppets Take Manhattan, Muppets From Space, and the 2002 direct-to-video film Kermit's Swamp Years. Suggested retail price is a low $23.96, making the discounted Amazon preorder under $17. Of course, the set is not likely to include anything new or different from the currently in-print and bargain-bin-priced Manhattan, Space, and Swamp Years discs.