It seems we can now officially declare that Tom Cruise is no longer a huge draw. After twenty years of headlining blockbusters that reliably grossed $100 million or more domestically, Cruise saw his star begin to diminish around the same time that the public started questioning his sanity. When the releases began dipping below the $100 M mark, there were alternative explanations.

Valkyrie was a historical thriller, belonging to a commercially stunted genre, though one that Quentin Tarantino soared with the following summer. The Broadway-inspired bomb Rock of Ages wasn't a Cruise movie; his presence was barely advertised. Jack Reacher faced heavy competition in its Christmas week opening. And in the midst of these underperformers, Mission: Impossible - Ghost Protocol somehow became Cruise's third highest-grossing vehicle ever and bested commercially formidable sequels and other December tentpoles.

Oblivion seemed to wave a white flag. Here, Cruise was returning to science fiction, a genre he had done well with in the respected hits Minority Report and War of the Worlds. He had a director who had just helmed Tron: Legacy and a steep production budget of $120 million. This was the kind of commercially potent movie that typically opens in late June or right before the Fourth of July. Instead, Universal Pictures released Oblivion in the middle of April, a month in which only a handful of hits have ever debuted. Universal did not believe this costly, visually striking adventure could compete with the usual summer offerings of superhero flicks and CG family comedies. And with that, Tom Cruise no longer seems like a serious contender for the current title of world's biggest movie star. Cruise may have cracked Quigley Publishing's annual list of top ten money-making movie stars twenty times (trailing only John Wayne and Clint Eastwood), but he has been absent since 2007.

As someone who has enjoyed unusually enduring fame, Cruise likely knows all of this. But instead of accepting an inevitable descent, the actor remains defiant, refusing to relinquish his movie star charisma and looks even now in his early fifties. Oblivion relies heavily on Cruise's appeal and he rewards that by still making for an instantly sympathetic hero.
The year is 2077 and early voiceover by Jack Harper (Cruise) explains Earth's desolate, post-apocalyptic state. Sixty years earlier, an alien race attacked. Humans won the war, but lost the planet. Natural beauty and man-made splendor have largely faded, as drone repairmen like Harper ("Tech 49") connect with Mission Control to investigate and defend the areas that do not still present deadly levels of radiation. With directions from his tower-stationed partner Vika (Andrea Riseborough), Jack keeps drones in working order in an effort to slowly restore the planet to an inhabitable state.
Though he had his memories wiped five years earlier, Jack is not entirely without some recollection of the distant past. He is haunted by the image of a young woman (Olga Kurylenko) he met in a crowded city and again on a skyscraper's observation deck. Thus, Jack is understandably surprised and shaken to find the owner of that likeness, one Julia Rusakova, and save her as the one survivor of a crash followed by drone action. Awakened from 60 years of "delta sleep", Julia recognizes Jack and explains their close connection that has even somewhat withstood his memory wipe.
In addition, Jack encounters the so-called "Scavs" (Scavengers), who take him to their hideout, where their darkly-spectacled, cigar-smoking leader Malcolm Beech (Morgan Freeman, getting his chance to be Batman) reveals that they are not the alien race they appear to be. The knowledge they drop on Jack informs what he must do in the interests of humanity.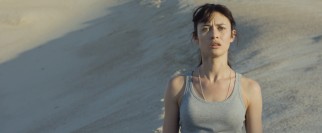 Oblivion is adapted from a graphic novel that director Joseph Kosinski struggled to get published. Shortly before Kosinski's directorial debut, Tron: Legacy, was released, Walt Disney Pictures acquired the adaptation rights. They surrendered the rights when they realized the film wouldn't be the family-friendly, PG-rated tentpole they envisioned.

The rights were acquired by Universal Pictures, who authorized a PG-13 rating, which helped attract Cruise to the lead role.

The film effortlessly generates the feel of classic science fiction cinema. Accessible and human, it recalls the genre's most exemplary works of today (WALL• E, District 9, Avatar, Prometheus, Moon) and yesteryear (Planet of the Apes, Alien, 2001: A Space Odyssey), without feeling especially derivative. Though his experience is limited, Kosinski's instincts are strong. Even through the obligatory action climax, the film's execution is involving, cinematic, and picturesque, on par with Cruise's two Spielberg movies. Films like this tend to have small casts, but the six principal roles are extremely well-filled, both by veterans like Freeman and Melissa Leo (who plays the stern, sparingly seen Mission Control contact Sally) and by younger actors (Kurylenko and Riseborough) who haven't had as many chances to prove themselves. Each performer manages to add something unique and to complement the always competent Cruise.

Whereas Kosinski's first film was visually stunning and a tad murky story-wise, Oblivion strikes a better balance, supplying both technical opulence and thoughtful substance, courtesy of a screenplay credited to "Last Resort" creator Karl Gajdusek and, under a pseudonym, Toy Story 3, Little Miss Sunshine, Star Wars: Episode VII scribe Michael Arndt. What little I know about sound suggests that this film has a legitimate shot at competing for the field's two marginal Oscars next winter, although that will test the limits of the Academy's notoriously short memory.

Technical honors will mean more to the crew members than to those who watch Oblivion. The latter group should be impressed to find an intelligent, thought-provoking, somewhat epic sci-fi movie released away from summer and Christmas and to not a great deal of hype and hoopla. While my fellow critics weren't bowled over, I wouldn't hesitate to call this Tom Cruise's best vehicle in a while and among the better offerings of 2013's typically unstimulating first half.

Meanwhile, the modest ticket sales of Oblivion can be submitted as evidence in the ongoing trial of Cruise's star power. Currently wrapping up its run, the film will finish just shy of $90 million domestically, a number that pales when you realize how far budgets and ticket prices (particularly those with IMAX premiums like this one) have come since the days when Cruise could turn films like Interview with the Vampire and Vanilla Sky into hits by narrowly eclipsing the $100 M mark. Another thing to consider is that foreign audiences are of much greater worth these days, especially on a big movie like this. Oblivion has grossed nearly another $200 M from international markets to date, which should be enough to alleviate Universal's domestic box office concerns.

Oblivion hits stores on Tuesday in a single-disc DVD and the two-disc Blu-ray + DVD + Digital Copy combo pack reviewed here.
Blu-ray & DVD Details

2.40:1 Widescreen (DVD Anamorphic)
BD: 7.1 DTS-HD MA (English), DTS 5.1 (French, Spanish), Dolby 2.0 (DVS)
DVD: Dolby Digital 5.1 (English, French, Spanish), Dolby Surround (Descriptive Video Service)
Subtitles: English for Hearing Impaired, French, Spanish
Not Closed Captioned; Video Extras Subtitled
Release Date: August 6, 2013
Suggested Retail Price: $34.98
Two single-sided, dual-layered discs (BD-50 & DVD-9)
Blue Keepcase in Embossed Cardboard Slipcover
Also available as standalone DVD ($29.98 SRP) and Amazon Instant Video
VIDEO and AUDIO
Oblivion's Blu-ray is a feast visually and sonically. The 2.40:1 picture is everything you expect of a pricey new movie, boasting strong colors, great detail, and a spotless element. The default 7.1 DTS-HD master audio sound is even better, amazing you with its active presence, tremendous clarity, and engulfing directionality.
I've already praised the film's sound design, but in this age when we take surround sound for granted, it takes something special to really grab your attention and this movie has it. The peaks and valleys may be a bit much for some viewers and the track is often quite loud, but it's a tasteful and thematic loudness that enhances the experience. The Blu-ray is also nicely equipped with uHear, a great standard Universal feature that other studios should figure out how to implement. It allows you to clarify a line with the press of one button replaying the last few seconds, this time with English SDH subtitles activated.
BONUS FEATURES, MENUS, PACKAGING and DESIGN

The all-HD bonus features begin with four deleted scenes (4:25). Nothing momentous but, as usual, interesting to see, they include an alternate opening, a scene of Vika giving Jack medical attention, and Jack reading about himself in a record book.

"Promise of a New World: The Making of Oblivion" consists of five featurettes that lack a "Play All" option that could have turned them into a 48-minute documentary.

"Destiny" (11:02) details the adaptation from an illustrated novel to a visual-driven daytime sci-fi film with much thought going to production design and sets, which utilized HD projection and remote Icelandic locations rather than blue screen. "Voyage" (9:31) turns our attentions to the design and fabrication of the film's primary aircraft, the "Bubbleship."

"Combat" (15:50) focuses on the film's climactic action, talking not only Tom Cruise stunts but the sets that house them. "Illusion" (5:39) tackles visual effects, as scenes and shots are broken down and discussed. "Harmony" (6:11) celebrates M83's score for the film with looks at the orchestration.

Speaking of which, M83's first film score receives an isolated score track in Dolby TrueHD 5.1. I suspect Cruise deserves some credit for this inclusion, as Jack Reacher had the same throwback feature too, one that DVDs stopped regularly providing over a decade ago. While the nature of movies leaves this track completely silent at times, the electronic band's compositions are appealing and easy to listen to on their own for the majority of the runtime they cover. Separated from the dialogue and effects, the cues are also easy to admire for their considerable dramatic effect.

The Blu-ray's extras close with an audio commentary by Tom Cruise and director/story writer Joseph Kosinski. Most actors, especially those anywhere close to star status, avoid commentaries nowadays, but Cruise has been game, making this his fifth track of the 21st century. Having produced a number of his films lately, Cruise gives more than just an actor's perspective. His presence also keeps a relative novice like Kosinski from gushing over routine filmmaking experiences. Much of the discussion considers the film's subtext and small details that factor into the storytelling. It's not an exhilarating listen, but it's okay.
The same DVD sold on its own, the second disc includes the deleted scenes, three of the five making-of featurettes, and the commentary, but lacks the isolated score and the featurettes "Voyage" and "Combat."

At least the disc is filled close to dual-layered capacity, which doesn't make it feel as if the studio is deliberately slighting standard definition viewers.

The discs open with trailers for Fast & Furious 6, Despicable Me 2, Dead in Tombstone, and "Defiance", which are followed by an anti-smoking spot on Blu-ray alone. Oblivion's own trailer, unfortunately, is not included on either disc.

The menu mostly plays scenery clips with an overlay of standard listings over it; the sleek, standard design includes a font befitting of the film. The BD doesn't support bookmarks, but does give the option (while replaying the disc-opening trailers again) to resume the film if you left it before completed.

The standard blue keepcase is topped by a subtly embossed matte slipcover and includes an insert with directions and your unique code for the combo pack's final components: a downloadable iTunes digital copy and UltraViolet.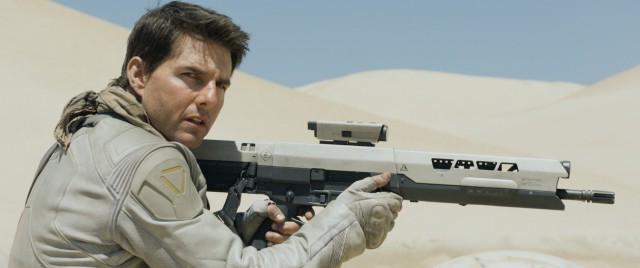 CLOSING THOUGHTS
For something that didn't really win over moviegoers, critics, or even the studio that released it, Oblivion is surprisingly good science fiction. Well-made and well-told, this consistently engaging futuristic adventure is also well worth your time and should be a priority on your 2013 Movies to See list.
Though I don't see the value of buying a movie you don't like, those who aren't impressed by the film might even entertain such a thought simply because the Blu-ray's feature presentation is one of the most dazzling you'll encounter. High marks carry over to the substantial supply of bonus features and the now-standard versatility, which help make this combo pack one of this summer's easiest to recommend. Whether you love or hate Tom Cruise, you should be able to enjoy Oblivion as an artful, creative piece of entertainment.
Support this site when you buy Oblivion now from Amazon.com:
Blu-ray + DVD + Digital Copy / DVD / Instant Video