DVDizzy.com | DVD and Blu-ray Reviews | New and Upcoming DVD & Blu-ray Schedule | Upcoming Cover Art | Search This Site
The Color of Money: 25th Anniversary Edition Blu-ray Review
The Color of Money

Theatrical Release: October 17, 1986 / Running Time: 120 Minutes / Rating: R

Director: Martin Scorsese / Writers: Walter Tevis (novel), Richard Price (screenplay) / Songs List

Cast: Paul Newman (Fast Eddie Felson), Tom Cruise (Vincent Lauria), Mary Elizabeth Mastrantonio (Carmen), Helen Shaver (Janelle), John Turturro (Julian), Bill Cobbs (Orvis), Forest Whitaker (Amos), Keith McCready (Grady Sessions), Bruce A. Young (Moselle), Ron Dean (Guy in Crowd), Paul Geier ("Two Brothers/Stranger" Player), Elizabeth Bracco (Diane at Bar), Iggy Pop (Skinny Player on the Road), Robert Agins (Earl at Chalkie's), Martin Scorsese (Opening Voiceover - uncredited)
Buy The Color of Money from Amazon.com: Blu-ray • DVD • Double Feature DVD with Cocktail • VHS
In 1986, three titans of film from three different generations came together to make the Touchstone Pictures drama The Color of Money. Top billing went to 61-year-old Paul Newman, a 7-time Academy Award-nominated living legend aging gracefully and remaining a box office draw with his pick of Hollywood's litter.

By his side was 23-year-old Tom Cruise, his surname already commanding the same size and weight on the poster. Cruise had just a few years of credits under his belt and only one big hit (Risky Business), but that was about to change when Top Gun would become the year's #1 attraction and cement his star status. Behind the camera stood veteran director Martin Scorsese, 43, whose career was on a bit of a downtick following his string of acclaimed works including Taxi Driver and Raging Bull.

The Color of Money is a sequel and remains one of the least timely in film history. It follows the black and white 1961 drama The Hustler, which earned Newman his second Best Actor Oscar nomination. His performance as "Fast" Eddie Felson was one of that film's nine targets of Academy recognition, with wins coming for cinematography and art direction in the diluted black and white divisions. Like The Hustler, Color arrived in theaters two years after its source text, a novel by Walter Tevis, was published. Tevis wouldn't live to see Scorsese's adaptation, however, dying of lung cancer a mere eight days after his final book went on sale.
"Fast" Eddie Felson has slowed down quite a bit. He gave up his billiards hustling around the time where the first film left off. He still hangs out in pool halls, though, now as a stakehorse and mentor to younger, hungrier talent. He also sells liquor on the side through some label-changing scam. Eddie's senses tingle at the first sight of Vincent Lauria (Cruise), a cocksure young Child World salesman whose luck and skill at 9-ball seem to make him invincible. Seeing a lot of his younger self in the kid, Eddie approaches him and his "hard broad" girlfriend Carmen (Mary Elizabeth Mastrantonio) to enter into a potentially highly lucrative partnership. The three of them will hit the road for six weeks, making stops at the venues Eddie knows and striking rich with a variety of confidence tricks.
A delicious clash of personalities ensues, with the old school big-picture-seeing Eddie viewing self-proclaimed "animal" Vincent as an undisciplined flake, in desperate need of guidance to maximize his gains. From what we see, Eddie is right, but Vincent is good enough to come out ahead no matter what. Wads of cash grow, as winnings are split 60-40 in Eddie's favor. Tempers flare, with Carmen serving as something between intermediary and moll, a receptor for Eddie's wisdom that might otherwise elude her impulsive boyfriend. The road trip leads to a big tournament in Atlantic City, which finds Eddie picking up the cue stick he hung up decades ago and getting back in the game that fuels him.
On IMDb, The Color of Money doesn't feature among the four "Known For" movies for any of its three high-profile creators and one imagines it wouldn't even if the section tripled in size. That is understandable. The director and the two stars have given us many excellent marquee works over the years, with Scorsese and Cruise remaining every bit as relevant now as they were back then and Newman adding important credits right up until his 2008 death (his last two theatrical features, Road to Perdition and Cars, account for half of his IMDb identifying header). Color is not quite a typical effort for either Cruise or the director, the latter favoring gritty crime and historical dramas and the actor gravitating more, especially in recent years, towards showy blockbuster fare.
But in 1986, this fictional drama with commercial potential was exactly what Scorsese, Newman, and Cruise wanted and needed. For a brief moment, three epic careers aligned with each entertainer getting on the same page and preventing his ego from overpowering the others. This significant union of talent did not yield the nine-figure grosses that Newman was well accustomed to and that would soon become the norm for Cruise. Nor did it produce the extensive accolades that much of Scorsese's work has earned. But the results are highly satisfying all the same and render this film one of which all three A-listers ought to be proud.
The Color of Money is an utterly well-made film. It delivers the right amount of story for two hours, never dragging or moving too fast. Richard Price's screenplay gives the three focal characters enough depth to hold our attention throughout while putting them through scenarios that enhance our understanding and appreciation of them. The dialogue is sharp and the ideas go well beyond pool hustling to speak about the human experience and our never-ending search for meaning.

For his part, Scorsese mines the material for all of its cinematic value. Movie sports don't always reward investment and pool qualifies as a sport in only the most generous definitions. And yet, an activity that probably couldn't stimulate you for two hours straight as a participant rivets you as a mere viewer, the stakes, players, and implications all flawlessly established.

Somehow, the actors are shown authentically sinking their trick shots, the results of either saintly patience or remarkable training. By some miracle, even the very act -- ball hitting ball into a pocket or, on rare occasion, missing -- doesn't become dull or tedious either visually or in terms of story. Some credit must go to Scorsese for giving the film great atmosphere and personality. Scenes of gameplay are almost always accompanied by music from a source for which Scorsese has shown admiration. The most prominent is Warren Zevon's "Werewolves of London", which Tom Cruise passionately performs to, singing along where appropriate and never requiring a cut as the camera circles around him. Such an iconic scene offers a mesmerizing display of comfort and skill from director and actor alike.

Color is starkly different from The Hustler in look, sound, and feel, by deliberate design. (Tevis' novel called for a return from Minnesota Fats, which Jackie Gleason considered reprising for the film, until all parties decided on heading in a different direction.) But it is a reflection of the world that has changed: Newman's reprisal and update of his character serves as a constant, offering us a pretty clear indication of where Vincent Lauria might be right about now.

The Color of Money was a definite hit at the fall box office. Interestingly, the $52 million it took in held opposite meaning for its two leading men: over the next dozen years, it was the lowest gross up-and-comer Cruise saw and the highest return on a Newman movie. The film was also well received by critics. And it drew four Oscar nominations, including art direction, adapted screenplay, and supporting actress (for Mastrantonio's sophomore film, introducing promise her career has not realized). The only win, however, finally gave Paul Newman a Best Actor statue on his eighth try and just one year after an honorary award seemed like a consolation prize. It is absurd that an actor as charismatic, magnetic, and popular as Newman has just a single competitive Oscar to his name and there are no doubt worthier films for which he ought to have won. But this one does just fine and embodies one of the defining traits of his career: charming ambiguity.

You'd think that the combination of Scorsese, Newman, and Cruise would make The Color of Money an unusually strong catalog seller, but those thoughts are contrasted by Disney's distribution of the film in the digital age. The studio released the film on DVD just once and that 2000 disc arrived with no bonus features. A golden chance to correct that arose earlier this month when Disney debuted the film on Blu-ray as a 25th Anniversary Edition with new cover art and everything. Dial down your excitement because everything else I am about to say about this disc is bound to disappoint you.
Blu-ray Disc Details

1.85:1 Widescreen
5.1 DTS-HD MA (English), Dolby Surround 2.0 (French)
Subtitles: English for Hearing Impaired, French
Not Closed Captioned
Release Date: June 5, 2012
Suggested Retail Price: $15.99 (Reduced from $20.00)
Single-sided, dual-layered disc (BD-50)
Blue Keepcase with Side Snap
Still available as DVD ($9.99 SRP; March 14, 2000) and Double Feature DVD with Cocktail ($14.99 SRP; February 10, 2009)
Previously released on VHS ($9.99 SRP)
VIDEO and AUDIO

Despite what its original packaging claimed, The Color of Money's DVD wasn't even enhanced for 16:9 displays. It goes without saying that the Blu-ray's 1.85:1 presentation doesn't waste anywhere near as much of the format's higher resolution on black bars. And yet, viewers will be upset to find this disc boasting mediocre DVD-quality picture.

The transfer noticeably suffers from poor colors and wildly insufficient contrast. The settings of dark, smoky pool halls are partly to blame, but it's tough to understand why different colors are indistinguishable and why the picture always lacks the sharpness expected of 1080p. It stands to reason that this easily bests the letterboxed DVD, but it falls shorter of present-day standards than the DVD did twelve years ago. A film directed by the legendary Martin Scorsese and nominated for an art direction Oscar ought to look much better than this.

The 5.1 DTS-HD master audio isn't much, if any, better. The soundtrack is plagued by soft hiss throughout and dialogue is often flat and less than crisp. The mix rarely extends beyond the front speakers and rarely comes to life for anything other than Scorsese's musical selections. It stands to reason that this movie could be improved both visually and aurally with more effort and Scorsese involvement, two things Disney is doubtful to give it following this.
BONUS FEATURES, MENUS, PACKAGING and DESIGN

Well, the feature presentation may be underwhelming, but this is designated a "25th" (really 26th) Anniversary Edition and that implies some pomp, right? Not unless Disney has a different definition of "pomp."

The Color of Money is, once again, completely void of bonus features. Would it have killed anybody to find this trailer and include it here? Touchstone titles that Disney has leased out to Mill Creek Entertainment for the Blu-ray, like the recently-debuted, partly Scorsese-directed 1989 anthology film New York Stories, have managed to provide their original theatrical trailers, so why can't the ones Disney sees worth putting out themselves do the same.

That's ignoring the fact that Scorsese would probably be willing to reflect on this experience and shed light on it in either a commentary or interview. It's Martin Scorsese, one of film's greatest minds and biggest fans. Do you really think he would have nothing worthwhile to share about working with a young Tom Cruise and an old Paul Newman or making a sequel to a work from the end of Hollywood's Golden Age?

The disc opens with trailers for The Odd Life of Timothy Green and John Carter, followed by a truth anti-tobacco spot. The menu's Sneak Peeks listing repeats those and adds ads for The Avengers and ABC dramas on DVD.

The main menu plays Robbie Robertson's opening title theme alongside the cover shot, which interestingly extends the film's history of surname-only marketing on the packaging. There is nary an insert inside the side-snapped standard Blu-ray case.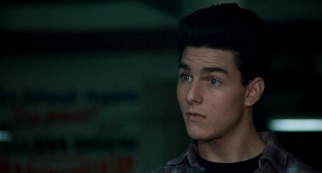 CLOSING THOUGHTS
The Color of Money isn't just essential viewing for fans of Martin Scorsese, Paul Newman, Tom Cruise, and The Hustler. It is a fine piece of work that holds up well even as time has somewhat forgotten it. The film's Blu-ray disheartens on the basis of a lacking feature presentation and complete absence of supplements. It's the kind of film that might warrant attention from The Criterion Collection, and a Blu-ray that might very well have been better (not to mention cheaper) as one of the numerous Touchstone titles farmed out to Mill Creek. If you like the movie enough to own it, this vanilla Blu-ray still must best the film's bargain bin-priced, similarly barebones, and non-anamorphic DVD. But it's unfortunate that I can't more strongly recommend this disc holding a film I really like.
Buy The Color of Money from Amazon.com:
Blu-ray / DVD / Double Feature DVD with Cocktail / VHS


Related Reviews:
Directed by Martin Scorsese: The Last Temptation of Christ • New York Stories • Hugo • Taxi Driver • Shine a Light
Tom Cruise: Top Gun • The Firm • Knight and Day • Eyes Wide Shut • Mission: Impossible - Ghost Protocol • Tropic Thunder
Paul Newman: The Hustler • The Verdict • Cars | Mary Elizabeth Mastrantonio: Scarface
1980s: Wall Street • Platoon • Ferris Bueller's Day Off • Blood Simple. • Good Morning, Vietnam • The Parent Trap II
New: The Grand Duel & Keoma • Spider-Man • Hondo • Barbarella • 21 Jump Street • Seeking Justice
The Color of Money Songs List: "Strangers in the Night", "I'll Never Smile Again", "Anema E Core", "The Day The Rains Came", "The Girl from Ipanema", Charlie Parker - "I'll Remember April", The Del Lords - "Feel Like Going Home", "Va Pensiero" from "Nabucco", Jimmy Smith - "Walk on the Wild Side", Muddy Waters - "Still a Fool", Robert Palmer - "My Baby's In Love With Another Guy", Bo Diddley - "She's So Fine - She's Mine", Eric Clapton and the Big Town Playboys - "It's My Life Baby", Don Henley - "Who Owns This Place?", Robert Palmer - "Let Yourself In For It", Eric Clapton - "It's in the Way You Use It", Mark Knopfler - "Two Brothers and a Stranger", Willie Dixon - "Don't Tell Me Nothin'", B.B. King - "Standing on the Edge", Phil Collins - "One More Night", Bodeans - "Still the Night", Warren Zevon - "Werewolves of London", Percy Sledge - "Out of Left Field"
DVDizzy.com | DVD and Blu-ray Reviews | New and Upcoming DVD & Blu-ray Schedule | Upcoming Cover Art | Search This Site
Search This Site:
DVDizzy.com Top Stories:
Reviewed June 29, 2012.


Text copyright 2012 DVDizzy.com. Images copyright 1986 Touchstone Pictures and 2012 Touchstone Home Entertainment.
Unauthorized reproduction prohibited.