By Kelvin Cedeno

The idea of a small New England town where everyone knows each other's business certainly isn't new. Having this town look like it's stuck in the autumn season for three-quarters of the year has also been done before. Viewers have a strange fascination with small town life, the type filled with quirky, off-beat characters who approach life in a laid-back fashion. As a result, many hour-long TV dramas have used such a setting,

including a number of those made for the WB. Disney's Touchstone Television tried its hand at the domain in the spring of 2007 with a handful of episodes that make up the first season of "October Road".

The series begins ten years ago with the main characters having graduated from high school. The protagonist, Nick Garrett (Bryan Greenberg), sets out on a backpacking trip across Europe, much to the dismay of his girlfriend Hannah Daniels (Laura Prepon). Nick promises to be back, but this promise becomes hard to keep as the weeks turn into years.

As we flash forward to the present day, we find out that Nick has written a best-selling novel based on his years growing up in the rural community of Knights Ridge. The book doesn't paint its townsfolk in the most flattering of lights. When he receives a call to become a guest speaker at his hometown's college, Nick has to face the people he abandoned and famously made fools of. Nick nary has time to make amends, though, as he's surprised to find how much of the town and its people have changed since he left. In a bit of shock that would receive empathy from Bryan Singer's Superman, Nick discovers that Hannah now has a nine-going-on-ten-year-old son. If that weren't bad enough, she's currently dating his high school rival, Ray "Big Cat" Cataldo (Warren Christie). Though only intending to stay for a weekend, Nick decides to move back into Knights Ridge indefinitely and, in doing so, he must cope with the fact that his friends have progressed in life without him.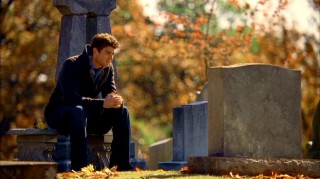 "October Road" is a watchable enough show, and this is mainly thanks to the actors. The lead character of Nick is someone the audience should really find exasperating considering he abandons his friends and family for a decade without so much as a phone call. Bryan Greenberg, though, manages to inject more personality and dimension than written and actually makes his character's motivations somewhat understandable. Laura Prepon (of "That '70s Show" fame) isn't given as much to do, but she's also able to rise above the scripts and make her character believable.
With so many storylines being toggled, it's easy for the supporting characters to become plot devices and nothing more, but each cast member invests himself into his character, making sure they've established themselves with the audience in the brief allotted time. The standouts here are Nick's three off-kilter friends: the cheerful, warm-hearted Owen (Brad William Henke), the childish slacker Ikey (Evan Jones), and tech-savvy Physical Phil (Jay Paulson) who's afraid to leave his own house. They're the type of characters who can be so outrageous and aloof that one is turned off by their presence, yet the actors pour a surprising amount of heart and sincerity to render the personalities endearing.
Unfortunately, despite the solid casting, the show suffers from scripting flaws. It isn't so much a problem with dialogue (though certain monologues do come across awkwardly) but plotting. Because there are only so many stories that can be told in any given universe, a show's strength must lie in how it packages these stories, and this is where "October Road" falters. It has trouble trying to sell its storylines smoothly and naturally. While the series takes place in a close-knit town, there are just too many coincidences occurring. Characters show up at the most convenient of times, and every thread bizarrely tries to connect itself to several others at once, coming across as very forced.
The stories also occasionally wander into melodrama. Take, for example, the relationship between Eddie and Janet. Eddie (Geoff Stults), the ladies' man of Knights Ridge, is well known for dating the type of women all the other men dream of. Janet (Rebecca Field), though, is slightly overweight and doesn't fit the type of vixen mold Eddie usually escorts.

Together, the couple feels conspicuous in public and a big to-do is made of this. This sort of story might make sense in a high school setting, but these are characters in their late twenties and early 30s. If this were a radio show, audiences would think Janet was a hunchbacked Cyclops with mechanical limbs based on the drama vocalized over the relationship. It's as though the writers so desperately want to create conflict that they look for it in the tamest of situations.

Despite the contrivances and mountains made of molehills, "October Road" does end up being adequately entertaining. It's the type of show where its parts are better than its whole. Many scenes are actually quite charming, and even when feeling manipulated, the viewer can't help but root for a certain character. Of course, this once again is because of the talented cast more than the writing. Their performances are more memorable than the lines they say or the stories they're a part of. That's not high praise, but it's enough to make the show moderately enjoyable, particularly if one can't find anything else on television at the time.

Disc 1

1. Pilot (42:55) (Originally aired March 15, 2007)
After ten years and a best-selling novel, Nick Garrett comes back to Knights Ridge only to find that the people he left behind have moved on with their lives. His best friend Eddie refuses to even talk to him, and to make matters worse, his former girlfriend Hannah has a child that he may or may not be the father of.

2. The Pros and Cons of Upsetting the Applecart (42:56) (Originally aired March 22, 2007)
After using a non-existent job opportunity as an excuse for staying in Knights Ridge, Nick pesters Dean Leslie Etwood (Penny Johnson) for a job as a creative writing professor. Meanwhile, Eddie attempts revenge at Nick by dating Aubrey (Odette Yustman), a student Nick has been flirting with.

3. Tomorrow's So Far Away (42:55) (Originally aired March 29, 2007)
Nick bonds with Hannah's son Sam (Slade Pearce) by coaching him on how to attract a girl. Ray wants to buy a home for himself, Hannah, and their kids, but she only sees this as a retaliation for all the time Nick's spending with Sam. Janet goes out on a date with Eddie, but is concerned how the two of them look together in public.
4. Secrets and Guys (42:41) (Originally aired April 5, 2007)
When Dean Leslie Etwood catches Nick and Aubrey together in an empty classroom, Nick must make a choice between his job and Aubrey. Eddie has second thoughts about going out with Janet due to her unconventional appearance. Nick debates whether or not to tell Owen that his wife Alison (Elizabeth Bogush) is having an affair with Ikey.

Disc 2

5. Forever, Until Now (42:59) (Originally aired April 19, 2007)
Sam is rushed to the hospital after blacking out from an allergy. Owen feels responsible, and the guilt he feels makes Ikey and Alison guilty in turn about their affair. Aubrey feels neglected when she sees how much time Nick is spending in the hospital with Hannah.

6. Best Friend Windows (42:39) (Originally aired April 26, 2007)
Nick attempts to patch things up with Eddie by opening a store like they once planned to do after high school.

Aubrey breaks up with Nick when she sees that he still has feelings for Hannah. After Ray brings out Ikey and Alison's relationship, Owen leaves home.

VIDEO and AUDIO

"October Road" appears in a 1.78:1 widescreen aspect ratio enhanced for 16x9 displays. While one would expect a 2007 series to look pristine, this show's image quality is almost shockingly so. Every episode is free of both print flaws and mastering problems, always looking sharply detailed. The show features a very warm autumn color palette, and those colors are lush and full on DVD. There are absolutely no complaints to be made about this transfer.

The Dolby Digital 5.1 surround soundtracks understandably don't go wild with surround effects, but prove to be of high quality regardless. Speech and sound effects come across crisply and naturally. Pop songs are used often throughout the series, and these (along with the acoustic score in-between) offer nice range. Like the image quality, there are no flaws in the audio department.
BONUS FEATURES

"October Road" comes with only a handful of supplements, all of which are found on the second of two discs. First comes a collection of six deleted scenes (5:57), five of which were dropped from the pilot (the other is from the season finale).

It's easy to see why each scene was excised as they either relay information the audience already knows, or they're self-contained bits that would've distracted within the context of an episode.

The next feature is a very brief blooper reel (1:11). This isn't terribly interesting as it consists of actors flubbing their lines, the main culprit being Laura Prepon. Its brevity mixed in with a lack of on-set antics that spice up most outtake reels makes this rather bland.

A featurette entitled "October Road: The Journey Begins" (9:43) is essentially a fluff piece. The show's cast and crew are interviewed, but their comments fall firmly on the glossy side. A couple of interesting notes come up, as does some behind-the-scenes footage, but it's mostly just praise being thrown left and right.

The last feature is a sneak preview of season two (2:27). This isn't actually a preview, per se. The cast and crew (from the same interview sessions as the previous featurette) coyly hint at what's in store for each character in the second season. No new actual footage is shown. It's at least a step up from the falsely advertised season previews on other Buena Vista sets that simply take old season clips and state that new episodes are coming.

Some sources indicated that commentary tracks would be included in this set, but none appear in either the supplemental or set up menus. This is disappointing as Buena Vista often treats its shows to commentaries, and the lack of such here proves just how little effort went into the creation of this set.

Disc one begins with previews that anticipate National Treasure: Book of Secrets, "Lost": The Complete Third Season, "What About Brian": The Complete Series, and the fourth season debut of "Grey's Anatomy". These can also be accessed via the Sneak Peeks section.

MENUS and PACKAGING

The main menu is the same for both discs: Nick driving his car down October Road and towards a CG Knights Ridge, while the series' end credits music plays in a loop. The bonus material menu is the only other animated one, featuring trees blowing in the wind. All the selection screens incorporate the same autumn color scheme found in the show itself, and, like the supplements, are 16x9-enhanced. Each episode is given eight chapter stops.

Because of the brevity of the season, it comes housed in a dual amaray keepcase. Headshots and publicity stills adorn the cover and are joined by a decidedly plain Arial font. A cardboard slipcover is included, but it merely replicates the artwork with no special touch. Inside, a pamphlet advertises other Buena Vista shows while another insert lists the episode titles.
CLOSING THOUGHTS
While it's gotten off to a somewhat shaky start, "October Road" still ends up being an above average series mostly thanks to its skilled actors. One can't be too dismissive considering the show has only had a mere six episodes to prove itself, and most don't find their footing until well into their second season or so. Where one can be harsh is in regard to the bonus materials. It's shocking that such a recent show has been treated to such a skeletal selection. Fortunately, video and audio are top notch, which is what really matters in the end. This show may not be one of the stronger efforts in the laid-back, down-to-earth, small-town drama category, but fans of such fare may want to give this a rental or try catching an episode.