A full year without a new Pixar movie following three years of the studio's least glowingly reviewed efforts

has certainly made a person hungry for the old magic that made the company stand out among not just animation houses but all makers of films. Fortunately, Inside Out can be considered a return to form for the Disney-owned CGI pioneers. This new film, the third directed by Pete Docter (Monsters, Inc., Up), may not compare to Pixar's very best, or more accurately our nostalgia-aided memories of their very best. But it is a supremely original, creative, and enjoyable outing that could only be the work of the Emeryville-based standard bearers.

Inside Out is primarily set inside the mind of Riley Anderson, a happy young girl from Minnesota. Riley is controlled by five different emotions whose names convey their personality and function: Joy (voiced by Amy Poehler), Sadness (Phyllis Smith of "The Office"), Fear (Bill Hader), Anger (Lewis Black), and Disgust (Mindy Kaling). Our lead character is Joy, an efficient gal with a blue pixie cut and a yellow dress. With her at the controls, the majority of Riley's experience are happy ones. Occasionally, one of the other emotions will creep in, prompting the girl to cry or shout. But with two loving parents, a pastime she loves (ice hockey), an active imagination, and a sense of humor, Riley is blessed.

When she turns 11, though, Riley's family moves to San Francisco for Dad's new job. It is not an easy adjustment. The moving truck gets lost, the house is glum, and the local pizza place only serves broccoli pizza. Her first morning at her new school, Riley bursts into tears. It is the rare unhappy encounter to be filed away as a core memory marble, bearing the signature pale blue tint of Sadness rather than Joy's sunny yellow. Try though they may to set things right, Riley's five internal pilots can't get the girl's disposition to its upbeat regular state. In the process of messing around, Joy and Sadness leave the control center and get lost, having to find their way through Riley's overwhelming archive of memories from over the years.

The two rogues try to catch a Train of Thought back to their workplace, but instead encounter danger and Riley's nearly forgotten imaginary friend, the illiterate part-elephant, part-kitten, part-dolphin, all-scene-stealing Bing Bong (Richard Kind), who guides them through the terrain. Meanwhile, the various islands attached to Riley's mind grow unstable as she becomes increasingly homesick.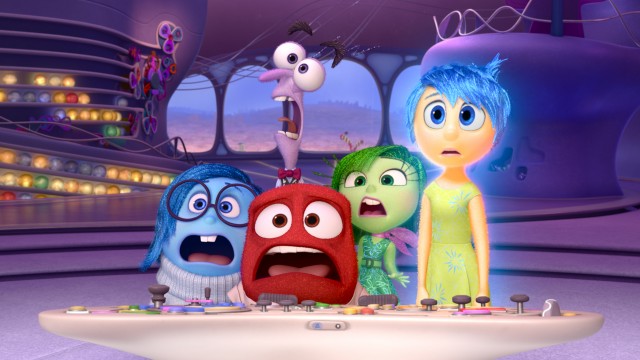 Inside Out emphasizes the unique nature of Docter's storytelling. While he has contributed story ideas to the first two Toy Story movies and WALL·E, all of them delightful and fun, the three films he has both written and directed stand out for the complex universes Docter has built from the ground up. This time sharing screenplay credit with novice Meg LeFauve and rising veteran storyboard artist Josh Cooley, Docter again opts for colorful high concept. By doing so, he spares the film of direct comparisons and claims of derivation.
Inside Out is the film that DreamWorks' Rise of the Guardians wanted to be. It finds a compelling team dynamic which that tale of legendary holiday figures working together could not. It also manages to speak to universal childhood emotion and rites of passage more poignantly and poetically than anything Guardians was dishing out. The movie deserves higher praise than simply being placed significantly above than the film that begun DreamWorks' ongoing intermittent commercial rough patch. But there really are few animated films to liken this to, which may be the best thing you can say about a computer-animated film these days.
Inside Out reminds us of Pixar's superior imagination. Here is a film that resists convention as much as possible. There isn't an obligatory action climax or any real villain. The movie has a field day not with three-act structure, puns, innuendo, or visual ingenuity, but with human psychology and development. Its exploration of the different types and vulnerabilities of memories is potent and probably academically sound. Its use of memory recalls Inception's experimentation with dreams, inventively turning aspects of the human experience rarely spoken of and frequently taken for granted into sources of adventure, excitement, and humor. A scene in which Joy, Sadness, and Bing Bong scurry across Abstract Thought, trying not to be boiled down into mere color and shape doesn't just generate some fun visually but intellectually as well.
When tackling issues more complex than talking animals/vehicles, Pixar runs the risk of not getting the all-important children's seal of approval. High-mindedness may have been a factor in the practically silent

and commentary-filled WALL·E dropping off quickly at the box office and the uncuddly Ratatouille never catching on to the extent of others. By premiering the film at Cannes (as they did Up before it), Pixar recognizes that the audience for their art goes well beyond young children and their parents. Their work also appeals to cineastes, academics, teenagers, and childless adults. Some of those demographics can't be counted on to buy tickets, but they're essential to earning a complex movie the respect and discourse it deserves.

While Inside Out should return Pixar to the Best Animated Feature Oscar category they last won for 2012's Brave and right now it looks like an early frontrunner, the film will have to compete against The Good Dinosaur, Pixar's other 2015 release whose Thanksgiving Eve opening may give it an advantage with short-memoried voters.

Inside Out is preceded theatrically by Lava, a new Pixar short which missed even the shortlist for last year's Best Animated Short Oscar. This sentimental 'toon tells the story of a Hawaiian volcano who sings of finding a love of his own. I won't spoil whether his wish comes true or not, but this tender effort did not strike me as one of Pixar's better works, even if it gladly departs from the one-joke design of certain past shorts.

Buy Inside Out from Amazon.com: Blu-ray + DVD + Digital HD • Blu-ray 3D + Blu-ray + DVD + Digital HD • DVD • Instant Video