There are few big surprises in Hollywood nowadays. Since studios have so researched audience trends and formed reliable strategies, major releases tend to fall in line with expectations or perform mildly better or worse than anticipated. The most successful heroes are ones belonging to franchises, especially those that exist before filming. The biggest hits open in summer and around the holidays, the award winners roll out near the end of the year, and every other class (from romantic comedies to slasher flicks to arthouse fare) finds its own comfortable niche with a typically foreseeable public response.

But films can still come out of seemingly nowhere and stun the industry with their reception. Nowhere was that fact more evident than in the aura of Paul Blart: Mall Cop. Most probably expected this little movie to earn back its modest $26 million production budget. But a PG-rated live-action comedy, opening in the middle of the creativity dead-zone that is January,

with just one familiar name in the cast (a name known more for a much-rerun wrapped sitcom than for his few second fiddle big screen roles)... how could that add up to anything spectacular? Yet it did. Kevin James' amply-promoted first solo vehicle widely surpassed forecasts with a $31.8 million opening weekend gross that grew to just under $40 M counting Martin Luther King holiday earnings.

The story doesn't end there, though. Word of mouth and repeat business gave the film spectacular legs at the theaters, something increasingly rare these days. By earnings, Paul Blart stood as the number one film of the year through mid-April. To date, it has amassed $145 M domestically. That's more than anything producer Adam Sandler has starred in since 2005. From last December's releases, only Gran Torino has grossed as much. Besides bringing smiles to the faces of those at Sony's Columbia Pictures and Sandler's Happy Madison Productions, the film has announced the former stand-up and "The King of Queens" star as a formidable leading man of cinema.
Paul Blart (James) is a mall security guard. He's also a single father, having been abandoned by an illegal immigrant who used marrying him to get a green card. The mustachioed, overweight man isn't much of a role model for 11-year-old daughter Maya (Raini Rodriguez). Online dating sites can't find him a love life, his hypoglycemia puts a hole in his aspirations to become a real cop, and he doesn't appear to have any friends besides his kid and house-sharing mom (Shirley Knight). The one source of joy in Blart's life is his job at the West Orange Pavilion Mall in New Jersey. It may not earn him respect or privilege, but riding around on a Segway and patrolling the shoppers supplies some satisfaction and the opportunity to promote the kind of safety he believes in.
A glimmer of hope emerges in Amy (Jayma Mays), a pretty, friendly hair kiosk employee who gets Blart's heart racing. But that glimmer seems to dissipate when Paul uncharacteristically spends a night binge drinking and acting up.
Then, the biggest shopping day of the year arrives in Black Friday, the day after Thanksgiving. While the lonesome Blart is making his rounds, trouble starts to brew. A gang of gun-wielding young adults forces the big crowds to leave. Holding six bank customers hostage, they plot to collect from the full cash registers of every store on the premise. Equipped with tattoos, skateboards, and high jumping skills, the gang takes some security measures and maintains the control in communication with guards, cops, and SWAT team members on the outside. The one wild card is Blart, who unbeknownst to either side, finds himself in the middle of the situation. Suppressing his initial instinct, he stays in the mall and becomes a one-man force of protection. As the DVD's tagline proclaims, "Don't mess with his mall!"
While far from art, Paul Blart: Mall Cop offers something more accessible: entertainment.

This is a film that rests on the charms of its concept and title character. Both serve the movie well. Like a grocery store, the mall is one of those places that everybody is familiar with and yet to date has hardly housed more than the infrequent scene in film. Expanded to a setting that ranks among the film's stars, it compels. The spacious walkways that feel cleaner than they should, the standard layout that both comforts and confuses, the familiar store logos (which make Sony's usually full product placement efforts easy to take). It's all seen here and the well-utilized backdrop makes the proceedings palpable even as the second half deals with an unlikely scenario in unrealistic ways.

Previews for the film excited me until it looked like it would deal heavily with a Die Hard-esque lockdown situation. It does, but with a proper action-comedy formula. What I mean is that the humor spills into the conflict, often sharpening it, while we are never pushed into believing there's real jeopardy.

Kevin James and his underdog character enable the success. He doesn't beg for laughs and the movie doesn't pause to let him get them, another potential warning sign from the trailer. Fat jokes are kept to a minimum and Blart never comes across as gross or an idiot. Were this in R-rated territory, he quite likely would have ended up as both. But unlike Sandler's Bedtime Stories (which consciously opted for PG tameness befitting the Disney castle), Paul Blart isn't overtly sanitized or child-oriented. In fact, families comforted by the MPAA's rating may not be pleased with the innuendo, inebriation, and gunplay. I was reminded a bit of similar recent adult-friendly PG comedies (Night at the Museum, Elf, Fred Claus), but Blart feels more like a 1980s PG (like Gremlins or Back to the Future, but tamer), where anyone can enjoy and oh it just so happens that nothing too racy goes down. I like that a movie like this can still be made, even as studios seem to believe the kid/adult interest divide is widening and comedies keep getting filthier (albeit with often fun results).

Though Paul Blart is a success by just about any standard (save for critics, who largely didn't go for it), it hasn't yet been greenlighted for a sequel. (But, the math may be too tempting to ignore and a hint has already been dropped.) It also hasn't been given any kind of Special Edition, just one DVD and one Blu-ray edition, each available from Sony next week. Based on the design of some studios' recent premium "two"-disc sets, that's probably for the best.
DVD Details

1.85:1 Anamorphic Widescreen
Dolby Digital 5.1 Surround (English, French)
Subtitles: English, French
Closed Captioned; Extras Subtitled
Release Date: May 19, 2009
Single-sided, dual-layered disc (DVD-9)
Suggested Retail Price: $19.94 (Reduced from 28.96)
Black Eco-Friendly Keepcase
Also available on Blu-ray Disc
VIDEO and AUDIO
On DVD, Paul Blart: Mall Cop appears in 1.85:1 anamorphic widescreen. The picture is a little darker than natural in some places. Either I got used to it, or this was only true of a few isolated parts. Either way, neither this nor any other aspect of the transfer is cause for true concern. The immaculately clean element and satisfying sharpness and detail add this to the long list of satisfying Sony presentations. The Dolby Digital 5.1 soundtrack isn't the most remarkable, but the setting does lend itself to some nicely-realized atmosphere. As perhaps is to be expected of a Happy Madison production, some goofy, older pop songs are put to good use here, like Survivor's "I Can't Hold Back." (Sadly, Bon Jovi's "Livin' on a Prayer" was strictly for the trailer.)
BONUS FEATURES, MENUS and PACKAGING

Bonus features begin with an audio commentary by Kevin James and producer Todd Garner. Clearly enthusiastic about their film, they have stories about nearly every scene, from spitting out tasty food to sneaking meaningful dates into secret codes. Other topics discussed include the soundtrack selections, the limitations of a PG rating, and plot questions you yourself may have raised. As co-writer, producer, and star, James has multiple angles on which to comment.

He has the heist plot specifics explained to him and delivers funny reactions to fake-looking bits. The two recognize just about every onscreen actor and offscreen contributor, but with more than mindless name-dropping. Lines are credited to Adam Sandler, Ray Romano, and, most often, co-writer Nick Bakay. Too bad Bakay isn't here; his voice may have been recognized as that of Salem, the cat from "Sabrina, The Teenage Witch."

Next, we get ten Deleted Scenes (12:25). Worth watching but not necessarily keeping in the film, these feature Paul posing for his online profile photo, helping a lost boy, listening to an unintelligible janitor, having two additional phone calls from amusing Indian man Pahud (Adhir Kalyan), and escaping an avalanche of snowglobes. There are also two scenes of the robber ringleader being frustrated and an extra moment of Paul and the SWAT leader (Bobby Cannavale). As a fun bonus, spot the product placements that didn't pan out!

Eleven short featurettes follow. A "Play All" option gives you the chance to string together the disjointed pieces (49:30).

In "Kevin James: Not Your Average Mall Cop" (4:52), the star and some crew members talk about his character, the project's origins, and their creative processes. "Action Sports Junkies" (6:14) turns our attentions to the film's villains, with comments from the actor/athletes and those working with them. "Stunts" (10:26) testifies to James' enthusiastic physical work, with looks at some of the feats he and castmates pulled off. "The Mall" (4:16) covers the experience of filming a movie at a working mall (Burlington Mall outside Boston) amidst shoppers/onlookers. "On Set with Mike 'Rooftop' Escamilla" (5:39) gives us raw footage of rehearsal, production, and downtime, with the emphasis again placed on extreme stunts.
"Fun on Set" (5:58) adds to the bountiful supply of B-roll footage showing that Kevin James doesn't turn off his good-natured air when he hears "cut." The rough, improvised "Mike V. vs. Mall Cop" (2:30) takes actor/skateboarder Mike Vallely outside the mall, where Paul Blart shows up to curb his neon green tagging. "Mall Cop Response" (1:42) finds James sarcastically weighing in on Vallely's skateboarding career path,

with perhaps too much truth in the cutdown. "Free Running vs. Parkour" (3:05) explains and discusses two forms of acrobatic movement used by the film's villains. "Thoughts with Kevin James" (2:08) lets the leading man be funny talking about malls, food courts, jobs, and moustaching. "Sugar" (1:48) is a nifty guerilla-shot short film, in which actor Victor T. Lopez silently runs, jumps, and flips through a populated mall, briefly interacting with his fellow characters.

Finally, "Previews" gives us a slew of Sony advertisements. The first three -- a 1-minute Blu-ray promo, a trailer for upcoming CGI comedy Planet 51, and a DVD spot for "The King of Queens" -- play automatically at disc insertion. Also promoted here are "Rules of Engagement", Click, The House Bunny, You Don't Mess with the Zohan, 50 First Dates, "The Spectacular Spider-Man", Nickelodeon movie Spectacular!, The Librarian: Curse of the Judas Chalice, The Accidental Husband, and The Norman Lear Collection.

The inspired menus opt for an action vibe, with an animated mall map standing behind stills capturing Officer Blart's heroics. Supporting characters get the still montage treatment on nicely-animated submenus.

As much as the on-disc special features, the back cover advertises the DVD's eco-friendly packaging. If you're used to holding individual DVDs, you may notice that this one weighs a bit less than usual. The release launches a new initiative by Sony to use recycled paper and less plastic. Inner parts of the keepcase have been cut out, allowing you to see the blank reverse side of the cover art. It also forgoes the now-commonplace cardboard sleeve. The only insert is a coupon entitling you to a free classic roll at Cinnabon through the end of the year.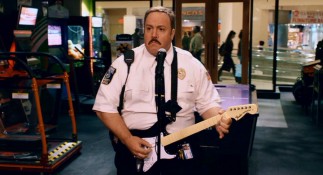 CLOSING THOUGHTS
A film about a fat, likable underachiever, Paul Blart: Mall Cop looks like something that'd be perfect to cite as what's wrong with American moviegoers' taste. If I were to condemn society (which I'm not), it definitely wouldn't be for liking this. Just as most good movies are able to find some degree of appreciation, most profitable ones possess something worth appreciating. And Paul Blart does. It may not resonate or touch, but it never sets out to and why should all film aspire to that? This comedy isn't as broad or lowbrow as it may look. It offers a consistently entertaining time and with an open mind, I think you'll enjoy it.
Sparing us the supplement premium, the useless-to-most digital copy, and the wasteful slipcover, Sony's single-disc gets the job done with an adequate feature presentation, an enjoyable audio commentary, and a fairly diverting hour of video extras. If you're on the edge between buying and renting, that free Cinnabon might just push you over.
More on the DVD / Buy from Amazon.com / Buy on Blu-ray from Amazon.com