Adam Sandler's 25-year movie career consists almost entirely of hit comedies and though he's not an actor celebrated for creativity or integrity,

it is worth noting that he's always opted to create new characters and tell new stories instead of revisiting and recycling an established success. Sandler could have easily made a Billy Madison 2, Happy Gilmore 2, The Waterboy 2, Big Daddy 2, or 50 More First Dates. For that matter, he could have overlooked the sour note on which his 5-season run on "Saturday Night Live" ended to try and stretch one of his popular one-joke characters (Opera Man or Canteen Boy, perhaps) on that institution to feature length. But instead of following the example of his SNL forebears Eddie Murphy and Mike Myers, Sandler has resisted beating a dead horse, preferring to come up with new material, often writing with his friends and, since 1998, always producing.

Having already displayed greater longevity than virtually any comedy movie star and recently experienced the first back-to-back underperformers of his career in Jack and Jill and That's My Boy, Sandler evidently budged from his aversion to sequels to make Grown Ups 2. The project would reunite Sandler with his friends/collaborators, SNL castmates Chris Rock and David Spade and 21st century co-star Kevin James. (Sandler's most frequent supporting actor Rob Schneider is conspicuously absent, with given reasons varying.)

The original Grown Ups was an unusually leggy summer comedy that ended up Sandler's second highest grosser domestically and first worldwide (although adjusting for ticket inflation drops it to a less remarkable place behind not only his '90s triumphs but also strong millennial performers like Mr. Deeds and Anger Management). It was a bigger hit than expected for what looked like a '90s SNL reunion and it allowed Sandler to give his friends a tasty share of his staggering profitability.

As Sandler movies have grown to more closely resemble paid vacations, Grown Ups 2 made sense. Why invent new personalities and premises when he and the gang could just step back into their sarcastic middle-aged selves and live it up with more nostalgic summer hijinks? That especially seemed like a no-brainer since a sequel was more likely to meet the financial success that had eluded Sandler's most recent live-action efforts.
Watching Grown Ups 2 is kind of like discovering your favorite athlete has lost his touch. I'm not saying that Sandler is washed-up or should consider retirement (the numbers prove otherwise), only that it's painful to see him regressing so much. Most critics have been down on Sandler since his start, but my appreciation for his comedy long predates my career in film criticism and the two have overlapped. Sure, I've enjoyed seeing Sandler demonstrate his acting abilities in more dramatic films like Reign Over Me, Funny People, and Punch-Drunk Love. But his signature vehicles populated by his friends have also been great fun, from the creative early works like Billy and Happy to more recent movies like Click.
You might dispute calling that 7-year-old movie "recent", in which case I've got to admit that my admiration for the actor's lucrative meal ticket has cooled. The original Grown Ups and the PG-rated Bedtime Stories offered a good time. Just Go With It is kind of on the bubble. And then it's tough to see any good in films like You Don't Mess with the Zohan and Jack and Jill.
Grown Ups 2 isn't any worse than the latter two and may even be a little better. But it's a sad outing that prompts more cringes than chuckles. Set entirely during the course of one eventful day, the film opens with a very artificial-looking CGI deer invading the home of Lenny Feder (Sandler) and urinating all over him and his kids. Though this is one of the rare major new movies not in 3D, one can almost feel the stinging stream of warm yellow liquid upon them. Perhaps that's intended as comedy but it feels like a defiant tone-setting gag which establishes this as a decidedly low-brow picture that's going to do fine no matter how immature it gets.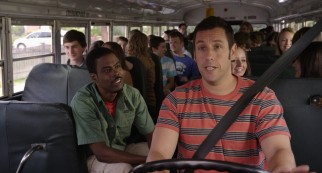 The casual viewer will assume this is just what Sandler's always done. The critic will acknowledge how this resembles one of those stupid fake movies excerpted in Funny People. A Sandler connoisseur like myself, however, has to object. No, this is not how it's always been. The character Billy Madison was an idiot, but the movie that housed him was not. There was a pee gag in that movie, but a clever, character-building one culminating with a delightful Miles Davis reference. This deer bit is much different and worse.
That flat-falling opening gag helps to produce the stink of a bad movie that even Sandler's least films have generally avoided.
It's the last day of school. Since we last saw them, the Feders have moved back from California to the New England neighborhood that apparently all of Lenny's friends still call home (minus Schneider). It's an easygoing town where medicated loopiness exhibited by the kids' school bus driver (Nick Swardson, coming closest to replacing Schneider) prompts Lenny to grab the steering wheel and pick up his fellow Grown Ups along with their kids. In case, you've forgotten, they are bearded, burly mechanic Eric (Kevin James), milquetoast cable guy Kurt (Chris Rock), and irresponsible womanizer Marcus (David Spade).
The guys hit up Kmart, where their talk about the good old days prompts them to try to relive them. Namely, they want Eric to finally make the jump off of "Suicide 35", a 35-foot lake plunge he's always cowered from. There, though, these Grown Ups run into a pack of douchey frat boys (led by an uncredited Taylor Lautner). These 20-something jocks claim the area for themselves and force their elders to make the jump completely naked. It's not a very logical turn of events, but the glimpses of male rear nudity and exaggerated belly flop sounds present one of the film's biggest set pieces. The exchange also creates some necessary conflict, as a townies vs. frat boys war emerges and these grown ups have to come to terms with the fact that they're becoming over the hill and irrelevant. If that sounds somber, it's not played that way, since resolution and redemption come at Lenny's seemingly improvised yet enthusiastically and creatively attended 1980s costume party that seems to have come from a 1980s college comedy.
Along the way, there are many sitcomish incidents, from driving lessons and placekick lessons to a first date, a first job, a forgotten twentieth anniversary and an out-of-control, old-fashioned tire roll. Admirably, not a single child's part is recast. Meanwhile, almost every adult role is filled by a Sandler friend, family member, or repeat collaborator.

If you were on "SNL" at any point during the 1990s (even joining right after Sandler left, like Cheri Oteri), your presence is welcome here, even in a blink and miss capacity (Melanie Hutsell). Team Sandler's most notable addition is basketball legend Shaquille O'Neal, picking up a rare 21st century film credit as the seeming byproduct of his NBA on TNT That's My Boy promo, playing Tim Meadows' supersized but equally balding brother, an irresponsible police officer. There's room for everyone, from director Dennis Dugan to sports anchors Dan Patrick and Chris Berman to The Lonely Island to former wrestler and The Longest Yard co-star "Stone Cold" Steve Austin to the J. Geils Band.

More than Sandler's past comedies, Grown Ups 2 is enamored with bathroom and sex humor. The sequel flips off sophistication in favor of things like the "Burp Snart", Eric's patented burp-sneeze-fart maneuver, and extramarital ogling directed at the wives, their gay Yoga teacher (Oliver Hudson) and the kids' busty dance teacher (April Rose). With much of the film unscored (perhaps Happy Madison scaled back its usually plentiful needle drops to keep the cast-heavy budget at a still mind-blowing $80 million), you can hear a pin drop during numerous moments where laughter is anticipated but not earned.

At this point, Sandler, who wrote the script with the original film's Fred Wolf and longtime co-scribe Tim Herlihy (a contributor to Sandler's every film from Billy Madison to Mr. Deeds), seems content to make movies for his and his friends' benefit. Only undiscerning kids will find this consistently entertaining. Parents who grew up liking these comedians will perhaps appreciate the chance to find some common ground with their tweenaged offspring, but they will likely deem this a pale substitute for their memories of adolescence's laugh riots. If a feeble romp like this can keep Sandler famous and encourage a new generation to discover and enjoy his superior past efforts, then some good has been done.

Though not as formidable as its predecessor, Grown Ups 2 returned Sandler to his comfortable success zone, with a domestic gross of $133 million. Unadjusted for inflation, the film's worldwide haul of $246 M is the third highest of the actor's career behind the original film and the animated Hotel Transylvania.

Sony's biggest hit of a largely disappointing year, Grown Ups 2 is now available to own on DVD and in the Blu-ray + DVD + Digital HD UltraViolet combo pack reviewed here.
Blu-ray & DVD Details

1.85:1 Widescreen (DVD Anamorphic)
Blu-ray: 5.1 DTS-HD MA (English, French), Dolby Digital 5.1 (Descriptive Video Service)
DVD: Dolby Digital 5.1 (English, French, Descriptive Video Service)
Subtitles: English, English for Hearing Impaired, French, Spanish
Not Closed Captioned; Extras Subtitled in English
Release Date: November 5, 2013
Suggested Retail Price: $35.99
Two single-sided, dual-layered discs (1 BD-50 & 1 DVD-9)
Blue Keepcase with Side Snap in Cardboard Slipcover
Also available as standalone DVD ($30.99 SRP) and on Instant Video
VIDEO and AUDIO
Sony reliably delivers some of the finest Blu-ray transfers around. Grown Ups 2 upholds that high standard, showcasing sterling 1.85:1 picture and find 5.1 DTS-HD master audio. Having said that, this is strangely technically subpar for an $80 million production. I guess you can overlook the poor use of CGI, but even the visuals and dialogue recordings fall short of the usual Sandler sheen. Perhaps the blame lies with director Dugan, who has worked regularly with Sandler (and few others) since Happy Gilmore. The typical viewer isn't going notice the shortcomings, as New Hampshire in summer looks scenic enough captured with top-notch film cameras.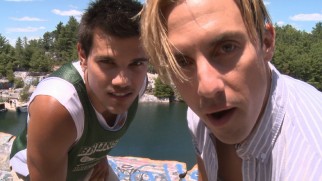 BONUS FEATURES, MENUS, PACKAGING and DESIGN

The light collection of extras kicks off with eight short deleted scenes (6:28).

They offer Eric buying frozen pretzels, Bumpy (Kamil McFadden) showing off his freestyle rap skills, Sandler's real family shopping at his onscreen wife's boutique (that must have been an awkward cut), more of Spade's thug newfound son (Alexander Ludwig), more of Rock's son's driving test (with Steve Buscemi) and daughter's singing, parent talk, and some rhyming wisdom from Shaq.

"Look Who Stopped By" (4:26) celebrates the new cast members with behind-the-scenes looks and some comments from and about them.

"The Feder House" (1:31) has director Dennis Dugan, production designer Aaron Osborne, and time-lapse photography show and tell us about the huge set constructed to house the climactic party.
"Mr. Spade's Wild Ride" (2:10) documents the filming of David Spade inside the runaway rolling tire.

Finally, "Shaq and Dante: Police Force" (1:53) presents footage

of the film's cops horsing around for the cameras.

The same DVD sold on its own, the set's second disc includes only the deleted scenes and "Shaq and Dante" for bonus features.

The discs open with an UltraViolet promo and trailers for White House Down, One Direction: This Is Us, and After Earth. The Previews submenu holds the trailers plus ones for Last Vegas and The Mortal Instruments: City of Bones, but sadly Grown Ups 2's predecessor-excerpting own trailer is absent.

On each disc, the main menu simply but nicely places the four stars' old high school pictures against a big orange 2 while score plays. The Blu-ray supports bookmarks and resumes playback as well.

The plain silver DVD and full-color Blu-ray share a side-snapped keepcase with your code for the UltraViolet (also good for Sony Rewards points) and one to net you a free (plus around $7 in shipping, handling and taxes) 12-month photo calendar from Shutterfly (plus 50 free prints for new customers), a promotion also advertised on a slipcover sticker.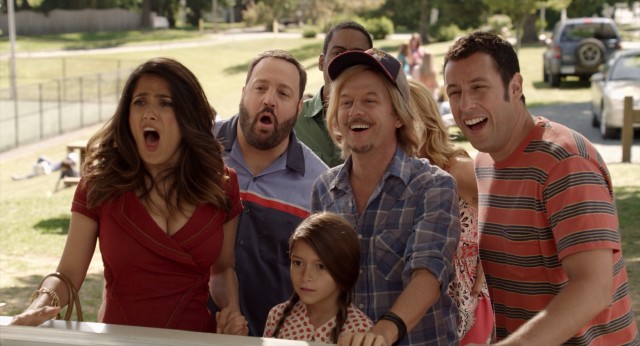 CLOSING THOUGHTS

Grown Ups 2 improves from its terrible opening scene but never enough to reach enjoyable levels. Whether serving up bodily gags, a generational rumble, or family bonding, this sequel is flat and lifeless to a greater degree than past Adam Sandler comedies. Beyond the occasional on-target snicker and the thrill of recognizing Sandler's friends and former SNL players in small roles,

there isn't much joy to be gained from this crude outing. As one of Sandler's biggest fans and defenders, it hurts for the anticipation his new releases inspired to be replaced by bracing for the worst.

You can't begrudge an appealing goofball and, by all accounts, decent guy for providing for his family and his friends' families with harmless shtick proven to entertain the masses. But you can lament that his funny, creative, Capra-esque anti-establishment flicks have given way to lazy, lowbrow, exceedingly juvenile work born out of paid vacations with friends.

Should you disagree and not find such depressing thoughts dampening your enjoyment of this summer comedy, then you should appreciate Sony's snazzy-looking combo pack or at least the personalized 12-month photo calendar you can make and have sent to you at the price of shipping and taxes.

Buy Grown Ups 2 from Amazon.com: Blu-ray + DVD / DVD / Instant Video