There is no question that Disney was pleased with the reception given to Air Bud. The 1997 family dramedy, conceived by a trainer whose capable dog gained notice on "America's Funniest Home Videos" and David Letterman's "Stupid Pet Tricks" segments, grossed over $23 million on a $4 million budget. Those numbers led Disney to immediately commission a sequel from Keystone Pictures, the young Canadian company that had now found its calling in animal comedies.
There were some obstacles. The real Buddy whose basketball antics had wowed audiences passed away in February 1998. His owner Kevin DiCicco, who had received credit for creating the character but not the percentage of profits he was promised, began prepping a lawsuit against Keystone. And yet, the cameras began rolling in the spring and Air Bud: Golden Receiver was still able to open in theaters in August, just one year after its predecessor's debut.
Air Bud's human protagonist, Josh Framm (Kevin Zegers of Transamerica and soon to be the Clyde to Hilary Duff's Bonnie), is now in the eighth grade. He still loves basketball, an interest he shares with Buddy, the stray golden retriever he adopted who became his teammate and an inspiration to his fictional town of Fernfield, Washington. But basketball was so 1997.

To avoid having to see his widowed mom (Cynthia Stevenson, replacing Wendy Makkena) cozying up with Buddy's new vet (Gregory Harrison), Josh joins the school football team alongside his pal Tom (Shayn Solberg).

From here, the film closely follows the original movie's plot. The Timberwolves are the laughingstock of the league and Josh overhears that the future of good-natured, always-eating Coach Fanelli (Robert Costanzo) depends on the team winning. Of course you know that Buddy, the dog that could shoot a basketball off his face, can also catch a football in his mouth and run with it. That's just the kind of thing the team needs and once Josh and his younger sister Andrea (Alyson MacLaren, the second of four actresses to hold the role) tailor a uniform to fit the canine, he's part of the team, no questions asked.

It is no spoiler to reveal that unstoppable Buddy's gridiron greatness helps turn the team around. But just as the State Finals game arrives out of nowhere, so too does conflict. Having walked in on his mom and her beau doing the unthinkable (proposing marriage), Josh runs away. Meanwhile, Buddy gets kidnapped by Russian circus performers Natalya ('80s "Saturday Night Live" comedienne Nora Dunn) and Popov (Perry Anzilotti), who see him as the main attraction they've been lacking. Forgive me for not mentioning this duo earlier; they're there peripherally from the start, providing broad physical comedy that dumbs down the film and makes Michael Jeter's performance as the original film's villainous clown look sophisticated.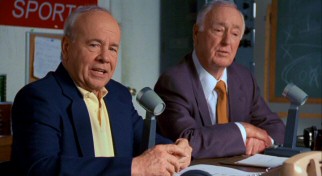 The bumbling antagonists resurface again and again just when you're ready to declare Josh's dad replacement concerns and the football teamwork nearly adequate. The reused premise (athletic dog rights every wrong) is, once again, pretty stupid. But it's something you accept coming into the film

and the far-fetched fancy is far less egregious than what viewers have been subjected to in the hijinks of the popular recent "Buddies" spin-off movies about Buddy's speech-equipped puppies.

Grossing $10 million, Air Bud: Golden Receiver remained profitable, just not nearly as much as its forerunner. It would be the last theatrical release in the Disney/Keystone franchise, which would then live on in direct-to-video outings that tackled new sports through 2003. From 2006 on, the movies have turned to the next generation, ditching genuine sports for artificial talking to ridiculous financial success. That success is clearly the reason why Golden Receiver is revisited today. Its new Special Edition arrives a year after the original Air Bud's and in quite similar fashion.

P.S. Golden Receiver gives fairly prominent billing to a number of professional athletes of whom the film barely gives us glimpses. Among these are long-forgotten basketballers who spent the 1997-98 season playing for the then-new, since-relocated Vancouver Grizzlies: Blue Edwards, Lee Mayberry, Pete Chilcutt, George Lynch, Sam Mack, and Ivano Newbill. Hall of Fame NFL quarterback Warren Moon makes a strangely disjointed cameo in the closing moments along with his Seattle Superhawks wide receiver Joey Galloway. More meaningful to fans of showbiz: the championship game's commentators are played by Disney Legend Tim Conway and "Rowan and Martin's Laugh-In" co-host Dick Martin. Martin's son Richard, the second unit director on Air Bud, was promoted to director for this sequel, taking the reins from Charles Martin Smith.
DVD Details

1.85:1 Anamorphic Widescreen
Dolby Digital 5.1 (English), Dolby Surround (Spanish)
Subtitles: English for Hearing Impaired, Spanish
Closed Captioned; Extra Subtitled
Release Date: February 2, 2010
Single-sided, dual-layered disc (DVD-9)
Suggested Retail Price: $29.99
Clear slim case in Cut-Out Cardboard Box
VIDEO and AUDIO
Like Air Bud, Golden Receiver first came to DVD in a 1.33:1 fullscreen-only presentation. Also like Air Bud, that travesty has been corrected the second time around. Golden Receiver looks pretty terrific in this 1.85:1 anamorphic widescreen transfer. The element is clean, colors are natural and consistent (if maybe a touch dark), and the visuals do not suffer from either age or frugality. Perhaps the picture isn't as vibrant as a new Disney film, but it's very close to that level of satisfaction.
The Dolby Digital 5.1 soundtrack is apparently an upgrade over the plain 2.0 surround mix of the movie's original DVD. But, there isn't much to distinguish this as employing 5.1 channels. For that matter, there really isn't much to be distinguished, besides a parade of cheesy instrumentals meant to amplify the generally lackluster comedy and football action. You should notice several instances of sloppy looping. A Spanish dub is provided in 2.0.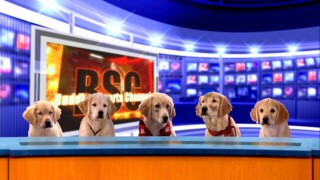 BONUS FEATURES, PACKAGING and MENUS

You know a Special Edition is really special when the main menu uses the singular "Bonus Feature." That's right, there's just one on-disc supplement and although about a quarter of the DVD's packaging is devoted to advertising it, it runs just six minutes. "The Buddie's Sports Channel" (sic) features the five distinctive puppies: Mudbud, B-Dawg, Buddha, Budderball, and Rosebud. They're briefly on camera to set up the color commentary they provide over football game footage from Golden Receiver. As always, each time a dog speaks, he or she is kind enough to remind us of his/her defining personality trait. There's even some fun with a telestrator; the Buddies apparently are handy with light pens.

I simply can't imagine a scenario where parents would buy a $30 DVD for a six-minute bonus feature and come away satisfied, but I guess we should be grateful that nearly as much creativity has gone into this short piece as a [Blank] Buddies film.

Since I stated that the Buddies' sports report was this DVD's only bonus feature, renters and owners of Golden Receiver's first DVD should know something is amiss. That's right, the immortal "production featurette" of Air Bud 2's initial 2000 DVD has inconceivably not been ported over. Now, I'll be honest. I haven't seen said featurette, so I can't assess the severity of the loss. Most of the customer reviews on Amazon refer to the VHS version and of those that don't, only one mentions the extra, identifying it as "The Original Theatrical Tralier." The only published review I could find describes it as "short." Is the loss a deal breaker? It might be.

As I've already covered what's on the disc and what isn't, you might think I should be wrapping up now. But wait, there's more. Air Bud's Special Edition came with a dog tag necklace adorned "Buddy." Golden Receiver ups the ante with a copper-colored whistle emblazoned "Air Bud." This is no mere dog whistle, either, but a people whistle that you and I can enjoy too. Heck, blow loudly enough and I bet even those with reduced auditory skills might pick something up. I discovered that cats especially notice and enjoy this inclusion, which comes protected in plastic and woven through a hole-punched print of the unbordered and un-Buddified cover artwork.

Like the first movie's Special Edition, this one comes packaged in a cut-out box that's slightly thicker than your average DVD slipcover. Whereas Air Bud had a standard keepcase inside, Golden Receiver opts for a slim case that, if separated from its oversized container, will conserve space and not easily be noticed when displayed on shelves. While there's no reverse artwork to show through the transparent case, there are inserts inside supplying a Disney Movie Rewards code and advertising something called Disney Blu-ray.

FastPlay-enhanced, the disc loads with a promo informing us that Moms like Disney Blu-ray and full trailers for Beauty and the Beast: Diamond Edition and Toy Story 3 (you'll appreciate these some day). From the Sneak Peeks menu, one finds a whole mess of additional ads, for The Princess and the Frog, Ponyo, Disney Movie Rewards, Toy Story & Toy Story 2 on Blu-ray, Tinker Bell and the Great Fairy Rescue, My Friends Tigger & Pooh: Super-Duper Super Sleuths, "Mickey Mouse Clubhouse": Minnie's Bow-tique, Disney Friends for Change, and, with Pixie Hollow imagery, genuine Disney DVDs (not bootlegs).

The animated main menu places a football-heavy montage in a circle that moves around a blue playbook field. Static submenus play different score excerpts.
CLOSING THOUGHTS

Air Bud is a bit better than its low IMDb rating and the lousy current status of its legacy suggest. Air Bud: Golden Receiver isn't awful, but it's definitely inferior to the first film while being a close facsimile of it. Golden Receiver stumbles with poor comedy, football being used for uninspired rehash, and a lack of dramatic poignancy. It's watchable at least.

This Special Edition DVD is a real oddity. On the one hand, it's got to be an improvement over the movie's original DVD and it's nice to knock another movie off the fullscreen-only list. On the other hand, the $30 list price is twice what it should be.

And, no matter how popular the new Buddies movies may be, I can't see this being a disc that really makes money for Disney, who for years has avoided releasing anything but new titles and guaranteed profit-turners. I'm not a marketing wizard, but the lowly Amazon sales rank (currently #10,760) suggests this isn't doing it for many people.

With that said, there are a slew of live-action Disney movies currently stuck with outdated fullscreen DVDs that are worthier of widescreen upgrades with a few basic bonuses. Here are some of them: Honey, I Shrunk the Kids, Heavyweights, Tom and Huck, George of the Jungle, That Darn Cat!, Homeward Bound: The Incredible Journey, White Fang, Wild Hearts Can't Be Broken, Man of the House, Midnight Madness, The Country Bears, The Moon-Spinners and RocketMan. There are easily as many presented in widescreen that stand to benefit from 16:9 enhancement. If the studio wants to bother re-releasing a sequel no one cares about, they might as well revisit movies people like also.