It's December, which means that, as any Disney DVD collector should be able to tell you, it is time for a new wave of Walt Disney Treasures. For the sixth time in as many years, Buena Vista Home Entertainment is issuing a group of two-disc sets which house significant achievements from Walt Disney's nearly half-century career in entertainment that would otherwise largely be absent on DVD. Though this year's crop arrives two weeks later than usual and comes in an unprecedented low print run of 65,000 copies, the premise for the 2001-established line remains largely in place. Thus, the volumes of the subjects (which number four, the first time that has happened in succession) continue to be the animated short subjects and live action television programs produced by Walt Disney's studio under his supervision.

Your Host, Walt Disney turns again to Disney's first regular television series, the weekly hour-long anthology that launched in 1954 under the title "Disneyland." This series was fairly popular from the start and it would prove to be historic and highly enduring too.

It would survive name changes (including "Walt Disney Presents" and "Walt Disney's Wonderful World of Color"), schedule changes (settling on Sunday nights beginning only in the 7th season), and even the death of its host (forty years ago last week).

As one of TV's most fondly-remembered series, "Disneyland" would seem ripe for DVD. But there are challenges to its release, such as the fact that so many episodes are composed of other materials, whether promotional (extended previews of cinema's latest Disney fare) or cost-effective (theatrical shorts recycled to fit the episode's theme). Sensibly enough, many consecutive weeks found the program simply airing live action or animated Disney feature films (that had earlier been in theaters) in two parts. Couple these facts with the reality that under all its auspices, "Disneyland" is one of the medium's longest-running series. Suddenly, the idea of 15-discs-per-season box sets composed largely of inferior presentations (often black and white, sometimes incomplete) of pre-existing cartoons doesn't sound overly appealing. Yet, complete season DVD sets have spoiled us to expect nothing less than everything presented in its entirety.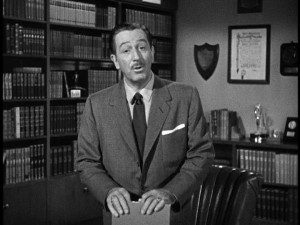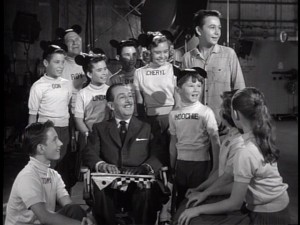 Nevertheless, "Disneyland" has turned up on DVD a number of times, including twice in the Treasures' debut wave. Davy Crockett: The Complete Televised Series presented all six episodes from the anthology program's first hit mini-series. It was followed up last year by Legendary Heroes: Elfego Baca • The Swamp Fox, in which parts of two later series shared a set. Non-Treasures DVDs of Walt-era films -- like Lady and the Tramp, Old Yeller, The Parent Trap, and the recently-debuted True-Life Adventures -- have included either relevant segments or entire episodes from the program. And a couple of things which today we'd classify simply as TV movies (1962's Hans Brinker or the Silver Skates, 1969's My Dog The Thief) had their debut in successive installments of the same weekly anthology series.

Your Host, Walt Disney has less in common with the aforementioned releases that it does with the other Wave 1 title, Disneyland USA, which held three park-related episodes (and one park-related "special") including the premiere of the show that bore its name (and helped fund its development). As its title implies, the episodes which make up Your Host, Walt Disney have been selected for their emphasis on Walt's personal involvement in the program.

There are four full episodes of the anthology series (five, counting an excellent one that's designated as a bonus), as well as "Disneyland '59", a 90-minute special (broadcast live) that was thought to be lost forever. There are also some terrific bonus features scattered across the two discs.

Treasures completists may feel slighted by the repeated inclusion of "Tenth Anniversary Show", which previously turned up on Disneyland USA. However, those who don't already own that 2001 set, which has been largely unattainable in stores for several years now, should appreciate its return. That's especially true for fans of Disney parks, who will unquestionably deem it one of the best things on this set. Similarly, with hundreds and hundreds of episodes to choose from, the bonus episode ("I Captured the King of the Leprechauns") is one of the select few that's already on DVD, via the movie it deals with (1959's Darby O'Gill and the Little People). Its re-appearance is also justified by the fact that, according to Treasures host Leonard Maltin, it is the only one to feature Walt throughout, as an actor of sorts.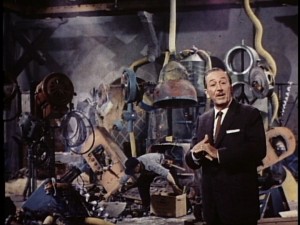 People who want to revisit Walt Disney's landmark anthology program must agree that there's no better time machine than getting the whole thing, promotional/recycled excerpts and all. Gladly, that's how the broadcasts are presented here. As such, not all of them may be uniformly riveting, but most of them (especially the unique parts) are plenty captivating and fascinating to see all these decades later.
PACKAGING
Part of what contributes to the collectability of the Walt Disney Treasures line is its slick presentation. Over the course of the years, minor changes have been implemented to the aesthetics, but nothing has been revised drastically enough to throw off consistency in a big way. This year's tins look almost identical to last year's. Once again, there is no paper wrap-around on the bottom portion of the silver tin and the descriptive paper on back is merely attached with gooey adhesive. Inside the tin, there is a black double Alpha keepcase which holds the discs facing one another. The case includes three inserts. The usual certificate of authenticity features reproductions of signatures by Roy E. Disney and Leonard Maltin and provides you with the copy of your tin (out of just 65,000 produced). The collectible art enclosed is a black and white postcard of a "Disneyland" series publicity photo of Walt, which contains some information on the back. Finally, there is the eight-page booklet with the line's general information, a volume-specific note from Leonard Maltin, and a listing of the Your Host, Walt Disney contents.

DISC 1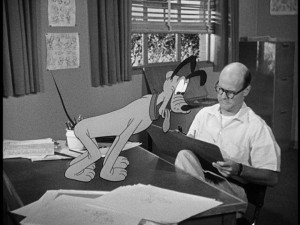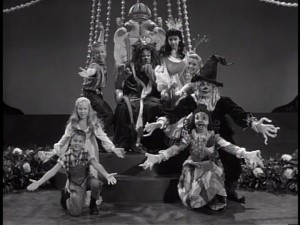 "Where Do the Stories Come From?" (51:48) (Originally aired April 4, 1956)

In this second season episode, Walt addresses the titular question with several dramatizations of Disney story men being inspired. First, Oliver Wallace composes a theme song for Daisy, which yields the short Crazy Over Daisy. Excerpted here, this Gay Nineties romp finds Donald's pursuit of his woman sidetracked by Chip 'n Dale. Next, True-Life Adventures footage of raccoons is revealed to be the inspiration behind the Mickey and Pluto short R'Coon Dawg.

Pluto is "consulted" for his thoughts on the concept for the cartoon, which is subsequently shown. Then, historical events are proven influential with the World War II-set cartoons Donald Gets Drafted (lampooning military physical exams) and Fall Out, Fall In (in which the duck marches himself to madness).

The final and most Walt-centric stretch of the show illustrates how hobbies can motivate Disney cartoonists. The notion seems like an excuse to see footage of miniature trains, a passion that Walt shared with a number of his animators. Unique footage shows Ollie Johnston and Ward Kimball with their model steam engines, as well as Walt's own mini-railroad-riding escapades at home, where he is joined by "guest engineer" Kirk Douglas. This gives way to the hobby-spawned short Out of Scale, which again pits Chip 'n Dale against Donald, this time in the duck's mini train set. The episode ends with a preview for the following week's show, "The Story of the Silly Symphony."

"The Fourth Anniversary Show" (51:58) (Originally aired September 11, 1957)

Actually, this fourth season premiere clearly celebrates the third anniversary of Walt Disney's anthology series. It starts with Walt re-enacting a 1938 meeting with Sergei Prokofiev on the possibility of doing a Peter and the Wolf movie. Prokofiev demonstrates the structure, and after the war had passed, the movie came to fruition (in 1946's Make Mine Music). The Sterling Holloway-narrated cartoon short is shown complete, restored, and in color. Likable though the short may be, its presence here isn't too exciting, but things pick up when the episode returns to black and white.

Before Walt can discuss the Tchaikovsky sequence of Fantasia, the Mouseketeers whisk him away to the "Mickey Mouse Club" set. There, they perform a musical tribute to "Disneyland"'s special anniversary. Then, Fess Parker turns up to introduce forthcoming anthology subject "The Saga of Andy Burnett" and its star Jerome Courtland. Next, in response to Moochie's pleas, Zorro (Guy Williams) shows up and his new series is previewed. Finally, the Mouseketeers give Walt a present: a shooting script for The Rainbow Road to Oz. Because he owns the rights, they pitch him the idea of them doing a movie of the Oz stories instead of the cartoon version he claims to be planning. To sell him on the idea, they perform a few songs in costume as Scarecrow, Patchwork Girl, Ozma, the Cowardly Lion, and Dorothy. Nothing ever became of this apparently legitimate project, which makes all the more interesting an oddity. The episode ends with a preview for "American Folklore", composed of existing Disney shorts like Johnny Appleseed and Casey at the Bat.
"Kodak Presents Disneyland '59" (1:29:25) (Originally aired June 16, 1959)

In theory, it's very nifty to discover this live special that was thought to be lost forever. In viewing, there isn't quite so much entertainment value, but pretend you're spending a June afternoon in 1959 watching this Art Linkletter-hosted program and you can appreciate it more. After a brief reflection on the realization of a dream that was the building of Disneyland, the program kicks off with a parade through Main Street USA, in which Walt and his grandchildren are briefly seen. Well before It's a Small World and EPCOT, the only Disney park of the time shows its interest in similar subject matter with a host of cultural acts: Japanese geishas, Mexican riders, Chinese dragons, and so on. Like a typical parade, it is a little slow, repetitive, and not overly exciting from a televised distance.

Things only improve slightly with the arrival of familiar faces, as most whiz by much too fast and not up close enough to be recognized or even noticed (like the unmentioned Shaggy Dog car). Plenty a name is dropped, however, and among those announced or glimpsed at are the cast of "Lassie", Dennis Hopper, Clint Eastwood, Zorro (Guy Williams), Golden Horseshoe Revue performer Wally Boag, veteran Disney child actor Tommy Kirk, and Disney characters like Mickey Mouse. Those who have marveled at the impressive cast list that exists on IMDb for this special may be disappointed by how few actually register. Each land of the park (then totaling just four) gets its own treatment in the parade.

The main reason for this 90-minute special's creation seems to be the introduction and dedication of three new park attractions: Submarine Voyage (an underwater ride in a ship based on

20,000 Leagues Under the Sea's Nautilus), the Disneyland Monorail, and the Matterhorn Bobsleds roller coaster. Each is celebrated at length: Voyage, with footage from a ride-through, the monorail with then-Vice President Richard Nixon speaking (Tricky Dick's daughters can't successfully cut the ribbon), and the Matterhorn with drawn-out Swiss-style dancing. The ceremony ends with some daytime fireworks.

As you might expect from the title, there are Kodak ads seamlessly sprinkled throughout the program. Ironically, these are in better quality than the rest of the show (as explained by Maltin in his intro) and do provide nostalgic entertainment, as everyone from Linkletter to Ozzie and Harriet sing the praises of Kodak cameras. Similarly, contemporary ABC programs like "Ozzie", "Rifleman", and "Bold Journey" get mentioned and/or promoted. Though you don't get to see too much of Walt, this seems as good a place as any for this special to turn up.

Buy Your Host, Walt Disney from Amazon.com

NEXT >>
ONTO PAGE TWO