By Kelvin Cedeno

You probably don't know his name, but you're certainly familiar with his work. He has developed such Disney theme park attractions as Splash Mountain, Big Thunder Mountain Railroad, Star Tours, and Indiana Jones Adventure. He's also responsible for the 1982 overhaul of Fantasyland and the creation of Disneyland Paris. Today, he is the Senior Vice President of Creative Development for Walt Disney Imagineering. His name is Tony Baxter.

A native of California, Baxter grew up as an avid fan of all things Disney, particularly Disneyland. His first job with the company was as an ice cream scooper there, the start of many positions he'd hold at the park.

These jobs would help him as he continued his schooling at California State University in pursuit of a career in theater design. While his major wouldn't take him quite in the direction he perhaps intended, it certainly took him beyond it.

A portfolio of his attraction designs and concepts was seen by Disneyland management and impressed them enough to bring him onboard with WED Enterprises. As WED changed into the Walt Disney Imagineering we know today, Baxter accelerated in rank. In 1989, 24 years after his ice cream shop days, he became the Senior Vice President of Walt Disney Imagineering, and his first action was to propel Euro Disney forward (now called Disneyland Paris). Recently, he has been busy creating the Finding Nemo Submarine Voyage at Disneyland, giving Disney's California Adventure a complete makeover, and participating in a special new Walt Disney Treasures DVD devoted to Disneyland.

Available today, this two-disc set entitled Disneyland: Secrets, Stories & Magic has been heavily anticipated since it was first scheduled to coincide with the park's 50th Anniversary in July 2005. Tony Baxter participated on the DVD as an interview subject for the central documentary and in audio commentaries on the vintage CinemaScope film Disneyland U.S.A. and a recently-unearthed collection of Disneyland construction footage. He took time last week to speak with UltimateDisney.com about this elaborate new DVD and about Disney Parks in general.
---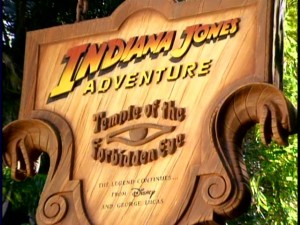 UltimateDisney.com: What is your most fondly-remembered Disney park experience?

Tony Baxter: Oh my gosh, there's a million as a guest and then as an employee. I remember riding Peter Pan['s Flight] when I was seven and being blown away [by] how they accomplished the different track heights, like how it rolled off one and floated down to the lower ones below. Totally amazed by that. It was gratifying to find that [author] Ray Bradbury was likewise moved by the Peter Pan attraction later in life. As a Disneyland employee, working on the Indiana Jones Adventure would be the big high point.

If you were a part of the Disneyland Team back in 1954/1955, what project would you have wanted to work on the most?

Oh, it would've either been the Peter Pan ride, Mr. Toad, or possibly the Jungle Cruise. I think I would go with the dark rides because they took me to a world I never even dreamed of, getting to go on these rides and that whole idea of a simulated environment. The black light was like a miracle of knowledge to a 7-year-old. I saved up all my money when I was 13 and bought a black light at Disneyland's Mineral Hall exhibit.

And all I could think of that whole day, as I carried it around with me from the park opening till I went home at the park closing, was how I was going to color my whole bedroom. (laughs) That was before it was psychedelic; it was just magic. It wasn't something that was overused.

What would you say has the been the most challenging attraction for you to work on overall?

Well, probably the Finding Nemo Submarine Voyage most recently, because the submarines offered a unique challenge. We wanted to tell a little more concise story. The old ride just said, "And now we're in a coral reef. Now we're in Atlantis." This one, you're actually dialoguing with characters that are onboard, and there are 20 different windows, meaning that everybody along that route could see a different picture at a different time. Figuring out a technical way to synchronize what was going on in the show with what you're hearing onboard and making it all make sense no matter where you sit was more than any of us realized when we got into it. We developed a simulator that could simulate any seat along that ride in order to test what we were getting from Pixar, where they would do something to look perfect for seat five, but then you move it on down to seat twenty, and it was a problem. It was a brainbender working that out, but it was something you don't plan out when you're starting. You find out the problems as you go.
What is the target when inventing a new ride? Obviously, Disneyland draws a mix of people of all ages - is there a magic demographic that winning over ensures an attraction will be popular?

Well, you look for something like on Finding Nemo that sets a broad demographic of people that remember and enjoyed the submarine ride who could hardly wait to see it come back, and then a younger generation who grew up with the Finding Nemo story and are excited to be coming to Disneyland to see Nemo and his friends. So, that's the ideal, but occasionally, if we're doing a thrill ride, then we target market to a demographic that would be up for that. So like with the Indiana Jones Adventure, it's clearly targeted to an older audience, the people who grew up with Indy. If you think about being 12 from 1981 till about 1989, our target audience on Indy as they grow up they love to reconnect with characters that were a part of their childhood.

How much will The Little Mermaid dark ride at Disney's California Adventure resemble the virtual ride on its DVD?

Well, it isn't finalized yet, but you get a different approach,

because what we were [originally] doing was in a totally themed environment where Little Mermaid would be at home in Fantasyland the way the rest of our rides function there. Whereas this will be over in a park about how things are made, so it might have a different angle on the whole way in which you enter into the experience. It won't be coming off of an area that is distinctly Little Mermaid. Not much has been designed on that, at any event in this point, so it's sort of still subject to a lot of change.

How involved were you with the creation of the Disneyland: Secrets, Stories & Magic DVD? I know you provide a commentaries and are interviewed in the main documentary. Did you have any say on what other features would be included on the disc?

Bob Garner put together the main feature on that. He got together the people here at Imagineering, all the big roles and little roles involved in the development of Disneyland. I talked to Leonard [Maltin] about the magic of Disneyland U.S.A. when he did the first tin for the Walt Disney Treasures. It was called "Disneyland USA", and he didn't know anything about the actual feature called Disneyland U.S.A.. Once I got him to look at that, then he agreed that it should be included here. I use that film as part of an orientation for employees. It's so great to look back at the innocence and some of the things that were very valid in the '50s.

On this disc, you can see the way Disneyland was born and the audience it played against. It helps us think, "What do we need to continue as part of our legacy, and what things are that we have to grow on to keep relevant to a much more sophisticated audience?" I'm really proud that's in there, because it really does showcase a very special place and time in America where Disney had a huge impact on changing the way people think about things in both the park, obviously, and the popular myths that were embedded into it.

Then Ed Hobelman came to me with all that construction footage and said, "Would you be interested in looking at some of these amazing things we've found in the B-roll footage?" So that bonus material, we're really excited we got a little bit of that in there. In some ways, it's one of my favorite parts on the disc. It's so candid and so unplanned that it surprised people with not so much the innocent side but the "How did they do it?" angle. So I'm really proud of those two in particular.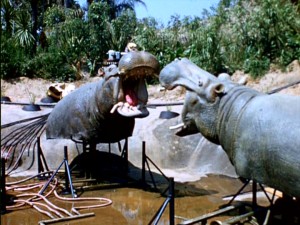 I found both those features fascinating and noticed that the Disneyland U.S.A. featurette seemed to be restored. The image quality was beautiful.

They went back and did completely everything they could to take that original negative. In some places, they didn't actually have the original negative, so they had to go find quality Technicolor prints that remained in existence, but most of it's the negative. There was a group that was really responsible for creating that unbelievable [Dolby Digital 5.1] stereo track that's on there, which you can listen to as a separate music-only track. It is equally amazing to hear that incredible score separate from that narration.

Now, the documentary was supposed to coincide with Disneyland's 50th Anniversary. How has it been updated in the past two years, if at all?

There's a new piece

with [Disney CEO] Bob Iger and [Disney Parks chairman] Jay Rasulo in which they discuss the whole Parks and Resorts additions now that were not there at that time.

And now our final question is one every Disney fan should be asked: What is your personal favorite Disney film?

Sleeping Beauty, and not just because it's the first one coming out on Blu-ray (laughs). We're going to have some fun with that. I hope that Imagineering will be involved a little with the DVD on that because, for me, it truly is the most beautiful Disney film that's ever been done. To see it restored the way the studio is doing it now is just an amazing thing. What you're going to hear and see on this upcoming version is just awesome. I think it will be the tipping point on the Blu-ray issue. I don't know if you've heard, but Walt Disney Home Entertainment in Tokyo has released a Blu-ray that has pieces from a university art collection over there. Some of that art from Sleeping Beauty has been restored on Blu-ray extraordinarily, and it gives you a hint as to what it's going to look like.

Well, I know you're a very busy man, Tony, so thanks for taking the time to speak with us here at UltimateDisney.com.

It's my pleasure, and keep up the great work. It's a great site.