By U.D. Luke
As someone who has seen and enjoyed hundreds of Disney films over the years but never once stepped foot in a Disney theme park, I decided this summer's celebration of Disneyland Resort's 50th Anniversary was as good a time as any to finally cross over to the side of experience and discover firsthand the part of Disney magic that I had only read about and shrugged off my life thus far. So, on July 12th, I took off for John Wayne Airport with my destination being the so-called "Happiest Celebration on Earth."
Many weeks have passed since I returned and a full slate of Disney DVD releases and news have done a fine job of occupying my time. Now, five months and two thousand miles removed from that perfectly clear Anaheim weather and those sunny mid-summer days, I have finally finished putting down the thoughts I've been effortlessly holding in my head. What follows is a mixture of things -- part travelogue, part park review, part guide, part news coverage of the 50th Anniversary -- none of it is exactly groundbreaking and it may largely be "old news" for you Disneyland veterans. But I hope this long-time Disney fan and first-time park visitor's account of the sights, sounds, and sensations produced by both Disneyland and Disney's California Adventure offers you something unique and insightful.
The recollections of my Disneyland trip inevitably evolve into a review of Walt Disney Records' lavish six-CD box set A Musical History of Disneyland, which is as comprehensive and definitive a soundtrack for the 50-year-old theme park as has ever been released. You're free to skip ahead (or for the time being, just wait) if all you're interested in is a critique of this music collection, but I do hope you'll first take the time to virtually journey back with me to Disneyland with some words, pictures, and the occasional tip to making the most of your visit especially on a tight budget like mine.
One of the biggest downsides to "naming your own price" at the discount travel site
Priceline.com is that you do not get to specify what time your flights will be. As luck would have it, though, the site at least assured me I would be traveling to the Santa Ana airport (the commercial port closest to Disneyland) and with only one transfer. The itinerary was one of those funny ones, where you go East to go West. Needless to say, there would be no Disneyland on the first day, since the flight did not land until after 10 P.M. Pacific time. A 15-minute, $40 cab ride later, and the hotel was revealed: the Anaheim Holiday Inn "At the Park." I put that in quotes because it was a solid half-mile walk to Disneyland from the hotel and no complimentary shuttle was offered. Nonetheless, the 5-story building was close enough to the park to see the Matterhorn rise towards the heavens and to experience the nightly fireworks show light up the sky (complete with the unsettling "boom"s that are drowned out by music at the park). It was only a two-star, but for $58 a night (also arranged through Priceline), I wouldn't complain. There was a heated pool and hot tub open 24 hours a day, free Disney Channel and HBO, a daily copy of the Los Angeles Times, and risqué pay-per-view titles available. Even walking home in the dark after a long day filled with "park hopping" was bearable.
For those who have never been to a Disney theme park (a class to which I am glad to no longer belong), Disneyland is divided into a series of "lands" - Main Street, U.S.A., Fantasyland, Tomorrowland, Frontierland, New Orleans Square, Adventureland, Mickey's Toontown, and Critter Country. Though you'll likely begin your visit at Main Street, U.S.A., where you go next is up to you, as you can choose from four diverse adjoining lands and the rest beyond those. As Disneyland can be enjoyed in a number of orderly and disorderly fashions, I've decided to divide my report by land in one possible manner more or less the way I enjoyed it on my first day.
Wednesday morning, July 13th, was the real launch of this "vacation." Having adjusted to a new time zone, I was more or less rearin' to go in expectation of the park's 8 AM opening time. I had in my wallet a 5-Day Park Hopper ticket featuring some retro promo art for the now-extinct Rocket Jets attraction. But I wasn't quite ready - this was my first time at Disneyland! A hash brown and OJ from the McDonald's across the street from the park's main entrance and I was now all set. It turned out plenty of others were too, but the admission lines moved quickly.
Having heard that Fantasyland gets mobbed in a jiffy, this was the first stop. My very first Disneyland ride was Peter Pan's Flight, an extremely brief, star-filled jaunt on an "airborne" boat. This was typical of many of the attractions in Fantasyland. Several dark rides move you in a vehicle through scenery

taken from Disney's earliest animated films. These include Snow White's Scary Adventures, Pinocchio's Daring Journey, plus the slightly more memorable Alice in Wonderland and Mr. Toad's Wild Ride. One wishes these short trips allowed you more time to admire the impressive images and small touches that go into each set, but that would make the long lines which form in the summer even longer and perhaps make the rides seem a bit less brimming with magic. As they are, people seem to enjoy them just fine and the mostly docile and kid-friendly nature of them (combined with their central location) has made these dark rides Disneyland mainstays over the years; most are 1955 originals or now in their late 40s. Also found in Fantasyland are simple but fun attractions that have remained iconic park staples like the spinning teacups of the Mad Tea Party, the altitude-changing merry-go-round of Dumbo the Flying Elephant, the Casey Jr. Circus Train which acts as it does in Dumbo, and the King Arthur Carrousel which continuously emits organ instrumentals of Disney film songs new and old.

One Fantasyland ride does allow you time to soak in the atmosphere: the masterfully-designed "it's a small world", a leisurely boat trip "around the globe" in which animatronic children from all the ends of the Earth use English and their native tongues to sing to the unforgettable title song (penned by Disney's go-to songwriters Richard and Robert Sherman) and illustrate how despite their different ways of life, they have much in common. It's a heartfelt sentiment that could so easily come across as trite or sappy if it were shorter or less subtle, but this 39-year-old is not guilty of any of those charges. Those seeking thrills would want to stay away, but it was one of my favorites in this part of the park. I admire the calm and world-affirming nature of it, plus that lengthy tune will always hold a special place in my heart as the song my class learned for preschool graduation so many years ago.

For a less marvelous but similar experience, there are the Storybook Land Canal Boats, which tour the houses of Disney characters with narration from a human "cast member" guide. Lines can make this quite a wait during the day, but it's a nice, serene way to end your night at the park. I was far less impressed with the famed Matterhorn Bobsleds, which bring you close to the alluring 1/64th-scale replica of the Swiss mountain, but only to straddle your company (in a not particularly comfortable way for the long-legged) and whiz past any scenery without really knowing what's going on. It's a quick descent, surprisingly thrilling for a 1959 creation, but not very well-themed or invigorating in a pleasant way. Fantasyland also houses the live stage show "Snow White - An Enchanting Musical", an elaborate production but probably the most underwhelming of the shows I caught.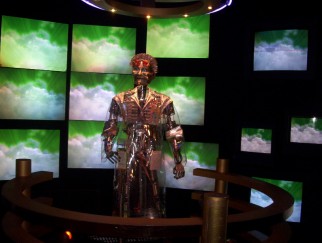 Tomorrowland proved to be perhaps my favorite part of Disneyland. Providing a look towards the future makes this land frequently ripe for revision, but some of my favorite attractions have seen more years than many park visitors. The video simulation ride Star Tours adapted from George Lucas's Star Wars films was a blast (no pun intended) on several occasions, even if that pilot doesn't ever come up with any new excuses. Innoventions, a long-running and constantly-updated spinning place of new and interesting technologies, offered several hours of entertainment. While the masses would flock to the center for "cool video games" like "Virtual Magic Kingdom" at the first possible chance, I was more amused by the human demonstrations of innovative products like the Segue and the robotic dog. I only wish more of the presentations were given, as there were a few (including an intriguing-looking Disney trivia contest) I didn't get to see despite plenty of hopeful waiting. I also got shut out of Asimov and voted against waiting to "talk to Stitch." The intimidating lines for the Astro Orbitor (with no alternative) also made this one of the few park attractions I did not catch.
However, I did get to eat at Club Buzz, and while there, I did get to take a picture with Buzz. And if that wasn't enough, Disneyland was a-buzz with the opening of a new attraction inspired by the intergalactic space ranger. Buzz Lightyear Astro Blasters, a dark ride in which you spin around shooting targets against your company, was great fun. While it doesn't last too long, I still opted for FastPass to beat the modest lines and enjoy multiple returns. I thought it was pretty cool that they offer to e-mail you an in-ride picture (for free, surprisingly), though the intensity of the ride resulted in my two souvenir JPEGs looking nearly identical. Also new and exciting for regular park visitors was the return of Space Mountain on July 15th, after nearly two years of refurbishment. I wasn't really sure what was going on in this dark and wild roller coaster ride, which I feared, but the new soundtrack makes it not unlike an invigorating intergalactic run by Dash Parr of The Incredibles (with good reason, more on that later). Perhaps a second trip (which I did not make) would be more enjoyable.
Honey, I Shrunk the Audience became my introduction to the world of Disney park movies in 3-D, or 4-D as they are sometimes aptly labeled. Though the experience takes a few minutes for your eyes to get acquainted to, it proves to be invigorating and lots of fun. I must admit that fear of unexpected things figures considerably into the fun of a first-time viewing, but even on a return occasion, I found this to be about as much fun as you can have simply sitting down for a few minutes without really moving anywhere. Honey isn't my favorite 3-D movie at Disneyland, but I'll always remember it as my first and I'd be quite saddened if rumors of its demise are true. An attraction for which there are no talks to get rid of despite being around since the grand opening, is Autopia, a tame but highly enjoyable jaunt in a little car which you drive. A shortage of leg room almost dampened this race track's amusement, but not quite. It seems to be one of the longer rides too, which may account for the fact that there was a bit of a wait, even on the FastPass line. Lastly, it's worth mentioning Tomorrowland also houses "Starcade", which is basically a video game arcade. If that's your thing, cool, but I was much more interested by the unique (and free) attractions that this land provided.
With its old-fashioned, close-to-nature settings, the theming of Frontierland didn't excite me as much as other lands, but it too offered a good time and a welcome change of pace. Aside from Big Thunder Mountain Railroad, my first of the mountain roller coasters, most of the attractions here are somewhat low-key and presumably not all that different from they were many years ago. Surrounded by more promising rides offered for free, I could not bring myself to pay for the Frontierland Shootin' Exposition. I did, however, make sure to check out Tom Sawyer Island. Anyone who doubts the thrills of this area has never tried squeezing themselves into

the tiny caves here with a stature like mine. Such an act instilled some claustrophobia in me and it didn't help that the family in front apparently were camping out inside. As was pointed out to me, people on average were smaller than me back in 1955. So are kids nowadays, I suppose. Hanging out around the stage where Mickey showcases his impressive command of pyrotechnics nightly was less dangerous and more satisfying.

There are three ways to sail the Rivers of America, the man-made waterway which dominates the left side of the park, and each provided calm leisure: The Mark Twain Riverboat is equipped with a good old-fashioned soundtrack that lets the Southern author ramble, The Sailing Ship Columbia takes you on a mostly laid-back tour of the audio-animatronic sights, and the rafts to Tom Sawyer Island bring you closer to the water and take away a touch of your sense of security. These are not the types of things where arms wave and lungs are tested, but they're recommended for tired-out tots and those who just need a short breather. That leaves just two more stops in Frontierland. I did not get a chance to see a show at The Golden Horseshoe Stage, but I did hear pieces of some while at the nearby Little Patch of Heaven Petting Farm. Weakly boasting a Home on the Range theme, this was pretty clearly the loneliest place in Disneyland. But hey, I like a good petting zoo. The multitude of goats and shortage of crowds wooed me more than the Home on the Range coloring pages inside. Plus, sure, it felt like some unpopular local attraction rather than Disney magic. Nonetheless, I did enjoy this tiny animal haven enough to stop by more than once. Alas, it closed in September and will likely not be returning in the same form.

Nearby Frontierland is New Orleans Square, one of the domains I was most eager to experience. There are only three attractions unique to this section, which as the name implies, resembles the bustling, jazz-fueled street life of the Louisiana city. But two of these are Disneyland staples, popular enough to inspire a mixed pair of live action film adaptations within a few months of each other. They are Pirates of the Caribbean and Haunted Mansion and I must agree that they are among the finest rides the park has to offer. Remarkably, they also have some of the shorter (or at least quicker-moving) lines around. I didn't quite have the ideal Haunted Mansion experience. Twice, I missed part of the opening announcement and on my first visit, I had the elevator intro drowned out by some veterans who clearly enjoyed saying everything that the recording says. Still, if not quite up to my expectations, it delivered good fun, which seemed to increase with return visits and a better understanding of what was going on. And gosh does that catchy song stay in your head. I must say I was surprised by the lack of a Wallace Shawn animatronic.

By a considerable amount, my preferred of the two was Pirates of the Caribbean, quite possibly my favorite of all Disneyland rides. Its greatest appeal lies in the detailed environment that engulfs you -- unscrupulous pirates living and dead -- and for once, you are given enough time to appreciate all that went into the settings. As a result, it's one of the longer rides in the park, which explains the thankfully fast line and the logical absence of FastPass even on the busiest day of the year. But it's not too long and it's not too short. It's certainly not too thrill-y and it's far from dull. You see it's tough to find any fault with Pirates or even explain to someone who has not been through it what makes it fun. In short, the magic found here is as pure as walking into a place and time you never would be able to otherwise. While little directly correlates to the 2003 movie (at least for now), I'm glad that one of Disney's most popular live action films ever is tied to this, for it ensures that no one will be forgetting the ride anytime soon, if that were somehow possible.

The only other non-food stop in New Orleans Square is The Disney Gallery, which holds artwork from creative stages of designing the park and animated Disney features. While the tables outdoors are as good a place as any in the park to make a cell phone call, I just don't see The Disney Gallery becoming a big screen adventure the way its neighbors have. So much for a New Orleans Square Trilogy. Oh, and before we move on, this part of the park also holds the fabled Club 33 restaurant, which is open to the public just about never. The nondescript door with a 33 that stands next to various shops actually leads into a lavish club where Walt and his important guests would dine. Now, it is only open to an elite group of people paying thousands of dollars in annual membership fees. Let me go on the record as saying it was at first intriguing but ultimately disheartening to discover the nature of this place. In my opinion, it's very distasteful for all involved. If you have thousands of dollars to spend on this, you should probably go feed a hungry country. That said, I wouldn't mind sitting in the telephone booth from The Happiest Millionaire that's reportedly there, if Disney were to an extend an invitation my way. For free, of course.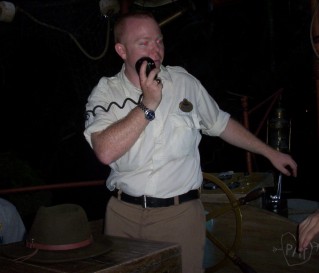 Adventureland holds the Enchanted Tiki Room, which any self-respecting Disney parks buff can tell you was the first audio-animatronic attraction when it opened in 1963. This show of singing birds and flowers is undoubtedly dated, but retains enough charm to ensure that its removal would be sacrilege. I'd be interested in seeing the reworked "Under New Management" version at Disney World (which features Aladdin's Iago and The Lion King's Zazu), but in its original form, the show offers pleasantly cool refuge from the summer heat.
This section is also home to the far more exciting Indiana Jones Adventure, which like Star Tours, throws you into an original experience inspired by a George Lucas-produced trilogy. This may be the most thrilling of all Disneyland rides, with its sharp turns, authentic fireballs, seemingly unstable terrain, and terribly threatening rolling boulder climax. Accordingly, to get strapped in for this riveting jeep ride, you'll need to brave lines that during their peak easily climb above an hour; it's rides like this that FastPass is most appreciated.
It took several attempts to see "Aladdin & Jasmine's StoryTale Adventures", which made the discoveries of the show's low-key nature and modest attendance quite surprising having previously seen Disney's California Adventure's popular and elaborate stage production. This show, hosted by a goofy man named Kazoo, tells Aladdin and Jasmine's story with some audience interaction and human charm. It's more kid-oriented than most of the other shows, but it no doubt provides entertainment, particularly when children from the small crowd become part of the show.
Rounding out the area are the Tarzan Treehouse and Jungle Cruise. The treehouse does not amount to much more than a walk up and down several flights of stairs; there are interesting sights from the 1999 animated blockbuster to take in, but I have no doubt the theming was more effective and admirable when it was the Swiss Family Robinson Treehouse. On the other hand, Jungle Cruise is a highlight of the park. This completely fake but entirely enjoyable boat ride takes you through a river and surrounding banks inhabited by tigers, crocodiles, hippopotamuses and more. The level of entertainment the trip provides is determined primarily by the charisma and comic timing of your assigned guide. Either way, you're treated to knowingly cheesy jokes, but with a savvy skipper (aware of the humor's nature), they can entertain you greatly, while one who holds the microphone too close to his/her mouth and doesn't deliver the lines in a memorable way will have your only merriment provided by the inspired and fairly realistic audio-animatronic figures.
Thanks to its somewhat out-of-the-way location, Mickey's Toontown was the land where I spent the least amount of time. I can't say I felt too cheated because there's not too much here designed for one who can't label him/herself a "kid" without specifying "at heart." Goofy's Bounce House has the narrowest demographic of any attraction, only permitting those who are both over 3 years old and under 4'4" in height. Gadget's Go Coaster (inspired by the late '80s/early '90s cartoon series "Chip 'n Dale Rescue Rangers") was deemed not worth the wait. Donald's Boat and the Chip 'n Dale Treehouse offer brisk walkthroughs that make more of an impression on the youngest of park guests. That left the abodes of Mickey and Minnie Mouse, of which I only got to visit and admire the former. There, I was able to take my picture with its owner (abundant character meetings and photo opportunities are among Toontown's most appealing features) and I did so,

though the Park employees seemed underwhelmed by my party's enthusiasm at this notion. The last and most noteworthy attraction of this area is Roger Rabbit's Car Toon Spin. This twisty dark ride takes you through scenery taken from the 1988 Touchstone film Who Framed Roger Rabbit (the box office success of which made the Mouse quickly embrace associations with the Disney name) and you get to control the direction you face. There are also Roger Rabbit-themed sights outside the ride, such as a rubber dumbbell and boxes of gags.

At another corner of Disneyland is Critter Country, which doesn't offer too much. Though they would seem more relevant to Frontierland, Disney considers Davy Crockett's Explorer Canoes part of this area, probably only to bring it up to an even three non-food stops. Its absent namesake aside, this is merely a canoe ride in which you and your fellow guests use oars to move your boat around the Rivers of America. The inevitably sweaty, tan-clad workers in front and back seem to do a majority of the work and the one in front has to be entertaining as well, making you hope he's (it usually is a male) not as underpaid as you fear. This is about as active a ride as Disneyland offers (from the limited operating times and short lines, one gathers that many Disneyland visitors prefer passivity) and even if you wind up on a boat of inept paddlers (as I did, enabling me to fit in), it's a good (but slightly wet) time.

The other two attractions of this domain are the more typical and celebrated Splash Mountain and The Many Adventures of Winnie the Pooh. The former requires one of the lengthiest waits of the park, which even FastPass doesn't entirely avoid. The prospect of the legendary 52-foot plunge had my stomach in enough knots to diminish some of the simple pleasures evoked by the Song of the South-inspired animatronic musical scenes. It's quite curious that a movie deemed too controversial to be released to home video can nevertheless be mined for one of Disney's best-known rides. Now having experienced Splash Mountain, I look forward to a return trip to enjoy it without my nerves on edge and without rowdy teens in the front of the boat. It sounds like I'd fare even better with the apparently enhanced design of Disney World's version of the ride. The same might be said of The Many Adventures of Winnie the Pooh, a dark ride which takes you through the Hundred Acre Wood journeys witnessed in the segmented 1977 film of the same name. Being one of my absolute favorite Disney movies in spite of the subsequent, arguably excessive commercialization of the subject matter, this was among my most anticipated Disneyland stops even with the understanding that, like most Pooh things, it would be kiddie-oriented. I can't say I was too disappointed. Although there was unfortunately no bouncing along with Tigger as I was told to expect, there was a great soundtrack, bright visuals, and a slow enough pace to verily enjoy both.
Each night over the summer, Disneyland guests were treated to two spectacular shows, although catching both was somewhat of a challenge. "Fantasmic!" brings to life the Rivers of America with the music and characters of Disney's most memorable animated films. This show tells a flimsy story about Mickey Mouse's imagination running wild, leaving the everyman protagonist to deal with the evil Maleficent, Snow White's Wicked Queen and more. Really, it's about that plot as much as My Dinner with Andre is about food. Fireworks and fireballs explode, memorable scenes from Disney films are projected onto the river's mist (accompanied by key dialogue and of course, relevant musical selections), and boats move by holding live performers depicting a trio of royal couples, neon Jungle Book-inspired monkeys, the swashbuckling Peter Pan and Captain Hook, and more. It all ends with a magical conclusion and lots of cool sights and sounds. "Fantasmic!" has been around for thirteen years now, but from the crowds that gather around the site, you'd think it was a brand new show. The crowds and the related facts that you have to stand and struggle to find a really good spot are about the only drawbacks to this nightly enchantment, and all of these are apparently addressed at Disney World, where the show takes place in an amphitheatre.
Back in front of Fantasyland, in between the two nightly showings of Fantasmic!, visitors could take in "Remember...Dreams Come True", a dazzling fireworks show introduced for the park's 50th anniversary. This show is really like no other display of pyrotechnics you may have experienced. Part of it reflects upon famous wishes and dreams uttered by Disney protagonists, but a more substantial amount of the 17 minutes runtime pay homage to the park itself. Featuring overenunciated narration by anniversary "ambassador" Julie Andrews, the show cycles through attractions past and present that have made the Anaheim park what it is. Each attraction or "land" is treated to relevant soundbytes and musical cues as well as a uniquely-choreographed firework tribute. For Pirates of the Caribbean, the sky above is lit up with what appears to be cannonballs hurled from opposing boats. For Star Tours, lasers and blasts that one cannot help but associate with George Lucas's space saga somehow surround you. And so on. You'd have to look long and hard for a Fourth of July show to compete with the wizardry on display here. This special anniversary show is clearly tailored to the Disneyland buff, but all it took was a few busy days around the park for me to be completely acclimated and in awe of this one-of-a-kind yet regularly scheduled experience. Neither the pushy lightsaber-wielding "cast members" nor the resulting fire that made Fantasyland off-limits on my final night could register as detracting from this must-see presentation.
Once the park attractions closed, there was still an hour for checking out the shops, which naturally brought major crowds to the Main Street U.S.A. area. It doesn't take more than a day of conscious browsing to realize that most of the Disney stores are selling the same merchandise. There are a few exceptions and it's not nearly as limited in appeal or offerings as the Disney Store of today is, but mostly, the shops seem strategically placed for you to part with your money and make the seemingly amazing admission price less of a steal for you. Nonetheless, there is plenty of cool park-exclusive merchandise available for an immodest price.

During its hours of operation, Main Street U.S.A. also holds some neat

stops and transportation options. You can check out the area by horse-drawn streetcar, omnibus, or the Disneyland Railroad. The Main Street Cinema continuously plays a number of black and white Mickey Mouse shorts including the most notable (Steamboat Willie) on six different screens. This 1955 original is fairly simplistic by today's standards, but no matter how big crowds got for fireworks and such, this was a nice empty place to hang out. Finally, there is a new exclusive movie, Disneyland: The First 50 Magical Years, a humorous retrospective hosted by former Magic Shop employee Steve Martin. A welcome departure from the promotional DVDs that Disney will send you for free and sells in its shops, this 20-minute short pays tribute to the Disneyland of yesteryear in a way that doesn't seem old hat in spite of the similar thinking marking the celebrations around it. Even the pre-screening moments offered a good time, as you could browse concept art and models from Disneyland's planning and hear a mustachioed man belt out "fun facts."

One final thing worth mentioning in Disneyland is Walt Disney's Parade of Dreams, conducted around Fantasyland and Main Street U.S.A. twice daily, in the mid-afternoon and early pre-darkness evening. I was skeptical that watching underpaid employees dressed up as Disney characters and merely dancing and waving would be something I could classify as fun. Having witnessed it a few times, I'm still not converted, but it's the type of experience you can only get at a Disney park and is certainly worth checking out once. As Disney park veterans know, parades entail float after float with synchronized music and scenes for each stop along the route. This one provided characters from most of Disney's animated milestones and relied heavily upon "Welcome", one of the better songs from Brother Bear.

Read on...

Part 2: Disney's California Adventure, The Golden Anniversary Day, A Trip to Hollywood
Part 3: A Musical History of Disneyland (6-CD set) Review