Review by Jason Seiver
"It has that thing - the imagination, and the feeling
of happy excitement - I knew when I was a kid."
-Walt Disney (on Disneyland)
When I was 2 years of age, I took my first trip to Disneyland. Since that time, it became a yearly tradition to visit that place, leading to my current status as annual passholder and regular attendee. So I guess it can be said that I grew up with Disneyland. In fact, when someone mentions the name to me, I think of a place where I can go to forget all of my worries, all of my cares. Although its cliché to use the word "magical", it's the only one I can think of to try and sum up my feelings. It's an incredibly special part of my life that is the source of so many memorable times, and I know many feel the same.
Aside from anyone's feelings about the park, it can't be denied that it is an important piece of American history and culture. It was revolutionary and first-of-its-kind in so many ways that simply calling it a "theme park" seems like an understatement. It was also a very important and personal piece of Walt's life. With this in mind, it completely deserves a historical and nostalgic study exclusively for itself.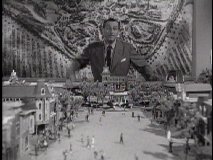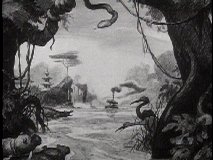 That is exactly what an edition of the Walt Disney Treasures line of DVDs, "Disneyland U.S.A.", gives us. A compilation by film historian Leonard Maltin of four episodes from the Disneyland TV anthology series, this 2-disc set offers a glimpse into the past and a look at the groundbreaking work done by Walt and his "Imagineers" in the early years of the park. Though a lot of the material is staged, forsaking realism for showmanship, it remains entertaining and educational.

Released among the first wave of Walt Disney Treasures on December 4, 2001, only 150,000 copies of "Disneyland USA" were produced. Each DVD comes in a collectable,

individually-numbered tin with a cardboard band that wraps around it featuring reproductions of Roy Disney's and Leonard Maltin's signatures. Once the band is removed and tin is unsealed, a black Alpha case (double the thickness of the standard amaray cases) is unveiled that holds both discs. Inside, there is a 6-page insert with a tribute to Walt Disney, a note from Maltin, and a layout of the discs' supplements. In addition, a postcard-sized lithograph replicates the original poster artwork for the Autopia ride.

During late 2003, "Disneyland USA" was also found in the Ultimate Disney Treasure Chest - a box set of all 7 Treasures thus far released, exclusively available at Costco. Like all the Treasure sets in this box, the Disneyland DVD was without the collectible tin and the lithograph. Aside from this, the insert and the disc content remain the same.

Video & Audio

Each "special historical broadcast", as they are called on the packaging, is presented in its original aspect ratio of about 1.33:1. The two episodes on the first disc are entirely in black and white, while the batch on the second disc is entirely in color. Before I address the quality of the transfers, it should be pointed out that one of these episodes ("Dateline Disneyland") was a live show – when it was initially broadcast nationwide, everything on the show was instantaneously happening over at Disneyland. Since this was in the earlier days of television, this meant poorer-than-normal image quality, often times resulting in extreme fuzziness or noise, or sometimes complete black-outs for a few seconds. These points have nothing to do with the DVD transfer itself. I found the transfers for all four shows to be very satisfying. While the rough look of "Dateline Disneyland" is displayed well enough, the other programs (which were not live) look very pristine. Colors appear accurately and detail is acceptable. Without a doubt, they're in great condition.

As expected for such old pieces of TV, the sound is mono. As with the image quality, most of the problems concerning the sound happen during "Dateline Disneyland," with dialogue being hard to discern at times. The remaining 3 programs sound fine, with audio being a kind of thin. However, it was adequate in most every respect, and serves the visuals perfectly.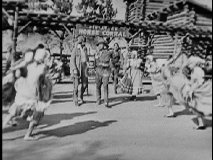 Disc 1 Content

Starting off with a promo for other installments of the Walt Disney Treasures (1:20), Disc 1 then presents an introduction from Leonard Maltin (1:25), who stands at the Disney studio lot in Burbank, CA. Once he tells of how television played an important role in establishing Disneyland, the curtain rises on the main menu, which depicts a collection of postcards and tickets from the park. Besides the option for English captions, there are selections for both episodes on this disc.

TV Episodes

Each episode gets a one-minute intro by Maltin, who puts them into perspective, including details on how the live broadcast of "Dateline Disneyland" was groundbreaking in many ways.

"The Disneyland Story" (Original Air Date: 8/27/1954; Run Time: 53:57) – In the debut episode of the Disneyland anthology series, Walt introduces the audience to the park by unveiling a miniature replica. He describes each section (Main Street, Adventureland, Frontierland, Fantasyland, and Tomorrowland), displaying concept art for many of the attractions. Through this tour, we also are given peeks of programs to come in the TV series, along with clips of Song of the South, the "True-Life Adventure" documentaries,

and some of the outer space animation projects by Ward Kimball (which will be seen entirely on the upcoming Treasures set, "Walt's Tomorrowland"). After about 20 minutes of this, the program switches gears when Walt makes his famous statement, "It was all started by a mouse." For the rest of the run time, he takes us through Mickey's career, offering selections of his cartoon shorts, including Plane Crazy, Lonesome Ghosts, and The Sorcerer's Apprentice.

"Dateline Disneyland" (Original Air Date: 7/17/55; Run Time: 1:15:51) – Like a trip into the past, here is a recording of Disneyland's opening day celebration. Charismatic Art Linkletter is the main host of the show, with co-hosts actor Robert Cummings and future 1980s President Ronald Reagan (Then who's Vice President – Jerry Lewis? I suppose Jane Wyman is the First Lady, and Jack Benny is Secretary of the Treasury!) These three men interview guests and narrate the goings-on, as a giant parade opens the event, followed by Walt reading the dedications for each section of the park. This leads to footage of attendees experiencing all the rides and watching the live shows (including one by Fess Parker and Buddy Ebsen in character as Davy Crockett and George Russel). A few other well-known celebrities make cameos too.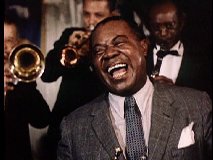 Disc 2 Content

The main menu is in the same style as the first. Captions are again offered in English. Selecting To Disneyland takes the viewer to the remaining TV shows, and Supplemental Features houses the bonuses.

TV Episodes

Just like Disc 1, Maltin individually introduces the programs here, giving overviews of their content.

"Disneyland After Dark" (Original Air Date: 4/15/62; Run Time: 47:12) – The least about Disneyland itself, this is a showcase of several performances staged in different areas of the park, hosted by Walt.

The Osmond Brothers, Mouseketeers Bobby Burgess & Annette Funicello, and teen heartthrob Bobby Rydell (who looks hilarious if the DVD is paused while he's belting out tunes) sing for a dancing crowd. Tahitian dancers perform for dinner guests in Adventureland, and barbershop singers harmonize on Main Street. The most enjoyable performance for me was that of the late, great Louis Armstrong playing his horn on Frontierland's Mark Twain riverboat. It all ends with a bang . . . literally. We get to watch the fireworks go off as a real-life Tinker Bell flies across the sky.

"Disneyland 10th Anniversary" (Original Air Date: 1/3/65; Run Time: 46:10) – My favorite show on this set, and perhaps the most fun, the episode begins with Walt showing a Disneyland ambassador plans for future attractions: It's a Small World, The Plaza Inn restaurant, and my two all-time favorite rides, Pirates of the Caribbean and The Haunted Mansion (initially called "Museum of the Weird" – I'm glad they changed it, since the former name was so cheesy, it was a good source of protein). We're then taken inside the park as costumed characters dance in honor of the anniversary, and a parade is put on by an Anaheim school band and cheerleaders. Once Walt recalls the early stages of Disneyland, with footage of when its construction was still in progress, some of the most entertaining segments begin. Eyewitness views show what its like to experience the Matterhorn Bobsleds, the Sailing Ship Columbia, Jungle Cruise, The Enchanted Tiki Room, and the now-closed Submarine Voyage, Nature's Wonderland, and Flying Saucers attractions. A real treat is a tour of the Swiss Family Robinson Treehouse with the Mills Family – John (who plays the father in Swiss Family Robinson), Mary (a screenwriter), and Hayley (the least known member of the family, of course) – set to that infectious organ music! The climax is the Dixieland at Disneyland celebration, in which all sorts of water vessels put on a sparkling musical show.

Supplemental Features

This set seems to hold the least extras of the Treasures thus far, but I'm not sure a lot more could've been included. What is here makes for nice companions to the main features.

A still Gallery (39 images) is made up entirely of poster artwork for numerous Disneyland attractions from the 50's and 60's. A lot of these look great and have a cool retro quality. I'd love to add one to my room.

"The Magic Kingdom and the Magic of Television" (9:41) is a featurette that's mostly a retread of material. A montage of snippets from the episodes on this set, with a few from others, Maltin narrates, touching several topics already discussed in his intros. There are some nuggets of information about Walt's view of the park as a tribute to Americana, his aspirations for the park to always have the latest in technology, and some world leaders that visited, but there's not much new to be found.
Closing Thoughts
These shows certainly won't appeal to everyone, but those who are fond of American nostalgia or Disneyland should consider this DVD set a must-have. I find all the programs to be immensely enjoyable and I've made it a habit to view at least one each time I take a trip to the park. Besides this, the episodes offer a first-hand look at many of the attractions, the second best thing to going in person. Definitely, this is my favorite of the Treasures sets, and I hope that more volumes focusing on Disneyland are eventually released.
With only 150,000 copies produced, "Disneyland USA" can be hard to find. The only remaining copies that are likely to be found in retail stores are those in the Costco box sets (I remind you that these don't have the tins on them). At the moment, this set is available online at Costco.com, for close to $125. While pricey, this is actually a good deal, considering that single copies of the Treasures have been going for close to $100 on places like Ebay. If you would like to own "Disneyland USA", I suggest grabbing the box as soon as possible before it is no longer offered. Otherwise, if you'd rather not spring for the box, and want the collectable tin, your best bet is Amazon Marketplace or eBay.com.