Before "DCOMs", before "Kids like you express themselves", and before the great preschool/tween divide, the Disney Channel was a pay cable station which sought to appeal to viewers of a wide range of ages at all hours of the day. Free from commercial breaks, the network employed shorts and features from the studio's rich past, original programming, and outside acquisitions which coincided with Disney values. It was in that last category where one could initially classify "Under the Umbrella Tree", a series starring three animals (of the puppet variety) and a human woman which was long a staple of the channel's afternoon lineup.

"Umbrella Tree" first took to the airwaves in 1986. In Canada, where the show was produced, this program aired on the Canadian Broadcasting Corporation. For American audiences, there was little to distinguish the show from other fare on the Disney Channel. To further this illusion of uniformity, as the Disney Channel approached the age of ten in the early 1990s, much of its content occupied a ground outside of the three aforementioned categories. In addition to a party more directly involved, production was distantly supervised by the Disney Channel. Whereas the hour-long period drama "Avonlea" had a Canadian named Kevin Sullivan and his self-named company as its immediate overseers, "Umbrella Tree" had Noreen Young and her Ontario-based company.
This series, issued chiefly in 15-minute installments, follows the day-to-day happenings of Holly Higgins (Holly Larocque, who was later an HGTV host and is now a big band vocalist), an ordinary woman and her three unlikely roommates. They are Gloria Gopher (voiced and operated by Young), Jacob Blue Jay (Stephen Brathwaite), and Iggy Iguana (Bob Stutt). Each character lives up to its last name by being the very animal you'd expect, albeit in a completely anthropomorphized fashion.

Valuable life lessons are weaved into "Under the Umbrella Tree", but that is something that an educator or publicist might point out. To viewers, the series is effective first and foremost as pure entertainment. Yes, it can be labeled as "edutainment" and yes, it can easily qualify as "educational" for government grants. But its positive values appear with a welcome subtlety and calling it a

"children's show" misses the fact that it proves highly entertaining for older siblings, parents, and guardians as well. While its length and air times may have distinguished it during its long television run, "Umbrella Tree" really is basically a family-friendly sitcom, achieving the crowd-pleasing stylings of "Bear in the Big Blue House" with a more down-to-earth feel and even less reliance on formula.

About a year after issuing the debut DVD volume of "Under the Umbrella Tree", Ottawa's Cinerio Entertainment has made more of this fondly-remembered series available to the public once again. That's later than they hoped but sooner than you may have feared. This latest wave comes bearing a pair of discs and at the new lower price of $14.95 a piece. Like Volume 1, Volumes 2 and 3 each deliver roughly 75 minutes of content, including newly-produced character introductions and a closing sing-along. Once again, CinerioEntertainment.com is the only place you'll be able to find these DVDs, as they are not being stocked in stores. Some may view that as an inconvenience, but a limited distribution method is quite possibly the only way "Umbrella Tree" would have made it to DVD. It's certainly a promising way for the show's producers to bring their show to wide audiences, something that hasn't been done since the Disney Channel shelved reruns in 1997. A fourth volume, previously planned for release last August, remains on the way.
Volume 2 only contains four episodes, but you still get the same amount of show, as one of the four is a Valentine's Day special, one of ten half-hour installments made. A closer look at the four shows on Volume 2 follows:
"Chez Iggy" (1989) (15:27)
At Holly's suggestion that his "salad à la Iggy" is good enough to open a restaurant, Iggy does just that, transforming her basement into Chez Iggy, an atmospheric eatery. But having to make multiple treks upstairs and back, Iggy learns that running a restaurant requires more than just a good salad.
"Hanky Panky" (1989) (15:18)
Iggy, Jacob, and Gloria are all sneezy, so Holly teaches them how to use tissues. But they have more fun playing with them than blowing their noses in them. When Holly gives them hankies, they have even more fun with them!
"Gingerbread House" (1989) (15:22)
Holly makes a gingerbread house for a hospital's children's bazaar and she allows her housemates to put on a Hansel and Gretel puppet show with her old puppet stage. Motor-mouthed Chuck Chickadee stops by to watch the show and makes for a too easily-excited audience member. Puppets operating puppets is a slightly mind-blowing concept.
"Love" (1991) (28:15)
With the running time doubled, there's room for multiple storylines in this half-hour Valentine's Day special. Mitzy brings over her pat rat Sidney for Gloria to watch in her absence. Meanwhile, Jacob has trouble asking library worker Megan (Stacie Mistysyn of "Degrassi Junior High") to be his partner in the upcoming fair's three-legged race. Seems like the bird has a bit of a crush and he's not the only one! Holly gets an anonymous Valentine's Day poem and then flowers, as Louis Bird agrees to try to figure out the identity of her secret admirer. There are different opening credits (which lose the theme song lyrics) for this episode, which is also titled "Valentine's Day Under the Umbrella Tree."
This is a terrific lot of episodes, one with no noticeable lulls and four episodes that lend themselves to multiple viewings. Outside of soap operas, series produced in great numbers don't often worry about episode-to-episode chronology, so the fact that these appear to be presented in a random order does not create problems. There are recurring characters who show up in "Gingerbread House" and "Love", and while you can deduce that you are not witnessing their introductions, you're given pretty much all the context you need. As you can see above, the Valentine's Day episode has a copyright date two years later than the others on the disc. Fortunately, a consistency to the show's quality and design is evident, though all of these episodes feel as if they might have come after those on Volume 1.
The running times listed next to the episode include the newly-filmed introductions that segue into the shows. The first two of these again feature Iggy, Jacob, and Gloria. The gang's elderly neighbor Mrs. McMurtry stops by for the third and fourth intros. (Interestingly, Gloria disappears when Mrs. McMurtry appears - that Noreen Young is a sneaky one!) Each introduction runs between 30 to 40 seconds and aptly sets up the episode to follow. While they're not the all-revealing behind-the-scenes retrospective one might hope to find, they are a neat bonus. It's way cool to catch up with the regulars (sans Holly, anyway) years later and discover they haven't really changed at all.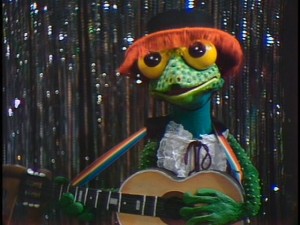 VIDEO and AUDIO
The entire disc is presented in 1.33:1 fullscreen, as is expected of a pre-digital age television program. Video quality is largely pleasing considering the lack of a major studio attached. Heck, in consideration of the age and origins, I'd be surprised if even a studio release looked this good. After all, deep pockets didn't keep Disney from releasing an "Avonlea" DVD that looked very bad. Fortunately, though limitations of the video medium are slightly noticeable, there is really nothing to detract from the visual experience and the transfer itself can't be faulted.
Audio comes via a two-channel PCM Stereo track, says the case and my players. The biggest issue is that the sound needs to be turned down well below normal volumes unless you want a loud surprise upon inserting the disc. Other than that, the basic soundtrack proved entirely capable of dispensing dialogue and songs (a commonly-employed device) without distortion or any other problem. Sure, there's little aurally to rock your world, but would you really want it any other way?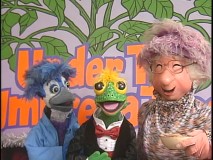 BONUS FEATURES, MENUS and DESIGN

Once again, there was nothing beyond the feature presentation classified as a bonus feature. The new introductions, already discussed above, could be labeled as such, but as they're always played

by default, they're not considered an extra. The other thing that could be categorized as such is the nearly two-minute "I Get a Kick Outta You" sing along with which the disc signs off. Video from the Valentine's Day special appears in a window; the rest of the screen is black with pink text that offers lyrics enabling you to follow along. This actually would fare better as a supplement since the only time you're seeing it otherwise is at the end of the Valentine's Day special, when the very song has just played in its original context. It's a bit much to have it back-to-back. It's also unfortunately the only way to easily see the words from this or any other exchange; the disc again lacks subtitles and closed captioning.

The Main Menu and Episode Select Menu both feature a loop of Holly and Louis Bird performing a duet, which also comes from the Valentine's Day episode. A heart-shaped icon for the Valentine's special is about as clever as these predominantly pink selection screens get, but each episode is nicely indicated by a preview graphic. Again, the menus come providing just two options: to "Play All" or select an episode. Either way, you are treated to the new introductions. It's mildly annoying that the only scene access offered is a quick skip of the introduction and the show's opening title sequence and a skip to the end of the episode. I also had some difficulty rewinding back to a previous episode at one point. Finally, it's worth noting that the episode titles are a bit different on the menus and the episodes themselves.

The DVD comes in a standard black keepcase, and though the packaging appears to remain consistent henceforth, the artwork and design slightly differs from Volume 1. Once again, there is no insert to be found inside. Either deal with it or get creative!

The final "bonus" worth mentioning is that the disc is encoded for all regions. No need for international viewers to feel left out, unless they can't play NTSC format content.
CLOSING THOUGHTS
It's a good thing that an independent distributor has home video rights for "Under the Umbrella Tree." Not only are fans getting it on DVD, but a level of care is going into the product which can't be found in minimal effort DVDs Disney has given to the few TV shows they've treated to a release. This disc may have taken longer than expected but it was worth the wait. Volume 2 improves upon Volume 1 with a fairly reasonable price tag and a stronger set of episodes. There's little not to like about this release, which gladly preserves a funny and smart series that entertains a range of viewers far broader than many narrowcast children's shows of today can. The compilation method is generally less customer-friendly than the comprehensive box set, but Cinerio's discs are competitively priced and deliver a high quality, barely rivaled show. Fans seeking just a bit of nostalgia might decide they don't need every release. But on an individual disc basis, compared to a direct-to-video Disney film (which offers about the same amount of content for twice the price and often with less success), this is relatively a steal and one worth making room in your collection for.