By Aaron Wallace

At this point, Disney's practice of frequently releasing sequels to its animated classics is nothing new. The love affair began with The Return of Jafar in 1994 and has only grown more passionate in the years since. Most of these follow-ups have been widely criticized,

both for a lack of quality in comparison to the source material and for the studio's audacity in tapping timeless classics to make a quick buck. The masses haven't minded too much, though, as the projects continue to win big for Disney.

Truth be told, most of these sequels have been lacking, but not nearly so much as their greatest detractors claim (Cinderella II notwithstanding). They'd likely be better received if it wasn't for the original film's reputation holding up such impossibly high standards. So far the sequels have drawn from either Disney's most revered classics or smash successes from contemporary times. As they run out of follow-up potential in that class, the studio is being forced to look elsewhere. Will the new wave of sequels to less beloved movies have an easier time at of getting critics and fans on its side? On the other hand, without a built-in popular character franchise to support it, will the general public even be interested?

The answer may lie with The Fox and the Hound 2, which marks the studio's first sequel to an often overlooked film. That's not to say that the original Fox and the Hound is unpopular. It earned a respectable $39.9 million at the box office in 1981, fared well enough in its 1988 reissue, earned accolades from the majority of critics, and seems to be generally well-liked amongst those who have seen it. It came at an awkward time for Disney, though, in the years between Walt's death and the Eisner-Wells revolution. It's rarely promoted, hasn't been given a lush double-disc DVD, and goes unrepresented in the theme parks. Popular it may be, but its fans aren't as numerous and sensitive as that of, say, Cinderella. The decision to revive this could-be franchise with a new direct-to-video sequel was therefore surprising to some but infuriating to few. If nothing else, at least the playing field is fair.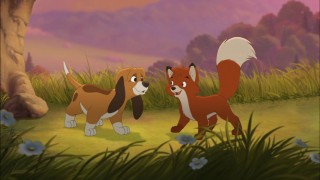 To be specific, The Fox and the Hound 2 is a midquel, taking place after Tod (the fox) and Copper (the hound) have befriended one another but before they grew up and battled. The story anchors on Copper's search for his hidden talent, which he soon discovers to be singing. He and Tod take off to a local carnival, where a group of canine crooners called the Singing Strays are the big act. The lead singer, Dixie (voiced by Reba McEntire), is at odds with another band member, Cash (Patrick Swayze), when Copper shows up and before long he's taken her place at the head of the Singing Strays. Tod's initial happiness for his friend fades when Copper doesn't have any more time to play, leading to an alliance between Tod and Dixie, who want to return to the way things used to be.
Links to the original movie don't go much beyond the characters (and even some of those, like Big Mama, don't reappear). Technically, continuity isn't an issue, but believing that these two had such an adventure and that Copper became a professional singer during the course of the original is a bit much to swallow.
It's easiest to imagine this as a separate ordeal. As such, it's a pretty cute story but not much more. The "find yourself" motive that drives the movie renders the whole thing just a little too sentimental, depriving it of any real depth. Still, the characters evoke empathy and their dilemmas are relatable. It's comparable to an hour-long episode of a Saturday morning cartoon and indeed, I'm now persuaded that "The Adventures of Copper & Tod" would have real potential. While it doesn't strive for dramatic grandeur, it does promise fun. To that end, it succeeds.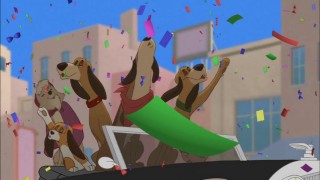 The movie gets much higher marks for its animation. The last decade has seen DisneyToon Studios (the TV division-spun creators of sequels) improve by leaps and bounds. Their most recent efforts, while still not on par with Feature Animation's masterpieces (due at least as much to budget and time as to talent), have truly impressed. The Fox and the Hound 2 is one of their better efforts. The first film's visuals were never as striking as they could have been, coming during a departure from the rough-looking Xerox processes used in the '60s and '70s as the studio crept back toward a more traditional style.

The sequel fully embraces traditional, clean-cut animation while remaining faithful to the original's design. It's brighter and more colorful, sometimes erring on the side of "cartoony" but for the most part offering up scenes of beauty. That may betray the woodsy, realistic coloration of the predecessor but then the sequel doesn't take place in the woods. A really excellent transfer doesn't hurt, either.

Matching picture with sound, the new voice cast does a good job. Tod and Copper are confined to their youthful versions, so don't strain your ears for the sounds of Mickey Rooney or Kurt Russell. Jonah Bobo and Harrison Fahn stay fairly close to the original performances but like the characters' faces, their voices have received a few extra shots of cuteness since the early '80s (when future teen stars Keith Coogan and Corey Feldman lent their vocals). Though it's hard to recognize him without a few slick moves on the dance floor or a molded pot of clay, Patrick Swayze is there too, capably bringing Cash to life. Jeff Foxworthy is surprisingly effective in his small role as Lyle and thankfully avoids even a single redneck joke. It's Reba McEntire who steals the show, though. Her trademark twang gives her away, but she earns points for actually cultivating a voice for Dixie.

It's no coincidence that Reba was cast for the film. Much more a musical than the original, The Fox and the Hound 2 eagerly embraces country music. The songs range from bluegrass to cosmopolitan in style, but all have a Broadway sensibility to them. None are bad and they are sure to have a longer life than the dated soundtrack of the original film. Each number starts with a lot of potential but unfortunately, they all hold back, restraining themselves from becoming the show-stoppers they want to be. Still, they're good enough to warrant a soundtrack purchase. Copper is never as good a singer as he's made out to be in the movie but McEntire does most of the singing and she knocks each one out of the park. There are a few non-diegetic selections from other titans of country music, all of which are to the movie's benefit. Like the animation, the music is aided by a wonderful DVD presentation, which is evaluated in the remaining sections of this review.
VIDEO and AUDIO
The movie is presented in its original 1.78:1 anamorphic widescreen. The packaging claims this to be "family-friend widescreen", a long-employed marketing term of Disney's that doesn't really mean anything. The transfer is flawless, which is to be expected for a brand-new production. The picture is a lovely sight to behold, entirely clean, colorful, and vibrant.
Viewers can take their pick of four audio options. The one I chose for review will likely be the most popular choice for those with home theater systems: the DTS 5.1 Surround track (available only in English). The sound is crystal clear and though not on the level of a blockbuster, the mix is more dynamic than expected. There were no problems with channel separation and the music -- both song and score -- sounded great in the speakers. The DVD provides a truly enveloping experience.
Alternatively, there are three Dolby Digital 5.1 Surround tracks -- one in English, one in Spanish, and one in French. Listening to select scenes suggests that there's little difference between the DTS and Dolby Digital tracks, other than the songs having more oomph in DTS.
BONUS FEATURES, MENUS and PACKAGING

The first of four sections in the Bonus Featured menu is Music & More. Inside it, only one feature is found: a music video for "You Know I Will" (3:36) by Lucas Grabeel, a talent who deserves his rising star. The video is one of those simple deals where the performer is seen inside the studio and clips from a movie are dropped in now and then. There's actually something of a concept to it, though, and Grabeel has fun with it. The video is well-mixed and the song is extremely catchy.

A movie so big on music should at least offer additional music videos, perhaps for one that appeared inside the movie (Grabeel's was in the end credits).

Something from Reba McEntire, Trisha Yearwood, Josh Gracin, Little Big Town, or any of the other artists involved would have been nice.

There are two items underneath Games & Activities. Mutt Mix Master allows the gamer to listen a Singing Strays song in any mix they like, whether it's all instrumental, a capella, or only specific singers or instruments that are heard. It sounds neat in theory, but it isn't a vocal song from the movie that's featured but a chorus of barking dogs. Even if done on-pitch, there's only so much barking one can take before returning to the main menu.

The second activity is a demo for Disney DVD Game World: Disney Dogs Edition, an interactive DVD trivia game which was recently released to home video. The demo limits your selection in terms of level difficulty, avatar, and number of questions asked. Still, it provides a sufficient glimpse at the kind of gameplay this new release offers. It's unquestionably cross-promotional, but also relevant (there's plenty of Fox and the Hound content) and helpful for those of us wondering if these games are for us. I must say that, judging by the demo alone, I'm impressed.

The meatiest extra is found under Backstage Disney. "The Making of the Music" (10:09) is a brief behind-the-scenes featurette that concentrates solely on the movie's country/Broadway-flavored soundtrack. Director Jim Kammerud and performers Reba McEntire, Trisha Yearwood, Lucas Grabeel, and Little Big Town are among those interviewed. The featurette is well-made and shares some valuable insight. It's to the DVD's credit that the music was given its own spotlight; it's just a shame that the piece doesn't go into more depth and that it's not coupled with a making-of documentary on the movie.

Finally, there's a bonus short included: 1939's Goofy and Wilbur (8:09). This was Goofy's first starring role and in it, he and a grasshopper named Wilbur go for a boat ride in hopes of catching fish. Goofy uses Wilbur as bait but when the fish outsmart him, the fishing trip becomes a rescue mission. Fortunately, the restored version of the short that appeared on Walt Disney Treasures: The Complete Goofy is the one used here.

The disc is packaged in a standard black keepcase with protective side-snaps, which is housed with a slick, holographic, embossed slip-cover. Inside it is a chapter selection card, a booklet of coupons and ads, and a flyer for Disney Movie Rewards. The main menu uses an aerial view of the carnival as a backdrop for continuous animation of Tod and Copper. Instrumental music from the movie plays in the background.

The disc opens with previews for Peter Pan: Platinum Edition, Meet the Robinsons, Cinderella III: A Twist in Time, and Air Buddies. From the main menu, you can access additional sneak peeks for "Little Einsteins": The Legend of the Golden Pyramid, Disney Princess: Enchanted Tales - A Kingdom of Kindness, Tinker Bell, The Little Mermaid III, and the new CGI Playhouse Disney Pooh series: "My Friends Tigger & Pooh".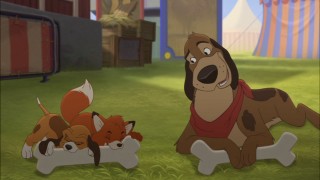 CLOSING THOUGHTS
The Fox and the Hound 2 stays in a direct-to-video comfort zone, preventing its story and songs from becoming as good as they could be. As-is, though, the movie is still pretty good. It amounts to a fun little adventure with some catchy music and real entertainment value. High expectations shouldn't be too big a problem, given that the original Fox and the Hound isn't often regarded as a masterpiece. There's a good chance, then, that you'll be pleasantly surprised. That goes for the DVD too. The lack of more music videos and substantive production coverage is disappointing, but the audio and video are presented in near-perfect form.