Out of the gates, Mulan II has a lot in its favor compared to many other direct-to-video Disney productions. For one thing, it is a single narrative film rather than a flimsy stringing together of episodes from a proposed or discarded television series. For another, almost all of the original voice cast has returned. In addition, this sequel boasts animation that's nearly as satisfying as the original film's.

With their latest follow-up to a popular animated film, Disney has made a sincere effort at creating something worth the public's time and attention, even if it's pretty much an unnecessary project. Though seven years have passed in our world, Mulan II picks up about a month after the events of the previous film. Like most follow-ups to "happily ever after", it starts with what looks like a wedding. Having saved China, Mulan has returned to her little hometown. Now a general, Shang shows up and after a bit of a struggle, works up a marriage proposal. All seems well, until Mulan's guardian dragon Mushu learns that if Mulan gets married, he gets the slip.

Before they can get married, Mulan and Shang are summoned by the Emperor of China. It just so happens that those pesky Mongols are threatening China with another invasion and this time the Emperor isn't looking for a war but for an alliance big enough to dissuade any attacks. To see this plan through, the Emperor offers his three princess daughters for arranged marriages that will keep China secure. To deliver the brides to the potential ally, Mulan and Shang are enlisted, and they in turn get help from their three old gooberish army friends, Yao, Ling, and Chien-Po.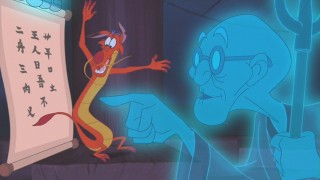 At the same time this mission is being carried out, Mushu decides it is in his best interests for Mulan and Shang not to wed. He'll have to break up the lovebirds. In many ways, Mushu drives this sequel's plot, or at least he tries to, repeatedly. Pretty much everything you would expect to ensue in the transporting of the princesses does, as they begin to fall for the Gang of Three and battle with deciding what's best for them and for China. To the film's benefit, there is a plot that has been clearly thought out. Unfortunately, it somehow feels as if it is too thought out. It's marked by coincidence, is predictable to a fault, and never really tries to surprise you or make you think.
Nearly seven years have passed since the first Mulan, surpassed the $100 million mark at the domestic box office. Once a commonplace feat for "the latest Disney animated film", this accomplishment has proven elusive for all but Lilo & Stitch this decade. The Asian-themed musical/comedy/adventure becomes the last of Feature Animation's '90s films to either be or have some kind of continuation. It is to Mulan's benefit that there hasn't been a sequel until now. At least today, Disney's video premieres aspire to be more than second-rate animation and twist-based writing, a low standard previously in place. In present day, it probably is still sufficient since even something flimsy that can bear a familiar title and characters on its cover will still hold appeal to the public. Whatever the source of the loftier goals, it is appreciated. In the past couple of years, DisneyToon Studios, the former television animation group, has been established with a name and identity as Disney's direct-to-video cartoon branch. Last year, the 10th anniversary of Disney's video premieres, saw rather entertaining output from this department in the way of The Lion King 1½ and The Three Musketeers.
Still, while Mulan II may boast some rather slick production values at its much smaller budget, the film doesn't truly work as well as any theatrically-released Disney cartoon in recent memory. Mulan II lacks the epic quality of its predecessor. For most of the running time, it's satisfied to play as light romantic comedy, and when it tries to call in drama in the final twenty minutes (and it does so in a strong way), you kind of second-guess it. This lightweight, action-free bulk of the film is entertaining enough, but it's never too funny or all that clever.
Contributing to the film's shortcomings: a weak central personality that somehow has been pushed off to the side without much of a fight. The character of Mulan has been reduced from woman warrior to woman. Outside of a disposable early sequence in which the girls of her town turn to her for training, there's nothing to establish her as brave or bold, making one wonder if she took anything from the challenges of the previous film. She has turned into a rather feminine (a change from the cross-dressing army adventures last time) and rather passive protagonist. The film doesn't dwell on that so much, and this shift never hinders things. It all seems too scaled down and sitcomish for us to worry about the character's growth or about anything at all.
Nonetheless, Mulan II is several tiers above the insipid features edited together from rejected TV footage and it has enough good traits to redeem it quite a bit. That Mulan is decades away from being considered sacred ground or visually dated goes a long way in allowing this medium-cool sequel the freedom to be down-to-earth. It somehow doesn't seem too surprising that the animation seems to match up with the original quite seamlessly, although it doesn't attempt anything like Mulan's elaborate computer-aided snowy Hun attack.
As mentioned earlier, most of the voice cast has returned for this sequel. Not everyone has their character's sound down the same, and the chasm between Mulan's speaking voice (Ming-Na) and singing voice (Lea Salonga) seems to have widened. But Eddie Murphy is just about the only holdout. With the money DreamWorks is paying him to voice essentially the same character in donkey form, it's not surprising that he would sit this one out. But replacement Mark Moseley does a commendable job of sounding just like him; he manages to be just as annoying as Murphy was in the first film too.
The few songs here are pretty strong; even "A Girl Worth Fighting For", the weakest number from Mulan and the only one which returns, seems to be catchier than it used to be. New tunes "Lesson Number One" and "Like Other Girls" leave as much of an impression as most of the songs from the previous film, anyway.
All in all, Mulan II has more going for it than many of Disney's other direct-to-video sequels, but it still feels like a pretty mediocre production. Traditional complaints (poor animation, not a well thought-out story, a rushed attempt to cash in on success) do not apply here and the film is far from an all-out failure. While they are getting better on the whole, the films from ToonDisney Studios have yet to reach a level of creativity and magic that Disney's animated films from over the years have. Still the "entertaining enough" label which can be stuck on Mulan II seems to be a big step up from artistic wasteland one fears this could have been.
VIDEO and AUDIO
Mulan II is presented in a 1.78:1 anamorphic widescreen transfer. Picture quality isn't perfect, which leads one to wonder why not. Clearly, there wasn't a great deal of disc space devoted to bonus features or a DTS track, and this is a brand new production. That perfection is expected is the only reason that the video transfer is a bit of a letdown. It's still mostly very positive, but a bit of edge enhancement and what appear to be compression issues mar the video from being as consistently clear as you'd expect. That said, most viewers, particularly the breed able to overlook other problems with direct-to-video films, are likely to consider the picture quality flawless.
Despite what the press release said and what has been the norm for most of Disney's new direct-to-video DVDs, there was no DTS track here. Instead, Mulan II is offered in Dolby Digital 5.1. It's a capable mix, but not as engulfing as others have been (maybe due to the sound format, maybe due to the sound design). Dialogue was conveyed crisply and without problem. Surrounds were occassionally used for specific sound effects, but for the most part, they were just called upon to reinforce the music or ocassionally establish atmosphere. Overall, this was a satisfying audio presentation, if not as dynamic or memorable as most theatrical film mixes.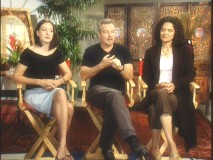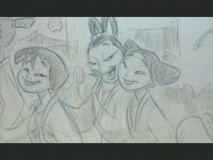 BONUS FEATURES
Four deleted sequences are presented here, edited together to match the rough black-and-white storyboards with scratch dialogue tracks, music, and sound effects. The highlight of the batch is an action-packed alternate opening intended for an earlier version of the film. While it wouldn't fit in the context of the final film, it's interesting to see. The other scenes depict the three princesses as they flirt, create a diversion, and come clean while story elements were still being retooled. Each scene is introduced by a quickly-annoying graphic and comments from producer Jennifer Blohm and directors Darrell Rooney and Lynne Southerland. Altogether with the "Play All" option, this section runs 11 minutes and 45 seconds.
A music video for "(I Wanna Be) Like Other Girls" (2:36), the energetic end credits theme shows not Atomic Kitten, the pop group who performs it, but a fast-paced montage of clips from the film, with a few video effects. This song, performed by the trio of princesses in the film, speaks of desires to eat cake and sleep late...like other girls. The video is presented in fullscreen and Dolby Digital 5.1.
"Mushu's Guess Who" is a short little game in which you must identify whose silhouette is behind the tent, selecting from three choices. It's fairly simple, but if you can't guess on your first try, Mushu speaks up and helps you out. But if he raises his voice too much, Shang wakes up and the game is over.
"The World of Mulan", the second most substantial of the bonus features, seeks to inform viewers about some of the elements of Chinese culture present in Mulan II. It's a mixture of information on the film (like seeing singing voice Lea Salonga performing and hearing from director Darrell Rooney) and youth-oriented schooling on China. This supplement is separated into three sections on the Yin-Yang, Chinese food, and miscellaneous tidbits (covering arranged marriages, the legend of Mulan, fireworks, Kung Fu, dragons). Like just about everything else on the DVD, it's narrated by Mushu. He promises you'll be treated to some kind of a surprise after you watch (or skip through) all three segments (which run about 7 minutes altogether), but it didn't work properly for me at first. It eventually did work, and it was semi-interesting, a feature which reveals (with sarcastic commentary from Mushu, of course) what the Chinese calendar's animal of the year was from 1964 through 2011.
"Voices of Mulan" (2:51) touches upon the cast of Mulan II, an area completely overlooked on last fall's Mulan Special Edition. With such a short running time, this featurette really just scrapes the surface, allowing director Lynne Southerland to offer praise about a handful of voice actors (Ming-Na, Pat Morita, Lauren Tom, Jerry Tondo, Gedde Watanabe, and Michelle Kwan), who in turn give a soundbite and are seen recording in the studio. Mushu "narrates" this very fluffy short, but the actor who fills in for Eddie Murphy isn't mentioned at all. The highlight, besides Mr. Miyagi, is seeing Ming-Na's impression of her mom.
MENUS and PACKAGING
The animated 16x9 menus match the opening credits (and in turn, the artistic selection screens of the Mulan Special Edition). The Main Menu cycles through characters, but outside of that, animation is limited to brief transitions. Each menu is accompanied by selections of score that mostly do not sound very nice.
Mulan II is 'equipped' with FastPlay, which will allow you to either play through the previews, movie, and select bonus features like VHS, or you can jump straight to the Main Menu (only you still get a handful of previews this way, which can be skipped). Those previews are for Bambi and Pooh's Heffalump Movie. The Sneak Peeks menu offers a "Play All" option and additional promos for Lilo & Stitch 2: Stitch Has a Glitch, Volume 2 of the Disney Princess DVDs, The Incredibles, and the Disney Princess merchandise line.
Mulan II is housed in a non-opening cardboard slipcover that duplicates the keepcase artwork. A 16-page savings booklet offers previews of Tarzan II (Summer 2005), The Incredibles (March 15), and Bambi (March 1), coupons for $2 off the Mulan II soundtrack, any "Blossom Beauty" Mulan doll, and any Disney Princess DVD, and other promotions for Disney Princess merchandise and (I kid you not) Kikkoman sauces. There's also an entry form for a sweepstakes to win a Disney DVD library.
CLOSING THOUGHTS
Fans of the original Mulan will be interested to see what kind of follow-up Disney has concocted for their beloved characters. It's not a great work and it's not a terrible one. In spite of pleasing production values, Mulan II is middle-of-the-road fare. That it's not a complete disappointment is praise of sorts considering the studio's brief history of direct-to-video sequels. That it's this inoffensive and diverting seems to be the combined result of two factors: the sincere efforts that have gone into this production coupled with the original film being recent and imperfect.
The DVD, like the film, is pretty unexceptional. Audio and video quality are a few steps below perfection. The bonus features, while not likely to be a deciding factor, are unnecessarily light and breezy, offering so much less entertainment and insight than last February's premiere The Lion King 1½.
Buy Mulan II from Amazon.com: 2 Movie Blu-ray + DVD / 2 Movie DVD / DVD / Instant Video