Suddenly going blind would have to rank among the most difficult, frightening, and unfortunate fates a person could experience. It's exactly what several characters face in the new Miramax drama Blindness.

A Japanese man (Yusuke Iseya) holds up traffic when he suddenly can't see to drive. He visits an optometrist and explains his unusual state of white blindness. The next day, the eye doctor (Mark Ruffalo) wakes up stricken with the same condition. It's soon revealed to be a contagious epidemic.

In response, their unidentified city takes the extreme step of quarantining all the local infected people to an unused sanitarium without so much as a single attendant on facility. Only one person there still has her vision: the doctor's sympathetic wife (Julianne Moore), who feigns affliction to stay by her husband. Though she keeps it a secret, her apparent immunity to the mystery virus gives her immeasurable value.

Life at the hospital quickly turns ugly with the unseasoned blind leading one another. There is the slightest semblance of order. Things get a lot worse for both viewers and the quarantined when a headstrong new arrival (Gael García Bernal) declares himself the king and decides his wing will dole out the government-issued food boxes at a cost. The initial price is any on-hand valuables. When those run out, the only logical currency the King can come up with is women for sex. The chaos heightens as all consider their few grim options for survival, with security guards shooting any strayers outside and equally brutal death becoming a realistic outcome inside.
The second English language film by Brazilian director Fernando Meirelles (City of God, The Constant Gardener), Blindness is minimally interested in the horror and challenges of going blind after years of taking sight for granted.

While this is the setup, the film delves more fully into the human savagery that might emerge from such widespread helplessness. Investing in that concept gives this drama a Lord of the Flies feel, where a grungy institution stands in for the tropical island and the boys are mostly adults of either sex. Without the suggestion of paradise found in William Golding's world, we merely get a tough, unpleasant place where women are volunteering to be raped shortly after the halfway point.

The film's appeal decreases in tandem with the hospital's increase of disorder. There isn't any great insight in the moral resignations. Meanwhile, the story and setting seem to provide far more questions than answers. I confess that I haven't read the source text, José Saramago's 1995 Portuguese novel. But the very fact that readers saw a film version in it and had to wrangle the rights from the reluctant author suggests there was indeed something there cinematically. Whatever it was doesn't seem to make it onto the screen in Meirelles' obtuse adaptation, which often feels like a well-produced B-movie in an arthouse wrapper.

Few took notice of Blindness in its U.S. theatrical release last fall. The film's $3.35 M domestic earnings were a far cry from a $25 million budget which no less than 18 international companies are credited with. Foreign audiences, including those in Meirelles' homeland, have proved more receptive. But the movie was essentially a joke punchline in America, not only for its pitiful attendance but for newsmaking protests.

Both the American Council of the Blind and the National Federation of the Blind issued timely press releases denouncing the film's depiction of blind people. Their perhaps well-intentioned complaints don't seem too applicable and probably provided the film with some of its best publicity. But Blindness does offend for other reasons and I don't blame those who stayed away from such a bleak, unsatisfying production.
DVD Details

1.85:1 Anamorphic Widescreen
Dolby Digital 5.1 (English, Spanish)
Subtitles: English, Spanish
Closed Captioned; Extras Subtitled
Release Date: February 10, 2009
Suggested Retail Price: $29.99
Single-sided, dual-layered disc (DVD-9)
Black Keepcase
VIDEO and AUDIO
Blindness appears in 1.85:1 anamorphic widescreen. The subject matter inevitably lends itself to some creative visuals and this area provides the film with some of its greatest worth. Though how impressed/bothered you are with Meirelles and his regular cinematographer César Charlone may vary, there are really no picture quality complaints to be made with the DVD.
Losing sight is said to heighten the other senses. The film seems to honor that belief with its strong Dolby Digital 5.1 soundtrack. There is near-constant atmosphere provided in ambient noises and crisp effects. Whether the credit goes to the film's original sound mix or the DVD mastering, the audio is certainly a modest standout among present-day fare. A default subtitle track translates the film's fair amount of Japanese dialogue into English.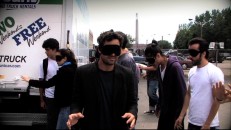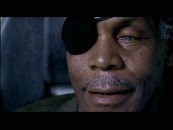 BONUS FEATURES, MENUS and PACKAGING

Blindness comes to DVD with just two bonus features. "A Vision of Blindness" (55:30) is an extremely thorough production documentary. Though the menu gives you the choice to think of it as 16 shorts, it clearly stands well as one coherent making-of piece. It covers a lot of ground, tackling all of the topics you'd expect

including blindness training, filming locations, the adaptation journey, the story and its significance, and visual effects. Thankfully, we get more information from seeing the process than from neat talking head sound bites. It ends with us getting a look at aging author José Saramago's first reactions to a screening.

Besides that, there are five deleted scenes running under six minutes. There's nothing groundbreaking here; an alternate introduction to Danny Glover's eye-patched character, an earlier infection of the Doctor, a slightly different cut of the rapes, and two short, meaningless unseen moments. The deletions are introduced textually by the director, although not in an ideal way (blink and you miss them).

A feature audio commentary by Fernando Meirelles was announced but does not appear here. Either it was never recorded or the studio decided to withheld it.

The disc opens with a quit-smoking ad featuring Bob Clendenin (odd) followed by trailers for Confessions of a Shopaholic, Adventureland, and Doubt. All but the first are available from the Sneak Peeks menu, where they're joined by previews for The Boy in the Striped Pajamas, Miracle at St. Anna, and Happy-Go-Lucky.

Inspired by the film, the animated main menu takes the bold, creative step of leaving us blind to the listings. That is, until they're selected and the blurred, barely discernible words become clear. Static menus feature score selections. The only in-case insert is a booklet advertising Blu-ray, a format Blindness hasn't been released on.
CLOSING THOUGHTS
Despite a reasonably interesting premise, an adequately talented cast, and some degree of skill behind the camera, Blindness grows increasingly worse and winds up a pretty bad film on the whole. The broad design and irredeemable darkness make it easy to forget anything unique and compelling. The post-apocalyptic setting never sizzles and a number of poor choices must be endured just to reach the end. Although Miramax's DVD grants the feature fine picture/sound and a terrific companion piece, the disc merits a rental at best from those piqued by the makers or story.
More on the DVD / Buy from Amazon.com / The Book: Blindness by Jose Saramago