DVDizzy.com | DVD and Blu-ray Reviews | New and Upcoming DVD & Blu-ray Schedule | Upcoming Cover Art | Search This Site
Don't Be Afraid of the Dark (2011) Blu-ray Review
Don't Be Afraid of the Dark

Theatrical Release: August 26, 2011 / Running Time: 100 Minutes / Rating: R / Songs List

Director: Troy Nixey / Writers: Guillermo del Toro, Matthew Robbins (screenplay); Nigel McKeand (original teleplay)

Cast: Katie Holmes (Kim), Guy Pearce (Alex Hurst), Bailee Madison (Sally Hurst), Jack Thompson (Harris), Garry McDonald (Emerson Blackwood), Alan Dale (Charles Jacoby), Julia Blake (Mrs. Underhill), James Mackay (Librarian), Nicholas Bell (Psychiatrist), Edwina Ritchard (Housekeeper), Trudy Hellier (Evelyn Jacoby)
Buy Don't Be Afraid of the Dark (2011) from Amazon.com: Blu-ray • DVD
In 1973, a scary ABC television movie made a big impression on a 9-year-old Mexican boy named Guillermo del Toro. Today recognized as the inventive writer/director

of Pan's Labyrinth and the Hellboy movies, del Toro co-wrote, co-produced, and alone "presents" a new feature film of the same name, Don't Be Afraid of the Dark.

A long time coming, del Toro's Don't Be Afraid was produced by Miramax Films back in the summer of 2009, prior to Disney's sale of that decorated art house and genre division. Disney, who that same year had proudly announced the launch of Disney Double Dare You, a new horror animation production company run by del Toro and promising "chills and thrills for audiences of all ages", opted not to retain the domestic distribution rights of Don't Be Afraid in the sale. Those rights would be acquired by FilmDistrict shortly after the movie missed its scheduled January 2011 theatrical release. Like del Toro's involvement on the two much-anticipated films of J.R.R. Tolkien's The Hobbit, Disney Double Dare You would dematerialize with nothing to show for it. Don't Be Afraid, meanwhile, would become the second FilmDistrict release, opening in theaters at the end of August with modest expectations.
The film begins in the distant past and like any horror movie prologue, this one does not end well, with a young maid losing her teeth and apparently her life to a toothless father desperately doing the bidding of unseen evil. Jumping to the present day, the Gothic East Coast mansion to which the prologue's ominous basement belongs has recently been acquired and restored by architect Alex Hurst (Guy Pearce) and his girlfriend Kim (Katie Holmes). Into their new residence, the couple welcomes Alex's young daughter, the hard-to-please Sally (Bailee Madison).
The curious girl is soon intrigued by the house's mysteries, specifically the whispers she hears in the night and in the newly rediscovered basement area. Since the rear of the Blu-ray case reveals it, I feel comfortable confirming that the disturbing invitations are extended by small, malicious critters who vow to become Sally's friend. Both Alex and Kim receive Sally's reports skeptically, believing them to be cries for attention from a girl who does little to hide her dislike of Kim and her preference to return to living with her mother.
The screenplay, which del Toro penned with Matthew Robbins, a sometimes uncredited Steven Spielberg collaborator of yore who largely hasn't worked since co-writing del Toro's 1997 American debut Mimic, is much too dull, often consisting of nothing but stage directions for no doubt meticulously storyboarded effects sequences. The effects are almost always shadowy, fulfilling the darkness of the title but not delivering much in the way of fear. Typical for a del Toro film, more thought has gone into fanciful creature design than in crafting an engaging experience for viewers. Half-hours pass without you having any way to describe or account for them.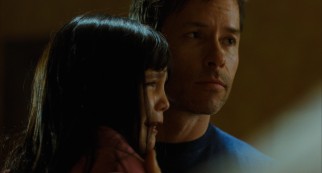 Coherency is not a high priority for Canadian first-time director Troy Nixey, who practically foregoes a story in favor of moody atmosphere, no doubt at the behest of the excessively respected del Toro. Horror isn't often a showcase for actors, but the three leads squander any potential for that here.

Madison conveys her distanced and lonely character capably for a child actor, but the ordinarily reliable Pearce fails to supply anything more than a commendable American accent and Holmes does nothing to remind us she's worked for Christopher Nolan, Jason Reitman and Curtis Hanson since her last outing in the genre. Don't Be Afraid delivers little more than the occasional jump scare, its unintended R rating not even the product of anything gore fans would appreciate.

Following its successful debut with Insidious, this was a losing venture for FilmDistrict. Don't grossed $1 million less than its budget and its international engagements, handled by a variety of other distributors, generated just $7.5 M, much of that from the United Kingdom and del Toro's native Mexico. It wasn't the biggest flop of late summer; fellow August remakes Fright Night and Conan the Barbarian recovered little of their higher budgets in the States. But Don't nonetheless adds to the commercially challenged track record of del Toro's genre fare.

Sony Pictures Home Entertainment, FilmDistrict's home video partner, brings Don't Be Afraid of the Dark to DVD and Blu-ray today, on the first Tuesday of 2012. We cover the latter here.
Blu-ray Disc Details

1.85:1 Widescreen
5.1 DTS-HD MA (English)
Subtitles: English, English for Hearing Impaired, Spanish
Not Closed Captioned; Extra Subtitled in English
Release Date: January 3, 2012
Single-sided, dual-layered disc (BD-50)
Suggested Retail Price: $35.99
Blue Keepcase with Side Snap
Also available on DVD ($30.99 SRP)
VIDEO and AUDIO
One area where Don't Be Afraid of the Dark cannot be faulted is in its 1.85:1 Blu-ray feature presentation. The disc boasts excellent 1080p picture quality, maintaining clarity in the many dark scenes and delivering impressive detail in the light ones. The crisp lone soundtrack, 5.1 DTS-HD master audio, is quite all right too, although its peaks and valleys are a bit much for those who are ever concerned by volume levels.
BONUS FEATURES, MENUS, PACKAGING and DESIGN
The primary bonus feature here is a making-of documentary (20:50), which is divided into three roughly equal parts. "Don't Be Afraid of The Story" lets del Toro discuss the project's long journey to get made, why he wanted to, and how this departed from the TV movie. "Don't Be Afraid of Blackwood's Mansion" turns our thoughts to production design on the period house, from dramatic intent to the construction of sets in Australia. "Don't Be Afraid of The Creatures" covers the visual effects that bring to life the film's villainous beings, from sculptures and design to the different stages of CGI. It's a good overview of the film's creation, easy to consume as a single supplement.
Next, there is a Blu-ray-exclusive conceptual art gallery which consists of 68 mostly black and white drawings. You can flip through them one at a time, use a navigation bar to browse more efficiently, or view the content in slideshow form at speed of your choosing.

No matter what way they pick, the artistically inclined should enjoy.

A BD-Live section provides the usual access to Sony's massive trailers library for streaming.

The final extra is found not on the disc but next to it: it is a single-sided sheet supplying directions and a unique redemption code for the included UltraViolet digital copy of the film, which you are promised just two years to redeem. The reaction to the streaming format has been negative, but at least Sony comes to it without a history of transferrable digital copy discs like fellow UV users Warner and Universal. To access this stream on computers and select other video devices, you'll need to create both UltraViolet and Sony Pictures accounts.

The Blu-ray opens with trailers for In the Land of Blood & Honey, The Rum Diary, Drive, Hostel Part III, London Boulevard, and The Woman in Black. The menu's "Previews" listing repeats all the same trailers in the same order. Don't Be Afraid's trailer can only be seen by BD-Live stream.

The menu montage spices up clips with candlelight flickers, illustrated transitions, and score. Typical for a Sony disc, this one resumes playback and also supports bookmarks.

The side-snapped Blu-ray case displays artwork on both sides and includes a Sony Rewards code in addition to the UltraViolet one.
CLOSING THOUGHTS
Don't Be Afraid of the Dark is far more dull than frightening. Built on fond childhood memories and a passion for fancy, this outing no doubt did more for writer/producer Guillermo del Toro than it will for the typical viewer. Though not as stupid as some horror films, it is less exciting and fun than most modern films of any genre. You'll need to a strong appreciation for the original movie, del Toro's cinema, or horror at large for this remake to be worth your while. If you have no predilection for any of those things, you'll be fine skipping this dark snoozer.
Buy Don't Be Afraid of the Dark from Amazon.com: Blu-ray / DVD




Buy the Original 1973 TV Movie: Warner Archive Collection Remastered Edition DVD-R
Related Reviews:
New: Moneyball • The Guard • Midnight in Paris | 2011 Horror Movies: Fright Night • Insidious
The Watcher in the Woods • The Shining • Orphan • The Last Exorcism • Dark Water
Guy Pearce: Animal Kingdom • The King's Speech • The Hurt Locker • Bedtime Stories • The Road
Bailee Madison: Just Go With It • Bridge to Terabithia • Saving Sarah Cain • The Last Day of Summer
Produced and Written by Guillermo del Toro: Hellboy II: The Golden Army
Don't Be Afraid of the Dark Music List (in order of use): John McCormack - "When You and I Were Young, Maggie", Ted Nash - "Kensington High", Albert Marlow - "Concerto Grosso for 2 Violins, strings and continuo in A Minor, Op. 3, No. 8 RV 522, III, Allegro", Andy Suzuki - "Immutably Amusing", Onaje Allan Gumbs - "Crystal Images"
DVDizzy.com | DVD and Blu-ray Reviews | New and Upcoming DVD & Blu-ray Schedule | Upcoming Cover Art | Search This Site
Search This Site:
DVDizzy.com Top Stories:
Reviewed January 3, 2012.


Text copyright 2012 DVDizzy.com. Images copyright 2011 FilmDistrict, Miramax, Necropia, Gran Via, and 2012 Sony Pictures Home Entertainment.
Unauthorized reproduction prohibited.