Seth Rogen made it big as the star of Judd Apatow's hit 2007 comedy Knocked Up, which he quickly followed up with Superbad,

a film he wrote with childhood friend Evan Goldberg. In demand as both an actor and a writer, Rogen seemed determined to display some range; Pineapple Express, starring Rogen and written by Goldberg and him, offered nearly as much action as stoner humor.

Michel Gondry was a drummer for the French rock band Oui Oui, whose music videos he directed, leading to similar work for the likes of Bjφrk, Daft Punk, The White Stripes, and The Rolling Stones. Gondry's feature film career began with Human Nature, a comedy written by Being John Malkovich's Charlie Kaufman. Gondry and Kaufman's follow-up effort, 2004's Eternal Sunshine of the Spotless Mind, won them both original screenplay Oscars and secured them reputations for innovative offbeat storytelling.

Rogen, Goldberg, and Gondry's paths improbably meet on The Green Hornet.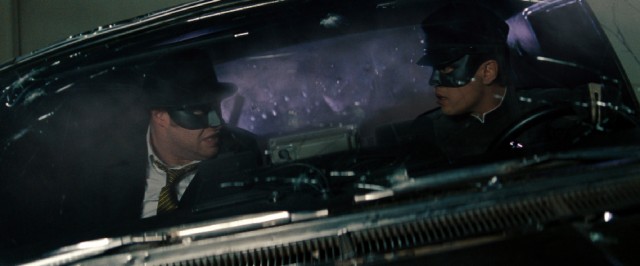 To many people (myself included), the Green Hornet is one of those heroes whose name is familiar but whose story and history are not. The character was introduced in a January 1936 radio program from the Detroit station that had created the Lone Ranger three years earlier. The Hornet's adventures would fill radio air through the early 1950s, by which time the character had already been developed into two movie serials and multiple comic book lines.

After fading from the limelight, the Green Hornet returned in a half-hour primetime television series, which ran Friday nights on ABC in the 1966-67 season and put martial arts legend Bruce Lee on the path to stardom. In 1989, NOW Comics tried to revive the hero and incorporate his past incarnations in different mediums without requiring litigation.

Written by Rogen and Goldberg and directed by Gondry, 2011's The Green Hornet sets an origin story in present-day Los Angeles. The film was almost twenty years in the making, with numerous screenwriters, directors, studios, and actors attached over time (among the lattermost were George Clooney, Greg Kinnear, Jet Li, Jason Scott Lee, and Mark Wahlberg).

A slimmed-down Rogen plays Britt Reid, a wealthy man in his twenties who loves to live it up. His father, James (Tom Wilkinson), the founder and editor of powerful newspaper The Daily Sentinel, disapproves of his son's lifestyle, though as an opening scene from Britt's childhood indicates, James hasn't been the most encouraging or attentive of dads. Still, when James suddenly dies on his front step from a bee sting, it acts as a wake-up call to Britt, who puts his days as partying playboy behind him.

Though shunning any role at the Sentinel, Britt reconsiders after recognizing its potential value to his new calling. Pairing up with Kato (Taiwanese pop star Jay Chou), his father's brilliant mechanic and exquisite coffee maker, Britt gets a taste of vigilantism when he stands up to a gang of criminals mugging nighttime pedestrians. Kato does almost all of the work, from punching out the armed thugs to evading a cop car in pursuit. This is the start of the mysterious crime-fighting duo, pursued by both area baddies and the police. Britt uses his pull at the paper to get the public's attention with cover stories. For guidance, he turns to Lenore Case (an unusually benign Cameron Diaz), a learned, principled temp he quickly promotes to permanent secretary and who becomes the object of both his and Kato's affections.

Kato's mind equips the two friends with an impressive arsenal of technology, including the impenetrable, fully loaded car Black Beauty (and its back-ups) and a destabilizing gas gun. While the Green Hornet and his underappreciated sidekick make their fair share of enemies, two of their biggest detractors wield power on opposite sides of the law. Reelection-seeking D.A. Frank Scanlon (David Harbour) desperately wants to crack down on crime (or at least minimize its profile), while L.A.'s underworld kingpin Benjamin Chudnofsky (Christoph Waltz, Inglourious Basterds' Oscar winner) is threatened by the masked men who target his network of drug trade and manufacturing.
Knowing little about the Green Hornet himself and a lot about how temptingly lucrative the superhero genre presently is, I wasn't sold on this film from trailers or on paper. Unlike some other potential viewers, though, I didn't dismiss the idea of Rogen in hero mode, especially since this hero was being filtered through the minds of Gondry, Goldberg, and Rogen himself,

all of whom have exhibited sound judgment in the past. They all do so again here and the fruits of their collaborative labors are almost as good as anything any of them has previously made.

Rogen and Goldberg's script proves to be a solid foundation. These two bring a welcome cultural awareness to the project. Though they come from comedy, this movie illustrates they're sufficiently versed in superhero action. Rather than taking direct inspiration from the largely comic book-adapted hits, they recognize and supply the qualities that contribute to the genre's best-loved works, while making sure they aren't regurgitating sequences and ideas. Like much of Rogen's past work, his knowledge and appreciation of the film world gives us a few highly appropriate and humorous references. Since the scribes doubled as executive producers, you can hear Rogen's voice behind some of the casting, which fittingly puts two actors Hollywood has forgotten, Edward James Olmos and Edward Furlong, in small but sharp roles.

The writing partners also deserve high praise for the winning tone the film finds. Their Green Hornet most definitely takes the character and his legacy seriously, but it's also a movie which serves up big laughs frequently. The friendship of Britt and Kato wisely stands as the heart of the film. Their bromance is never at odds with the story and never feels like a distraction or recess from the high-octane effects and action integral to superhero movies.

Gondry does his part to imbue what could have been interchangeable and familiar with ample freshness. The director supplies the visual ingenuity and resourcefulness for which he is renowned. With a reported $120 million production budget, this film cost six times as much as Gondry's previous feature (Be Kind Rewind) and twenty times as much as the one before that (The Science of Sleep). Gladly, the bigger budget doesn't cause the filmmaker to lose sight of his instincts and inventiveness.

Like Rogen, Gondry's past work makes him a surprising choice for a major superhero vehicle, especially one that more suitable entertainers couldn't get off the ground. The director stays true to his arthouse roots without defying conventionality or eradicating commercial prospects. He enlivens the film with things like a multi-camera scene that splits the screen into as many as eight different sections and an impressive shot that speeds through Britt giving a girl a proud tour of his father's spectacular garage. Gondry manages to employ bullet time effects without feeling like The Matrix parody or tribute. Even the inevitable climax (which does slightly err on the side of excess) arrives without that "we're at the obligatory climax now" deja vu.
Even ignoring the project's nearly twenty years in development hell, The Green Hornet seemed destined to disappoint. Tapped both to direct and play Kato, Hong Kong's Stephen Chow bowed out of directing over creative differences and then performing due to scheduling conflicts. Nicolas Cage also came and went, his intriguing notion of playing Waltz's villain with a Jamaican accent something we're left to imagine. The film also had been rescheduled repeatedly, getting bumped from June to July to December, before getting pushed into 2011 to allow time to convert the film for 3D exhibition. January has a bad reputation in the industry, traditionally being used as a dumping ground for unpromising projects while the Christmas blockbusters and award contenders remain in focus. But distributor Sony was unable to release Green Hornet in March for spring break business, after Warner Bros. Pictures successfully argued before the Motion Pictures Association of America (MPAA) that having Sony's film released so close to their similar-sounding superhero flick Green Lantern, long scheduled for June, would breed damaging confusion.
The lighter competition of mid-January may have helped The Green Hornet perform decently at the box office, earning just under $99 million domestically and $228 M worldwide. Those numbers were not great by today's superhero standards, but they were enough to establish the film as 2011's top grosser for a while and they look all the more respectable in light of how theatrical business has since struggled this year.
The Green Hornet makes its home video debut today in a single-disc DVD, a single-disc Blu-ray, and, the subject of this review, a 3-disc Blu-ray 3D + Blu-ray + DVD combo pack.
Blu-ray & DVD Details

2.40:1 Widescreen (DVD Anamorphic)
Blu-ray: 5.1 DTS-HD MA (English, French, Portuguese), Dolby Digital 5.1 (Spanish), Dolby Surround (Descriptive Video Service)
DVD: Dolby Digital 5.1 (English, French), Dolby Surround (Descriptive Video Service)
Subtitles: English, English SDH, French, Spanish; BD-Only: Portuguese
Not Closed Captioned; Extras Subtitled in English, Spanish, Portuguese
Release Date: May 3, 2011
Three single-sided, dual-layered discs (2 BD-50 & 1 DVD-9)
Suggested Retail Price: $26.99 (Reduced from $49.95)
Wide Clear Blu-ray Keepcase
Also available in standalone Blu-ray ($34.95 $14.99 SRP) and standalone DVD ($28.95 $9.99 SRP)
VIDEO and AUDIO
I have a hard time believing anyone could have a disparaging word about the Blu-ray's fantastic feature presentation. The vibrant, razor-sharp 2.40:1 1080p visuals delight, with nary a flaw. The 5.1 DTS-HD master audio also satisfies wholeheartedly, its mix engulfing without drowning out dialogue or annoying with peaks and valleys.
The DVD's 16:9-enhanced transfer is also excellent by that format's standards, as Sony discs almost always are. Watching it immediately after exploring the Blu-ray, however, does demonstrate the gap in the two mediums' capabilities. The same is true of the DVD's Dolby Digital 5.1 soundtrack, which offers a lively experience provides dramatically less impact than the Blu-ray's less compressed counterpart.
BONUS FEATURES, MENUS and PACKAGING

The Blu-ray 3D's only bonus feature and the only exclusive to this combo are split-screen 3D animated storyboards (8:25) for seven action scenes, which simulate depth in the preproduction drawings that play underneath the loosely corresponding clip from the final film. As always, you'll need a 3D Blu-ray player, a 3D TV, and charged 3D glasses to enjoy.

The bulk of the extras are found on Disc 2, the standard Blu-ray. First up: "The Green Hornet Cutting Room", explained by useful companion short "What is The Cutting Room?" (2:17). Presented in HD like all of the disc's video extras, the complex interactive feature itself allows you to create your own edit of a Black Beauty chase scene by selecting, arranging, and even trimming shots from the film while also playing with sound effects and music.

It's a pretty cool exercise, but one which takes more time to get the hang of than this review allows and which screams for the use of a mouse. There is also the option to view and rate others' submissions to the BD-Live network, although registering on the disc didn't work for me.

More traditional bonus features begin with a filmmakers audio commentary by writer/executive producer/star Seth Rogen, writer/executive producer Evan Goldberg, director Michel Gondry, producer Neal Moritz (for the first half), and quiet co-producer Raffi Adlan (for the second half). It's a candid and entertaining chat that gets your attention quickly with memories and an impression of Nicolas Cage's Jamaican villain plans. Full and very screen-specific, the group discussion openly tackles: bits lost or threatened, 3D effects, reshoots, Kato-Vision, portions that don't work as well as they want, deciding on the car to use for Black Beauty, uncredited script guidance, the marketing process, shooting in Los Angeles, Stephen Chow's contributions, goofs, Britt's puzzling posters, set pieces, and auditions. It is unquestionably one of the better and more enjoyable commentaries out there.

Individually and collectively viewable, nine deleted scenes run 26 minutes and 30 seconds. There are some interesting exchanges here: a bar chat between Britt and Chudnofsky and an outdoor Kato and Lenore walk and talk. Less gripping, the final fourteen minutes offer an insanely extended version of an existing chase, in which Chudnofsky runs through an alphabet of plans with many visual effects unfinished.
"Awesoom" (7:15) is longer and more varied than most gag reels. It contains a lot of amusing behind-the-scenes footage, including unused improvs, Michel Gondry trying to perfect a desk pen stunt, David Harbour giving an extemporaneous unscripted speech, and Cameron Diaz goofing around. This is preferable to the typical bloopers montage.
Six behind-the-scenes featurettes follow. "Trust Me: Director Michel Gondry" (9:30) details the eccentric filmmaker's approach to the project, which was poised to be his debut back in the mid-1990s. There is as much showing as telling and the piece benefits from that. "Writing The Green Hornet" (10:35) gathers taped collaborations and interview remarks from Rogen and Goldberg, who discuss both staying true to and improving upon the '60s TV series while diverging from standard conventions. "The Black Beauty: Rebirth of Cool" (7:15) turns our attentions to the Green Hornet's transportation. Rogen explains the story motivations for it, while various crew members describe, discuss, and demonstrate the car's technical design.
"The Stunt Family Armstrong" (7:36) covers the family of stunt coordinators who worked on the film, showing some of their death-defying car work and letting them and others weigh in on it. "Finding Kato" (6:00) discusses the casting of Jay Chou, with footage onstage and backstage from one of his large-venue Asian concerts and some glimpses of his English dialogue coaching.

"The Art of Destruction" (14:00) offers behind-the-scenes looks at the film's most explosive setpieces, with Rogen acting somewhat as host while stunt supervisors and other technical crew describe the planned chaos.

Easter eggs I found on the disc but not from a menu: two screen tests, one of Gondry in a backyard (0:20) and another of Chou, Rogen, and Gondry staging fights (0:30).

With a BD-Live Internet connection, the standard Blu-ray disc is able to offer you bonus feature clips from recent and upcoming Sony titles, including a 30-second two-dimensional sample of the Blu-ray 3D's exclusive storyboard feature. Should you hunger for more not-so-instant promotion, a wealth of other Sony trailers, sorted by genre, can also be streamed.

BD-Live also enables the chance to experience the film with Sony's movieIQ+sync technology, which identifies the actors and music in each scene, the crew of the entire film (some leading to extensive filmographies), and an assortment of relevant fun facts (which would have been enjoyable as a subtitles track). The "+sync" part of it puts the same playback-timed data on your Internet-connected computer or phone with a code. A 1-minute clip explains movieIQ.

Though you would think that combo pack's DVD would be identical to the one sold on its own, in fact, the final disc of this set drops all the bonus features from the retail edition, which holds the gag reel, the commentary, and "The Black Beauty" and "Writing" featurettes. I'm not sure what the thinking behind that decision is, but it seems flawed to me.

Both the Blu-ray and DVD open with promos for Sony's make.believe philosophy and 3D home entertainment (featuring the lead characters from Open Season), followed by full trailers for Just Go With It, Battle: Los Angeles, and Das Boot: The Director's Cut Blu-ray. The BD menu's Previews section offers individual access to those Just Go... and Battle... trailers, as well as ones for The Mechanic and The Hit List. The DVD menu's listing merely plays the same four ads in a reel. The Green Hornet's own trailers are missed on both formats.
The Blu-ray's menu plays clips from the film with some high-tech graphics over them, with a gradually filled version of the Green Hornet's emblem making for an apt loading icon. The DVD's main menu is virtually identical, only without the BD format's expansions.
The Blu-ray disc enables bookmarking, and resumes feature playback but not menu playback, which especially frustrates since the disc-opening promos have to be skipped one at a time.
The Green Hornet's 3-disc combo is packaged in a wide clear Blu-ray case, which simulates the depth illusions of 3D with the back of an enclosed booklet showing through as the backdrop of the cover image. The other 3 pages of the booklet promote 3D and Blu-ray 3D and detail their technical requirements. The two Blu-rays share opposite sides of a swinging tray, while the uncolored DVD takes the rear, not obscuring any reverse artwork (there is none).
CLOSING THOUGHTS

I don't hesitate to place the unexpectedly enjoyable Green Hornet in the same league as many of this century's better superhero films. Boasting clever and funny writing, lasting characters and dynamics, its own distinctive voice, and a fresh and inspired approach to material that ought to be overfamiliar, this comic adventure gets almost everything right.

I can't help but believe the public and industry's tepid reaction to the film are partly byproducts of the underloved source material and of the strange, strong, and somewhat inevitable backlash towards Seth Rogen's success.

Those who have come to expect and collect Blu-ray + DVD combo packs might not be jazzed to have to buy the Blu-ray 3D edition to get that here, but generous discounting has kept the 3-disc, 3-medium set down to a reasonable price range. If one format is good enough for you, the individual Blu-ray is the far better value than the DVD, something that's easy to notice on a film so driven by sight and sound and claiming a storied production. In fact, the Blu-ray is pretty terrific, delivering a flawless presentation and a hearty supply of extras. A general making-of documentary would have been nice, but the numerous topical featurettes offered instead cover just about all the appropriate ground with an excellent amount of behind-the-scenes footage.

On whatever format best suits you, The Green Hornet earns a strong recommendation.

Buy The Green Hornet from Amazon.com: Blu-ray 3D Combo / DVD / Blu-ray / Instant Video