By Kelvin Cedeno

In the hands of Walt Disney animation, the residents of the Hundred Acre Wood have been through virtually every type of incarnation under the sun. They debuted in three short films later combined to form 1977's The Many Adventures of Winnie the Pooh. A myriad of full-length features followed,

a mix of direct-to-video (Pooh's Grand Adventure: The Search for Christopher Robin) and theatrical (The Tigger Movie). There have been several television series, each of which put A.A. Milne's characters in a different medium. They became live costumed actors with robotic heads in "Welcome to Pooh Corner", returned to their traditionally-animated forms for "The New Adventures of Winnie the Pooh", and were transformed into green-screen puppets for "The Book of Pooh". Aside from stop-motion animation, one of the only untapped mediums remaining was CGI, a format now used for Disney's latest Pooh series: "My Friends Tigger & Pooh."

More than most its predecessors, this fourth series is aimed firmly at the preschool crowd Disney has been catering to lately. Led by a new character named Darby, the show follows her, Winnie the Pooh, and Tigger as they solve mysteries plaguing the Hundred Acre Wood inhabitants. The first DVD release came last November with the holiday special Pooh's Super Sleuth Christmas Movie. This time around, we find a three-episode compilation entitled Friendly Tails.
The episodes featured are as follows:
"Darby, Solo Sleuth / Doggone Buster" (Not yet aired)
In the first segment, a case of the cold has struck Pooh and Tigger. Kanga prepares some soup for them, but is missing a vital ingredient which Darby must locate on her own. The second story deals with Darby's pet dog Buster. After he goes off to play with Lumpy and Roo, Darby is unable to find him or the others anywhere.
"Darby's Tail / Tigger's Delivery Service" (Originally aired August 4, 2007)
Darby notices how most of her friends have tails when she doesn't. The Super Sleuths decide to help her find one of her very own. The second half of this episode finds Tigger as a delivery man. This job becomes increasingly complicated as he's determined to help everyone without any sort of assistance.
"Pooh-Rates of the Hundred Acre Wood / Tigger's Hiccup Pickup" (Originally aired July 21, 2007)
Believing his newly-found treasure map belongs to "pooh-rates", Roo and the others set out to locate the buried riches. The other tale involves Tigger's case of the hiccups after gorging on too much food. The Super Sleuths, along with some friends, all try their hand at curing this aggravation.
"My Friends Tigger and Pooh" vaguely follows the popular children's programming mindset of having the audience interact with the proceedings. Thankfully, this aspect is kept to a minimum so that the unintentionally amusing results that stem from such a format are gone. Darby regularly looks at and speaks to the audience, but she rarely pauses to let them shout an answer.

This helps the show feel like a return to form and sets it apart from the never-ending sea of awkward-pause-filled programs. There also isn't much of an episode-to-episode formula. The only pieces that get repeated are the Super Sleuths motto and the brief "Think, Think, Think" song. Otherwise, the episodes are free to do what they please, not constricted by any sort of rigid format.

Fitting well into the established world with which so many are familiar, the various mysteries don't feature the type of bizarre plot points other series offer. Having two stories per episode keeps things tight and fresh, leaving little room for padding or boredom. The choice to go with CGI was a controversial one, but it actually works rather well. The simplicity of the original Many Adventures designs and backgrounds lends nicely to adaptation, and the translation is faithful (albeit with more saturated colors). The visual style avoids the potentially clinical look of CGI and comes across warmly and smoothly.

The other major concern has been the replacing of Christopher Robin with Darby, and this seems to be a more valid complaint. While there's nothing inherently wrong with Darby as a character, the change is disturbing when one thinks of the whole point of the Pooh franchise. The original Milne stories have always been about a boy whose imagination set him off on adventures with the stuffed animals from his bedroom. By bringing in another human character, it feels as though Darby is invading on Christopher Robin's personal affairs. An easy and potent way out of this would've been to claim that Darby is his daughter who has inherited his childhood belongings. This would actually carry on the idea set up by Milne himself (and touched upon in Disney's version) that Christopher Robin eventually must grow up and leave his Hundred Acre Wood friends behind. It's too late to throw that in, however, for Christopher Robin himself has appeared (in child form) in two episodes thus far.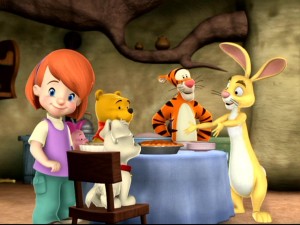 The diminishing of established characters spreads elsewhere, as well. Owl is completely absent from the series, Piglet and Kanga only have cameo roles, and Gopher has been replaced by a beaver.

The deletion of Owl is disappointing but slightly understandable since he was the character everyone would go to for advice. If he were to return, he'd render the Super Sleuths useless, even if he did always misinform. Gopher's absence is not surprising in the least, but replacing him with a whistle-less version of Lady and the Tramp's beaver fails to make much sense. Piglet's reduction comes as a shock. He has always been a dominant character in the franchise and is known to be Pooh's best friend after Christopher Robin. Why he fails to turn up at all for most episodes is a mystery not even the Super Sleuths can solve. It's undoubtedly hard to juggle such a vast array of supporting characters, but when others are added (such as Beaver, Porcupine, and Woodpecker), it makes the lack of established ones more glaring.

"My Friends Tigger & Pooh" lacks the sense of wit and whimsy that Pooh is known for, and those familiar with the Pooh franchise will no doubt be disappointed at how only certain characters are given the limelight. There's not as much heart or emotion here as in other Pooh entries, but that's an unfair comparison. The goal of this series is more narrow-minded, focusing squarely on preschoolers rather than the young at heart. With that in mind, it accomplishes its goal well. There's none of the pandering that's come to be expected of a show like this, and the stories are more logical than those found elsewhere. While children in need of a Hundred Acre Wood fix could do better, they can also do worse.

VIDEO and AUDIO

The three episodes of Friendly Tails appear in 1.33:1 fullscreen. Being a digitally-created series, transfers straight from the original source are to be expected. That certainly seems to be the case here, for the image is nearly perfect. The show's vivid hues pop off the screen, and things are well-defined and clean. An occasional bit of digital noise surrounds some edges, but this is barely noticeable. Overall, the episodes look excellent.

Surprisingly, only a Dolby Digital 2.0 surround track is offered here. While that's common for many television series, Disney has usually been good about putting 5.1 tracks on their Playhouse Disney DVDs. In the end, it doesn't make much of a difference. The soundfield isn't active enough to really be opened by the extra channels, but what's here comes across well. Dialogue, effects, and score are all clean and clear. The Pooh franchise has never really been foley effects-heavy, so the presentation here is perfectly acceptable.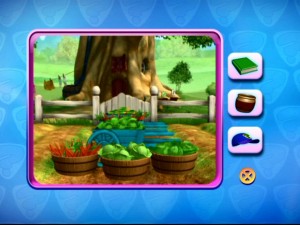 BONUS FEATURES, MENUS and PACKAGING

Only one lonely bonus feature is offered here: Darby's Super Sleuth Challenge set-top game, which is divided into three parts. First, one has to choose the correct object based on the descriptive clues Darby gives. In the second portion, the player must locate three items hidden throughout a certain locale.

The last section requires one choose the correct character based on a scrambled puzzle picture. The first and last parts of the game are easy even by preschool standards, and the middle is nothing more than a guessing game. No reward is offered for completion, making this pretty unmemorable.

The menus aren't exactly uniform in style. The animated main menu has a magnifying glass displaying clips from the series while Super Sleuth portraits in the background change colors. All other menus are static, featuring headshots of the cast.

With the aid of FastPlay, the disc starts with previews for Sleeping Beauty: Platinum Edition, Little Einsteins: Flight of the Instrument Fairies, Johnny and the Sprites: Meet the Sprites, Handy Manny: Manny's Pet Round Up, and Disney Movie Rewards. All these can be found in the Sneak Peeks menu with ads for Handy Manny: Fixing it Right, Little Einsteins: Race for Space, The Jungle Book 2: Special Edition, Tinker Bell, WALL-E, and "Handy Manny" on Playhouse Disney.

Found inside the white keepcase, a double-sided insert lists the episodes on one side, and advertises Little Einsteins DVDs on the other. A booklet for Playhouse Disney DVDs and a Disney Movie Rewards code are also included.
CLOSING THOUGHTS
"My Friends Tigger & Pooh" is not comparable to either Pooh's Many Adventures or his "New" ones, nor should it really be. Its target audience is not nostalgic fans who have been exposed to these characters elsewhere, but to young children who are fans of shows like Disney's own "Mickey Mouse Clubhouse." Friendly Tails presents three half-hour episodes well with excellent picture and solid audio. The bonus game is a waste, but not many preschoolers seem to play DVD set-top games, anyhow.
The DVD earns a recommendation to fans of the show, but older Pooh fans are advised to watch an episode on television first. Parents wishing to introduce their children to the world of A.A. Milne through Disney should purchase The Many Adventures of Winnie the Pooh first. "My Friends" rides mostly on the remembered charms from that film, and no one wants to hear a child ask, "Where's Darby and Lumpy?" when watching the older films and shows after this one.