Though its press release billed it as an "all-new original movie", Pooh's Heffalump Halloween Movie is neither all-new nor entirely original. As some direct-to-video Winnie the Pooh releases of the past have, this latest feature recycles a bit of old material. In this case, the middle third is comprised primarily of "Boo to You Too! Winnie the Pooh", a 1996 half-hour television special. But the word "Heffalump" is right there in the title and even Disney would not be bold enough to try such grand scale deception as to not include Lumpy, the latest addition to the world of Christopher Robin's playthings.

As was the case with Pooh's Heffalump Movie, the most recent Pooh film that popped in and out of theaters just months ago, Lumpy and Roo receive the majority of screentime in this quick-to-arrive autumnal spin-off. Last time, the enthusiastic Roo was content just to befriend Lumpy, a member of the much-feared Heffalumps species who turned out to be quite alright. This time, the two youngest of the principal characters are excited by the prospect of experiencing Lumpy's first Halloween together. Being a Heffalump, Lumpy is entirely unacquainted with the holiday that is filled with candy and kid-friendly spookiness. While some of Roo's excitement wears off on his lavender friend, Tigger's intense musical explanation throws Lumpy into a state of under-the-bed quivers.

Once the Heffalump with the adorable British accent summons enough courage to partake in the celebrations, there is another hitch in the Hundred Acre Wood gang's Halloween plans: Pooh has eaten all of the candy! While Pooh, Rabbit, Tigger, Piglet, and Eeyore contemplate how to proceed with a Trick-or-Treat-less holiday, Lumpy secretly and bravely suggests that he and Roo journey to the Gobloon that Tigger has told them all about. There, if they are able to catch the Gobloon first, the zealous pair will be able to have any wish granted, and a request for abundant candy can save Halloween. Of course, there is the chance that the Gobloon will catch Lumpy and Roo first, enabling him to turn them to jaggedy lanterns, as Tigger has warned.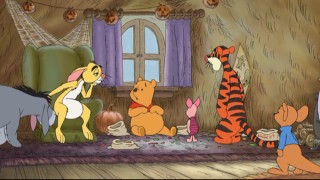 The prospect of such potential doom eventually gets to the fearful Lumpy. To help his friend carry on the path, Roo begins to tell him the story of what took place nine years ago on a network called CBS. Well, naturally, he does not frame it like that (and none of the characters have aged), but the next twenty minutes feature "Boo to You Too!", with simply one storytelling intrusion and a bit of new narration by Roo. In this episode, which closely parallels Lumpy's plight, Piglet is the scared party, and the one whose fears threaten to turn Halloween into "Hallowasn't." Meanwhile, Tigger bounces all over the place with seasonal fervor, which he expresses in the "Heffalumps & Woozles"-like number "I Wanna Scare Myself." In what is not all that unusual for Pooh and friends, not a great deal occurs from point A to point B in this interruptive narrative, but naturally, Piglet takes advantage of an opportunity to stand up against his worries. Piglet's actions encourage Lumpy to march on with Roo to their dicey destination, the legendary Gobloon.
Despite the cost-saving route taken to turn about 40 minutes of new animation into a passably-long feature film, Pooh's Heffalump Halloween Movie works quite well as a whole. Lumpy appears to be part of the gang for good, and one only wonders how long it will take for him to celebrate his first Thanksgiving and Christmas. Accordingly, he and Roo are the focal points as this latest entry continues to move the series in a direction towards "preschooler"-only appeal. Outside of the central flashback, the rest of the regular Pooh characters are reduced to a few lines and actions that briefly hint at the widely-appealing, diverse personalities they have imprinted onto collective consciousness over the forty years that the Disney studio has been adapting A.A. Milne's literary work. As has been the norm for the most recent outings, Owl and Christopher Robin are no-shows, while Disney creation Gopher only appears in the special where he amusingly tries out different Halloween costumes that have been inspired by the rest of the gang.
Part of the reason this production is pulled off so capably is that since "The New Adventures of Winnie the Pooh" put Pooh and friends into millions of homes on a regular basis in the late 1980s, Disney has maintained a near-perfect consistency in appearance and quality to its three theatrical and countless direct-to-video releases. Even the show's episodes that were churned out on a weekly basis made up for visual shortcomings with strong writing and charming wit. When they made their Disney animation debuts, Pooh and company looked quite different than the E.H. Shepard drawings that fans of the books were accustomed to, but they have hardly changed in the decades since, certainly not to the degree that Mickey Mouse and Donald evolved over time.
Pushing Roo and the likable latest character Lumpy into the foreground does give Halloween, like the previous film, a toddler-oriented slant. The wordplay that figured largely in The Many Adventures of Winnie the Pooh is mostly absent. The endearingly naïve misunderstandings that have become a staple of the series have lost much of the surprise payoff value. The subtlety in humor has given way to more obvious visual gags. The adult characteristics of the regulars have mostly given way to caricature. And still, all in the Hundred Acre Wood seems remarkably familiar and comforting, as if these friends are as they have always been.
In many ways, Heffalump Halloween is a step above Heffalump Movie and believe it or not, it is because an extra word has been added to the title. No, it's not just the word (and again, Pooh's highly-reduced role makes his first billing a bit misleading), but that there is a genuine plot thrown into the mix. Heffalump Movie seemed to do nothing more than to slowly introduce Lumpy and deliver the slight but never outdated message that "things aren't always as different as they seem." Here, Lumpy is merely accepted as part of the gang (albeit as the forgivable "wuss" of the group), which allows the plot to move forward, even when it's merely drawing parallels between Piglet's and Lumpy's fear of Halloween phenomena.
Though Pooh's Heffalump Halloween Movie does not come across as a revolutionary advance of Disney's endless series of Winnie the Pooh features, it does provide a mostly entertaining experience, even with a misframed nine-year-old television special placed at its center. I would wager that a majority of viewers who aren't schooled on past Pooh productions will not notice the recycled segment as standing out in appearance or feel. On its own, it is not a bad piece and neither is the new material predominantly featuring Roo and Lumpy. Though it never approaches the highest caliber of Disney's Pooh films and adds little new to the genre of Halloween animation, this production delivers a good time and Pooh fans will likely enjoy experiencing a bit of seasonal fun with the characters they know and admire.
VIDEO and AUDIO
The entirety of Pooh's Heffalump Halloween Movie is presented in a 1.78:1 anamorphic widescreen transfer. The new animation looks terrific, exhibiting all of the positive characteristics you would expect from a brand new production. The vibrant, pleasing colors of the Hundred Acre Wood's scenery are matched with the enduring and somewhat simple character design for a likable look that is presented in grand fashion, with very minor shimmering and budget animation values the only tiny factors keeping this from being a reference quality transfer.
The portions recycled from "Boo To You" do not look bad either, though they have been matted from a 1.33:1 original aspect ratio to match the rest of the 16x9-enhanced film. The difference in visuals between the new and mid-'90s footage is noticeable not because of an inconsistent transfer, but because of slightly conflicting artistic styles. The TV special's colors fluctuate a bit, its characters and background images are not as well-defined, and its animation is a few notches below DisneyToon Studios' growing standards. The older footage has been remastered in a way that standard episodes of the series clearly haven't been for the Growing Up with Winnie the Pooh compilation series, but even still, the few instances of excess grain and element markings distinguish it from the impeccable-looking new content. The matting of the TV special creates very mild framing irregularities, though there are a handful of instances when framing at the top and bottom appears to crop a character or setting in an odd way.
The Dolby Digital 5.1 soundtrack delivers an impressive audio experience, finely putting to use all channels to deliver a (home) theater-worthy mix. Though the whole track is of course encoded in 5.1 surround, the middle segment appears to have been mastered in plain two-channel Dolby Surround, and while it is sufficient, it does not deliver the dynamo of the rest of the proceedings. As is usual for Disney's Pooh films, the design never demands too much from sound systems, but all dialogue, the handful of songs, and plenty of sound effects are delivered effectively. There is probably at least one thunderclap (and accompanying lightning bolt) too many, but overall, this well-done mix enhances the film's conveyance of environment and contributes to its power to engage viewers.
BONUS FEATURES
Not surprisingly for a subject that has become clearly geared to the "preschool" sect, all four of the disc's bonus features fall under the heading "Games and Activities." First, "Trick Or Re-Treat" is a three-level game in which you help Roo and Lumpy track down candy that has fallen out of their bags. You do this alternatively by guiding them through path mazes and finding the sugary snacks among a scene of objects they could be hiding behind. This can definitely provide some mild fun for young viewers, although the mazes are rendered useless on DVD-ROM playback since you can just immediately highlight the end target.
"Pass The Pumpkin" requires interaction with actual people. It is basically the classic "hot potato" game, only play ensues with a tiny pumpkin being passed around the circle of participants. For its part, the DVD plays music and stops it without warning, making players exit the game one at a time -- whoever is left holding the pumpkin when the music stops is delicately informed that they are out. This could well be fun, but the chances that there will be both a group of interested parties and a small pumpkin on hand are slim, and a game where the objective is to not lose could lead to some tot tears.
"Pooh's Boo! Bingo" is sure to be fun for most who are willing to play, provided again that you have more than one player. It proceeds as the classic "Bingo" does, only the balls that pop up feature a Hundred Acre Wood character and number, so that, for instance, you'd check your cards for "Tigger 19." The number-calling proceeds at a pace that is probably too fast for most young players, but once they get the hang of it, it should be fine. A few game cards are included in the back of the DVD's coupon booklet and more can be printed off the computer. Placemarkers are not, so you'll need to fold and rip little pieces of paper or get loose change.
Last is the "Heffalump Halloween Party Planner" which illustrates why there should be multiple children in front of the TV for the preceding games; they're tailored for a Pooh-themed Halloween party. There is an uninspired series of brief instruction videos for parents (running 5½ minutes with the "Play All" option) which are just text screens narrated in full without animated graphics. These screens inform party-planners just how the various set-top and DVD-ROM activities are designed to entertain partygoers. This section also provides a list of the printable materials the DVD-ROM portion of the disc contains. Accessing this section on an "enhanced" DVD-ROM player like Interactual will bring up plenty of promotional links to Disney's online properties and about two dozen printable pages that you cannot simply view or preview, including a materials list, five "recipes from Kanga's Kitchen" (two of which are already in the coupon booklet), Pooh's Boo! Bingo cards, five pages of instructions, a ten-page guide to "Make Your Own Jaggedy Lantern", and invitations with customizable fields.
MENUS and PACKAGING
The 16x9-enhanced menus go with a predominantly black look. At first look, the Main Menu appears to be rather barren, but yellow and green pairs of eyes show up around the pumpkin of listings. Clicking on the moving flashlight reveals its holder, a different lead character or pair of characters. A wrapped piece of candy serves as cursor and instrumentals (from the mildly spooky to the typical Hundred Acre Wood whimsy) accompany each menu, which while short on animation seem most appropriate.
As with other recent Pooh and direct-to-video titles, the disc is "enhanced" with Disney's FastPlay to allow for playback without remote control use. This falls apart after the movie when the bonus features don't really automatically play as promised, but just show up in the menu which only appears after a second set of Sneak Peeks has run its course. The first batch of sneak peeks advertise Cinderella, Pooh's Grand Adventure: The Search for Christopher Robin, and Disney Princess: A Christmas of Enchantment. The second promotes November's Pooh-centric Disney Learning Adventures volumes Wonderful Word Adventure and Shapes & Sizes, Disney's Princess Fantasy DVD Game, "Bear in the Big Blue House" on Disney DVD, Kronk's New Groove, and "JoJo's Circus" on the Disney Channel.
Reflective of either its not actually "all-new" status or more likely its price tag of $10 less than the typical DTV, Pooh's Heffalump Halloween Movie does not come with a cardboard slipcover, just a standard black keepcase. Inside the package, there is a subscription form for Playtime with Pooh magazine and a double-sided insert that lists scene selections, promotes the next batch of Disney Learning Adventures DVDs, and summarizes bonus features. There is also a pretty substantial coupon booklet which offers savings on a plethora of animated Disney DVDs (though some require you to buy peanuts or Salisbury steak), print ads for upcoming titles, plus two Halloween recipes, and some game cards for Pooh's Boo! Bingo.
CLOSING THOUGHTS
The direct-to-video Pooh's Heffalump Halloween Movie is a step up from the last theatrical outing, which I found to be underwhelming. This production employs the same cast of characters, with the young Roo and newcomer Lumpy again taking center stage, a fact that slightly lessens the series' usually universal appeal in favor of winning over toddlers. Still, the film gives all its personalities more to do, even if the regulars are reduced in all but the middle twenty minutes. Those sequences come from a mildly-modified nine-year-old television special, a cost-saving inclusion that may dissuade perceptive viewers, but ultimately does not harm the piece as a whole.
The feature is aptly presented on DVD, with widely pleasing picture and sound, even on the matted central portion which nearly matches the rest in appearance. The handful of interactive bonus features are tailored to a gathering of littl'uns, meaning no behind-the-scenes material is included. But for parents ambitious enough to follow the provided guidelines, this disc could deliver both a decent movie and a Halloween party, which at a list price of $19.99, seems quite satisfying.