This December will mark the eightieth anniversary of the day that A. A. Milne first introduced the world to an ordinary boy named Christopher Robin and his lively toys. On Christmas Eve, 1925, the London Evening News published the first chapter of Winnie-the-Pooh. Milne's book would be released in full the following fall, and the witty children's tale soon became a best seller in England and America.
Today, Pooh and his friends exist primarily as a familiar culture identified with the Walt Disney Company. In clothing, educational tools, no shortage of toys, and a variety of theatrical and direct-to-video releases, the personalities of the Hundred Acre Wood remain as present and popular as ever. Just next week, Milne's creations will be making their way to theaters across America for the third time this decade with the release of Pooh's Heffalump Movie.
It is no coincidence that three days before the new Pooh film hits theaters, Region 1 (America and Canada) is at last getting a line of Pooh DVDs that was launched in the United Kingdom and Australia in early 2003. In those parts of the world, the series was called The Magical World of Winnie the Pooh. Here, though practically identical in content, the single-disc volumes are named Growing Up with Winnie the Pooh.
While it would appear otherwise, this line is nearly entirely comprised of episodes from the late '80s/early '90s animated television series "The New Adventures of Winnie the Pooh." This was a great show, one which stayed true both to the spirit of Milne's creation and the animation of Disney's terrific short films. Like all of Disney's pooh adaptations, this centered around the toys of a young boy named Christopher Robin and their various encounters and dilemmas.

If you're unacquainted with these characters, you'd have to be trying quite hard to avoid everything that's been made with them. Nonetheless, here's a quick overview: Winnie the Pooh is the absent-minded, honey-loving, well-meaning teddy bear who's stuffed with fluff.

Piglet is his small, oft-petrified best friend. Tigger is a ceaselessly boisterous and bouncy one-of-a-kind goofball. Rounding out the gang are irritable garden enthusiast Rabbit, the always-gloomy donkey Eeyore, pleasant mother-son team Kanga and Roo, and wise storyteller Owl. Plus, there's the sarcastic Gopher and his whistling S's, but he's not in the book.

Season sets of "The New Adventures" series would be most welcome on DVD, but instead Disney has opted to release it in single disc compilations presented not even as vintage episodes but as new Pooh material designed to teach preschoolers specific lessons. Fans may be glad to have the show on DVD in whatever way possible, but this approach is pricey, incomplete, and disheartening overall.

The first two discs in this line will be released on Tuesday and though volume numbers are being played down and do not appear on the packaging, the subject of this DVD review can long-windedly be referred to as Growing Up with Winnie the Pooh: Volume 1 - A Great Day of Discovery. That title doesn't make much sense. The episodes included were created and aired over the course of four years and there's no other implication that they're supposed to take place on a single great day of discovery. In fact, it's quite clear that they don't. But the volume title and content came to Europe and Australia a while ago, so this is not a great day of discovery. And in light of the misleading design of this series, we may as well take it in stride.
But enough introduction and explanation, already. What's actually on this first DVD, you ask? There are four "New Adventures" episodes here: two which would air in half-hour slots with commercials and two shorter ones which would share a half-hour slot together. The main feature opens with a 40-second introduction to the series, which gives no name - this shows up as a still frame before the beginning of play only.

"All's Well That Ends Wishing Well" (1989) (20:00)

Hearing the gang talking about birthdays by a wishing well, Tigger wonders when his special day is. So Piglet and company decide to celebrate Tigger's birthday today. When his wishes don't come true, though, Tigger is thrown into an existential dilemma, wondering if he was ever even born.

Pooh ventures off to set things right by getting the moon for his disappointed friend. But he disappears and Piglet, Tigger, and Rabbit set out to find him.

"Babysitter Blues" (1988) (21:00)

Christopher Robin's babysitter sends him to bed, but he discovers the fun doesn't have to stop just yet. Pooh, Piglet, and Tigger show him a good time as they engage in pillow fights and pirate play. Later, they make their way to the fridge for some late night snacks, but everywhere they go, they make a mess which doesn't please the babysitter.

Then, after a fadeout for commercials, things resume with the first snowfall of winter. Kanga has to go out, so she leaves Roo at home with Christopher Robin in charge. CR gets to see things from the other perspective, now being responsible for cleaning up messes. Meanwhile, the gang plays a bit of snow baseball and some hide-and-seek.

In between this episode and the next is a little interactive (in the old-fashioned sense, no remote involved) puppet show in the same simple animation style as the opening credits and menu. While catching butterflies with Pooh, Piglet tries to figure out what the object he sees in the tree is. This runs just over a minute.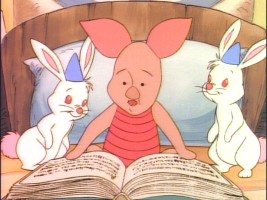 "Party Poohper" (1989) (10:35)
Going through his "Things to Do" list for the day, Rabbit is shocked to remember that he is throwing a party for hundreds of family members this very day! He tries to keep to an airtight schedule while planning the day with a little help from Pooh, Piglet, and Tigger. But when the bunnies arrive early, Rabbit is not the most amiable host.
"Piglet's Poohetry" (1991) (10:31)
Piglet stops by Pooh's place to share his poetry, but he doesn't really get a chance before Tigger interrupts him. Tigger transforms the poems into rhyming verses of peril for Piglet. Piglet returns the favor for Tigger the next time he tries to bounce in. Both instances result in some weird, wild imagery.
Lastly, there is another one of the simple 1-minute paper cut-out puppet show shorts. This one involves Pooh and Tigger discovering a "treasure" which rather resembles a domestic item. Following this, the end credits from the original episodes are retained (complete with the instrumental of the theme song). As you might expect, this closing credits sequence repeats four times in a row to display the cast and crew behind each of the separate shows, running for a total of three minutes.
Even with all these credits considered, A Great Day of Discovery still runs just 70 minutes total and it's the longer of the first two volumes. Compare this to other television shows on DVD, like sitcom season sets which generally contain eight times as many episodes for slightly more than twice the price of this. Or more appropriately, compare it to Disney TV Animation's "Gargoyles" the first season DVD of which offered four times as much for just $10 more. Surely, you'll agree that this is a pricey and unsatisfactory way to release the series.
VIDEO and AUDIO
The episodes (and mini puppet shows) are presented in their original 1.33:1 "fullscreen" aspect ratio. The video quality is disappointing. Admittedly, we're dealing with a weekly cartoon series which was animated for television more than fifteen years ago. But one would still expect better quality than this. Proper effort to clean up the show has not been made. There are plenty of flaws which turn up - scratches and digital artifacts, for instance. It's not too difficult to overlook the problems, but the poor picture quality is enough to distract. This isn't a complete disaster, but it's still far weaker than we've come to expect from Disney's DVDs.
Despite the previously released information, these episodes are presented in 2-channel Dolby Digital sound. In most of the episodes, there was a mono sound mix in which all of the audio was limited to the center speaker. When there is a stereo mix, as on the most recent episode "Piglet's Poohetry", it's hollow, thin, and the rear speakers merely echo the front's dialogue, sound effects, and music. The mono and basic stereo sound mixes are capable and sufficiently represented here, but not much to rave about.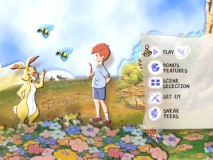 BONUS FEATURES, MENUS and PACKAGING

In addition to the slight episodic sampling, we get two bonus features.

The "Winnie the Pooh" Sing Along (2:14) shows ancient-looking footage from the '60s featurettes that made up The Many Adventures of Winnie the Pooh, including the memorable opening montage. Winnie hops along on lyrics to help you sing along, and when he doesn't, the words appear on screen. Jiminy Cricket shows up very briefly in this, evidence that it was directly ported from some sing-along video of the past.

Next and last is the "Cheer Up Eeyore" Game. In four simple levels, you figure out the "silly" jokes that Eeyore's friends are engaging in to raise the gloomy donkey's spirits. In other words, you identify the out-of-place object in unconvincing environments and replace them with something that should go there. This is strictly for the kiddie sect, complete with the excessive narration.

Growing Up with the Winnie the Pooh DVDs are equipped with Disney's "FastPlay" which to make a long story short play through previews, the feature, and extras just like VHS, no button-pressing required. If you so desire, you can choose to immediately go to Menu instead. The Main Menu takes you on a flat tour of a stylized rendition of the Hundred Acre Wood as an instrumental of the "Growing Up with Winnie the Pooh" theme music plays. Submenus are not animated (aside from brief transitions) but keep the same look and feature the same music.

At the start of the disc, previews play for Pooh's Heffalump Movie, this Growing Up with Winnie the Pooh line, and the upcoming JoJo's Circus DVDs. The Sneak Peeks menu provides additional trailers for Bambi, the new Volume Two Disney Princess DVDs, Disney Learning Adventures, The Incredibles, and the Disney Princess merchandise line. As usual, the menu offers a "Play All" option which cycles through all nine minutes of promos.

Inside the case, you'll find, appropriate considering the title, a growth chart which features Pooh, Piglet, Tigger, Roo, and Eeyore. The chart folds out to 4 feet and 9 inches, which I hope isn't a firm height cut-off for liking Pooh, or else I'm out of the clique. There's also a two-sided insert which lists scene selections and bonus features on one side, and promotes next month's Disney Learning Adventures DVDs on the other. Finally, a "Pooh-rific" coupon booklet offers savings on Winnie the Pooh magazine and what Disney would classify as preschool DVDs like the Princess Collection.
CLOSING THOUGHTS
All these years later, "The New Adventures of Winnie the Pooh" seems somewhat simple but still charming and highly entertaining. Unfortunately, Growing Up with Winnie the Pooh is a disappointing way to release this show on DVD. With A Great Day of Discovery, you get just over an hour's worth of episodes, subpar video quality, and no original opening credits. This isn't a great value for the price and it's certainly not an ideal treatment of the show for customers. As such, in spite of the program's quality, it's hard to recommend for anyone who's not a Pooh completist or dying to get episodes of the series on DVD whatever way they can.