Review by Aaron Wallace

The popularity and accessibility of DVDs have revolutionized exercises in learning and leisure for the market's youngest consumers. Research has shown that stimulation at a young age is crucial to a child's progression and the home video industry has caught on fast. Just as they do in the DVD market on the whole,

Disney leads the pack in these preschool products with several successful lines. While "Baby Einstein" takes a notably high-brow approach, "Disney Learning Adventures" are more conventional and pedestrian in design. The latter boasts a fusion of entertainment and education that allows children to learn from accessible character that they know and love.

"Disney Learning Adventures" launched with two Pooh and Friends installments in October 2004. Those were followed up with two outings with Mickey and the gang in March 2005. While the latter borrowed from pre-existing Mouse material, the Pooh stories were newly created and animated specifically for the DVD. That originality was called upon again when two more Pooh adventures were scheduled to be released under the "Disney Learning Adventures" banner in the fall of 2005. That never happened, though, and while entirely different Pooh releases emerged and the "Baby Einstein" machine continued to churn, the DLA discs floated along in the land of delays. Finally, a year later, Winnie the Pooh: Shapes & Sizes and Winnie the Pooh: Wonderful Word Adventure have made their long-awaited debut to DVD.
Wonderful Word Adventure isn't the best title for the story contained within. Owl's Opposites Obstacle Course would be much more accurate and to the point. The Hundred Acres Wood posse embarks on a quest to understand opposites and Owl has pieced together a number of contests to make their learning a little more fun. Explaining the concept of opposites without actually using

the word itself isn't as easy as it may sound, but the story does a pretty good job of illustrating the idea and backing it up with plenty of examples.

Unlike the Mickey Mouse editions of "Disney Learning Adventures," the Pooh story doesn't stop for interaction of the remote-controlled variety. Instead, the characters will pause in a moment of uncertainty or confusion with a chime prompting viewers to shout out the answer they're looking for. That device wears thin by the end, but it's preferable to having to sit through endless disc transitions that make the Mickey discs more like games than features.

Of course, Pooh fans will delight in the creation of a brand new story within A.A. Milne's world, though its target audience will doubtlessly put off older fans. The story actually retains enough of Pooh's original charm to entertain any viewer on at least the level of diversion and the songs are rather catchy. It helps if you pretend that the characters are just acting like they're ignorant rather than believing that they actually are (after all, they do live inside the imagination of a child who should be old enough to grasp something like opposites all on his own).
VIDEO and AUDIO
Following the standard 1.33:1 "Disney Learning Adventures" title sequence, the feature is presented in 1.78:1 anamorphic widescreen. It begins with a brief live-action stroll through Christopher Robin's bedroom and then moves into the animated world of the Hundred Acres Wood. Both are rather pleasing in color and quality. The animation is simplistic at times, but the disc's transfer leaves no room for major complaints.
Audio comes by way of a Dolby Digital 5.1 soundtrack. The channels are surprisingly well-mixed. While this won't deliver a window-rattling sound experience, it gets decent mileage out of its five channel set-up.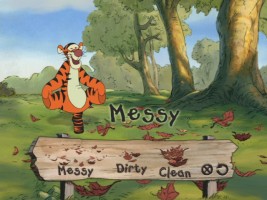 BONUS FEATURES, MENUS, and PACKAGING

There is one lone bonus feature on this disc, the obligatory virtual game. I'm never very fond of these, but I must admit that "Tigger's Ups and Downs and Ins and Outs" is the perfect complement to the feature it accompanies. In it, viewers must help Tigger clear his path on the way to a party by guiding him with opposites ("make a full cart empty", etc.).

It's short and simple but effective in reinforcing and altogether painless.

The disc opens with previews for The Little Mermaid: Platinum Edition, Little Einsteins: Mission Celebration!, the next installments of Pooh's "Disney Learning Adventures" (Good Day, Good Night and Time to Rhyme), and Disney Princess: Enchanted Tales - A Kingdom of Kindness. From the main menu, one can access additional previews for Meet the Robinsons, The Fox and the Hound: 25th Anniversary Edition, Brother Bear 2, and two Playhouse Disney programs: "Little Einsteins" and "Mickey Mouse Clubhouse."

The 16x9 main menu begins with a flurry of activity and some narration about opposites. Once that ends, viewers are left with a sparsely animated screen that features Pooh (who eerily sits still save for his blinking eyes) beside a lake, over which bees hover and birds fly. Some happy-go-lucky Mario-like music plays in the background. All the standard options are present and there's not much else to say about them. Those who harbor an inherent disdain for interactivity will be pleased to find that the disc will happily force-feed the program and all the sneak peeks via Disney's FastPlay system. Inside the white keepcase is a standard chapter index insert (with Disney ads on the back) and a subscription offer for the toddler-targeted "Disney and Me" magazine.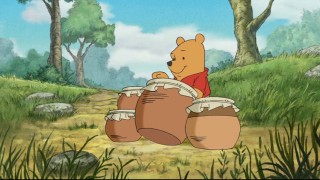 CLOSING THOUGHTS
Wonderful Word Adventure is an effective and pleasant outing with lovable characters that should have no problem entertaining the preschoolers it is geared toward while at the same time assisting them in mastering the concept of opposites and perhaps even boosting their vocabulary. It's even fun and charming enough to hold a modicum of value for older Pooh fans. Unfortunately, one half-hour story and a single game aren't enough to justify even a low SRP of $19.99. Parents may want to consider waiting for a good sale or reduced list price while seeking out alternatives of better value in the meantime.